Soft pretzel bites have the chewy fluffy inside you love in a soft pretzel! Make them for tailgating, parties or just as a snack! Made in the air fryer so you can have them super fast! (oven alternative too!)
We love these for game nights with friends or as an after school snack make the air fryer soft pretzels and serve them with the yummy Pretzel Cheese Dip and you'll have happy campers!
Soft pretzel bites are one of my favorite party foods! I especially love this recipe for air fryer soft pretzels because I can make them fresh to order and they come out hot, soft, chewy and delicious in less than 20 or so minutes!
One of my most popular recipes this time of year is my German Pretzels that we make for Oktoberfest. Crunchy/chewy exterior and soft and moist on the inside makes for a very addictive snacking experience.
Make a double batch, I promise you won't regret it!
But the homemade German pretzels are a long laborious process. Totally worth it, but for game day appetizers or a snack with cocktails today's recipe for homemade pretzel bites is so much easier!
You can make this pretzel bite recipe in about 30 minutes max….. and the best part? You can make the dough ahead of time and then it takes less than 10 mins to make them in an air fryer!
Don't think these homemade pretzels are only for football games, Oktoberfest, or St Patricks day— they work for any time you want an Auntie Anne's pretzel but don't want to head to the mall to get them!
Pretel Ingredients
Flour – all purpose flour works best
Yeast
Sugar
Water warm- 100° – 110° so it doesn't kill the yeast
Baking Soda
Pretzel Salt
How about that? All of the ingredients are things you will more than likely have in your pantry. Except maybe the pretzel salt.
Pretzel salt is easily found at specialty cooking stores but you can have it delivered from Amazon too. It's inexpensive, but worth the added effort as pretzel salt it a little bit bigger and doesn't dissolve when baking or air frying.
I used this pretzel salt from Amazon for them it works really well!
How to make Air Fryer Soft Pretzels
Making the dough for homemade soft pretzels takes less than 15 minutes.
Add the yeast to warm water, then add sugar and stir.
Add the yeast mixture to the flour and stir until a craggy dough forms. You could do this in a stand mixer, but I don't ~~I prefer to just stir it quickly.
Knead the dough until well combined.
Divide the dough into 6 pieces and form into a ball.
Roll out to about a 1-inch thick rope to about 15-18″ long.
Cut into bite-sized pieces.
Place the bites on a baking sheet and bring a pot of water to a boil.
Add baking soda to the water once boiling and lower the pretzels bites a few at a time into the water. (SEE PRO TIP BELOW!)
Boil for 15-30 seconds then remove back to the baking sheet.
I use a spider strainer to remove the pretzels from the water. It is big so as to hold a lot of them, but has the water drain super quickly. Because it is big, it helps them to not stick to each other.
Sprinkle heavily the pretzel salt (or at the very least Kosher Salt) onto the still raw pretzel dough.
Air Fry for 5 minutes at 390° in batches until nice and golden brown.
Be sure and leave a little space so they don't bake into each other!
Pin this to have for all of your party appetizers!
Common Questions you may have making soft pretzel bites!
I have fast-acting yeast can I use that for the homemade pretzels? Either fast-acting active dry yeast work for this quick pretzel recipe. I tried the recipe with both kinds of yeast and there was no noticeable difference.
I'm so afraid of yeast and kneading? Help? Don't be stressed about kneading pretzel dough. It's very forgiving. It does not need any proofing but it will come out pillowy. You'll want to knead it until the dough is all combined.
Most recipes I see use an egg wash on the outside, are you sure I don't need one in yours? I find as long as I'm doing the baking soda bath then immediately sprinkling with the pretzel salt it does not fall off.
Why do I need to boil the pretzels in baking soda? Boiling the pretzels in baking soda gives the pretzels the chewy texture we associate with soft pretzels. It also helps with the beautiful golden color.
Can I make this pretzel recipe ahead of time? You can make the dough up to 3 days ahead of time, but I find the texture of the pretzels change if you cook them too far ahead. Make the dough, then roll them out about an hour before you need them. Boiling them and cooking them in the air fryer only takes 10 minutes. I promise you will love how fresh and hot they are!
I don't have an air fryer? Can I make soft pretzels in the oven? You can bake the pretzels in a 425° oven for 8 to 10 minutes until golden brown. Boil them in the baking soda bath, place them on a cookie sheet to sprinkle with salt then bake!
How long do these last once I make the pretzels? They taste great within the first hour. You might not mind them later in the day but we prefer them hot and fresh. The homemade pretzels cook so quickly that I don't mind making them fresh even when company is over!
Freezing Air Fryer Pretzels/ Making ahead of time
Prepare the recipe up until the point of boiling them in baking soda. At that point you will take the Air Fryer Pretzels and place them on a cookie sheet and place them into the freezer into a single layer, not touching each other.
After 30- 45 minutes, when the edges are frozen and they will no longer stick together you can place them in a small sealed container into the freezer.
When it is time to make them, preheat the oven, then follow the boiling instructions. There is no need to defrost them, they will cook in 5-7 minutes even from frozen.
Crisp Lid Soft Pretzel Cooking Instructions:
Have the Mealthy Crisp lid that I LOVE? That cool product that turns your instant pot or pressure cooker into an air fryer? (See how here!) Use the crisp lid instead! Cook for 4 minutes at 400° then remove the lid, flip the pretzel and cook for 2-3 minutes until golden brown!
Variations on Soft Pretzels
Peanut Butter Pretzel Bites – Dip the pretzels in this Nutter Butter dip!
Cinnamon Sugar Pretzels – Forgo the salt and roll the freshly boiled pretzels in a cinnamon-sugar mix. (1/2 cup sugar and 2 Tablespoons cinnamon mixed well.)
Dessert Pretzels– Make the recipe as given then drizzle with 1/4 cup melted chocolate.
Oktoberfest Pretzels with beer cheese dip for pretzels!
Parmesan Pretzels – brush with a little butter then toss in fresh parmesan
Cajun Pretzels ~ toss in cajun seasoning
Everything Bagel Pretzels ~ you guessed it toss the fresh pretzels in everything bagel seasoning!
Dips that work great with Pretzels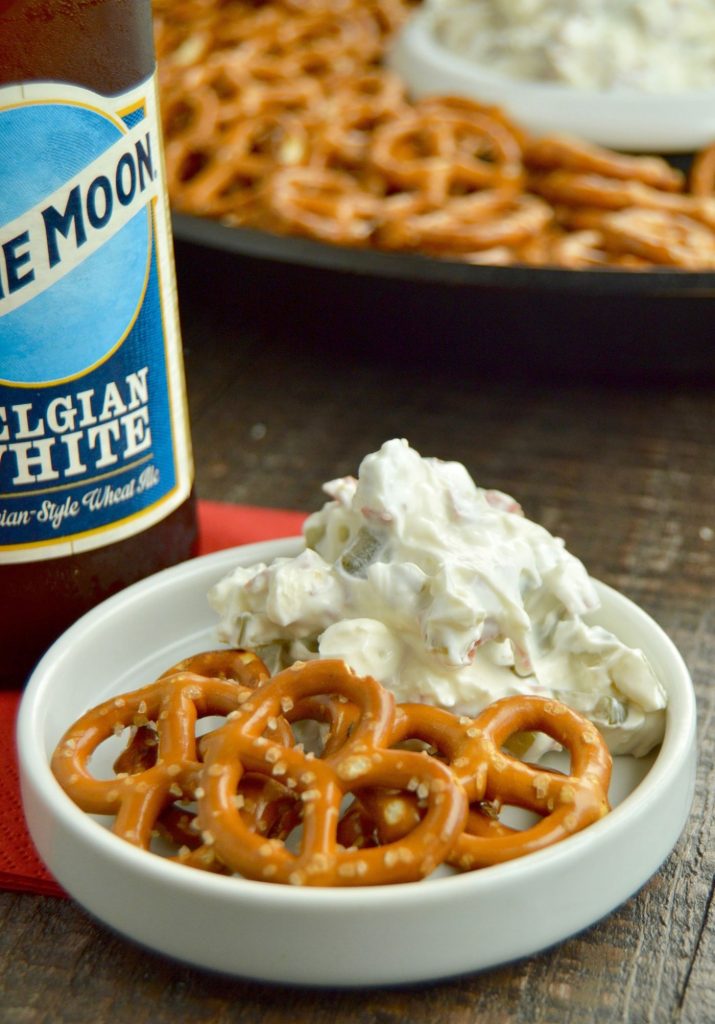 More Game Day Appetizers you might like!
Our Most Popular Recipes you might enjoy!
Hashtag any recipes you make from West Via Midwest #westviamidwestrecipes or tag me @michele_westviamidwest on Instagram to be featured on our stories!

Yield: 72 bite sized pretzels
soft pretzels
Soft pretzel bites have the chewy fluffy inside you love in a soft pretzel! Make them for tailgating, parties or just as a snack! Made in the air fryer so you can have them super fast! (oven alternative too!)
Ingredients
1 1/2 cup Water
2 1/4 Teaspoons active dry yeast
1 teaspoon salt
2 Tablespoons Sugar
4 Cups All Purpose Flour
1/3 Cup Baking Soda
Pretzel Salt
Instructions
Sprinkle yeast into water stir, wait 5 minutes.
Add sugar and salt, stir well.
3 1/2 cups of flour into a large bowl (saving 1/2 cup for when kneading the dough.)
Make a well in the center and pour yeast mixture into the center.
Using your hands or a spatula incorporate completly flour and water yeast mixture. Dough will look craggy (see photo in post)
Lay out parchement paper then sprinkle a small amount of flour onto the parchement.
Dump bowl of mixed dough onto parchement then sprinkle with a little bit more flour.
Begin kneading dough for about 5 minutes until shiny and all mixed together. (See photo in post) Add rest of flour as necessary to have dough not stick to parchement.
Divide dough into 6 pieces.
Using your hands make 1" ropes about 15-18" long out of each piece.
Cut pieces into 1 1/2 " pretzel pieces.
Prepare a stock pot full of water and bring it to a rolling boil.
Whille the water is boiling, turn on your airfryer to 390° and let it get hot.
Once water is boiling add the baking soda to the water.
Place abour 15 pretzel bites into the water and flip at 15 seconds.
Remove after 30 seconds to a side plate.
Sprinkle with pretzel salt or finishing salt.
Place into the air fryer, leaving space in between.
Cook for 5 minutes.
Remove, allow to cool for 3 minutes then serve with mustard, beer cheese or alone.
Repeat process for rest of pretzels.
Notes
I make these to order when Im serving them, eating a batch them quickly boiling and air frying a fresh batch as needed.
The dough can be prepared to ball stage and placed in plastic wrap until needed up to 3 days ahead.
Allow to come to room temp (about 15 mins) then roll out to ropes to proceed.
If you only want to make half a batch keep them in ball stage until ready to make.
Recommended Products
As an Amazon Associate and member of other affiliate programs, I earn from qualifying purchases at no additional cost to you.
Nutrition Information:
Yield:
12
Serving Size:
1
Amount Per Serving:
Calories:

171
Total Fat:

1g
Saturated Fat:

0g
Trans Fat:

0g
Unsaturated Fat:

0g
Cholesterol:

0mg
Sodium:

1741mg
Carbohydrates:

36g
Fiber:

1g
Sugar:

2g
Protein:

5g