This east BLT dip has all the things you love in a good BLT— crispy bacon, ice-cold lettuce, juicy tomatoes and creamy fresh mayonnaise! Made in about 15 minutes for the best appetizer dip for parties!
This BLT dip recipe has recently become my go-to cream cheese dip for parties. Every time I have made the bacon, lettuce and tomato dip it disappears completely! (note to self: make a double batch!!)
Cool creamy dip with a little bit of tanginess from the mayonnaise. I doctor it up with crunchy bacon, juicy tomatoes and crisp lettuce give one of my favorite sandwiches life in a dip!
You know I love a great cream cheese dip. Dips like my 5 minute Crack Dip and this Easy Shrimp Dip are my go-to appetizer dips for last-minute get-togethers because they come together so quickly.
I mean who doesn't love a cold cream cheese dip that everyone loves? It is the perfect chip dip (both potato chip and tortilla chips) but it also goes great served with herbed toasts to get the whole BLT sandwich feel!
We love bacon in our house and I've been working on a lot of dips that have a crispy bacon in them because in my world nothing can go wrong if you have lots of bacon in it!
Shopping list for BLT dip
Bacon ~ the crispier the better
Cream Cheese
Mayonnaise
Tomatoes
Romaine Lettuce
The best part about this cream cheese dip is that I almost always have all of the ingredients in my kitchen, so last minute dips like this one are easy to whip up with no planning ahead.
Tips for getting the BEST BLT Dip
Be sure and let the cream cheese soften before you start the dip. Softening the cream cheese makes it easier to completely blend the dip. You'll avoid lumpy dip. (Learn from my mistakes– I can't tell you how many times I try to rush it and regret doing so.)
Mix the cream cheese using the whisk attachment if using an upright mixer, or the beaters if a hand mixer. It whips to a better consistency than the paddle does.
Once you have whipped the cream cheese then add the mayo using the same whisk attachment before adding the other ingredients.
When you dice the tomatoes you'll want to remove the seeds and juices before adding them to the dip. The juices change the color and consistency of the dip and it gets too watery if you leave them in.
Cook the bacon extra crisp. As much as you might like a soft bacon for breakfast, you want the fat to completely cook and the bacon to be very crunchy. The bacon holds up better once added to the dip if it is crunchy! (no soggy bacon here!!)
I like to save time by microwaving the bacon to get it super crispy. Using a paper towel-lined plate start at about 5 minutes for 6 pcs of bacon. It also saves me cleaning up the stove and all the bacon splattering. Both ways work just as well if you don't like using a microwave!
Once you have mixed the mayo and the cream cheese you'll want to switch to hand stirring the dip so the additions of crunchy, crisp bacon, diced, sweet tomatoes and the ice-cold shredded lettuce don't get completely mashed up.
Need other Dip Ideas? Check out all of our Party Dips!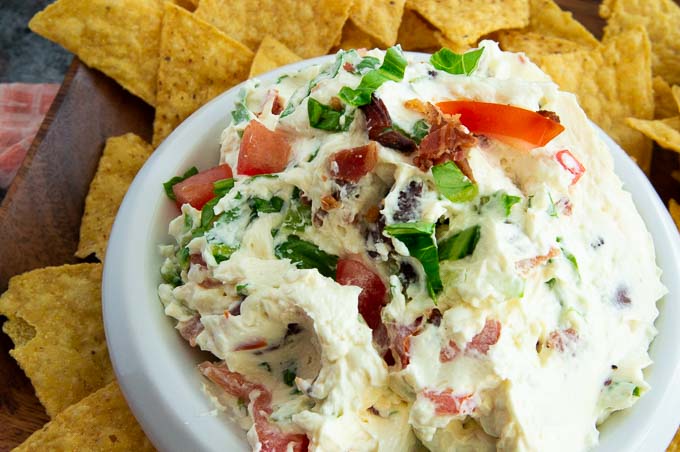 Variations on BLT Cream Cheese Dip
Add some ranch seasoning or a couple of tablespoons of ranch dressing to give even more great flavors in each bite!
Adding some sautéed onions will give the cream cheese base an extra boost if you like onions on your BLT!
Want a healthier version? Substitute yogurt for the mayonnaise and add a teaspoon of lemon juice. It cuts the calories down!
Instead of serving it with crackers, chips, or herb toasts try slicing cucumbers, carrots and radishes into planks for easy dipping! (A low carb option for those watching their carbs!
More Easy Cream Cheese Party Dips:
---
Common Questions You Might Have with this BLT Dip Recipe
Can I make BLT dip a day ahead? You can prepare everything for the cream cheese dip, then assemble right before serving it.
Make the cream cheese and mayo base and place it in its own container. Crisp the bacon, dice the tomatoes and shred the lettuce and store in separate containers.
When it's time to serve the dip, strain the tomato juice out then stir all of the ingredients together. If you stir it together right away, the tomatoes will get super mushy and the bacon will get soggy.
Can I use turkey bacon instead of regular bacon in the dip? You absolutely can use turkey bacon. The cooking time in the microwave will be a little less, but just cook it until its crispy (not burnt.) Use it exactly as you would regular bacon in the BLT cream cheese mixture.
We always have a BLT and A… can I add avocado to this dip- will it work? I've tried it both ways. Adding the avocado to the mayo and cream cheese mix turns the dip a pretty green color. That works well if your guests LOVE avocado and aren't freaked out eating a green cold dip!
I also made the bacon lettuce and tomato dip with chunks stirred in at the last minute. This way, in my opinion, worked a little better. It added a slightly different texture in the dip but kept the creamy white color!
What can I serve this cold cream cheese dip with? Potato chips are my particular favorite with the party dip appetizer! I buy the heavier ridged chips so they don't break.
You can also serve the dip recipe with tortilla chips, or make herbed toasts and serve them warm. They give a great warm cold all in one bite deliciousness!
You can also use your favorite cracker with these! Cream cheese dips are made for crackers and BLT dip is no exception!
Will this easy dip recipe work well as a potluck or tailgating dip to travel with? It sure does! I've made the dip ahead then right before I leave I dump the toppings on top of the carrier bowl. Keep the dip in an airtight container in a cooler. Stir all the ingredients right before serving!
How long will this dip last? I've never had leftovers except to be able to answer if this dip would keep the next day or so! It still tastes great the next day, but the bacon is not as crisp and the tomatoes get a little mushy. That being said, my husband still enjoyed it the next day without any complaints! But I do suggest it not go longer than 24 hours for the best enjoyment!
PIN THIS DIP SO YOU'LL HAVE AN EASY DIP FOR LAST MINUTE GET TOGETHERS, GAME DAY CELEBRATIONS, POTLUCKS OR TO TRAVEL TO A TAILGATING PARTY!
---
---
Hashtag any recipes you make from West Via Midwest #westviamidwestrecipes or tag me @michele_westviamidwest on Instagram to be featured on our stories!

Yield: 8 Appetizer servings
BLT Dip: Party Appetizer
This BLT dip has all the things you love in a good BLT--- crispy bacon, ice cold lettuce and creamy fresh mayonnaise! Made in about 15 minutes for the best appetizer dip for parties!
Ingredients
8 ounces Cream Cheese, block, softened out of the fridge for 30 minutes before using
6-8 slices bacon
1/3 cup shredded romain lettuce
1 large tomato, diced
Instructions
Allow the cream cheese to soften on the counter 30 minutes before using. (not in the fridge)
In the microwave place a plate lined with paper towels and crisp the bacon for 6-8 minutes on high. The bacon should be very crispy so it stays crunchy when in the dip. When done, let cool for 5 minutes, then crumble to tiny sized pieces.
Skillet alternative for cooking bacon. Cook in a skillet on medium high paying attention for grease splashes for 12-15 minutes until crispy. Remove from pan to papertowels to remove excess oil. Once cooled, crumble to small pieces.
Dice the tomatoes, removing the seeds and juices from the tomatoes. It should be a small dice.
Chop the letttuce into small bits. Use more of the crunchy end so it stays crunchy in the dip, but save the darker, less crunchy ends for garnish.
Once the cream cheese is softened, place the cream cheese in the bowl of a mixer. Whip for 3-4 minutes until cheese is very soft and pliable.
Add the mayonnaise and whip until light and creamy about 3-4 minutes.
Scrape the sides of the bowl down, and using a spatula clean the beater/whisk attatchement of all cheese.
Using a spoon stir in all but about a tablespoon each of tomatoes, crumbled bacon, lettuce and mix well.
Place into a serving bowl and sprinkle the tablespoon leftovers of lettuce, tomatoes and bacon over the top.
Serve with tortilla chips, herb toasts, or chips.
Notes
This dip is best served within 4 hours of making it. I have tested it and it will hold up overnight, but some of the tomatoes broke down a little bit. If you wish to make it a head of time I would prepare the cream cheese and mayo and store alone. Prepare the lettuce, tomatoes and bacon ahead of time, then just stir together when it is time to serve.
Nutrition Information:
Yield:
8
Serving Size:
1
Amount Per Serving:
Calories:

219
Total Fat:

21g
Saturated Fat:

8g
Trans Fat:

0g
Unsaturated Fat:

11g
Cholesterol:

44mg
Sodium:

342mg
Carbohydrates:

3g
Fiber:

0g
Sugar:

2g
Protein:

6g
This recipe was calculated using the exact brands and measurements I used to make this recipe. If you are following a strict diet please note changing anything will cause the nutritional info to change. Please calculate your own nutritional information if you want it exact to what you make and use my calculations as a guide only.