This 5 minute Crack Dip comes together in 5 minutes and is perfect for serving with crackers. Ideal for poolside snacking, game day snacking or just to serve with cocktails!
Make a bunch of simple party appetizers to go with the kitchen sink crack dip like these garlic parmesan wings and our crispy zucchini fries! Everyone loves to snack and these are great options for entertaining!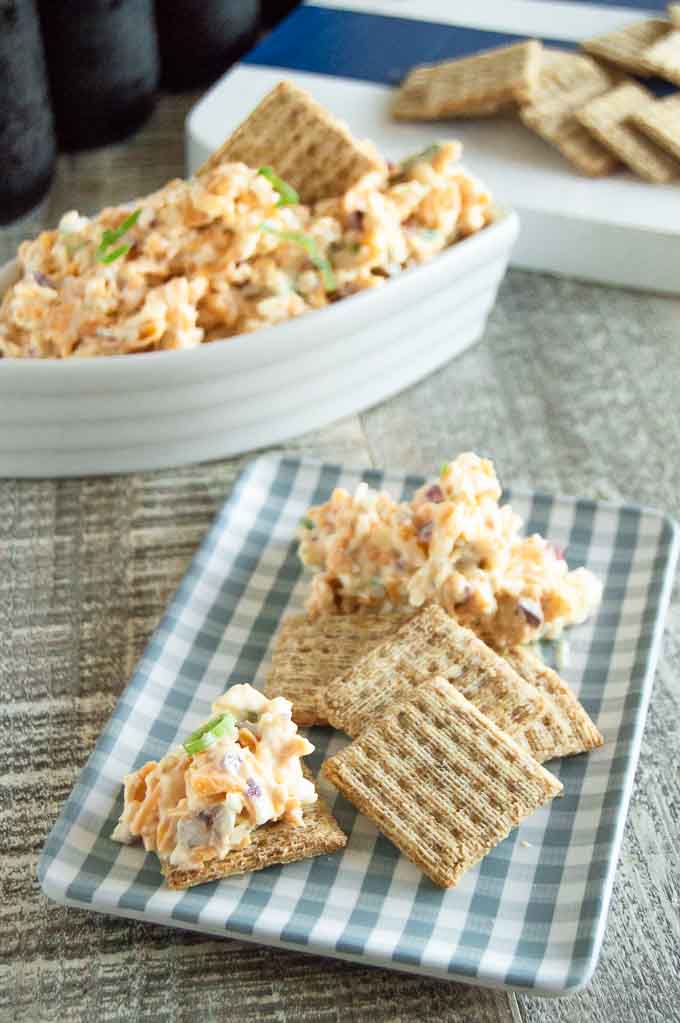 With summer in full force, I find that company comes to our door at the last minute often. Never one to shy away from putting out something to nibble on with a cocktail I have a stash of quick recipes made from things in the pantry that I can whip up ASAP like this Cream Cheese dip or this Classic Pickle dip recipe . Today's recipe for 5 minute crack dip is one of those recipes.
My friend Ellen had us over for dinner recently and she served this dip as an appetizer with cocktails. After pretty much demolishing her whole spread I asked her if I could share this on my website and she was totally cool with it! I adapted it ever so slightly with the addition of some pimentos and upping a little bit of the secret ingredient!
What is Crack Dip?
It's an urban word for something that is very addicting. Trust me on this one, you and your guests will have a hard time not continually going back for more of this easy 5 minute dip!
Party Dips are easy to make and keeping a well-stocked pantry for them is easy to do. Keeping things on hand such as cheeses, crackers, salamis, nuts will go a long way to helping you always be prepared.
What I keep in my pantry for last-minute appetizers to serve:
crackers, several kinds
breadsticks
olives
smoked almonds
mixed nuts
cashews
dried beef
pickles
artichoke hearts
tuna
potato chips
tortilla chips
pretzels
honey
agave syrup
chocolate syrup
good chocolate
Fresh Ingredients for Appetizers to keep on hand:
Hard cheeses like cheddar, mozzarella, swiss
Soft cheeses like goat cheese, blue cheese, gorgonzola
Semi-soft cheeses like brie
Cream cheese
Charcuterie like salami, ham, bologna, prosciutto
Fruits such as apples, grapes and strawberries
French bread, sourdough bread
Bacon
Vegetables like carrots, celery sticks, peppers
Freezer Items to stock for appetizers for entertaining:
Puff pastry
Small Rolls to bake fresh
Vanilla Ice Cream
All of these ingredients can really aid you when people are coming over. You can put together a French Onion Tart, a baked brie with almonds and a honey drizzle, a charcuterie platter, chips and dips, crackers with various cheeses or even Cheese filled pastry straws.
The trick is being prepared so print out the list and stock your pantry for all of your company!

Need other Dip Ideas? Check out all of our Party Dips!
How do you make 5-minute Crack Dip?
Shred the cheeses, chop the onions then place everything into a bowl.
Stir to combine
Chill then serve.
Can that be any easier? Seriously, that's all there is to it. Can you freeze this dip? No- it comes together so quickly you don't need to. It will last about 5 days in the fridge in a sealed container. After that, the consistency of the dip changes and isn't as delicious. You can make it a couple of days ahead for your party if you need to!
PRO TIP: Homemade mayo is very easy to make and tastes a million times better than store-bought. I have a Fresh and Easy Mayonnaise recipe here you can whip up in 5 minutes and there will be enough left for other things too. Give it a try sometime I promise you'll never buy store-bought again.
More Cold Dip Appetizers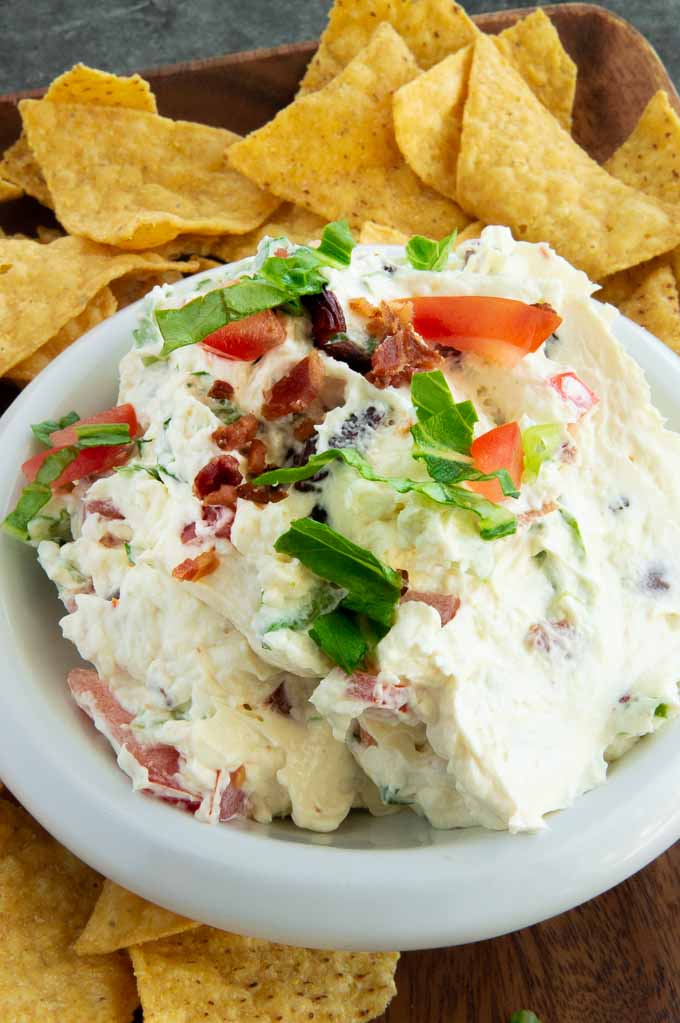 More Easy Hot Appetizer Recipes:
---
---
Pin this to your Easy Appetizer Board on Pinterest! Lets Be Friends …. follow me on Pinterest for more ideas for stress-free entertaining with confidence!
---
---
~ Instagram ~Pinterest~ Twitter~Facebook ~
---
---
Yield: 12
5 minute Crack Dip: Easy dip for Parties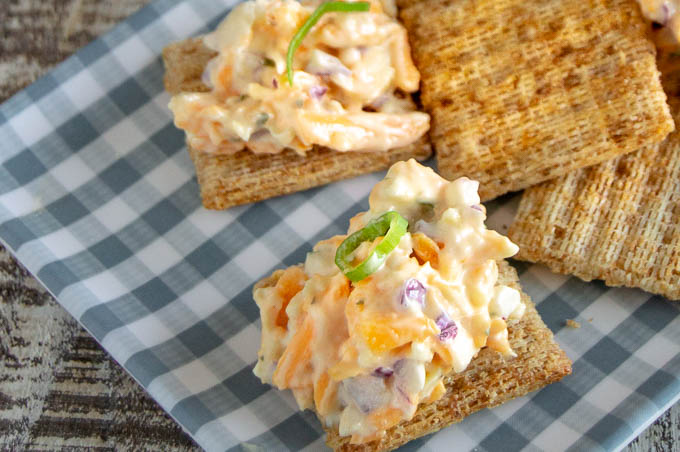 This 5-minute crack dip comes together in 5 minutes and is perfect for serving with crackers. Ideal for poolside snacking, game day snacking or just to serve with cocktails!
Ingredients
1/2 pound yellow cheddar cheese , shredded (about 3 cups)
1/4 pound white cheddar cheese, shredded (about 1.5 cups)
3/4 cup red onion, minced
3/4 cup mayo
2 1/2 teaspoons dijon mustard
2 tablespoons horseradish,, strained
2 tablespoons pimiento minced, optional
Instructions
Stir all ingredients together. It's best if chilled in the fridge and the flavors are allowed to meld for at least an hour.
Can be made up to 2 days ahead and stored in an airtight container in the fridge.
Serve with your favorite cracker. The dip is hearty and I serve it with triskets so they hold up without breaking.
Nutrition Information:
Yield:
12
Serving Size:
12 Servings
Amount Per Serving:
Calories:

215
Saturated Fat:

7g
Cholesterol:

35mg
Sodium:

287mg
Carbohydrates:

1g
Sugar:

1g
Protein:

7g