This Healthy Mediterranean Dip is reminiscent of the classic 7 layer dip. Made with white beans to make a hummus style base with all the fresh toppings that make you feel like you're on a Greek Island! Great for game day for health conscious snacking!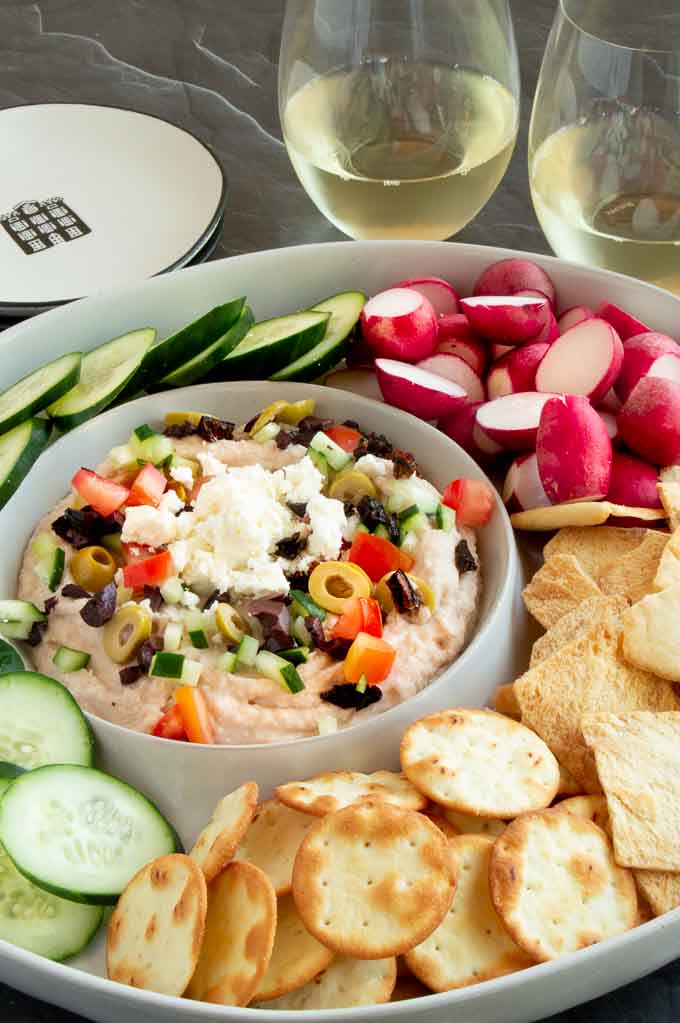 This Mediterranean dip is an excellent choice for Super Bowl party food. It's made with simple flavorful ingredients most of which you will have in your pantry. Fresh tomatoes, cucumbers and artichoke hearts along with sliced olives and feta cheese are delicious toppings for a simple greek bean dip!
It uses a lot of the same ingredients that my Feta Kalamata Bruschetta uses for toppings which adds a freshness to the dip! That dip is one that goes so fast when it's offered and I've always thought that was because of the fresh ingredients!
7 layer dips are commonly made for Mexican food but can be super calorie-laden with the refried beans and although a healthy fa,t guacamole tends to really add on the calories!
If you entertain often, I'm sure you are like me in that there is always someone who is watching what they eat. This Mediterranean appetizer is a healthy game day party food you can serve to everyone.
With only 124 calories per serving, this Greek-style 7 layer dip has which fits with just about any diet!
I made this recently and was blown away at how much flavor it had with so few ingredients. The best part… I had most of the ingredients for a healthy Superbowl party food already in my pantry or refrigerator.
Shopping List for Greek Mediterranean Dip
White Beans – cannellini or great northern
Cucumbers
Artichoke Hearts
Tomatoes
Sun-dried Tomatoes
Green Olives
Kalamata Olives
Feta Cheese
spices – paprika, cumin, salt, garlic powder
lime juice
How to make your own greek layer dip?
This greek bean dip recipe is so easy to make with just a few simple steps.
Use canned beans to make the pita chip dip super quickly. You'll want to drain the beans and rinse them several times in a colander to get rid of the super starchy liquid before adding them to the food processor.
Mix the beans solo before starting to flavor them to avoid lumpy dip. By pureeing the greek hummus dip base before adding in the spices and greek yogurt the dip will be one glorious creamy and smooth texture.
Hummus is a thicker dip but if you want a thinner style greek dip add an additional 1/4 cup of greek yogurt to the mixture.
---
PRO TIP: Cut each ingredient in the 7 layer Greek Dip to different shapes but cut each ingredient to the same size. Small bite sized pieces when layered across the top look great for presentation!
---
Mediterranean Dip Serving Options:
Serve the greek hummus style dip on the bottom and sprinkle the toppings over the top for the least amount of effort!
To help with picky eaters serve the pita chip dip with each topping laid in a uniform line across the top of the hummus dip! Your guests can then pick and choose what toppings they want with their dip… a 7 layer dip laid across the top dip!
This dip works with almost anything. Serve it with crackers, pita chips and bread. The greek dip also works with sliced vegetables such as sliced carrot coins, radishes, celery or slices of cucumbers for scooping up the dip!
Need other Dip Ideas? Check out all of our Party Dips!
More Game Day Dip Recipes:
---
STAY CONNECTED ON SOCIAL SO YOU DON'T MISS OUT ON THE LATEST RECIPES TO MAKE ENTERTAINING BOTH STRESS FREE AND DELICIOUS!
---
---
~ Instagram ~ Pinterest ~ Twitter~ Facebook ~
---
---
FREE TIPS FOR ENTERTAINING WITH EASE AND FUN DELICIOUS RECIPES WHEN YOU SIGN UP FOR THE MAILING LIST BELOW THE RECIPE !
---
Yield: 8 appetizers
Mediterranean Dip - 7 layer Greek Dip
This Healthy Mediterranean Dip is reminiscent of the classic 7 layer dip. Made with white beans to make a hummus style base with all the fresh toppings that make you feel like you're on a Greek Island! Great for game day for health-conscious snacking!
Ingredients
2 cans cannellini beans/great northern beans, 3 cups
1/3 cup greek yogurt
1 teaspoon cumin
1/2 teaspoon garlic powder
1 teaspoon salt
1 teaspoon lime juice
15 sliced green olives
15 sliced greek olives (black)
1/2 cup feta cheese crumbled
1 small cucumber, cut to matchsticks
1/2 cup sun-dried tomatoes , chopped finely
1 medium size tomato , diced
1 can artichokes in water, cut to quarters
Instructions
Strain and rinse the canned beans thoroughly.
Add the beans to a food processor and blend until fully pureed.
Add the yogurt, cumin, salt, garlic powder, paprika and lime juice and blend until combined. Place in serving bowl at center.
Spread artichokes, olives, tomatoes, sundried tomatoes, cucumbers and feta cheese over the top of dip.
Place pita bread, crackers, sliced carrots, cucumbers, celery sticks or bread sticks around the dip.
Nutrition Information:
Yield:
8
Serving Size:
8 appetizers
Amount Per Serving:
Calories:

124
Saturated Fat:

1g
Cholesterol:

8mg
Sodium:

639mg
Carbohydrates:

19g
Fiber:

6g
Sugar:

3g
Protein:

8g
This site uses affiliate links, such as Amazon which pays this site a small commission if you purchase at no additional cost to you. As an Amazon Associate I earn from qualifying purchases. Read full info
here
.