No-Fail Grilled Lamb Chops are marinated in rosemary, garlic and citrus for a simple yet elegant meal for entertaining. Ideal to serve at summer and fall gatherings.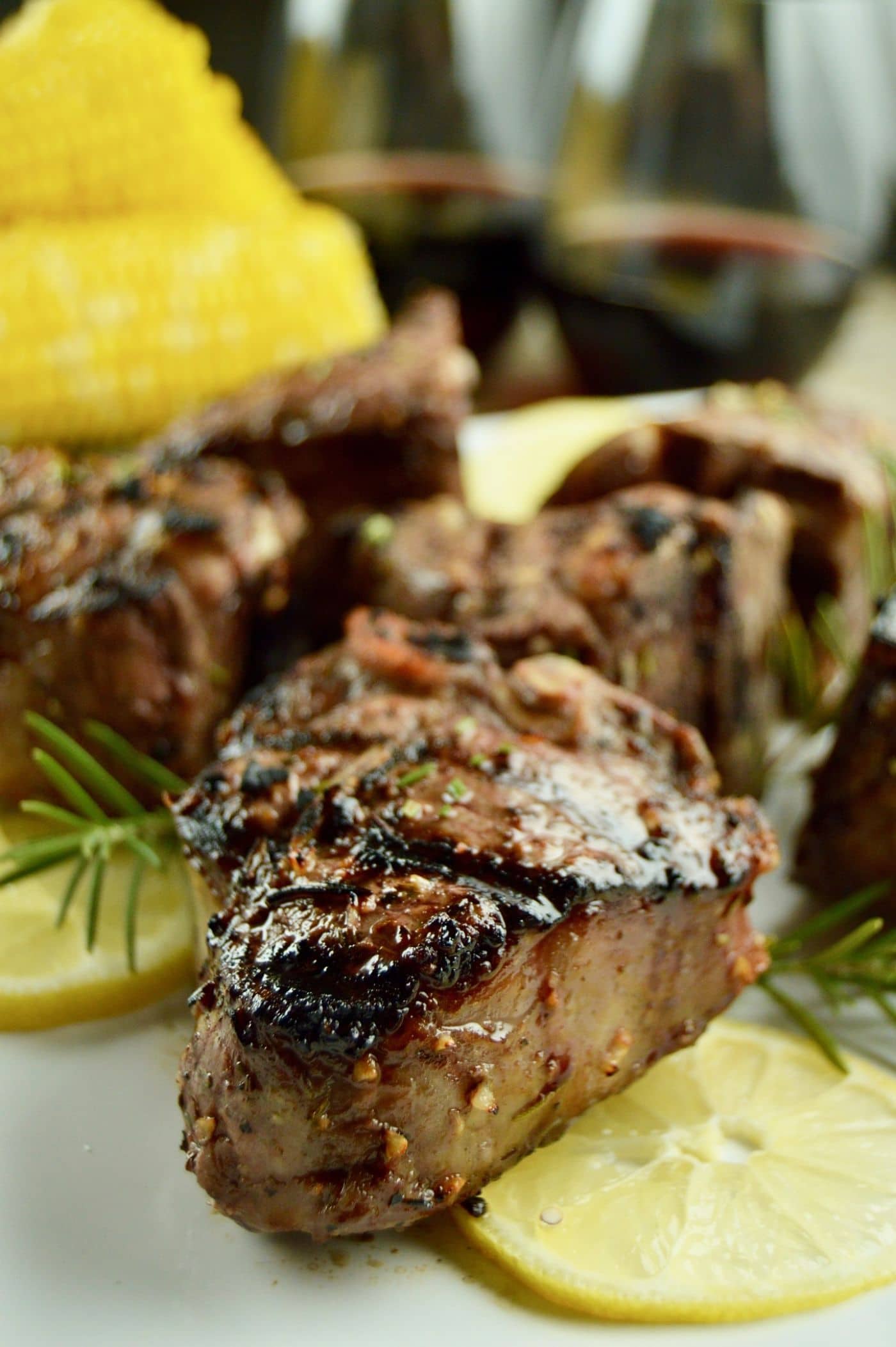 No-Fail Grilled Lamb Chops is a recipe that we use often in our house. It's not really even a recipe, because it's just a few herbs and spices with some citrus then you grill it to your liking. The no Fail part of No-Fail Grilled Lamb chops comes about in how you grill them so they remain juicy, not dried out and get the perfect seared crust.
Seasoning options for grilled lamb
For today's no-fail lamb chop recipe, I'm suggesting garlic, lemon and rosemary for super clean and simple flavorings. Other herbs and spices such as thyme, cumin, celery salt and cumin also work. If you want a smoky flavor chili powder and some chopped mild chilis will give a nice kick.
I also have a greek lamb chop recipe here that you could use as well for simple, but very flavorful lamb.
What cuts of lamb to select to grill
There are three kinds of lamb that work on the grill, loin chops, shoulder chops and rib chops. I find the loin or rib chops work the best because you can trim off most of the fat which prevents them from starting the flare-ups on the grill.

You can also grill a leg of lamb, but its not a quick meal for entertaining. They are delicious, but I find I need those meals that can come together quickly in the summer and fall.

Buy the chop at a width of 1 1/4″ – 1 3/4″ thick, and make sure the cut is the same thickness for the whole chop.

The chop cooks evenly and doesn't dry out in parts if you make sure the cut is uniform for all of the chops.
How to cook lamb on the grill:
You will set your grill up with a hot area and a medium-hot area. I find it works successfully every time if I grill the chops on the medium heat until the lamb is about 15° from the final doneness wanted. Then you move it to the hot section to get the beautiful sear marks before you remove it from the grill to allow it to rest for 10 minutes before serving.
How long to cook lamb chops on the grill:
Since all lamb chops are of different sizes I find using a thermometer is the best way to get your lamb chops cooked to the temperature you prefer. 110° for rare, 130° for medium-rare or 150° for medium.
If you don't have a thermometer you can use the following guidelines for timing on a 1 1/2″ lamb chop to achieve
Rare: use 3-4 minutes per side on the lower heat section of the grill and then 1 minute per side on the high heat area of the grill for searing.
Medium-rare: 4 minutes medium heat, 1-2 mins sear
Medium: 5 minutes medium heat, 1-2 minute sear)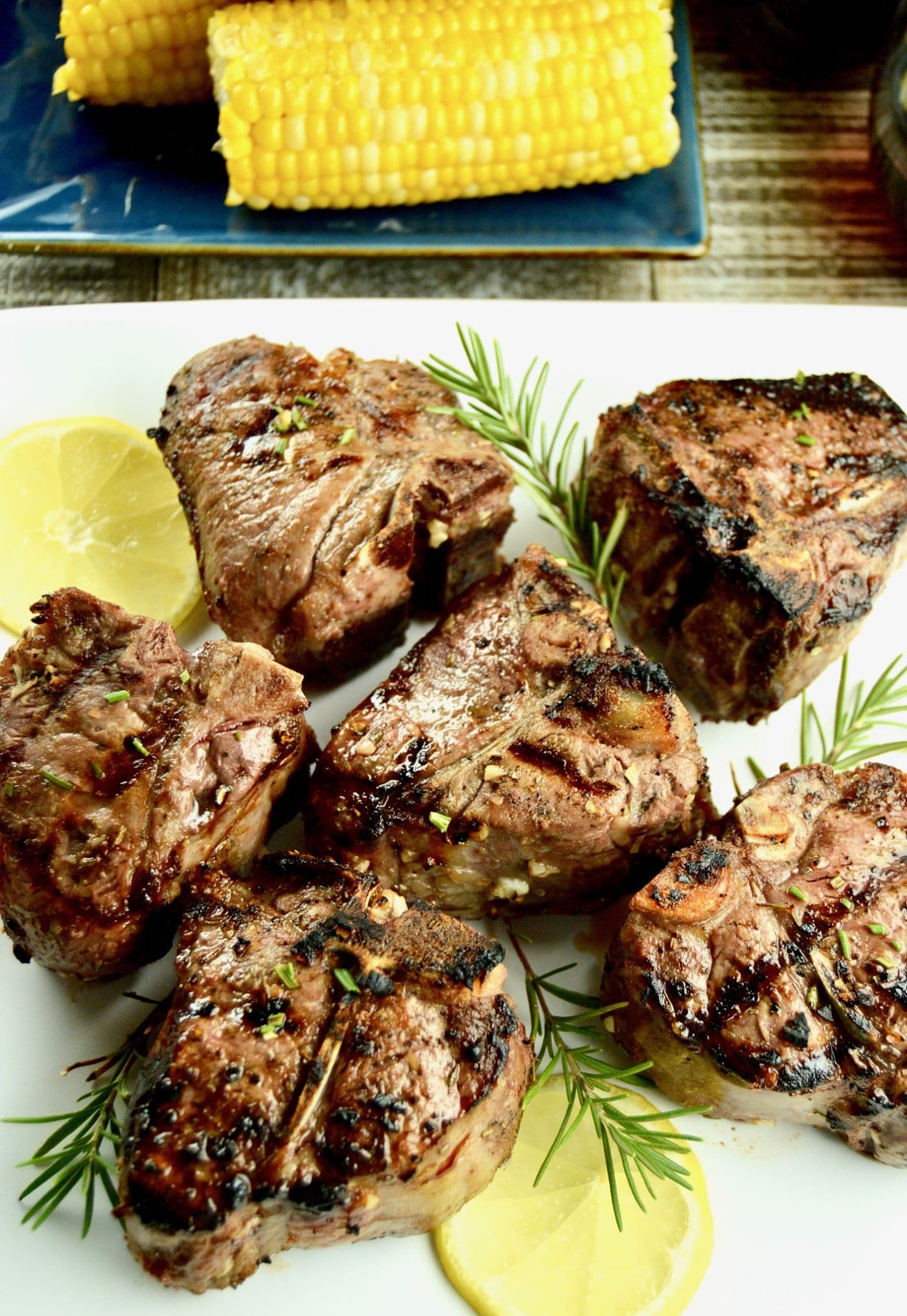 What to serve with Lamb?
Love Lamb? You can find ALL the delicious lamb recipes right here!
More Lamb Recipes you might enjoy!
Looking for other quick recipes for company?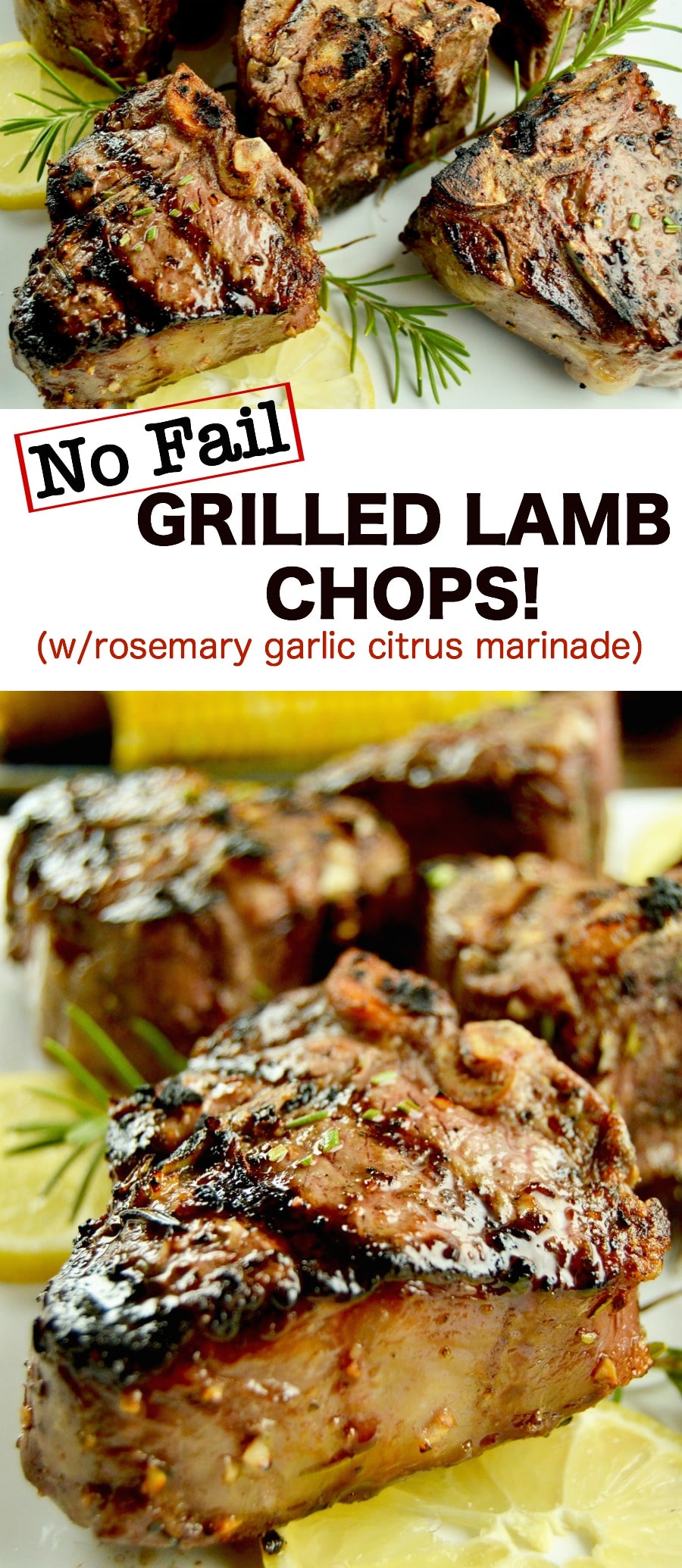 ---
---
PIN THIS TO YOUR CHICKEN BOARD OR EASY DINNER RECIPES FOR ENTERTAINING BOARD so you can find it easily when you need it.
You can also follow me on Facebook here for more easy recipes for entertaining!
---
---
Yield: 8
No Fail Grilled Lamb Chops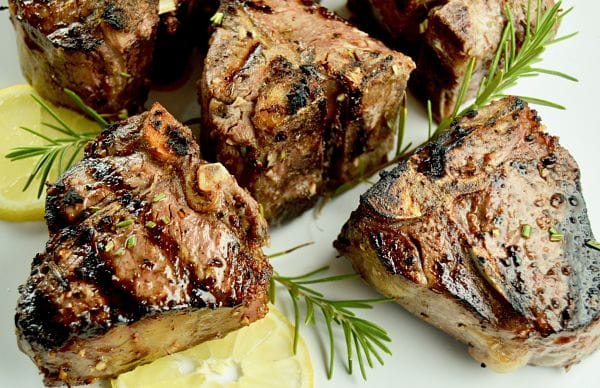 No Fail Grilled Lamb Chops are marinated in rosemary, garlic and citrus for a simple yet elegant meal for entertaining. Ideal to serve at summer and fall gatherings.
Ingredients
16 lamb loin chops
4 cloves garlic, minced
1 tablespoon olive oil
4 sprigs rosemary
1 tablespoon lemon zest
2 tablespoon lemon juice
salt and pepper to taste
Instructions
In a plastic bag, place all ingredients but the lamb chops and salt and pepper. Mix well. Then add lamb chops and allow to marinate for 30 minutes up to 1 day. If grilling later, keep chops in the fridge until 30 minutes before serving. Allow to come to room temp before grilling.
Prepare your grill with the 2 section cooking. One part hot, one on medium to lower heat.
When the grill is ready, remove from the marinade and season with salt and pepper. Then place chops onto the lower temp area of the grill. You will use a thermometer to cook to the desired doneness. (See Notes). Cook the chops turning once only until the chops are 15 ° before the desired doneness. So if you are cooking to Medium Rare, you will cook them to 130° then move them to the hot area of the grill to give them the final sear mark. About 1 1/2 minutes per side, but use your thermometer to guarantee no fail finished temperature.
Once at desired temp, remove from grill and allow to rest 10 minutes for juices to settle back into the chops before serving.
Notes
lamb Doneness temperatures:
125 Rare
145 Medium Rare
155 Medium
Nutrition Information:
Yield:
8
Serving Size:
8 Servings
Amount Per Serving:
Calories:

342
Saturated Fat:

5g
Cholesterol:

149mg
Sodium:

154mg
Protein:

47g
SaveSave
SaveSave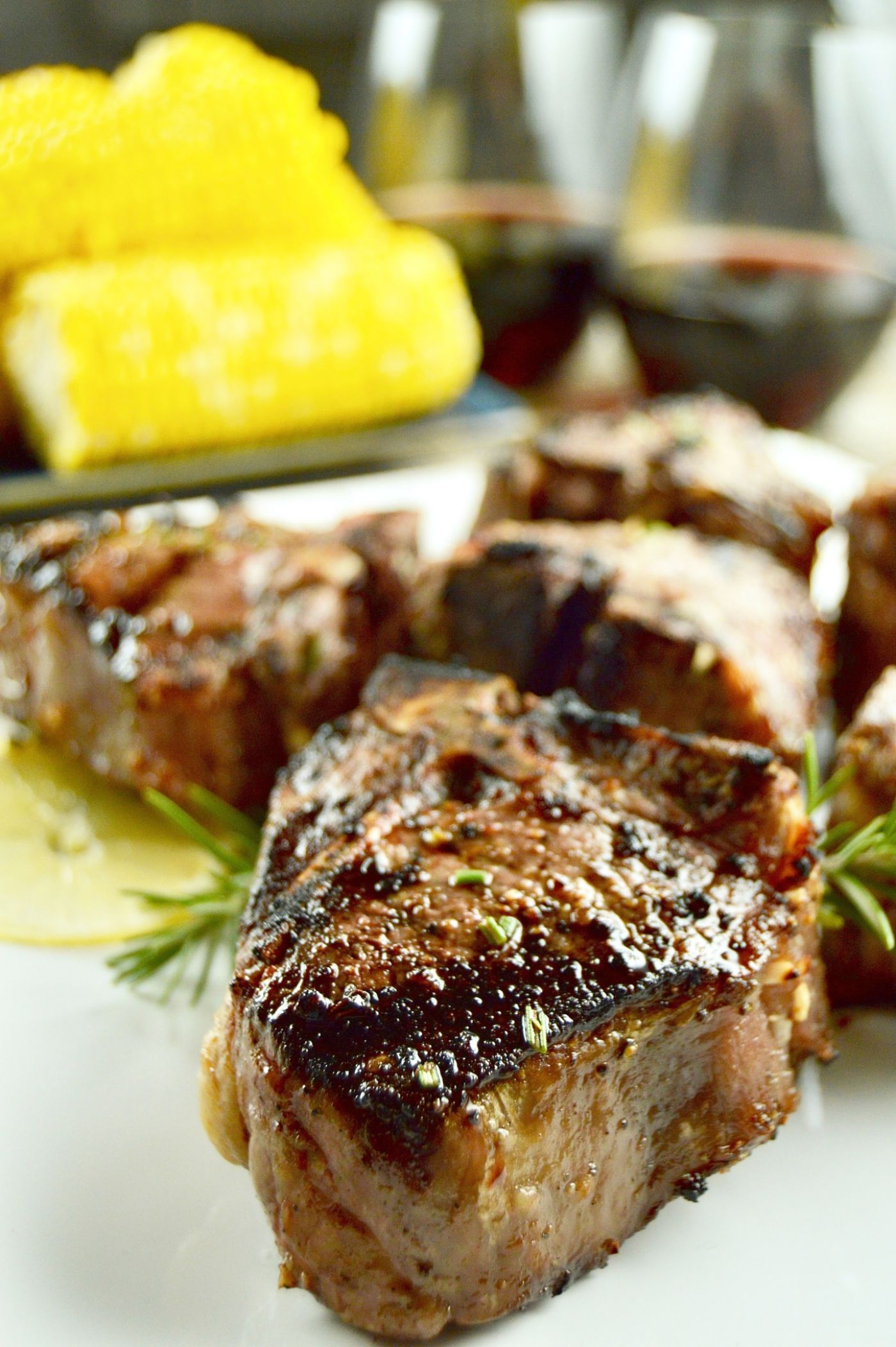 SaveSave
SaveSave
SaveSave
SaveSave
SaveSave