Had a crazy day at work and you're in a panic about the dinner party you are having? This Pesto Butter Salmon is your saving grace. You can have it on the table in about 20 minutes. The tender salmon is flaky and has fresh pesto spooned over the top at the last minute to boost the flavors. Cooked over bright fresh vegetables for a simple, but elegant dinner for entertaining!
Sheet Pan Dinners are just what you need when you don't have hours to spend cooking– be sure and see out Oven Baked Cajun Shrimp Boil recipe or coming soon the sheet pan flank steak fajitas
Today's recipe for Sheet Pan Salmon is one of those recipes you keep in your back pocket to be able to host an elegant, easy to make dinner that everyone will love.
It can be our secret that it only takes about 20 minutes from start to finish to a healthy, delicious salmon dinner with vegetables and a fresh pesto sauce. Salmon is a healthy dinner option especially for your guests who don't want a calorie-laden dinner.
Salmon is a heart-healthy fish that provides lots of Omega-3s, which makes me feel good about serving it to my family.
Having people over for dinner is such an important part of a full life. It's time to spend with those you care about while sharing experiences that enrich our lives.
It's hard to fit dinners in when we work, shuttle kids, run errands, keep up the house… all the things in everyday life that we all do. This superfast recipe makes entertaining SO EASY!
You can make it for a weeknight dinner or for elegant entertaining. Sheet pan salmon is also a great meal to be able to make ahead for meal prep. (translation: make a double batch to have lunch for later in the week!)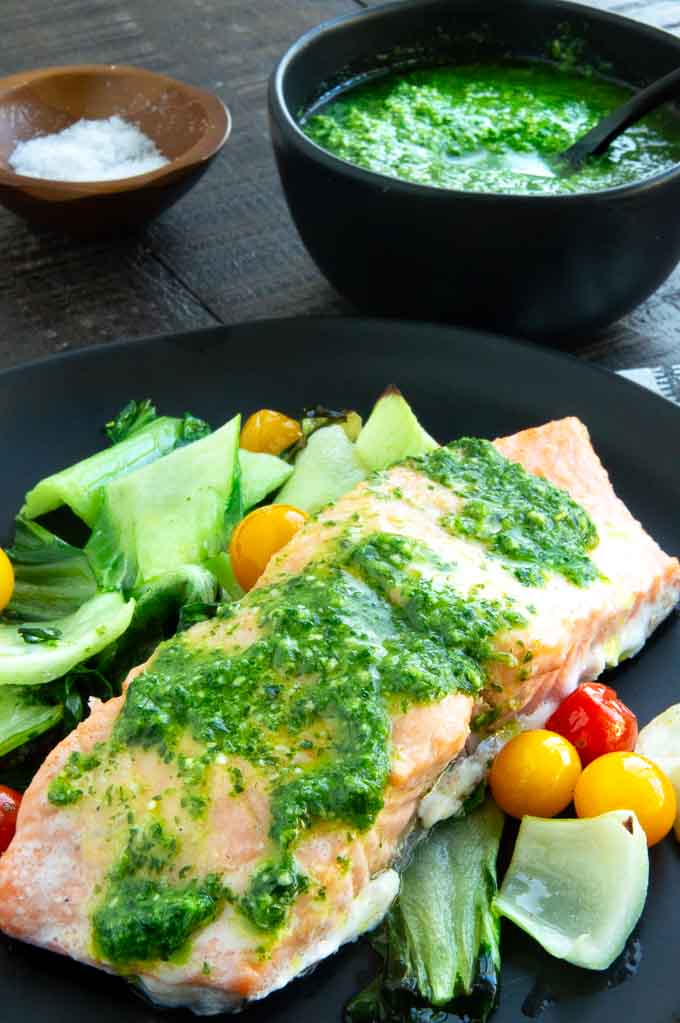 Healthy Fish One Pan Dinner with just a few ingredients
Salmon
Pesto (freshly made or jarred)
Butter
Garlic
Bok Choy
Tiny Tomatoes
This weeknight dinner recipe is a lazy man's dinner. One that takes literally no time at all to make. You use only a few ingredients so it comes together in less than 20 minutes.
This recipe also works with spinach, mushrooms, bell peppers, Brussel sprouts and broccolini.
What Kind of Salmon to use for this Baked Salmon Recipe
This recipe is great because you can use any salmon you can find. I like to use Sockeye Salmon, King Salmon or Pink Salmon but any salmon you find at your local warehouse store (Costco et al.) or your local grocery store will work.
Frozen Salmon works fine too.
I do try and use Pacific fished salmon over salmon from the Atlantic. All Pacific salmon is wild-caught and all Atlantic produced salmon is farmed fish. I'll pick wild-caught over farmed every day!!
What is the difference in color in different kinds of salmon?
Salmon in Silver Skin, Sockeye and King Salmon are redder in color than pink and chum salmon. They usually have more oils in them and are a little richer/stronger in taste.
How to Make Sheet Pan Salmon
I've included a recipe for a simple homemade pesto in the recipe but by all means, if you don't want to take the time to make one, buy a storebought jar of pesto!
Use a sheet pan or a glass-bottomed baking dish to cook everything in the oven. You can coat the bottom of the pan with olive oil spray to prevent sticking.
Chopping the vegetables to small bites allows the veggies to cook quickly.
Seasoning the melted butter with sliced garlic makes the butter sauce super flavorful. It only takes a few tablespoons to coat both the vegetables and brush on the salmon fillets. This makes this a healthy sheet pan dinner. It's low carb, keto and no one will think its diet food because it tastes so good.
Lay the vegetables on the pan then place the salmon on top to bake uncovered.
Place the salmon skin-side down to help the fish cook evenly. The skin helps protect the salmon so it doesn't dry out on the hot pan.
Bake the salmon fillets in the oven until flaky and opaque.
Once the salmon and vegetables are just about done, you'll spoon on pesto to the top of the cooked salmon and broil it for one minute to warm the pesto!
Common Questions to make healthy Oven Baked Salmon
Can I use different meat for this recipe? Salmon is a super meaty but this recipe for sheet pan fish would work with tilapia or any whitefish. It would also work with shrimp. I've often made chicken breasts using this recipe and just adjusted the cooking times
How much salmon do I need per person? Figure on 1/3 – 1/2 pound of salmon fillets per person.
How do I know if the baked salmon is done? The salmon should be very flaky when tested with a fork. The color will turn from translucent to an opaque lighter in pink color. You can also use a thermometer and make sure the internal temperature is 145°
I use this thermometer. It works at any angle and is easy to insert and easy to clean. I never realized how having the temperature flip to be read at any angle would make such a difference.
Do I need to flip the salmon? No need to flip the salmon, it cooks super quickly.
What is the white stuff that comes out when the Salmon is cooking? Can I eat it? You can absolutely eat the white "juice" that comes out when cooking the baked salmon. It's a coagulated protein called albumin—
I've seen a grey area on the salmon right next to the skin? Is that edible? Is my salmon bad? It's fine to eat, but it does have a very strong flavor. I personally don't care for the skin, or the deep gray portion and eat around it. My husband LOVES both the skin and the grey portion and scoops mine right up!
What wine can I serve with Butter Pesto Salmon? A nice pinot Gris, a prosecco or a light rose would all work great with salmon. If your guests are set on red wine? Select a lighter wine like a Beaujolais — it pairs well too!
Like Healthy Recipes? Check out these Easy Air Fryer Recipes!
Easy Keto in 30 Minutes
This recipe is from a fellow food writer I know, Urvashi Pitre. She has a food website Two Sleevers that has many delicious low carb recipes!
This is one of many of her cookbooks — she specializes in low carb recipes that are easy to make. I have previously shared Air Fryer lamb chops with an easy sauce from another of her books.
That recipe did so well with all of you I knew when her new book Easy Keto in 30 minutes came out I would share another recipe with you.
I love this book because everything looks amazing and you would never know that it is healthy/ or keto. There are over 100 bold and super satisfying recipes in the book.
Having made over 10 recipes from this book I know you would be thrilled to make them. All of the recipes are 30 mins or less (winning!) Some of my favorite recipes are the Asian Chicken salad (the dressing is crazy awesome,) the Sichuan Pork with Bok Choy and the Skillet Lasagna.
If you are trying to get a handle on the Keto diet, and still eat recipes that taste amazing this is the book for you. She goes into the basics of keto, tips and tricks to following it, what to do if you stumble.
Bottom line— these are delicious recipes that whether you follow the keto diet or not you will come to have as favorite dinners!
Other Healthy Comfort food Recipes you might enjoy! (all super quick too!)
Hashtag any recipes you make from West Via Midwest #westviamidwestrecipes or tag me @michele_westviamidwest on Instagram to be featured on our stories!

Yield: 4
Pesto Sheet Pan Salmon (keto)
Easy Sheet Pan Salmon over vegetables topped with fresh pesto comes together in 15 minutes. Can't beat a dinner that cooks that quickly! Elegant and gorgeous for entertaining!
Ingredients
2 Tablespoons Butter, Melted
6 Cloves Garlic, thinly sliced lengthwise
1 teaspoon Kosher Salt
1 Teaspoon Black Pepper
4 Baby Bok Choy, sliced to 1 inch pieces, ends removed
4 (5 ounce) Salmon Fillets
1 Cup Cherry Tomatoes
Lemon Wedges
Pesto
2 bunches Parsley (Curley) leaves only
2 Tablespoons Pine Nuts
Juice of 1/2 lemon
1/2 Cup Olive Oil
1 tablespoon Parmesan Cheese
salt to taste
Instructions
Prepare the pesto first. Pull off the tops of the parsley and place in a food processor. Some Stems are ok but leave most off. Add pine nuts, lemon juice and run on high until all minced. While the processor is running add the olive oil until the pesto is fully liquefied.
Preheat oven to 400°
In a small bowl, combine the butter garlic, salt and pepper.
In a medium bowl add the bok choy slices and tomatoes.
Add 1/2 of the butter mixture and stir to coat.
Spread the vegetables on the bottom of the sheet pan.
Place the salmon on top of the bok choy mixture.
Brush the remaining butter over the salmon.
Bake until the salmon flakes with a fork, about 12-15 minutes.
Remove the sheet pan from the oven, turn the oven to broil.
Spread pesto over the top of the salmon, place back in the oven to broil until the pesto is warmed, but not browned, about 1 minute. (you will only use part of the homemade pesto, about 1/2 cup total.)
Serve the salmon with the bok choy and tomatoes and lemon wedges.
Notes
Store bought pesto is fine to use if you don't want to make your own.You will use about 1/2 cup.If you make your own pesto, you can store the leftover in the fridge for 3-4 days.
If you make the pesto and there is some leftover, store it in a sealed container in the fridge for 3-4 days.
This recipe is slightly adapted fro Easy Keto in 30 Minutes by Urvashi Pitre. (Houghton Mifflin Harcourt Publishers. Cover Photo Credit: Ghazalle Badiozamani.
Recommended Products
As an Amazon Associate and member of other affiliate programs, I earn from qualifying purchases at no additional cost to you.
Nutrition Information:
Yield:
4
Serving Size:
1
Amount Per Serving:
Calories:

400
Total Fat:

37g
Saturated Fat:

8g
Trans Fat:

0g
Unsaturated Fat:

27g
Cholesterol:

16mg
Sodium:

843mg
Carbohydrates:

18g
Fiber:

3g
Sugar:

11g
Protein:

5g
This recipe was calculated using the exact brands and measurements I used to make this recipe. If you are following a strict diet please note changing anything will cause the nutritional info to change. Please calculate your own nutritional information if you want it exact to what you make and use my calculations as a guide only.