Want to have ribs that are so delicious your guests fight over the last few ribs at your BBQ? These Oven Baked Beef Ribs are so easy! Dry rubbed with simple seasonings that are baked slowly to yield fall of the bone, tender, juicy, meaty ribs. They will be the hit of any BBQ, game day party or casual dinner all in less than 15 minutes of actual effort!
Although we BBQ all year long there is something about when summer is finally here and BBQ season officially begins. While I'm normally a HUGE grilling fan, today's Beef Rib Recipe is actually baked in the oven. While the recipe can be made on the grill I found it to be even easier in the oven.
Beef Ribs always remind me of the Flintstones. Fred would eat the HUGE bone of ribs and have all the sauces all over him after eating. Beef ribs are so meaty its hard to not go all in and end up with sauce all over you when eating them. (yes, some people might use a fork for ribs but we are way to casual for that at our house!)
What Kind Of Beef Ribs should you buy?
There are basically two kinds of beef ribs Full Slab ribs and short ribs. The best explanation about the ABC's of Rib cuts here! For BBQ Ribs the full slab ribs work best. Short Ribs are primarily cooked by braising like in this recipe for Braised Boneless Shortribs (omg, seriously melt in your mouth ribs with a wine/chocolate sauce)
Beef Back Ribs are not nearly as prominent as pork ribs are but if you can't find them ask the butcher or anyone in the meat department at your local grocery store. They can easily cut some for you.
TIME SAVING TIP: You do want the whole slab of beef ribs and if at all possible ask them to remove the silver skin membrane for you. While it's easy to do (here is a video on how to do it) it will save you time if you have them do it for you!
How to Cook Beef Ribs in the Oven
The secret to fall off the bone ribs is slow cooking them at low-temperature heat. Low temperature as in 250° – 275° oven temp.
To start you will make a dry rub of simple seasonings (chili powder, paprika, dry mustard, brown sugar and salts) and slather it on with some liquid smoke and mustard with your fingers making sure to get in all the crevices.
You'll place the ribs bone side down on some foil and seal it. Then all you have to do is place it in a foil packet the oven and let them bake. You'll take them out of the foil after a couple of hours and let them finish.
If you choose to put on additional bbq sauce, you would put the sauce on in this last open baking. The ribs are seasoned so nicely they don"t need sauce, but I have some family members that don't think ribs are ribs if you don't have them all saucy!
By cooking the ribs in foil first, you guarantee you will have juicy ribs and they won't be dried out.
What temperature do ribs fall off the bone?
Rib meat is cooked long before they are tender enough to fall off of the bone. They start to give way at 200° but I usually let them go a little bit longer than that for complete tenderness. It can be difficult to get the thermometer in to check, but its easy to tell if they are ready just by lifting a rib (use a towel to not burn yourself). If the meat is falling off you know you are done!
MORE BBQ meal favorites to try!
---
---
Pin this to your BBQ Party Board on Pinterest! Lets Be Friends …. follow me on Pinterest for more ideas for stress free entertaining with confidence!
---
---
~ Instagram ~Pinterest~ Twitter~Facebook ~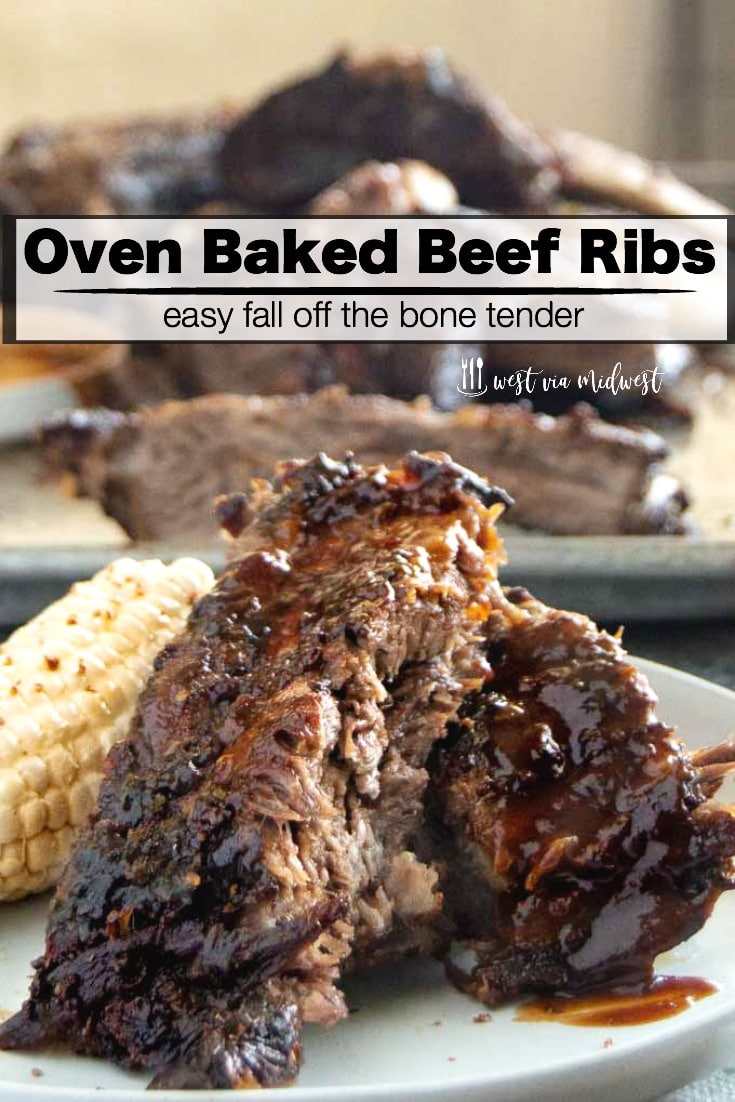 Yield: 8 2 ribs each
Oven Baked Beef Ribs Recipe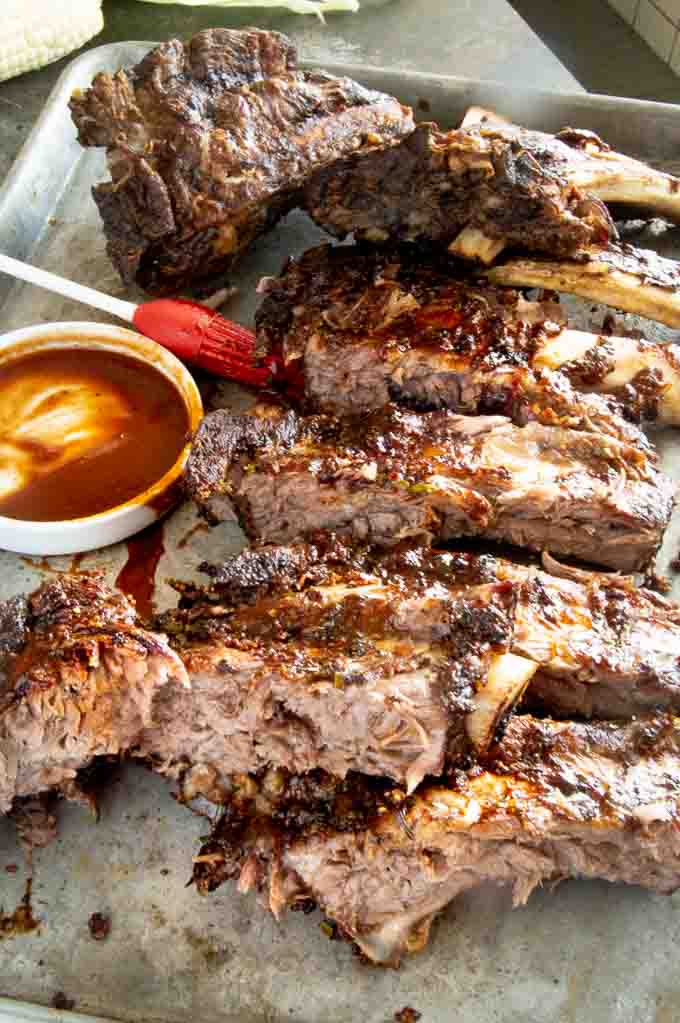 This Oven Baked Beef Ribs recipe is so easy. Dry rubbed with delicious seasoning, low temp baked slowly yield fall off the bone tender, juicy meaty ribs that will be the hit of any BBQ party all in less than 15 minutes of work!
Cook Time
3 hours
30 minutes
Total Time
4 hours
5 minutes
Ingredients
2 slabs beef ribs
2 tablespoons brown sugar
Instructions
Preheat oven to 275°
Line two baking sheets or roasting pans with foil.
Remove beef ribs from their packaging. If the silver skin/membrane is still on the back take a sharp object to get it started and them remove completely. (I have a link to a video in the post for visual examples)
In a small bowl mix the liquid smoke and mustard. Slather that over both sides of the ribs.
In another small bowl mix all of the dry spices and seasonings and stir to combine.
Sprinkle dry mix over all sides of ribs, rubbing in with your fingers to cover all meat on the bones.
Onto another sheet of foil you will place one slab of rib onto the top and then close to seal in a pocket. Do this for both slabs (you will have two packages. )
Place rib packet onto foil lined tray and bake for 3 hours. Remove from foil and put back on baking sheet the ribs for the last hour. You will cook the ribs until they are 200° for fall off the bone, about 30 mins more.
If you choose to put on bbq sauce, put the sauce on in this last open out of the foil baking. The ribs are seasoned so nicely they don"t need sauce, but I have some family members that don't think ribs are ribs if you don't have them all saucy!
Remove from oven. Let rest for up to 20 minutes, then cut into one bone sections and serve immediately.
Notes
Note: Video shows the wet method of applying the spices. Same spices just a little more intense flavor. Both ways work equally well.
Nutrition Information:
Yield:
8
Serving Size:
8 2 ribs each
Amount Per Serving:
Calories:

366
Saturated Fat:

10g
Cholesterol:

105mg
Sodium:

589mg
Carbohydrates:

4g
Sugar:

3g
Protein:

38g