Make these Chinese Pork Ribs and your company will be begging to come to your house for dinner! Tender succulent pork slathered in a sticky, sweet and tangy Chinese bbq sauce. Be forewarned: anyone who eats it will want to put it on everything. So versatile it can be a filling appetizer or the star of your dinner party!
Chinese Pork Ribs are so popular in our house. It's no wonder, the sauce is zesty, sticky, salty, sweet and tangy and the meat is so tender and succulent. For years they have been a popular item on our Chinese take out order but after making them at home we'll never go back to buying them!
These ribs are wonderful as a party appetizer — I've served them for tropical food parties, tiki food parties, and luau food parties.
Just the other day we did a whole appetizer menu of all sorts of appetizers from Trader Vics and served them alongside THE Original Mai Tai Recipe.
They were so good I wanted to get them up asap since so many people at that party were demanding the recipe! (and oh boy, do I love when people love the food so much they want the details on how to make it themselves!!)
The Asian ribs hardly take any hands-on effort to make which makes them a no brainer for entertaining. For real, other than stirring the sauce and basting the ribs the hardest part of this recipe is taking the empty bones to be tossed as people DEVOUR them fast!
Spare Ribs vs Baby Back ribs:
Full disclosure here. This recipe in most Chinese restaurants is called Chinese spare ribs. This recipe works just as well with spare ribs, but personally, my family likes baby back ribs better so that's what I use.
I also find that my company has an easier time eating the smaller baby back ribs when I make these. If you want spare ribs…. you do you! I do suggest you have your butcher cut the ribs in half lengthwise to make them easier to handle when eating!
For what its worth, this sauce is so amazing it would work on beef back ribs, pork ends, St. Louis style Ribs, pork tenderloin or boneless ribs.
The secret to Asian Ribs is the BBQ sauce
What makes this BBQ sauce so good? Its a combination of salty, sweet, tangy, spicy and what the Chinese call umami. There are so many flavors happening all at once and it makes the ribs insanely delicious.
Boiling the ribs in the sauce, then basting often gives a sticky and charred crust that makes the ribs irresistible to anyone!
What's in the Chinese BBQ Sauce?
Hoisin Sauce
Ketchup
Honey
Soy Sauce
Chinese Rice Wine
Rice Vinegar
Lemon Juice
Fresh Ginger
Garlic
Chinese Five Spice Powder
Hoisin sauce is key to this recipe. It's a thick sweet and tangy sauce that is in many Chinese recipes.
The sauce is a glaze that really helps the sauce stick to the ribs and gives the sauce it's unique taste. It usually has soybean paste, fennel, chilis and garlic in it.
I buy hoisin sauce at the market but if you want a homemade version Maggie at Omnivores Cookbook has a homemade hoisin sauce option.
Rice wine is optional but I like the depth of flavor it adds. If you don't have any regular gin would be a good substitute.
The Chinese five-spice powder adds the smoky/umami flavor, but it doesn't take much— many people are very sensitive to in so use it sparingly.
How to prepare Chinese Pork Ribs
Select really meaty ribs. Spare ribs work well, but I find baby back ribs have more meat and less fat.
Be sure to remove the silver skin on the back of the ribs you buy. Save time by asking your butcher to do it for you.
Use a grater to grate the fresh ginger and garlic cloves so they don't overpower any bite. I use this nifty Microplane to zest it finely.
Pour the marinade over the ribs in a stock pot– you can cut the ribs into two pieces to help it fit into your pot.
Braising the ribs in the sauce for about 30 minutes, this gets the ribs started cooking and helps get the sauce all over the ribs. Braised ribs make for a succulent piece of pork after cooking.
The second part of the cooking the Chinese pork ribs it to be sure and bake them in the oven on a pretty low temp. (Baking them on a baking sheet is easy!) By cooking them at a low temp, the glaze on the ribs caramelizes and doesn't burn.
Save the sauce after boiling it for an additional 5 minutes to baste with. I usually pour it into a small bowl for ease of use.
Cook them for a minimum of an hour, but I highly suggest cooking them for 2-3 hours to get the most succulent but still fall off the bone texture.
Cut the ribs into individual ribs or riblets for easy serving. The riblets make for easy finger food, but you'll need to have lots of napkins for the sticky, glazed Chinese BBQ Sauce.
PRO TIP: Use a microplane to zest garlic and fresh ginger in recipes so you don't end up with some super strong bites in your sauce!
Common Questions you might have making Chinese Spare Ribs~
We don't like bones in our ribs can I use boneless country-style ribs for this recipe? You can make these ribs with boneless ribs, but you will definitely need to cook them the full 2 hours on low in the oven. You should also be mindful of keeping the braise on low when boiling them so they stay tender and not get tough.
How long does the Chinese BBQ Sauce Keep? The sauce lasts a week in your fridge in a sealed container. If it gets a little thick, just add a tablespoon of water when warming it up.
We love the Chinese style sauce, what else is it good on? It can be a dipping sauce for wings or fried chicken. Use it on grilled chicken or add it in the last few minutes when making a stir fry. The Chinese BBQ sauce is super versatile!
Can I make this ahead of time and warm it up to serve? These Asian ribs can be made ahead of time easily. You'll need to warm them in a low temp oven (no higher than 275°) for about 30 – 45 minutes until warmed throughout before serving. Baste additional sauce on while it's heating up!
I love the idea of making this for appetizers, but I'd like to serve this for a dinner party as the main course. What can I serve as side dishes along with the Chinese rib recipe? Serve it with steamed or fried rice. It will also work with lemon smashed potatoes, gouda mac and cheese or my personal favorite—scalloped potatoes (creamy.)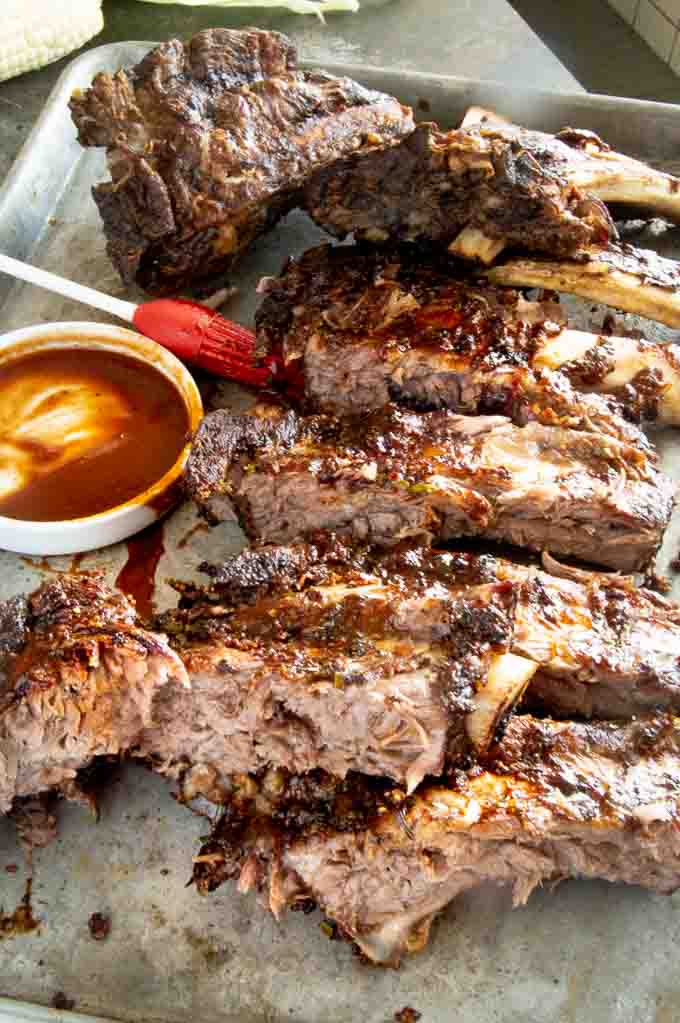 Our Most Popular Recipes for Entertaining
More food ideas to make alongside these sticky Chinese ribs for a Tropical, Tiki or Hawaiian Party!
Yield: 6-8 (2- 3 ribs each)
Chinese Spare Ribs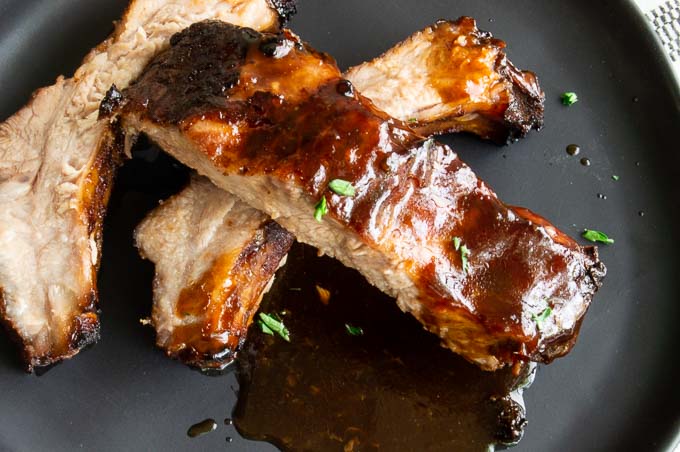 Chinese spare ribs are fall off the bone tender and drenched in a sticky tangy sauce that you'll lick your fingers to get every last drop of. Perfect for a tiki party, cocktail party snack or for dinner alongside rice!
Total Time
2 hours
5 minutes
Ingredients
1 rack baby back ribs
1/3 cup Ketchup
1/3 cup Honey
1/3 cup Soy Sauce
1 Tablespoon Lemon Juice
1 Tablespoon Fresh Ginger, Grated
3 Cloves Garlic, Grated
Instructions
Preheat oven to 275°
Remove the silver skin from the back of the ribs. Cut the ribs into two pieces so they will be easier to work with.
Combine all other ingredients, except for ribs in a bowl and stir to combine.
Place a stockpot or large wok on the stove. Heat to high. Place ribs in the pot then pour the sauce over the top. Spoon sauce over ribs to make sure all ribs have some sauce on them.
Allow to boil for 30 minutes, flipping the ribs occasionally. If the sauce gets too thick, add a couple of tablespoons of water.
Remove the ribs from the sauce, allow the sauce to boil for 5 minutes more, then reserve sauce in a small bowl.
Place the ribs on a baking sheet or broiling pan and allow them to bake for 60-90 minutes. Baste often with reserved sauce.
Cut ribs into 1 rib pieces and serve alongside the leftover bbq sauce.
Notes
These ribs will also work with spare ribs. If using spare ribs, you can cut the ribs in half length wise for easier eating. (I have my butcher do that for me.) I prefer the baby back ribs because they tend to be meatier and less fattier.
Recommended Products
As an Amazon Associate and member of other affiliate programs, I earn from qualifying purchases at no additional cost to you.
Nutrition Information:
Yield:
6
Serving Size:
1
Amount Per Serving:
Calories:

299
Total Fat:

12g
Saturated Fat:

4g
Trans Fat:

0g
Unsaturated Fat:

7g
Cholesterol:

44mg
Sodium:

1253mg
Carbohydrates:

31g
Fiber:

1g
Sugar:

25g
Protein:

14g
This recipe was calculated using the exact brands and measurements I used to make this recipe. If you are following a strict diet please note changing anything will cause the nutritional info to change. Please calculate your own nutritional information if you want it exact to what you make and use my calculations as a guide only.