Grilled low and slow yields Fall off the Bone BBQ Ribs, brush with a tangy bbq sauce for lip-smacking deliciousness. Be forewarned, make a double batch of these bone tender ribs— after making these dozens of times there are never any leftovers. Perfect for grilling season or any time you want easy entertaining! (oven option too)
These are great with honey butter corn but go equally well with Green Chili Au Gratin Potatoes for a full meal!
This Fall off the Bone BBQ Ribs Recipe will amaze you at how simple and how little time it will actually take you to make them. Seasoned with just a few ingredients (a dry rib rub below or try this homemade Cajun Seasoning Recipe for a little kick.) These grilled baby back pork ribs work with or without barbecue sauce!
This easy BBQ ribs recipe is ideal for entertaining– you can spend about 15 minutes prepping the ribs, then put them on the grill to cook.
More time with your family and very little clean-up. Sounds like a win/win in my book.
After reading this you'll have the tips to know how to make ribs tender and guaranteed way for fall off the bone baby back ribs!
How to make tender ribs on the grill?
How long does it take for ribs to cook on the grill?
Baby back ribs on low temperature heat (grill temperature 275°) take about 3 to 3 1/2 hours to cook. Ribs are cooked at 145° but they start to fall off the bone around 200°
RIBS WILL FALL OFF THE BONE WHEN THEY ARE COOKED TO ABOUT 200°
PRO TIP: If you don't have a thermometer to know when the ribs are done, the best way to tell is to use tongs to lift the ribs. If when you lift them, the bones pull away from the meat you know they are done. (Use a wide spatula type tool to lift them off the grill so they don't fall lifting them off the heat)
How to grill ribs on a charcoal grill
You'll set your charcoal only on one side and let them get super hot, then allow them to get to medium/ low heat before placing the ribs on the non-heated side. Because it takes 2-3 hours to grill the ribs, you may need to add some coals to the bbq. You'll need to pay special attention that the grill does not get too hot.
How to make baby back ribs in the oven
Grilling not an option? It's super easy to make tender ribs in the oven too. Depending on the size of your oven you may need to cut them into smaller racks. Bake them in the oven at 275° wrapped in foil for 2 hours. Then remove the foil and cook for an additional 1 to 1.5 hours until the ribs temp is 200° or you can easily pull the meat off the bone (ie fall of the bone.)
The first time I made these in the oven someone had given me some apple wood chips, so I now add a small pan of soaked wood chips to impart some nice flavors when I make them in the oven.
BBQ Beef Ribs on the gas grill
This recipe is easily adapted to beef ribs. Follow the directions as listed but you'll have to probably cook them a little bit longer, but temp them at and internal temperature of 200° or test by making sure the meat easily pulls away from the bone.
---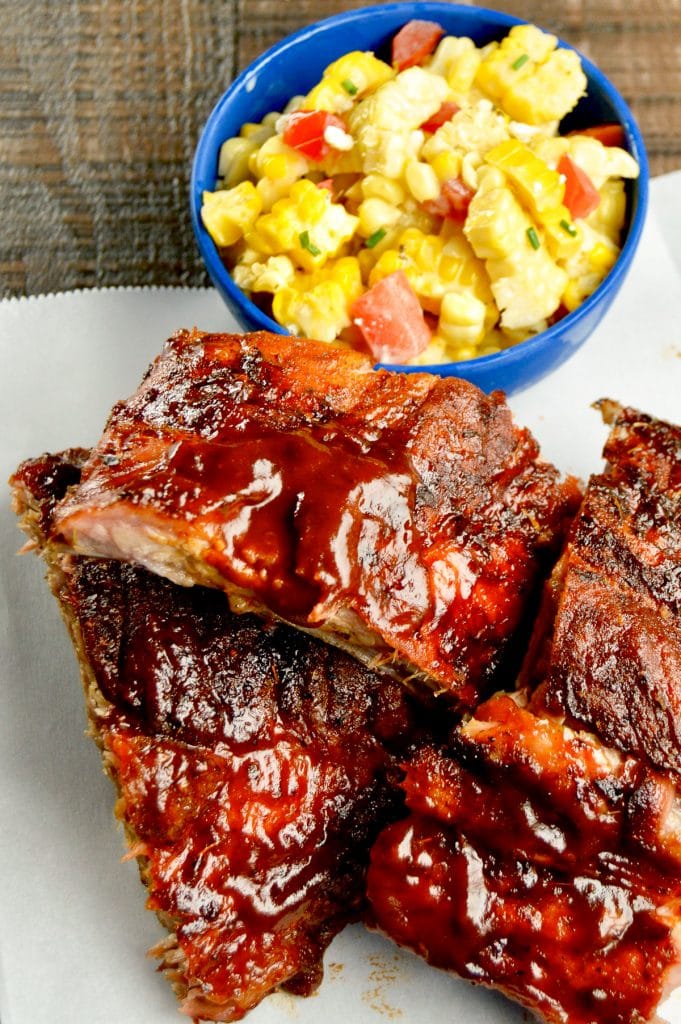 ---
---
---
Variations for the best Fall off the Bone BBQ Ribs Recipe: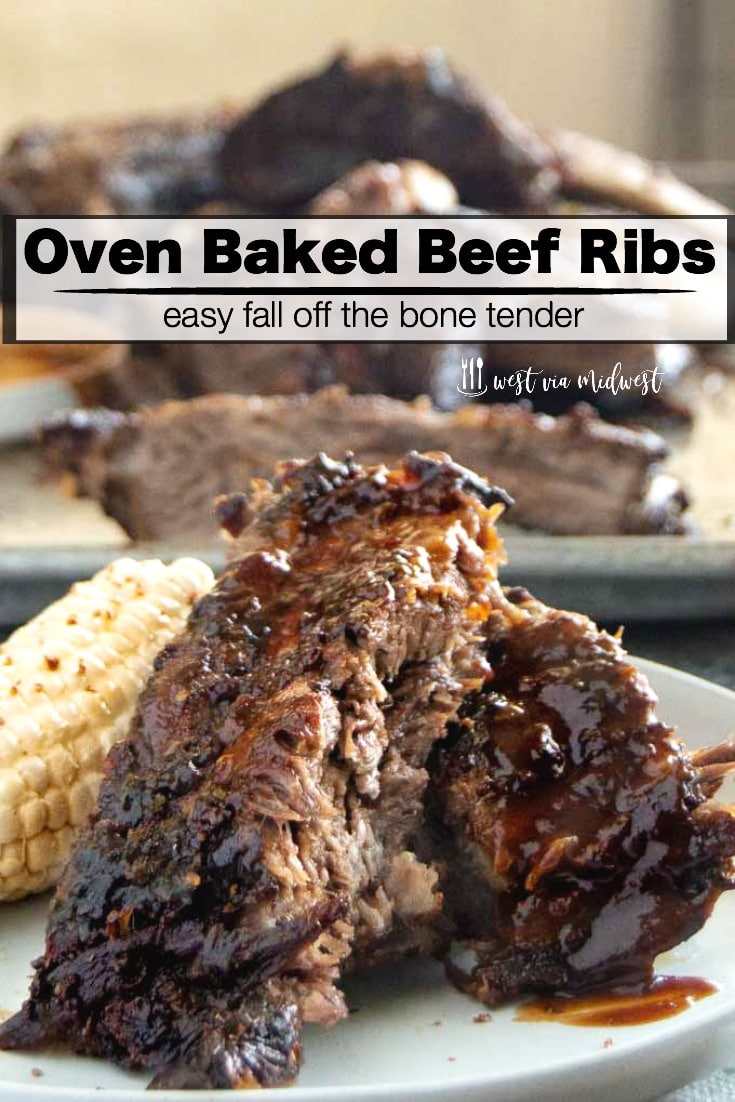 Looking for other BBQ side dishes to go with your ribs? Check out these other recipes:
More Great Ribs you might enjoy:
Yield: 6 servings (ribs only)
Fall off the bone tender BBQ Ribs Recipe
Grilled low and slow yields Fall off the Bone tender BBQ Ribs, brush with a tangy bbq sauce for lip smacking deliciousness. Perfect for summertime entertaining!
Cook Time
3 hours
30 minutes
Total Time
3 hours
45 minutes
Ingredients
Dry Rib Rub
1 tsp pepper
1 tsp paprika
1 tsp garlic powder
1/4 tsp cayanne pepper, optional
Tangy BBQ Sauce
1 cup Ketchup
1 cup apple cider vinegar
1/3 cup honey
1 tablespoon Worcestershire Sauce
1/2 teaspoon salt
1/4 teaspoon garlic powder
1/2 teaspoon onion powder
1/2 teaspoon cayenne pepper
Instructions
Turn on grill to medium-low , about 275°.
Rinse ribs and pat dry with a paper towel. Remove membrane on back of each rack of ribs. Slide a knife in at top under membrane and use your fingers to pull away. Then use a dry paper towel to hold membrane and pull it all of the way back and remove completely.
In a small bowl mix seasoned salt, pepper, garlic powder, paprika and cayenne and mix well. Then sprinkle generously over both sides of ribs. Using your fingers rub the spice rub into ribs to coat well.
Using the off-heat method cook ribs. If your grill has five burners, turn on the outer 2 burners, and leave off the three middle ones. If you only have 4 burners, then turn on two on one side, and leave the other two off.
You will place the ribs bone side down onto the non flame area of the grill. (No need to flip them during grilling.
Place ribs meaty side up on the grates over the burners that are OFF.
Close the lid, and check the ribs periodically to make sure they aren't burning at the point where the tips may be over a burner with a flame. As the ribs are cooking they will start to shrink a little, so if they are slightly over the flames, as they cook, move them away from the flame.
Cook the ribs for 3--3 1/2 hours until the meat is browned and tender. You can either brush the bbq sauce on in the last 15 minutes or let your guests decide if they want BBQ sauce and have them apply it themselves. (these ribs are very good with just the rub!). **See instructions in post for cooking the ribs in the oven***
While the ribs are grilling, place all ingredients for the tangy BBQ sauce in a small sauce pan and stir to mix completely. Once mixed together, turn on heat to high to bring to a boil. Once the sauce is at a boil reduce heat to medium and continue to cook for 30 minutes until slightly thickened. Serve brushed on the ribs or as a side to be applied as needed.
Recommended Products
As an Amazon Associate and member of other affiliate programs, I earn from qualifying purchases at no additional cost to you.
Nutrition Information:
Yield:
6
Serving Size:
6 servings (ribs only)
Amount Per Serving:
Calories:

546
Saturated Fat:

5g
Cholesterol:

167mg
Sodium:

1893mg
Carbohydrates:

28g
Sugar:

24g
Protein:

44g