Beef Ribs in the InstantPot are so easy you won't believe it. Simply wet rubbed then cooked until they fall off the bone. Slather them with your favorite sauce or serve them naked for a party and have your guests decide what to dress them with!
Instant pot beef ribs make a great short cut to mouthwatering and meat falling off the bone ribs. If you are a fan of my Oven baked Beef Ribs then try doing pressure cooker ribs. You won't be short-changed any flavor in the process!
Serving beef ribs at parties or for game day always gets the thumbs up. So a beef ribs recipe that provides more time to hang with family and friends? That's a bonus!
These instant pot beef ribs come together simply. You add a few ingredients then toss them in the pot.
Enjoy them as is or go ahead and slather on your favorite bbq sauce. Just make sure the napkins are handy. Because big juicy beef ribs may not be dainty eating, but they are finger food!
What kind of ribs should I use for this beef rib recipe?
I love those super meaty beef ribs on the bone. However, this recipe would just as easily work with beef short ribs, spare ribs, pork baby back ribs or even boneless country-style ribs.
How Many Ribs Per Person to Buy:
Beef Ribs are super meaty and filling. I usually figure 2 ribs per person then add 3-4 extra ribs just in case! I do serve filling sides along with them such as garlic bread, baked beans and maybe a potato salad.
Cooking time will vary according to what type of ribs you get. Normally it takes several hours to make fall off the bone tender ribs. In an Instant Pot or pressure cooker, you can have them in about an hour and that includes coming to pressure, the actual cooking and natural release of pressure.

If you don't have an Instant Pot, think about getting one or consider a Mealthy multi pot. Once you get one you will wonder how you lived without it! They are such time savers while not sacrificing any delicious flavors.
PIN THIS TO YOUR INSTANT POT BOARD!
Removing the silver skin membrane
If you get a full slab of beef ribs, you might have to remove the silver skin. This is the membrane on the back side of the ribs.
If you don't remove it, when it cooks, it tightens up and becomes very chewy and is very tough. It pretty much takes away some of the enjoyment of eating the ribs. But it is fairly simple to remove.

All you have to do is run a knife under it at one end of the rib rack. Then, pinch that flap with a paper towel and pull along the length of the rib. It should pull off in a long strip.

You can also ask the folks at the meat counter to remove it for you — I do this when cooking for a big crowd- It's a MAJOR timesaver!!

Tips for pressure cooker bbq ribs
This is one beef rib recipe I advocate cutting them into pieces before cooking them– it makes it easier to fit in the instant pot and keeps the cooking time to a minimum.

I use a simple wet rub to start. Mix some mustard, paprika, salt and pepper. That's it, all pantry ingredients, and you can use powdered mustard too. (Of course then it would be a dry rub, but the flavors will all be the same after cooking it.)

To sear or not to sear? I have made them both ways searing them in the bottom and just leaving them as they are. In taste tests I couldn't tell the difference so I chose to do less work in this recipe. Less work? That equals less worry and I count that as a win!

The ribs cut up will be a tight fit. Stuff the ribs tightly into the instant pot. They will shrink when cooking but pay attention to the fill point line on your pressure cooker and don't over-fill it.

The liquid that goes in the bottom gives a delicious aroma as it permeates into the meat as it pressure cooks. Ultimately with the fat dripping off in the cooking it is just too greasy to use. So I throw that away after cooking.
PRO TIP: Using Liquid Smoke not only gives a great aroma while it cooks but it gives it the hickory smoke taste like you had cooked it for hours on the smoker!

To remove the ribs I LOVE LOVE LOVE these tongs. They have a wide area to grab ribs. You get the meat with the bone. Save the falling off part for when they hit the plates.
Variations on cooking Instant pot ribs:
Ribs & Garlic
You can substitute the beef broth. Try using a medium or dark beer and a couple of cloves of smashed garlic. This tastes amazing and smells so good your neighbors will be dropping by unexpectedly to find out what's for dinner.

Ribs & Apple Juice
Or, try making the Beef Ribs with Apple Juice. The ribs taste a bit sweeter but not too sweet.
Ribs & Apple Cider Vinegar
If you prefer tangy to sweet, then use Apple Cider Vinegar in the cooking liquid.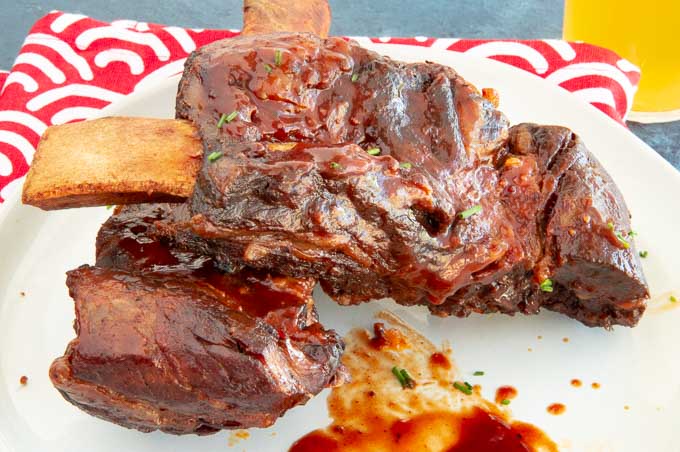 Can I make pressure cooker beef ribs the day before and just warm them up?
Yes- Make them the day before and remove them from the liquid and allow them to cool. Place them in foil and refrigerate. Remove them from fridge about 30 minutes before you want to warm them. Warm them in a 300° oven or place them on the grill in indirect heat for about 30 minutes to warm them

Will these ribs work for tailgating?
Instant pot beef ribs work great for tailgating! Make them the night before and place in foil — throw them on your grill and warm them– I usually do them on indirect heat- Open the foil in the last 10 minutes and brush on your favorite BBQ sauce.

Do I have to use BBQ sauce on these bbq beef ribs?
These ribs are amazing all on their own– We usually place several bbq sauces on the table and people can customize them to their liking- either with or without lip-smacking sauce.

Can I freeze the leftover BBQ Ribs?
I don't recommend freezing the ribs. The texture of the meat when heated up isn't as delicious. Don't worry, you probably will never have leftovers! They are really popular and disappear quickly.

If you do have leftovers, then just cover and put in the fridge. They will last a few days and reheat them at 300 degrees or just eating them cold works great too.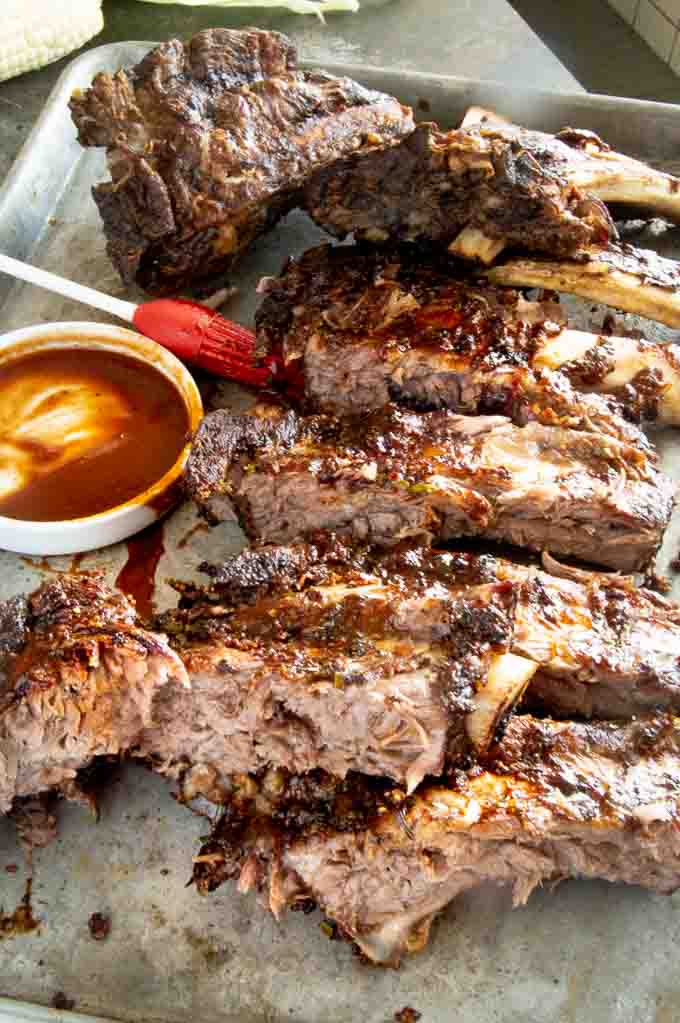 What to serve with Instant Pot Beef Ribs?
Mashed Potatoes _- loaded potatoes coming later this month!
More Rib Recipes you might enjoy:
Instant Pot Recipes for Easy Dinners!
Yield: 8 ribs (2 ribs per serving)
Beef Ribs: Pressure Cooker Beef Ribs
Beef Ribs in the InstantPot are so easy you won't believe it. Simple wet rub then cooked until they fall off the bone. Slather them with your favorite sauce or serve them naked for a party and have your guests decide what to dress them with!
Coming to Pressure and Natural Release
25 seconds
Total Time
35 minutes
25 seconds
Ingredients
1/2 cup bbq sauce
1/2 cup beef broth
1 Tablespoon Liquid Smoke
1/4 cup Dijon mustard
1 Tablespoon Paprika
Generous Salt and Pepper to taste
1 Full Slab Beef Ribs, cut in 1 or 2 bone pieces
Instructions
In a small bowl add barbeque sauce, broth and liquid smoke and stir to mix well.
Using your fingers rub the mustard over all edges of the ribs.
Sprinkle paprika, salt and pepper on the rib pieces.
Place the ribs snugly down into the bottom of the steel pot liner paying attention to not have the ribs over the fill line of the pot.
Pour the sauce over the top of the ribs.
Lock the pressure cooker lid, making sure to seal the steamer.
Select Meat and cook on high pressure for 35 minutes.
Once done, turn off warmer and allow to naturally release for 15 minutes.
Then use a wooden spoon to quick release the rest of the pressure making sure to be careful of the steam.
Remove ribs from pot and place on a serving platter.
Discard leftover liquids.
You can serve with sauce brushed on or as they are with no additional sauce.
If you like a caramelized sauce place the ribs in the oven for 10 minutes on broil. Alternatively you can use the Mealthy Crisp lid atop any pressure cooker for 15 mins at 450°
Recommended Products
As an Amazon Associate and member of other affiliate programs, I earn from qualifying purchases at no additional cost to you.
Nutrition Information:
Yield:
4
Serving Size:
1
Amount Per Serving:
Calories:

331
Total Fat:

21g
Saturated Fat:

8g
Trans Fat:

0g
Unsaturated Fat:

10g
Cholesterol:

61mg
Sodium:

1007mg
Carbohydrates:

16g
Fiber:

2g
Sugar:

12g
Protein:

18g
This recipe was calculated using the exact brands and measurements I used to make this recipe. If you are following a strict diet please note changing anything will cause the nutritional info to change. Please calculate your own nutritional information if you want it exact to what you make and use my calculations as a guide only.