Beef Bourguignon – aka French Beef stew is full of a deep red wine infused sauce swirled around tender chunks of beef, mushrooms, carrots and onions. Simple gourmet food that is ideal for entertaining. Make it in the instant pot for faster cooking!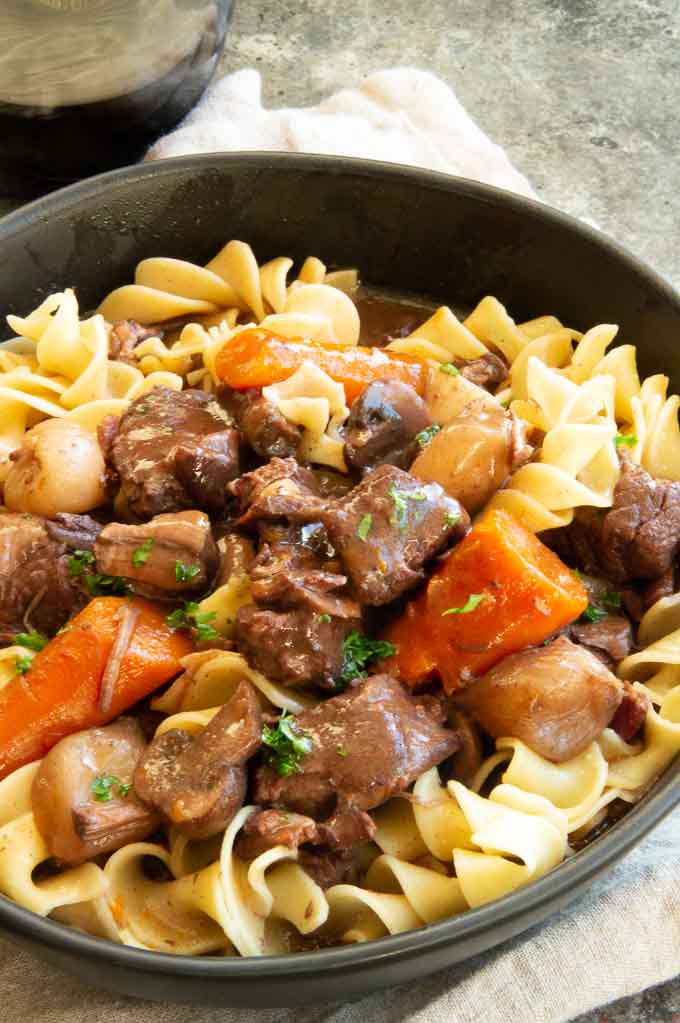 Beef Bourguignon sits atop a mighty throne as the king of all stews. Even the name sounds regal. This beef bourguignon recipe comes largely inspired by Julia Child's recipe. Even though it sounds so high and mighty, and the queen of chef's herself was a fan, it is easy to make!
If I call it beef stew in red wine that brings it to a level we can all relate to. If I tell you how quickly you can make it with your instant pot or pressure cooker, it gets even more appealing.
I love making this beef bourguignon recipe in the instant pot. It cooks so fast but not at the expense of losing those rich and hearty beef flavors. However, a slow cooker crockpot will work just as well.
You just have to suffer waiting to eat it. On the bright side, the smell of it cooking fills your kitchen with warmth and happiness.
Be it in a crockpot, an instant pot or a stovetop braiser, you want the beef fork cut tender. When you get there, you know it is ready to eat!
What to use for any instant pot beef recipes
I truly love this Mealthy Multipot. Super simple to use, and I find a lot of ways to take advantage of it. It can be used as a saute pan, pressure cooker or a slow cooker.
With the addition of the CrispLid you can turn it into an air fryer. Check out all about turning YOUR pressure cooker into an air fryer here!
Of course, if you want the actual Instant Pot, then check out the link for that too and compare.
Why do I like these cooking vessels? Well, with either one you can actually sauté /brown in the bottom before doing the pressure cooking. That makes it just more versatile. In essence, you have one pot that does the work of three, maybe more.
You can brown and saute as if it were a dutch oven. You can cook quickly under pressure like a pressure cooker. It works great as a rice cooker too. I keep finding more ways to use it! And it saves me so much time.
Pin this to have a quick gourmet dinner for entertaining!
What is beef bourguignon?
I have adapted this recipe from Julia Child's recipe. When you get right down to it… why mess with perfection?
Technically Bourguignon is a recipe in the Burgundy style of red wine sauce with mushrooms and onions. Typically it uses a good burgundy wine, but don't worry you can use any good dry red wine.
The meat is fork-tender and the flavor is pure deliciousness. Yes, it has a fancy French name, and yes it is often made with a fancy French wine, but it really is just a good old fashioned beef stew.
Grocery List for French Beef Stew
Bacon – I like thicker cut so it holds up in the cooking process
Olive Oil
Beef Chuck Roast
Carrots
Yellow Onion
Salt
Pepper
Flour
Beef Stock
Tomato Paste
Garlic
Thyme (fresh )
Bay Leaves
Pearl Onions (can't find them, quarter large onions instead)
Butter
Parsley (for garnish)
Mushrooms (usually crimini but you can get exotic as you want!)
Dry Red Wine
What cut of meat for Beef Stew
Any stew-meat works. Look for one that has a lot of fat. Don't worry, you render it out during the cooking but it helps add flavor in the process. I like using chuck roast but boneless short ribs would work too.
If you have any questions then ask the butcher at the meat counter what the best stew beef cuts are out and available.
How to Make Beef Bourguignon
Cut your beef into large chunks. During the cooking process, they will shrink a lot. They actually get pretty small. So, going by a typical "bite-size". Cut into chunks about 3 times as big as a typical bite.
They will shrink to being perfect bite-sized bits, trust me. In truth, the flavor is no different regardless of what size you cut the beef. But, if you want a more authentic gourmet presentation, start with the bigger chunks.
PRO TIP: Flouring the meat helps get a good sear/crust
Flour the beef first. Then brown the meat on high heat. You can put some flour in a one-gallon zip lock and add the beef, and shake, shake, shake. When the meat is coated, take it out and add it to the hot oil.
Browning is important to sear the edges. It is critical for both color and a depth of flavor. It also helps bind the liquids to help give you a deep, rich, thicker stew sauce.
Don't forget to scrape the bottom to get all of the bits up when deglazing the pan. That is like the secret source of the richest and most intense beef flavor. You want that in your rich velvety broth!
If there is a lot of grease after browning the beef and after crisping the bacon use a paper towel to remove it.
Common questions about this beef stew recipe
Do I have to buy an expensive bottle of wine for French Stew?
No! You can serve Beef Bourguignon with a more expensive bottle of burgundy. However, the reality is any dry red wine will work.
I like a pinot noir or a California merlot. Guess what? Burgundy wines are actually produced from pinot noir grapes!
Burgundy just refers to the place where that type of wine is made. Like many French things, such as Champagne and Roquefort cheese, the name is protected because the source is so respected for particular nuances and qualities.
I don't drink– do I have to use wine in Beef Bourguignon?
It will definitely taste different, but you could use ¾ cup balsamic vinegar and sub the rest of the wine amount with additional beef/chicken broth.
Can I use bone-in short ribs for the meat?
Yes — absolutely – the bones may separate when cooking in the instant pot- it's your choice to serve them or just leave them out. They will give a greater depth of flavor to the stew.
Can I freeze Beef Bourguignon?
Yes! Store in sealed containers and it will keep for up to 3 months (make a double batch) Suggestion: If you serve with a side dish, then store that separately or just use a different side when you serve it the second time.
I can't find pearl onions, can I use regular onions?
You sure can. I'd cut them into quarters so they are nice and chunky when it's all finished —If you cut them to strips, they will likely dissolve. The flavor will be there but it's more traditional for nice pieces of onions in the stew.
Can I make this in a crockpot?
Yes- same instructions but cook for 7 hours on high in your slow cooker instead of the instant pot. You won't need to remove the meat and veggies to thicken the sauce. It can all be done in the same slow cooker.
Can I make this in the oven/braised on the stovetop?
Yes- follow the same instructions using a dutch oven but cooking time will be about 2 hours on a high simmer. You won't need to remove the meat/veggies to thicken the sauce.
What to serve with Beef Bourguignon?
Mashed Potatoes ( post coming this week that I will link to)
Buttered noodles
More Easy Gourmet Recipes you Might Enjoy!
Hashtag any recipes you make from West Via Midwest #westviamidwestrecipes or tag me @michele_westviamidwest on Instagram to be featured on our stories!

Yield: 8
Instant Pot Beef Bourgingnon (Beef Stew)
Beef Bourguignon - aka French Beef stew is full of a deep red wine infused sauce swirled around tender chunks of beef, mushrooms, carrots and onions. Simple gourmet food that is ideal for entertaining. Make it in the instant pot for faster cooking!
Coming to Pressure/ Release
20 minutes
Total Time
1 hour
10 minutes
Ingredients
1 Tablespoon Olive Oil
1 Tablespoon Butter
1/4 cup Flour
2 Pounds Chuck Roast Cut to Large Chunks
4 Cloves Garlic, cut into quarters
2 Cups Pearl Onions
2 Cups Crimini Mushrooms, cut in half or left whole
3 Carrots, peeled, cut to large chunks
6 slices of thick bacon, cut to 1/2" pieces
2 Cups Dry Red Wine
2 sprigs Fresh Thyme
1.5 cups Beef Broth
2 Tablespoons Tomato Paste
2 Tablespoons Cornstarch
1 Tablespoon Worcestershire sauce
Salt and Pepper
Instructions
Cut beef into large chunks. Dredge all sides of beef into flour. Set aside.
Peel carrots and cut to large pieces. Cut Mushrooms in half. Set aside.
Add oil and butter to the bottom of inner pot. Turn to saute and allow to melt.
Once melted and cook in batches until all sides of meat are browned- about 10 minutes. Remove and set aside.
Add bacon and cook for 5 minutes, not completely crispy, but browned and softened.
Use a paper towel to remove any excess fat.
Add garlic cloves (cut in quarters) and saute for 3 minutes.
Then add mushrooms, onions and carrots. Saute for 5 minutes.
Add 1 cup wine and scrape up browned bits as you deglaze the pan (3 minutes)
Add broth, wocestershire and rest of wine. Stir well.
Add bay leaf and sprigs of thyme.
Seal pressure cooker and pressure cook for 40 minutes. Allow to natural release (about 15 minutes) then release rest manually.
Scoop up meat and veggies and place in seperate bowl.
Remove 1/2 cup of liquid from pot and add cornstarch and stir well. Add back to liquid mixture.
Saute to bring liquid to a boil (about 8 minutes ) Liquid will reduce a little.
Add meat and veggies back to thickened liquid.
Stir well.
Spoon meat, veggies and sauce over potatoes or noodles. Sprinkle fresh thyme or parsley over top for garnish.
Recommended Products
As an Amazon Associate and member of other affiliate programs, I earn from qualifying purchases at no additional cost to you.
Nutrition Information:
Yield:
8
Serving Size:
1
Amount Per Serving:
Calories:

449
Total Fat:

24g
Saturated Fat:

9g
Trans Fat:

1g
Unsaturated Fat:

13g
Cholesterol:

106mg
Sodium:

486mg
Carbohydrates:

15g
Fiber:

2g
Sugar:

4g
Protein:

33g
This recipe was calculated using the exact brands and measurements I used to make this recipe. If you are following a strict diet please note changing anything will cause the nutritional info to change. Please calculate your own nutritional information if you want it exact to what you make and use my calculations as a guide only.