Creamy Cauliflower Puree is an easy delicious low carb/calorie alternative to mashed potatoes and can be ready to serve in about 15 minutes.
So many people I know are cutting back on carbs. When I started entertaining I had a lot of friends who won't eat potatoes anymore. Yes, I know its crazy, but being the good host/hostess I needed some sides that taste great and are quick and easy that are low carb. This Creamy Cauliflower Puree is a great option for that!
If people aren't watching what they eat they won't mind these at all— they are quite delicious! I'll even add some crispy air fried onion strips (like the French's ones from the green bean casserole) to them or have them on the side and they will actually ask for the recipe!
What is the nutritional info for Cauliflower Puree versus other options?
Cauliflower has fewer carbs than both rice and potatoes. It also has less calories per one-cup serving. Look at these comparisons:
Cauliflower 27 Calories per cup/ 2 grams net carbs
Potatoes 324 Calories per cup/ 64 grams net carbs
Rice 200 Calories per cup/ 47 grams net carbs
The best part about using cauliflower as an option in your meals is that it satisfies your hunger as a healthier option but it also tastes amazing. While I've never met a potato dish I don't LOVE, I don't mind at all pureed cauliflower. Its both creamy and filling in ways most diet food isn't.
Tips for preparing this healthy puree?
When breaking down the cauliflower break the florets down to small pieces all close in diameter. I do use parts of the stalk that is attached to the florets, but don't use the stem piece only. I find that it takes a little longer to cook when boiling so you end up with some pieces that start turning to mush or the stalk isn't cooked enough and won't puree evenly.
Once the cauliflower florets are boiled, drain away the water and let them sit in the strainer over the pan for 5 minutes to allow all the water to drip away. By putting the strainer over the top of the pan, they will stay warm which helps them puree more easily in the food processor.
Puree the cauliflower florets with a little olive oil in the food processor to puree them evenly before adding any flavoring. This makes your cauliflower puree very creamy by having it pureed first. If you add the cream cheese and parmesan cheese before they are pureed, your cauliflower will be lumpy.
Be sure and check out our other EASY SIDE DISH recipes for easy, no fail entertaining!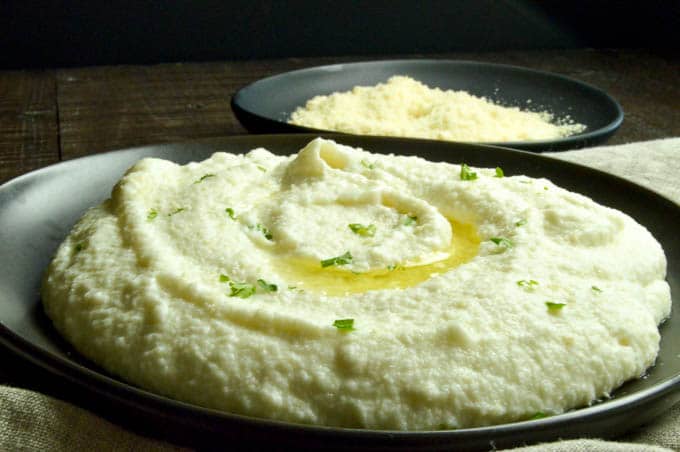 Looking for other healthy option side dishes or appetizers to serve?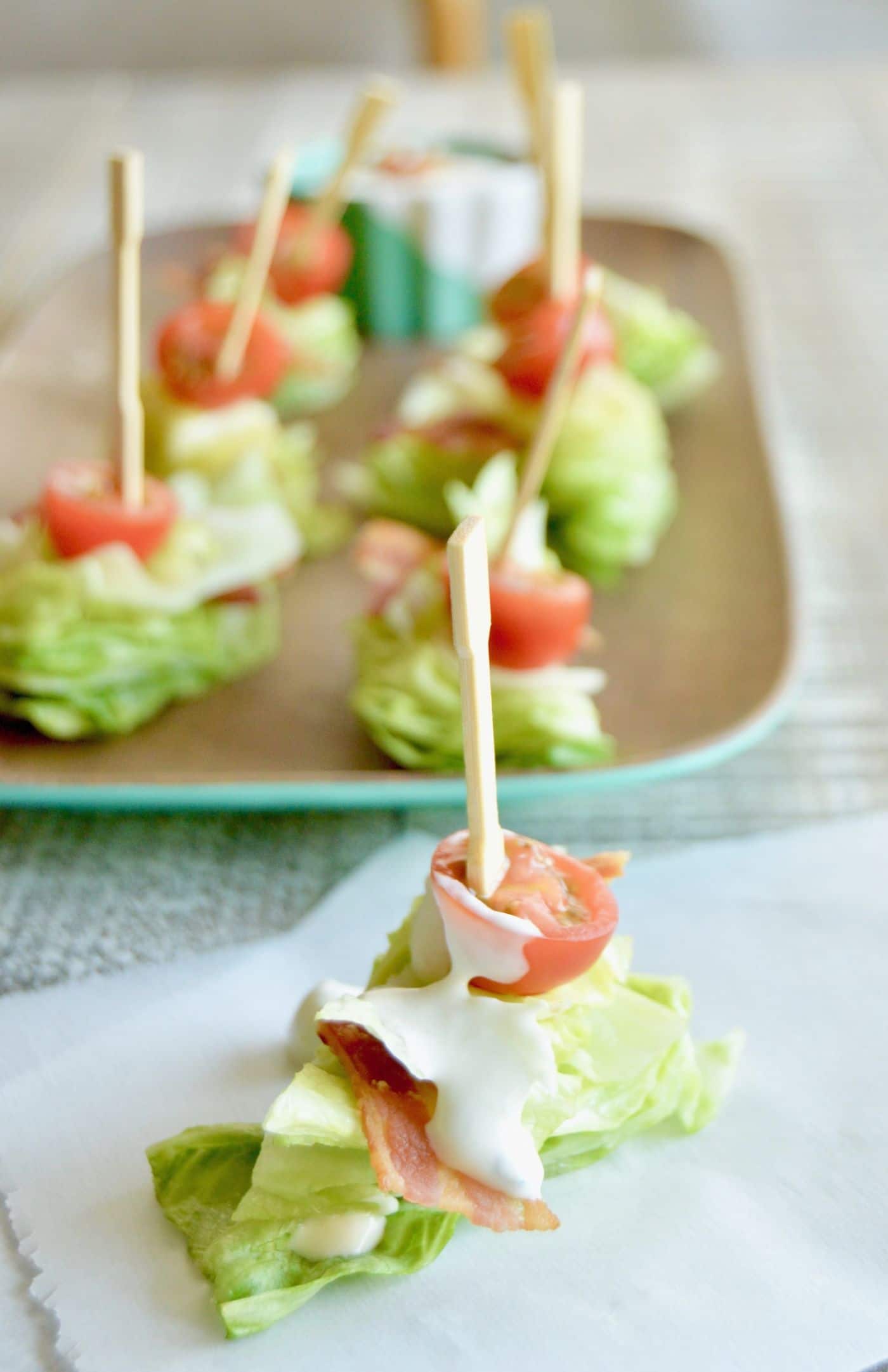 Guacamole BLT Bacon Cups ~ A low carb option for entertaining!
SaveSave
SaveSave
SaveSave
Craving more recipes for entertaining without stress sign up for my mailing list here at the bottom of the page. or PIN THIS TO YOUR APPETIZER and SIDE DISH BOARD for when you are looking for ideas to make! Also Follow me on Pinterest to get more ideas to have for making easy delicious meals and appetizers for any entertaining!
Yield: 8 1/2 cup servings
Creamy Cauliflower Puree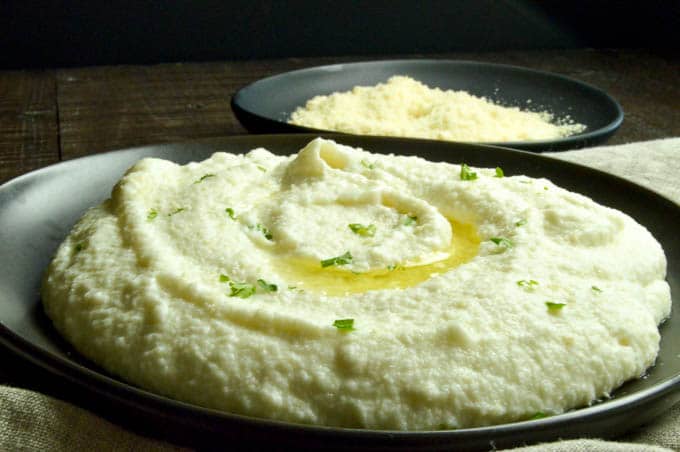 Creamy Cauliflower Puree is an easy delicious low carb/calorie alternative to mashed potatoes and can be ready to serve in about 15 minutes
Ingredients
1 pound cauliflower , (medium head.. about 1.5 pounds)
1 tablespoon olive oil
3 ounces cream cheese
2 tablespoon parmesan cheese
Instructions
Rinse Cauliflower head and remove all green leaves. Pull apart florets so that they are all of equal size. I usually make them about 2 inches in size. Its ok to use the stem attached to the floret, but discard the main stalk. It will be to woody.
Bring a stock pot of water to boil on high. Add the small Florets, reduce heat to medium high so the water keeps boiling, but does not overflow.
Cook for 8-10 minutes until when you stick a fork into the cauliflower it slides right off without any resistance at all. Turn of heat.
Drain water and pour cauliflower into a metal strainer. Place pan back on the burner you used. (Burner is off) Set metal strainer back over the pot to allow all water to drip away so puree wont be watery.
Dump all cauliflower into a food processor. Seal lid, and puree for 1-2 minutes. While motor is running add olive oil to aid in the process. Once all is pureed evenly, remove lid, scrape down sides of the bowl and puree for 30 seconds more.
Remove lid, add cream cheese and parmesan and blend completely.
You can serve with butter or driZzle additional olive oil or sprinkle with additional parmesan if you wish. Serve immediately.
You can make this ahead and just rewarm it before serving with no issues whatsoever.
Nutrition Information:
Yield:
8
Serving Size:
8 1/2 cup servings
Amount Per Serving:
Calories:

70
Saturated Fat:

2g
Cholesterol:

12mg
Sodium:

71mg
Carbohydrates:

3g
Fiber:

1g
Sugar:

1g
Protein:

2g
SaveSave
SaveSave
SaveSave
SaveSave