These Honey Butter Peas will be the star of your dinner. A Simple 20-minute recipe that packs a creamy sweet flavor with the just-cooked peas. Great for a last-minute side dish to add to a meal with frozen or fresh peas.
Simple easy side dishes are such a great weapon to have in your dinner-time arsenal. Recipes like lemon garlic smashed potatoes or creamy cauliflower puree both pair well with these honey butter peas for more offerings of an out-of-the-ordinary side dish offering.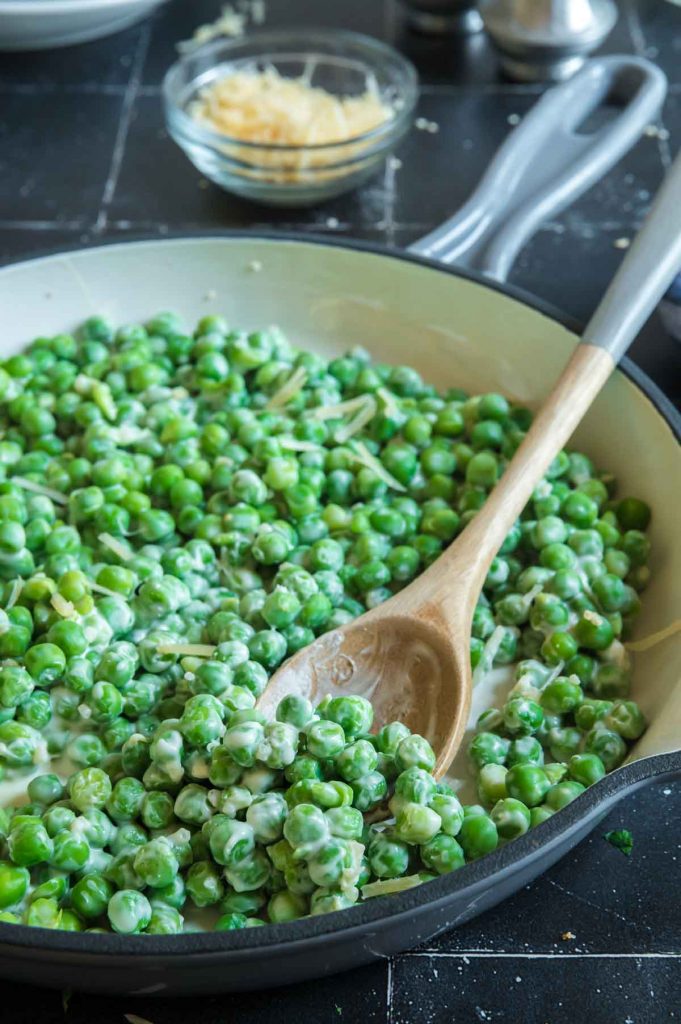 Honey butter peas are a part of my offerings in Farmers Market week where I'm getting together with a bunch of other food writers to share fresh seasonal recipes. Recipes like these fresh peas you can get at your local farmers' market in the height of the season.
I can hardly wait to use this for the holidays coming up later in the year because this vegetable doesn't use the oven and can be made in only 15 minutes at the last minute! Talk about a win when you are entertaining.
This recipe was created when I had company over and thought I had some corn to make parmesan honey butter corn and looked in the fridge to find no corn. I did have some peas and decided to try them instead.
This recipe would also work with peas and carrots or fresh peas and onions. It's super versatile.
Wow! The fresh peas were sautéed with a little bit of onion and butter then when they were just about cooked I added the cream cheese and honey to get a nice creamy texture without all the heaviness of using real cream.
The recipe comes together in about 15 minutes, uses just one heavy-bottomed skillet and is a super economical way to have an out-of-the-ordinary vegetable side dish.
Grocery List for an Easy Side Dish
This recipe uses ingredients you probably already have on hand, sans the farmers market peas, but if your farmers market doesn't have them you can use a bag of frozen peas in their place.
Peas – fresh English Peas in their pods or frozen– NEVER CANNED- canned beans are too mushy for this recipe!
Unsalted butter- always use unsalted butter because you can control the salt you add in the recipe.
Cream Cheese- Full fat coats better than the reduced fat varieties, but either will work-.
Honey- I try to get this at the farmers market too, but any honey will work
Parmesan Cheese- this is totally an optional ingredient, but I had some freshly shredded and it added a salty taste to the peas that everyone complimented.
How to Make One Pan Honey Butter Peas
How many pounds of peas in the pod do I need to buy per person?
You can figure one pound of peas in their pods will give you 1 cup of peas. For a side dish, I usually figure 2/3 per person. If I was serving 4 people I would buy 3 1/2 – 4 pounds of peas, and know I would have enough!
What to look for when shopping for fresh English Peas?
You'll want to find pods that are crisp and not droopy. If you break on in half it should snap. At my local farmers market, the vendor told me a great tip. The freshest pea pods will squeak when they are rubbed together. I'll be darned if he wasn't right!
When you open the pods, the peas should be smaller and a bright green color for optimum freshness. Large peas tend to be overly sweet because they had too much time in the growing process and the sugars overdevelop.
How to shell fresh peas the easiest way
Rinse away any dirt and pat dry. Snap off the end piece of the pea pod, then you will see a small string that runs along the edge, pull it. Then you can slide your finger in and run it along the inside of the pod while popping out the peas.
Using Frozen Peas when English Peas are not in season
Using frozen peas is totally possible with this recipe, the instructions are the exact same. The peas will probably take less time than the fresh ones by a couple of minutes. Buy the unseasoned and no butter already present in the frozen peas.
More Recipes to Pair the Skillet Peas with
Be sure and check out all of the other Farmer's Market Week Recipes below the recipe card!
Yield: 6
15 minute Honey Butter Peas
This 15 minutes side dish will wow anyone! Simple flavors of honey butter with the fresh peas make for a unique but tasty vegetable dish. Creamy, light with perfectly cooked peas.
Ingredients
3 tablespoons unsalted butter
1 teaspoon minced onion, dried (
1 Pound Bag of Peas, or 1 pound Freshly shelled peas
4 ounces cream cheese, full fat
2 Tablespoons Honey
1/4 cup parmesan cheese for garnish
salt and pepper to taste
Instructions
Melt the butter in a skillet on medium-high heat, then add the minced onion, saute for 2 minutes,
Add peas and saute for 8-10 minutes until the peas are warmed throughout.
Add the cream cheese and honey and stir until melted and well combined.
Season with salt and pepper to taste.
Remove from the heat, sprinkle with fresh parmesan and serve immediately.
Can be stored in the fridge in an airtight container for 3 days.
To reheat, you can either put in a skillet on low to warm through, or microwave for 3 minutes.
Nutrition Information:
Yield:
6
Serving Size:
1
Amount Per Serving:
Calories:

201
Total Fat:

14g
Saturated Fat:

8g
Trans Fat:

0g
Unsaturated Fat:

4g
Cholesterol:

38mg
Sodium:

186mg
Carbohydrates:

16g
Fiber:

3g
Sugar:

10g
Protein:

5g
This recipe was calculated using the exact brands and measurements I used to make this recipe. If you are following a strict diet please note changing anything will cause the nutritional info to change. Please calculate your own nutritional information if you want it exact to what you make and use my calculations as a guide only.
Here's more Farmer's Market Week Recipes
Starter and Smoothie Recipes
Side Dishes Recipes
Main Dish Recipes