This Easy 4 Ingredient Prime Rib Bone In Recipe when followed gives you a juicy, tender perfectly seasoned prime rib. A special meal ideal for Christmas, New Years or any special occasion!
Why head out to a restaurant, like Lawry's the Prime Rib to eat the Lawry's Prime Rib Recipe when you can easily make it at home! It's more economical and you won't believe how easy it is!
When I was growing up we moved a lot. Seriously, in the 4th grade I went to four different schools. But no matter where we lived my mom made everything special. She started many family traditions over the years that we still observe today. This slow roasted prime rib recipe is one of those Holiday Dinner Traditions.
You won't believe how easy is is to cook a standing rib roast using this special oven method. By using just a few ingredients and a good quality beef bone in roast your Christmas Dinner, New Years Dinner (or any special occasion dinner for that matter) will give you the best prime rib roast ever!
PIN THIS FOR LATER SO YOU KNOW YOU"LL HAVE THE RECIPE WHEN YOU NEED IT!
So many of my mom's recipes are classic ones that are very easy to do but by using good quality ingredients are transformed to something magical.
This bone in prime rib recipe is a perfect example of that. Only 4 ingredients, flour, salt, pepper and a bone in beef roast.

What is Prime Rib:
Prime Rib is a cut of meat from the primal rib area (a specific 7 rib section) that doesn't get a lot of exercise which leads to a more marbled and fatty roast. Because of the extra marbling and the fact that the muscle isn't used much it is a very tender piece of meat.
What do they call Prime Rib at the Market?
At the grocery store you will see prime rib called many things in addition to prime rib. Look for Bone-In Roast, Prime Rib Roast, Standing Rib roast and Beef Bone in Roast. If you are in doubt at all ask the butcher or someone in the meat department.
What is the difference between Choice Meat and Prime Meat?
I know this is confusing, but you can buy a prime rib that is classified as choice. Going back to the definition of a Prime Rib its a cut of meat from the primal rib which is called Prime Rib. That is the cut of the meat, not the classification.
Prime meat versus choice meat is a classification from the USDA. Prime meat is a fattier, thus much more tender quality of beef. Choice is a little leaner and the texture is not as tender as Prime.
Prime classification tends to be more expensive and if you have money to spend by all means buy the prime. If you are watching your spending, check out Costco for their prime rib roasts that are choice quality. They are very tender bone in roasts that no-one will ever notice you aren't serving prime meat.
What's the difference between a ribeye roast and a prime rib roast?
Both the Ribeye roast and the Prime rib roast come from the rib area. Usually the ribeye roast is cut from the lower section and there isn't as much of the fat around it or as much marbeling it compared to the prime rib roast.
More often than not, a ribeye roast is sold without the bone. Because the ribeye roast is cut from the lower section, it tends to be a little tougher (though still very tender) and not as melt in your mouth tender like a prime rib roast is. Also note, Ribeye Roasts usually are a little bit cheaper!
I have a Horseradish Crusted Ribeye Roast here that is pretty amazing and a lot cheaper than Prime rib if you are looking for something less expensive for a special occasion meal.
Cooking a Prime Rib Roast
Prime Rib Rub Ingredients Options:
Salt
Pepper
Garlic Salt
Onion Salt
Seasoned Salt (Lawry's)
Sugar
Herbs (Oregano, tarragon or basil are good options)
Mustard (dry or wet)
Once you have the roast selected you'll want to figure out what kind of prime rib rub to use. I like simple so it can highlight the meat so my recipe uses only Lawry's Prime Rib Seasoning Salt and fresh ground pepper.
If you are spending good money on a gourmet beef roast you dont want to drown out the great flavor of the meat. By using just a few simple ingredients in your rub you will highlight the flavor of the meat.
Because of the high temperature that this recipe uses I also use flour to help create a crust as well as help avoid splatters of oil all over your oven from the fat cap of the prime rib roast
How to prepare the prime rib roast for cooking:
To make this bone in recipe for prime rib all you do before hand is coat a refrigerated beef roast with seasoned flour, then add extra salt and pepper on the fat cap section.
The seasoned flour helps keep the oil from splattering in the high temperature of the oven. It also gives a nice crust on the edge of the prime rib that is very pleasant when you are eating the prime rib.
The fat cap after cooking is soft and flavorful on your fork, then it has a crystallized edge that is a crunchy texture. All of that with the tender, juicy meat makes for one amazing great meal!
How to cook the rib roast in the oven?
After seasoning the roast with the prime rib rub, you'll want to cover the roast with foil to also help keep any oil splatters from getting onto your oven.
The method in this recipe is you cook the meat for a short time at 500° then turn the oven off and let it finish cooking without opening the oven. The cooking times vary depending on the weight of your roast.
How long to cook standing rib roast using this method:
Cook at 500° based on the desired doneness you prefer.
RARE: 8 minutes per pound
MEDIUM RARE: 9 minutes per pound
WELL DONE: 10 minutes per pound
---
PRO TIP: This method has worked for me every single time but I've had many questions about it over the years as people would feel better if they could check the temperature and were panicked since they couldn't open the oven door. Because of this I highly recommend this thermometer which goes into the oven with the roast but I'm able to know what the internal temp of the meat by looking at a readout that stays outside of the oven.
---
Grilled Prime Rib Roast
Grilled Rib roast is easily made on the grill. The seasonings in this recipe would work using the indirect cooking method on the Grilled Prime Rib with Whiskey Butter recipe.
By cooking in indirect heat you get a nice crust, but a very juicy center.
What temp should you cook the prime rib to:
Be sure to use a thermometer when checking the temperature of the roast. You will still the thermometer in, paying close attention to not touch a bone. Remove the Prime Rib about 5° earlier than your desired doneness, while resting it will continue to rise to the temperature you are aiming for.
Rare: 120-125°
Medium Rare: 130-140°
Well Done 155-160°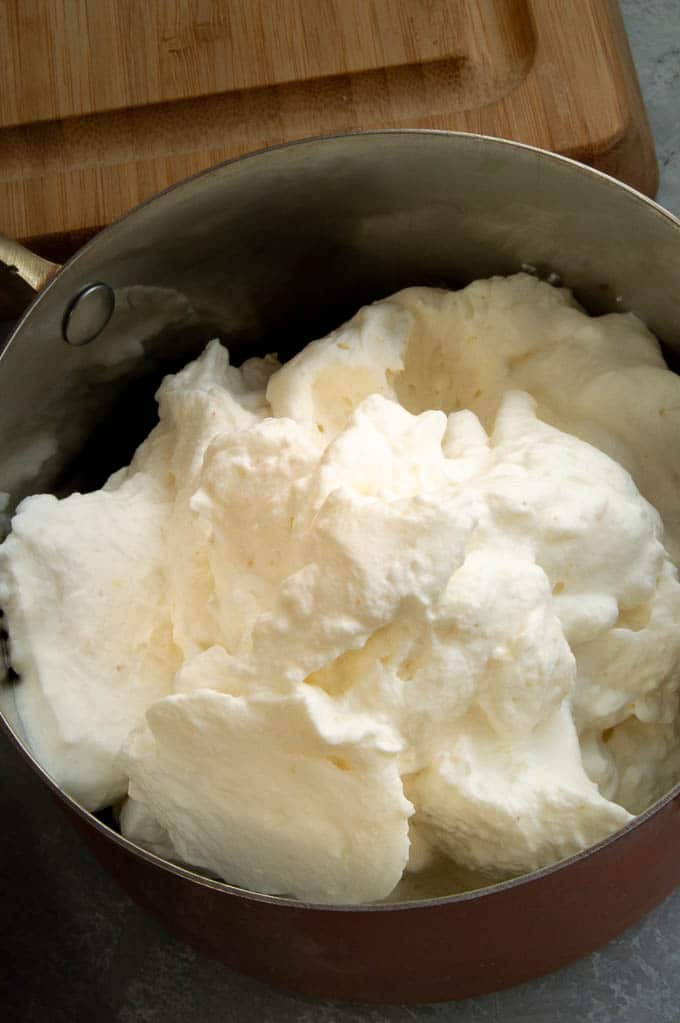 Side Dishes to serve along with Lawry's The Prime Rib Copycat Recipe:
When you go to the famous Prime Restaurants like Simpson's in London or Lawry's the Prime Rib (all over the world) it is common to serve a horseradish cream sauce and au jus over the meat.
More Traditional Side Dishes for Prime Rib Roast:
More Special Occasion Meals for Christmas, New Years Eve or any romantic dinner:
Common Questions in making this Standing Rib Roast:
Can I use a boneless cut of meat with this recipe? You can use a boneless beef roast, but the times will vary. To make sure you get the temperature you want in the end you will have to use a remote thermometer as I mentioned in the pro tip up above.
Can I use a Rib Eye Roast (with a bone ) using this recipe? Yes you can use a Bone in rib eye roast. The cooking times will be the same as listed.
This seems like a lot of prime rib for my family what can I use the leftovers with? You can use the leftover prime rib to make French dip sandwiches. (Buy the packaged Lawrys au jus to dip them in.). You can also make breakfast hash like I have here with the prime rib leftovers.
---
STAY CONNECTED ON SOCIAL SO YOU DON'T MISS OUT ON THE LATEST RECIPES TO MAKE ENTERTAINING BOTH STRESS FREE AND DELICIOUS!
---
---
~ Instagram ~ Pinterest ~ Twitter~ Facebook ~
---
---
FREE TIPS FOR ENTERTAINING WITH EASE AND FUN DELICIOUS RECIPES WHEN YOU SIGN UP FOR THE MAILING LIST BELOW THE RECIPE !
---
Recipe Credit: My mom originally found it from an issue of Family Circle in October of 1976 and the one I'm sharing is inspired by that original recipe.
Yield: 12 Servings ( 6 oz each)
Easy 4 ingredient Classic Prime Rib
This Easy 4 Ingredient Classic Prime Rib is a recipe that is not only a easy to make, but when complete is one of those meals that looks like you worked for hours and tastes absolutely divine. It is perfect for any special celebration but easy enough to make you'll want it more often, like A LOT more often.
Total Time
2 hours
15 minutes
Ingredients
1 three rib roast, (about 8 -9 pounds)
1/4 cup All Purpose Flour
1/2 teaspoon Cracked Pepper
1 tablespoon Cracked Pepper
Instructions
Preheat oven to 500°
Into a small bowl add flour and 1/2 teaspoon of each seasoning salt and pepper and mix thoroughly.
Sprinkle flour Mixture over the entire refrigerated roast and rub firmly into meat. (*** SEE NOTE 1)
Then take remaining 1 tablespoon each of Salt and Freshly cracked pepper and sprinkle evenly over the fat cap of the roast.
Place roast into shallow roasting pan. The fat side should be placed face up for roasting.
Place a tent of aluminum foil loosely over the top to protect oven from spattered fat.
Once oven is at 500° roast for 8 minutes per pound for rare, 9 minutes per pound for medium rare or 10 minutes per pound for well done.
When roasting time to your desired temperature turn OFF oven. DO NOT OPEN OVEN DOOR.(This is critical, if you open the door the temp will drop and the meat will not get to the desired temperature.
Let roast remain in the oven for at least ONE HOUR up to 3 HOURS. ***SEE NOTE 2
Remove from oven and place on a carving board for carving.
Allow to rest 10 minutes before carving to allow juices to completely reintegrate into roast.
Add some water to pan drippings and stir to incorporate evenly in roasting pan to create an au jus.
Carve and serve with desired side dishes.
Drizzle au jus over top of carved slice along with Horseradish cream sauce
Notes
1. Most roasting recipes have you bring the meat to room temperature before placing in the oven. This recipe was specifically designed to use directly from the refrigerator. If you do not follow this, your roast will be much more done than desired.
2. In the original recipe they actually said that you will learn from trial an error if your roast should be left in the oven for one to three hours. I have found that since we tend to like a more rare roast we leave ours in for an hour. But we had guests that liked their meat more medium so when I made it for them I left the roast in the oven turned off for 2 hours.See the post for the thermometer I reccomend if you know you wont be able to resit opening the oven. If using the thermometer, these are the desired temperatures:
Rare 120-125°
Medium Rare 130-140° Well Done 155-160°
All recipe calorie information was calculated on what I purchased to make this recipe in My Fitness Pal. When you make the recipe, the calorie content could vary depending on what specific ingredients/brands you actually use. Please take that into consideration if you are following a strict diet.
Recommended Products
As an Amazon Associate and member of other affiliate programs, I earn from qualifying purchases at no additional cost to you.
Nutrition Information:
Yield:
12
Serving Size:
12 Servings ( 6 oz each)
Amount Per Serving:
Calories:

574
Saturated Fat:

20g
Cholesterol:

114mg
Sodium:

762mg
Carbohydrates:

2g
Protein:

25g
Recipe Credit: My mom originally found it from an issue of Family Circle in October of 1976 and the one I'm sharing is inspired by that original recipe.