This No-fail Stuffed Grilled Leg of lamb recipe is ideal for easy holiday entertaining! Simply seasoned with herbs and spices and stuffed with goat cheese this boneless lamb is the definition of a gourmet dinner.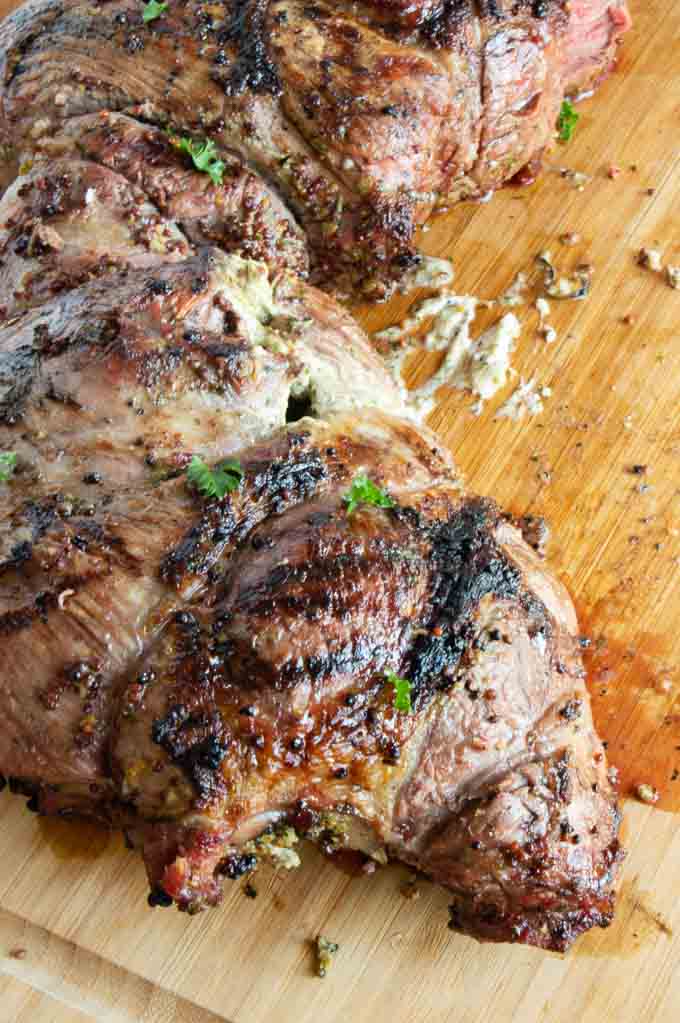 Today's recipe for Boneless leg of lamb is a recipe that your guests will think you have some serious gourmet cooking skills but it will be our little secret how easy the grilled lamb is to pull off! The meat is subtly scented with herbs and spices on the outside then as you cut into the tender, juicy meat there is a tangy creamy flavorful goat cheese in the center!
It's ideal for special occasion entertaining, but easy enough to pull off you can make it for a dinner party whenever you'd like!
I love lamb. I have many recipes for it on my site like this grilled lamb chop recipe or this Irish Lamb stew. I know that most people find it intimidating but I am here to tell you that it is very easy to cook and you needn't worry when deciding to give it a try.
Lamb is very versatile and today I'll share many tips for making it successfully and I'll answer all the questions that come with making lamb.
What to look for when buying a leg of lamb?
Why you should butterfly a leg of lamb?
What temperature to cook a leg of lamb to?
How to cook lamb?
How long to cook a leg of lamb?
How to select Leg of Lamb?
Bone-in Lamb
Leg of lamb generally comes as the shank end or the sirloin end. The shank end is a larger bone and the sirloin end usually has a lot more meat on it.
The sirloin end tends to be a little fattier and more tender. In this recipe, I suggest grilling or roasting so the sirloin end of the leg of lamb works better since it cooks more quickly.
The shank end works if you are planning on braising it. Braising is ideal for a tougher cut of meat to have all the juices and time to really break down and become fork-tender lamb.
Boneless Lamb
I tend to buy a boneless leg of lamb for the sole reason that its easier to cook. When you buy boneless lamb you can butterfly it to cook it.
Why do you want to butterfly leg of lamb? Lamb tends to be odd shaped which can wreak havoc when cooking it. Thicker in some areas and thinner in others. Nobody wants a cut of meat that is dried out on one bite and juicy and rare in another. If you butterfly it you can make sure the lamb is an even thickness everywhere for cooking.
Another added bonus when you butterfly lamb is that you can season more areas for full flavor as well as be able to trim away any excess areas of fat on the lamb.
How to prepare a leg of lamb for cooking?
When you purchase a boneless leg of lamb it generally comes in an elastic net. While you could cook the lamb in that net, you won't be able to get the seasonings in every nook and cranny with it on so I recommend taking it off and then tying it back up with your own butcher's twine or even regular string.
What does it mean to butterfly the lamb? Imagine a butterfly within its cocoon. The meat is all in one solid piece. Then imagine the butterfly opening up completely. You are going to open the meat up to that it is spread as wide as it can go. In the instance of the boneless leg of lamb open it as wide as it can go and then if there are some thick areas make a small cut to open it like a book.
Once you have the lamb leg at an even thickness you are going to want to season it heavily. Lamb is a mild tender meat and doesn't require a lot of seasonings. In this recipe, I use mustard, salt, pepper and some tarragon. Feel free to substitute other herbs such as oregano, poultry seasoning or a simple seasoning salt.
You'll slather the mustard and seasoning over all sides of the lamb.
To make the leg of lamb recipe a little more special for entertaining it's stuffed with an herb-infused goat cheese. It makes it super impressive when you carve it and serve it on the plate.
How to stuff the boneless lamb?
Make a cheese spread with goat cheese, herbs such as fresh parsley, dried tarragon or poultry seasoning
Lay the butterflied leg of lamb out flat
Spread the cheese spread along one side of the lamb, about a 2-inch wide strip
Grab the edge of the lamb and roll tightly to create one large log, be careful it will be slippery with the mustard seasoning on all of the sides
Using butchers twine or string tie up the lamb log so it is even in thickness for even cooking.
---
Love Lamb? You can find ALL the delicious lamb recipes right here!
---
How to grill Leg of Lamb for juicy, tender lamb?
Now that you have the boneless leg of lamb ready to cook its time to fire up the grill. Start by placing the lamb on a high temp grill. Sear the edges for 4 mins for each side.
Searing it not only gives a beautiful appearance, but the flavor from the flames and the seared on seasonings gives a great contrast to the juicy center meat when you eat it! (Not one morsel was left on any of the plates when I served it at a dinner party when testing this recipe!!)
After searing all sides, move the lamb off heat (indirect) heat to finish it. I recommend cooking the lamb on indirect heat so you can get a juicy, tender flavorful lamb. When you are cooking it on indirect heat you'll want to keep the lid closed as much as possible to maintain the heat inside of the grill. Only open it to check the temperature.
How long to cook butterflied and tied lamb on the grill?
You'll need a thermometer to be able to see how long to cook the lamb. I wish I could give you a definitive time but it really varies on the size of the lamb and the thickness of the entire lamb. I made a 5-pound stuffed leg of lamb without a bone and it took about 20 minutes to cook to rare after searing the edges.
What temperature to cook lamb to:
Rare 120°
Medium Rare 130°
Medium 140°
Medium Well 150° ****

I personally find going beyond medium difficult with lamb, it really starts to dry out. If you have guests that prefer medium-well you can serve them pieces closer to the edges which tend to cook a little more done.
Other common questions you may have with this recipe for Lamb:
Can I use a charcoal grill to cook the lamb leg? You absolutely can cook the leg of lamb on a charcoal grill. You will build the charcoal on only half of your grill then move the lamb over to the nonheated side. If the coals are really hot you may want to leave the top off for some of the cooking and be mindful of final temperatures using the thermometer just like a gas grill.
It's winter but I want to make this recipe, can I make it in the oven? Yes, the lamb can be made in a 350° oven. Sear it in an ovenproof pan on the stovetop first, then place it in the oven. Id start with 20 minutes then use the thermometer to see how it is doing then adjust the cooking until it hits your desired doneness.
Can I use a slow cooker for this recipe? I wouldn't make this in a slow cooker. The leg of lamb is a tender juicy cut of meat and placing it in a slow cooker is kind of wasting the extra expense for the more tender meat. You could do a lamb shank in a slow cooker instead, that meat is much more conducive to slow cooker cooking.
My guests HATE goat cheese, can I use something else? Of course, you can use a different cheese for the cheese spread in this stuffed lamb recipe. I suggest using a simple cream cheese, the block kind not the whipped instead. It will be a tangy creamy cheese that works really well in here.
How much lamb for each person should I buy? I figure 1/2 pound of lamb per person when planning my menus. It sounds like a lot but between shrinkage in cooking and trimming away some of the fat it works out just about right.
Can I freeze lamb if I made too much? Yes, you can absolutely freeze any leftovers. As with all meat proteins, they freeze better in larger portions so if you have a lot of leftover you want to leave it whole and not sliced up. Wrap it in plastic and place it in a sealed container in the freezer. When you are ready to serve it defrost completely, then warm it whole on a low temp oven until warmed before slicing.
What side dishes can I serve with leg of lamb that do it justice? The lamb recipe is so wonderful you don't have to go crazy, let the leg of lamb be the star of the plate. Any of these easy recipes will work wonderfully. Scalloped Potatoes, Healthy Creamed Cauliflower, Sautéed Peas and Prosciutto or a really gourmet side dish this Mushroom Bread Pudding.
What occasions can I serve lamb for … Leg of Lamb seems really really fancy and gourmet? Lamb is a perennial Easter Favorite recipe, but it also works for New Year's Eve Dinner, Christmas Dinner or even an alternative to turkey for thanksgiving dinner. It's quite reasonable in price and so easy to make though so don't hold this recipe for Leg of lamb for special occasions, serve it for having good friends over for a nice evening!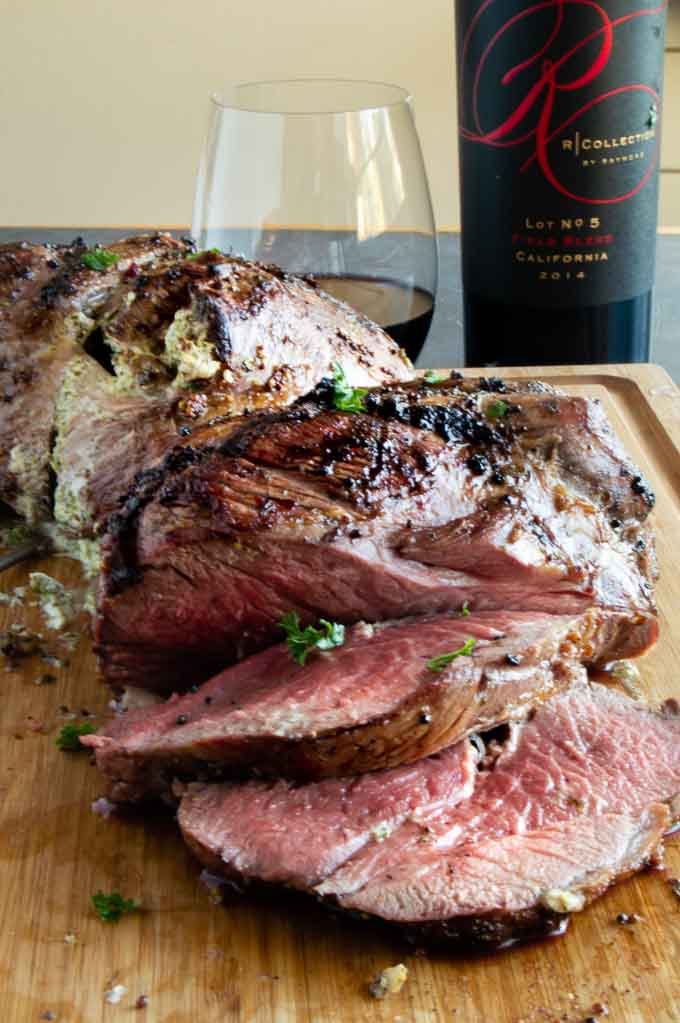 More Lamb Recipe you may like:
More Special Occasion Meals for Entertaining:
---
STAY CONNECTED ON SOCIAL SO YOU DON'T MISS OUT ON THE LATEST RECIPES TO MAKE ENTERTAINING BOTH STRESS-FREE AND DELICIOUS!
---
---
~ Instagram ~Pinterest~ Twitter~Facebook ~
---
---
FREE TIPS FOR ENTERTAINING WITH EASE AND FUN DELICIOUS RECIPES WHEN YOU SIGN UP FOR THE MAILING LIST BELOW THE RECIPE!
---
Yield: 8
No fail Stuffed Grilled Leg of lamb
This No fail Stuffed Grilled Leg of lamb recipe is ideal for easy holiday entertaining! Simply seasoned with herbs and spices and stuffed with goat cheese this boneless lamb is the definition of a gourmet dinner.
Resting time after cooking
15 minutes
Ingredients
5 pound boneless leg of lamb
1/4 cup whole grain mustard, (dijon mustard ok too)
1 tablespoon parsley, fresh, minced fine
1 tablespoon tarragon
1 teaspoon salt
1 teaspoon pepper
Goat Cheese Spread
8 ounces goat cheese
1/4 cup parsley, fresh, minced fine
3 cloves garlic, minced fine
Instructions
In a small bowl, mix all the ingredients for the goat cheese spread: goat cheese, 1/4 cup parsley and garlic. Mix to combine and set aside.
Remove the lamb from elastic netting, discard netting. Rinse and pat dry. Butterfly lamb by cutting small pieces like a book to open up so it is one even flat piece. If there is one area that is a little thicker you can place a piece of plastic on top and pound it thinner so it is all even.
In a small bowl combine mustard, salt, pepper, 1 tsp parsley, and tarragon and combine will. Generously season the butterflied lamb by slathering on the mustard mixture all over all sides of the lamb.
On the inner side of the lamb (the less pretty one) along one of the long sides spread a 2 Inch strip of the goat cheese spread.
Carefully take the side with the goat cheese on it and roll it into a long log shape. Using butchers twine or regular string tie the lamb log at about 2inch intervals making sure that the log is the same width from one end to the other for even cooking.
Preheat grill to high. Once hot, sear all sides about 4 minutes each so they have good grill color. Turn off the side burner and place leg of lamb on the side with no flame. You will continue to cook using indirect heat/ closed lid until the lamb reached 130° for medium rare. (Or whatever desired temperature you desire. See notes for classifications. ). I cooked a 5 pound boneless leg of lamb and it took about 25 minutes. The actual time will depend on the heat of your grill and thickness of the lamb piece. Use a thermometer.
Once its at your desired temperature remove from the grill (turn grill off) and allow the lamb to rest for at least 15 minutes. Cut off ties then carve to about 2" thick slices for serving.
Notes
Lamb Doneness Temperatures:
120° Rare
130° Medium Rare
140° medium
----
any further doneness the lamb can be very dry, but 150° is the guideline for medium well
Nutrition Information:
Yield:
8
Serving Size:
8 Servings
Amount Per Serving:
Calories:

314
Saturated Fat:

7g
Cholesterol:

127mg
Sodium:

596mg
Carbohydrates:

1g
Protein:

42g