This Irish Lamb Stew recipe is made by slow cooking the lamb chunks in a deep rich velvety broth. Mixed with rustic cuts of carrots and whole potatoes that make this one-pot meal a complete comfort food!
The deep rich flavor of the Guinness lamb stew is super comforting and filling with a sauce that is calling out to be sopped up with Irish Soda Bread.
Today's post for an Irish Lamb Stew Recipe is one of the most comforting meals I've made in a long time. The rich velvety broth that swirls around the tender chunks of lamb was flavored with a bit of Guinness Stout which added a deep smoky rich taste to each and every bite.
I love how braising meat makes it fork-tender and while I love a good beef stew—-like what I shared in my recipe for Balsamic Beef Roast I like to make stews with beer occasionally to change of the flavors a bit!
What is Irish Lamb Stew?
Traditional lamb stew was made with mutton(older sheep) and bacon. Oil wasn't an option so bacon fat to tenderize really gives it a nice rich flavor. These days it's made with lamb shoulder or lamb stew meat and the Guinness Beer is added for an American twist.
You don't need much of the rich beer, but it adds a very unique deep flavor to the Irish Lamb Stew Recipe. It's a very bold flavor that works well with any red meat.
Irish Stew Ingredients:
Lamb Shoulder or Leg of Lamb
Potatoes
Carrots
Onions
Stock (Chicken or beef)
Carrots
Guinness Beer (or any brown ale or stout)
Flour (for thickening)
Salt and Pepper
Optional add-ins you could also include are parsnips, turnips, celery and peas.
Love Lamb? You can find ALL the delicious lamb recipes right here!
Tips to make Guinness Irish Stew successfully:
Cut your lamb in large chunks. By cutting them in this way you will still be left with larger bites of meat in the stew even after braising for over an hour.
If you cut them really small, the Irish stew will still taste very rich and delicious, but the meat will break down to small shredded pieces and it completely changes the texture of the stew.
Before creating the braise you will brown the lamb so that each piece has some deep brown crust on them. Some recipes have you flour the beef and brown, but when I tried it that way the flour tended to burn on the bottom of the pan and left a burned taste and had burned flecks in the final stew and while not a huge deal, it is better to just brown the meat with salt and pepper on it.
Cut the vegetables into large chunks. The large rustic cut carrots are pictured here, but you will cut the onions and potatoes in the same large pieces for the Irish Lamb Stew Recipe.
You can decide on your own whether to even peel the potatoes if you want. I always peel them, because that's the way my grandma made them but its fine either way. You can leave the potatoes whole too.
Brown the vegetables in a large dutch oven before deglazing (removing the brown bits from the bottom) with the Guinness. You will add flour at this step so the flour will cook a little bit to release a nice nutty flavor but it will also coat all the veggies which will then help thicken the stew by giving you a rich velvety texture.
PRO TIP
Sometimes in stewing meats there may be a lot of fat released. An easy way to remove that fat is to make the stew the day ahead then refrigerate overnight.
The fat will harden and it will be easy to remove it before you rewarm it for serving. The stew gets better the longer it has to meld so if you have the time to serve it the second day it's even better!
What is the best lamb stew meat for easy lamb stew?
I used a leg of lamb that I purchased from Costco. You can use any lamb roast or lamb shoulder cut.
You can also use lamb shanks or leg of lamb. If you have the bone available, place it in the stew while it braises for even more flavor. You'll remove them before serving.
Slow cooking these cuts of lamb guarantee that it breaks down and becomes fork tender.
You can absolutely sub beef if your family will not eat lamb.
Can I make Irish Lamb Stew without the beer?
You can eliminate the Guinness in the lamb soup, but it really isn't a Traditional Irish Stew then. It will taste completely different.
There is a reason that the words "Irish Stew Guinness" are often used together. They work VERY well together! Guinness gives a smokiness and malty driven sweetness that is great alongside meats.
You can substitute beef or chicken stock and a couple of tablespoons of Worcestershire sauce for the umami taste the Guinness gives to the Irish Stew.
You can sub other beers besides Guinness but pick something deep and rich like a porter or another stout, dark brown ales or even barly wine would work.
Light beer will not give you the right flavor. The alcohol pretty much is cooked out when you deglaze it, but it is a critical component of the Lamb Stew.
Irish Lamb Stew in a Slow Cooker
If you want to make the Guinness Irish Stew in a slow cooker it's easy to adapt this recipe.
Brown the meat as directed and cook the onions/carrots in a pan on the stove and add the flour.. (If you have a slow cooker you can brown in you may use that instead).
Deglaze the pan with the beer and then place the meat and onions/carrots along with the juices from deglazing into the slow cooker for cooking the Irish stew. At this point follow the recipe as directed.
Cook on high for 8 hours until the lamb is fork-tender.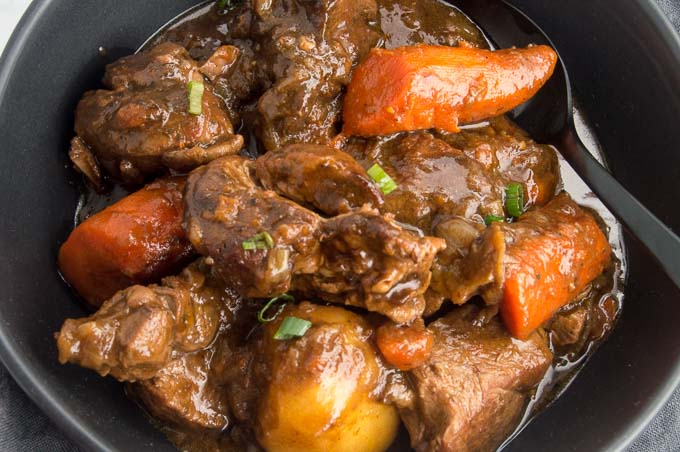 More Irish recipes you might want to make for St Patricks Day:
Pin this recipe to your favorite comfort food recipe board so you have it when you need something that will absolutely not disappoint! If you would like more comfort food recipes or tips on how to entertain without any stress sign up for the mailing list here where you see "Join the West Via Midwest Community"
Looking for other Lamb recipes? Check out these other recipes on my site for Grilled Lamb Chops and the Pan Seared Lamb chops with a simple balsamic glaze!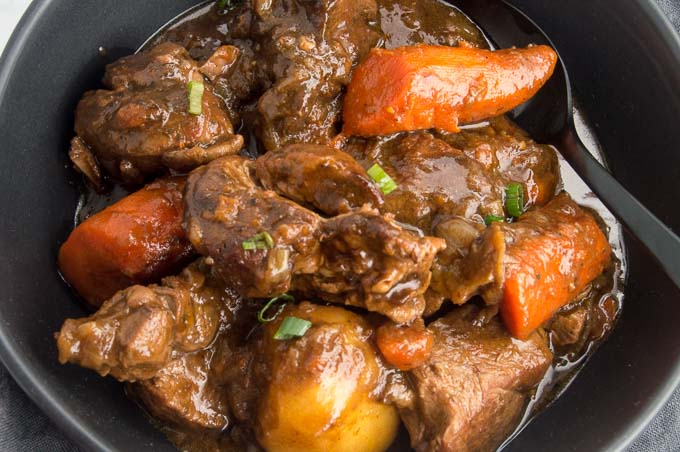 This Irish Lamb Stew recipe is made by slow cooking the lamb in a deep rich velvety broth. Mixed with rustic cuts of carrots and whole potatoes that make this one pot meal a complete comfort food!
Total Time
2 hours
30 minutes
Ingredients
2.5 pounds leg of lamb , ok to sub lamb shoulder, or any lamb roast
1 teaspoon salt
1 teaspoon pepper
2 tablespoons olive oil
1 pound potatoes, peeled, cut to large chunks
2 large onions, cut to large chunks
4 extra large carrots, peeled,cut to large chunks
1/4 cup flour
11 ounces Guinness Beer, (1/2 bottle)
8 cups chicken broth
Instructions
Cut lamb into large chunks of equal size. Season all sides generously with salt and pepper.
In a large stockpot, add the olive oil and heat to high. Once oil is hot, cook the lamb chunks in batches about 2 minutes per side until each side is browned. (see photo in post) Once all sides are browned remove to a side plate.
Once all lamb is browned, and removed from the pan, add the onions and carrots and cook until the onions are caramelized about 7minutes. Then sprinkle the flour over the top and cook for 1-2 minutes more.
Add the beer and deglaze the pan. Scrape up all of the lamb bits from the bottom of the pan.
Add the lamb and the potatoes over the top of the vegetables. Then pour the chicken broth over the top, stir to mix then make sure the lamb is fully submerged in liquid.
Reduce the heat to medium and cover. Avoid the temptation to cook the stew on high. The lamb needs to cook on medium or low so it can break down slowly. Heating too high will result in tough lamb.
Continue to cook checking and stirring often to make sure the liquid is slightly bubbling but not on a full on boil. Continue to simmer for 75 to 90 minutes.
The stew is done when the lamb is fork tender and the vegetables are fully cooked.
Nutrition Information:
Yield:
6
Serving Size:
6 Servings
Amount Per Serving:
Calories:

311
Saturated Fat:

2g
Cholesterol:

76mg
Sodium:

1618mg
Carbohydrates:

21g
Fiber:

2g
Sugar:

2g
Protein:

29g