.This recipe using leftover corned beef makes the most delicious Corned beef and Cabbage Soup. Filled with cabbage, mushrooms, celery, carrots and onions surrounding big chunks of corned beef and potatoes in a deep rich flavorful stew broth.
Corned beef and cabbage soup is the perfect way to use leftover corned beef for a hearty winter dinner! Serious comfort food that is super filling with a delicious flavorful broth that is totally customizable to whatever vegetables you enjoy. (If you're looking for breakfast option for your corned beef leftovers I have this corned beef hash and eggs you might enjoy!)
While this recipe is made with corned beef leftovers I have you covered if you want to buy a corned beef brisket just for this recipe!
This week's recipe is a part of the #freakyfriday series I participate in several times a year introducing you to some of my fellow food writers. This event is put on four times a year. A bunch of us get together and are given a name to find a recipe that fits the season and introduce our audience to someone's website that you might not have known about!
Be sure and check out all of the recipes from this Winter Freaky Friday edition at the bottom of this post.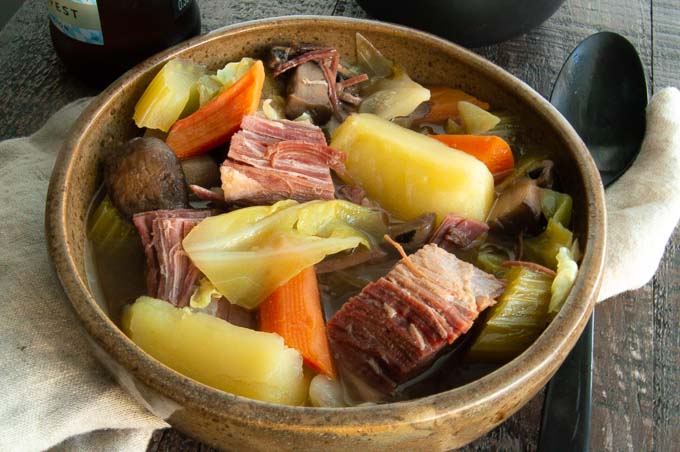 This time I have Debra from Bowl Me Over !!
Debra is one of the nicest people I've met since I've had my food business. I met her last year at a foodie event and when we met in person it was like we had known each other forever. We ended up not only spending time at the event but also spent time in the off hours hanging out for cocktails and dinner!!
Let me tell you about the Corned Beef and Cabbage Soup recipe I made using Debra's recipe, then I'll share with you all the reasons you need to go see all of the great foods on her site!
The corned beef soup is so easy to make but don't worry, you don't sacrifice full gourmet flavor just because it's easy.
Debra's recipe uses a fresh brined corned beef that you need to cook but since I'd been working on a homemade corned beef recipe and had tons of leftovers it seemed like it was meant to be.
(Don't worry it's not nearly as intimidating as I thought it would be and my husband and neighbors have been raving about it!!)
How to make Corned Beef and Cabbage Soup
Corned Beef soup is flavored with so many layers.
Dredge the corned beef in seasoned flour then brown the chunks so you get a nice caramelized edge.
Cutting the meat and veggies to small bite-sized pieces allows for quicker cooking.
Sautéing the veggies before simmering them releases the flavors and softens them for fast cooking.
Deglaze the pan with a deep dark beer to really add depth to the corned beef stew broth.
Finally, add the stock and cook until the meat is nice and tender.
Cook it in the oven or on the stovetop.
Making Corned beef stew with brined store-bought Corned Beef
If you don't have leftovers you can easily make corned beef soup. The only difference is the cooking time. The soup will have to simmer longer to get the tender texture you want in a corned beef and cabbage stew.
Common Questions you might have when making this corned beef leftovers recipe?
Can I make this corned beef soup recipe without beer? Yes! You can make hearty cabbage and corned beef stew without beer. Replace the beer with additional beef or chicken broth.
What exactly is corned beef? Great question. Corned Beef is a beef brisket that is pickled with a curing salt called Prague powder and other spices like allspice, cloves and cinnamon along with sugar and lots of water.
Where would I get curing salt? You can find it in some supermarkets but I got mine at Amazon – Alton Brown used this one by Anthony's …. look at that crazy neon pink color, hard to believe that it turns the corned beef red but it does.
Why is corned beef red? Corned beef is turned that recognizable red color from the curing salt. There is a pink dye in it. The dye is pink to distinguish it from regular salt. It's harmless but leaves that beautiful color during the brining process.
Bowl Me Over- why you have to go see this site!
Debra is a lot like me, she loves to entertain and have people over and she doesn't stress about all of the right ingredients! I love that she's super flexible in her cooking in being totally comfortable in making substitutions and not stressing over it. (Which is why I know she will love that I used the leftover corned beef and didn't stress over it!)
I had a hard time deciding what to make from her site as there were so many comfort food meals that made my mouth water! Her Teriyaki Chicken bowl was delicious and super easy…. seriously, the sauce was perfect, not too sweet and just the right thickness!
She's become quite the source for instant pot meals and has so many tips on using them. Seriously, if you are intimidated by pressure cookers you have to go check out her site. She will walk you thru all the things you need to know and you'll walk away with complete confidence and some great recipes!
She's also known for all of her homemade jam recipes. She brought some to the foodie event we were at. Trust me when I tell you these are the recipes you want to make for gifts for your neighbors, friends or just to have for your family! They are not only tasty, but are much easier to make than you think.
More Warm Soup Recipes you might be interested in:
PIN THIS TO HAVE TO USE ALL OF YOUR LEFTOVER CORNED BEEF!
---
STAY CONNECTED ON SOCIAL SO YOU DON'T MISS OUT ON THE LATEST RECIPES TO MAKE ENTERTAINING BOTH STRESS FREE AND DELICIOUS!
---
---
~ Instagram ~ Pinterest ~ Twitter~ Facebook ~
---
---
FREE TIPS FOR ENTERTAINING WITH EASE AND FUN DELICIOUS RECIPES WHEN YOU SIGN UP FOR THE MAILING LIST BELOW THE RECIPE !
---
I'd love it if you enjoy this recipe if you'd comment and rate the recipe in the recipe card.
Hashtag any recipes you make from West Via Midwest #westviamidwestrecipes or tag me @michele_westviamidwest on Instagram and I'll share your recipes on our stories!
Take a look at all of our Winter Freaky Friday Recipes:
Yield: 6
Corned Beef & Cabbage Soup: leftover corned beef recipe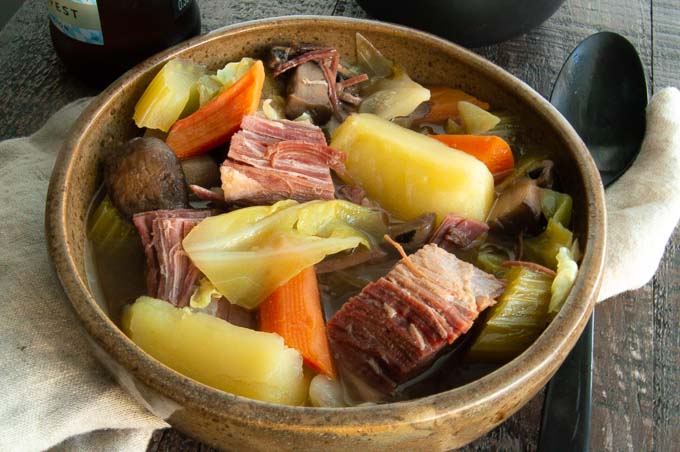 This recipe using Leftover Corned Beef makes the most delicious Corned beef and Cabbage Soup. Filled with cabbage, mushrooms, celery, carrots and onions surrounding big chunks of corned beef in a deep rich flavorful stew broth.
Cook Time
1 hour
45 minutes
Ingredients
1 lb corned beef leftovers
1/2 Cabbage, chopped
8 oz. mushrooms, sliced
1 medium onion , diced
3 carrots , peeled, 1" pieces cut in half
2 stalks celery, cut on diagonal 1/4" thick
3 cups red potatoes , quartered
1 16 oz Guiness Beer, (any dark beer)
2-3 cups beef stock
1 teaspoon steak seasoning, (Lawry's)
1/2 teaspoon salt
1/2 teaspoon pepper
3 tablespoons flour
minced parsley for garnish
Instructions
Preheat oven to 350 degrees.
Chop the vegetables as directed, set aside.
Using a large ziplock bag add the flour, salt, pepper and steak seasoning. Add the diced meat and massage the flour/spices in.
In a large stock pot over medium heat add two tablespoons olive oil. Add the beef mixed with flour. You'll want to get a good crust on all the sides. About three minutes one side, give it a good stir, 3 minutes again, remove from the pan.
Next add all of the vegetables to the pan. (You may need to add additional olive oil.) Sauté for three more minutes.
You'll have a bunch of brown bits on the bottom of the pan. Pour the entire bottle of beer into the pot, scrape the bottom of the pot. It might take a minute or two, but you want to scrape up all those brown bits!
After you've added the vegetables, add the beef stock to cover the vegetables. Increase the heat to medium high and bring it to a boil. When you have all of the bits off the bottom of the pan, put the beef back in the pan with the vegetables. It will seem like a lot, but don't worry, the vegetables will cook down.
Once it begins to boil, cover it tightly. Place it in the preheated oven 45 mins.
***STOVE TOP*** Once it begins to boil, reduce the heat to low and cover it tightly. Simmer for about 45 mins hours until the carrots and potatoes are tender. Check it occasionally and just give it an occasional stir.
Remove the soup from the stove or oven, finish by adding a good handful of minced parsley. Stir well and serve.
Notes
If not using cooked corned beef follow these instructions.
Removed the fat cap from the roast and diced up the beef into bite-sized pieces.
Flour as directed in the recipe and follow the instructions for browning the edges. You will need to increase the cook time to 90 mins or until the corned beef is soft and tender.
Nutrition Information:
Yield:
6
Serving Size:
6 Servings
Amount Per Serving:
Calories:

250
Saturated Fat:

3g
Cholesterol:

40mg
Sodium:

1327mg
Carbohydrates:

21g
Fiber:

4g
Sugar:

6g
Protein:

16g