Using just a few ingredients you can make a homemade Condensed Cream of Mushroom Soup Recipe that is so much better than store-bought. Use as a substitute for any recipe that calls for Campbell's Cream of Mushroom Soup or condensed mushroom soup.
While it's super easy to use store-bought I like the flavor better of Homemade Condensed Cream of Mushroom Soup. It has just a couple of ingredients, lacks all the preservatives and since it comes together in about 15 minutes it makes it easy to make in our house.
What is condensed soup?
When you have condensed soup you are getting something that is much thicker than what the final end-use will be. You will add a liquid (broth, milk, water) on a stovetop when preparing. For example, when you buy Campbell's Condensed Soups you add water to them as you are cooking them.
What ingredients to buy
Mushrooms
Butter
Onions
Flour
Milk
Chicken Broth
Cream of mushroom soup has very few ingredients, but you probably have all of the ingredients to make them. You can choose your favorite fancy mushrooms (shiitake, oyster, chanterelle or miataki) to vary the flavor a little bit but it works with the most economical button mushrooms just as well. Check out the Mushroom Council's Guide for all sorts of mushroom options.
How do you make this soup?
It's very easy to make your own. I find it works best to use a food processor to puree the mushrooms and the onions. You'll place them in the processor and the trick is to pulse them instead of letting them run continuously so they don't completely turn into a mushroom onion liquid. You want the bits to be seen in each bite.
Once pulsed you will place them in a sauté pan to cook. As you cook them the mushrooms will release their juices and the onions will become translucent. After a few minutes, you will add some flour which will act as a thickener for the soup. It just takes a minute for the flour to cook before the next step. You want it to incorporate throughout the mushroom soup base as well as allow the flour to get rid of the powdery taste. While cooking for just a minute, you will be releasing the nutty flavor from the grains.
Finally, you will add the milk and broth and let the soup simmer and thicken. You want to stay and watch the pan so it doesn't burn nor bubble over.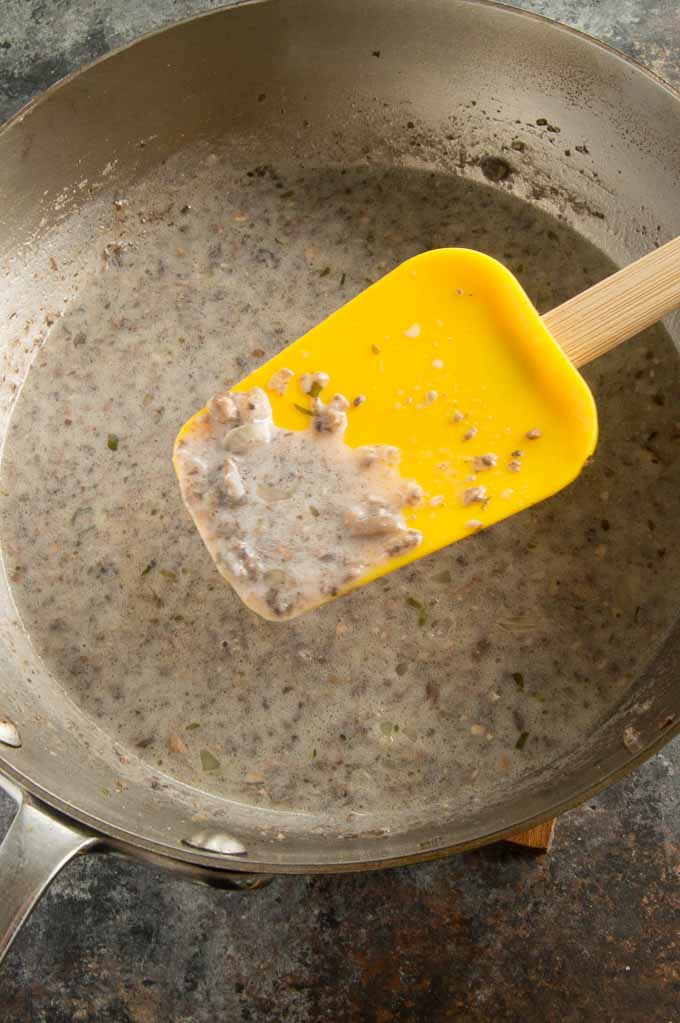 Ways to use this Substitute for Campbell's Cream of Mushroom Soup in Recipes?
Use this recipe in any recipe that calls for a condensed mushroom soup. This recipe yields the same amount as the canned with the liquid that you would have added to get it to the soup.
Use it as a hearty soup. Just add some sliced larger pieces of mushrooms (a great place to add the fancier mushrooms.). Saute the mushroom slices before adding to the soup.
Toss the soup into some cooked pasta and add sautéed mushrooms and chicken for a more filling meal.
Brown a minute steak on each side, then pour the mushroom soup over the top and place in the oven to bake for about 30 minutes. You'll end up with very tender beef that is reminiscent of Swiss steak.
Add this soup to the Mushroom Risotto recipe for extra intense mushroom flavor. (reduce the chicken broth by 1/2 cup and eliminate the heavy cream). Add the soup at the step where you would have added the heavy cream.
Need Substitute Golden Mushroom Soup instead? Add 1 tablespoon of tomato paste when you are sautéing the mushrooms and use beef broth as a sub for the chicken broth.
Mushroom Soup Substitute Recipes:
Here is my recipe for mushroom rice pilaf I made using this substitute for cream of mushroom soup recipe but in the meantime, these Comfort Food recipes are great ways to use this homemade Cream Of Mushroom Soup as a replacement.
Hashtag any recipes you make from West Via Midwest #westviamidwestrecipes or tag me @michele_westviamidwest on Instagram to be featured on our stories!

Yield: 1
Homemade Condensed Cream of Mushroom Soup
Using just a few ingredients you can make a homemade Condensed Cream of Mushroom Soup Recipe that is so much better than store-bought. Use as a substitute for any recipe that calls for Campbell's Cream of Mushroom Soup or condensed mushroom soup.
Ingredients
2 tablespoons onions
3 tablespoons butter
2 tablespoons flour
1/2 cup milk, (heavy cream if you want it richer)
1/2 cup chicken broth
salt and pepper to taste
16 ounces of mushrooms
Instructions
Into a food processor place the mushrooms and onions. Pulse until blended but you can still definitely see pieces of them, (See photo in post)
Place butter into a saute pan and turn heat to medium. Melt butter. Add mushroom onion mixture to pan, increase heat to high and cook for 4-5 minutes until mushrooms are releasing liquid and the onion is translucent.
Add flour to mushrooms/onions and cook for 1-2 minutes.
Add milk and broth and continue to stir while the soup thickens up. It will thicken in about 10-15 minutes.
Use as a replacement for condensed soup in recipes or serve immediately as a bowl of soup.
Notes
See post for ability to convert to Golden Mushroom Soup.
Store in an airtight container for up to 3 days or freeze.
Can be frozen if you make in bulk. You will need to thaw completely then heat up on the stovetop on medium high so milk doesn't burn.
Use one recipe portion as a substitute for a whole can (with the liquid already added ) of store-bought condensed mushroom soup in recipes that call for one can.
Nutrition Information:
Yield:
1
Serving Size:
1 Servings
Amount Per Serving:
Calories:

478
Saturated Fat:

23g
Cholesterol:

99mg
Sodium:

797mg
Carbohydrates:

26g
Fiber:

3g
Sugar:

11g
Protein:

13g