No Fail Quiche Lorraine, an easy yet impressive recipe full of melty cheese, crisped bacon and ham mixed in a light creamy custard all served flaky buttery crust.
No-Fail Quiche Lorraine is exactly what the name implies, a recipe that anyone can make with success. This recipe was a favorite from my Mom's …. she had cut it out of a woman's day magazine in 1965 and it was a family staple in our house. The article talked about Julia Child and the impact she had on changing the way people cooked.
The recipe was misplaced in a move, and until just recently when it popped up in a pile at my house, I had been making do with the recipe from when I attended cooking school.
The main difference in the two recipes is the one from cooking school uses a little bit of mustard to add a slight tang to the custard.
What is Quiche?
The definition of Quiche is generally referred to as a custard consisting of milk/cream and eggs baked in a crust. It can have many other ingredients like meat, vegetables (asparagus is very popular) and in some cases, there is an addition of cheese into the mix.
What is Quiche Lorraine and its history?
A Quiche Lorraine recipe consists of a custard of milk/cream, bacon and Swiss cheese in a pastry crust. It got its name from the Lorraine region in France. Although through many wars the borders of Germany and France were fluid and there is some discussion that the recipe was actually from when the Lorraine area of France when it was a part of Germany and called Lothringen. But when the area reverted back to France they renamed it, Quiche Lorraine.
No matter where it originated its a delicious, creamy custard that if made correctly stands up well and is baked in a flaky buttery crust.
What are the secrets to having the custard stand up correctly in a Quiche?
Dairy to Egg Ratio: The trick to a successful custard is paying special attention to the ratio of the dairy (milk/cream) to the number of eggs. This easy custard recipe follows the rule of 1/2 cup dairy to 1 large egg. The recipe is easily doubled or tripled if you want to make 2-3 quiches.
Baking to the point that the center of the custard springs back when touched. Each oven is different, so being testing once the quiche has baked for 20 minutes.
Custard sets up firm after baking.
No-Fail Quiche Lorraine is famous for having bacon, ham and Swiss/Gruyere cheese in the custard. Quiche is a word that turns a lot of people off when they hear it, but it's really a great dish for entertaining because it can be served hot or at room temperature. It's also very filling while not being super expensive to make.
I used it over the years at meetings when I need to take a dish to share, Mother's Day, or as the highlight at a Bridal or Baby shower meal alongside a simple salad.
Tips and Suggestions for a Successful No-Fail Quiche Lorraine Recipe
Traditional Quiche Lorraine uses bacon and ham but if you have salami or any other cold cuts that will work too. Cook the meat a little so that the oils from the meats can be left in the pan or on a paper towel so your custard does not get greasy.
Any semi-hard cheese will work, though I prefer the perennial favorite Swiss. Although soft cheeses would taste great, you want the grated cheese to float to the top and brown for a beautiful pie when baking.
Want to go all out and make your own pie crust? This easy flaky pie crust recipe works every single time!
I had to entertain at the last minute and although I could have made my own pie crust (and almost always do like here in the blueberry tart recipe or in this cherry apple pie in this recipe pictured I saved some time by buying a Marie Calendar's prepared pie crust. I like homemade crusts better every single time, but sometimes it's just not possible with how busy we are and this works well and still tastes really good. (bonus tip, be sure and look through the store-bought crusts and make sure they aren't cracked when selecting one. )
I cover the edges of the pie crust with foil or a pie crust cover so they won't burn. (When prefacing leave the covers off, cover once you pour the custard in.
You can make the custard and fillings ahead then just pour them into the crust to bake when your company arrives. You can also bake the whole No-fail Quiche Lorraine ahead of time and just remove from the fridge an hour before you wish to serve them. I prefer them at room temp rather than hot. But that is a personal preference, serve them the way you enjoy them
Pair them with a light salad, they are filling so you don't need to make a lot of them.
Because they hold up well in the fridge we do usually make a double batch so we have a nice lunch the next day.
---
---
PIN THIS for easy reference when you need a BBQ Side Dish!
You can also follow me on Facebook here for more easy recipes for entertaining!
(Facebook not your thing….. thats ok too! I have you covered with a mailing list that shares easy recipes for entertaining on this page where it says "join the west via midwest community!" )
---
Looking for other Breakfast ideas for company? Check out my recipe for Classic Eggs Benedict! It works well for entertaining and special occasion breakfasts!
Yield: 6 pieces
No Fail Quiche Lorraine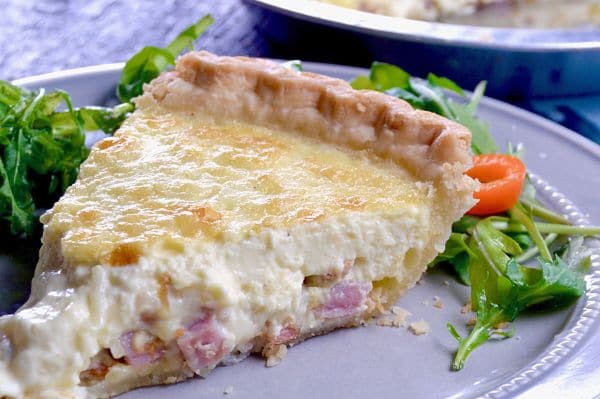 No Fail Quiche Lorraine, an easy yet impressive recipe full of melty cheese, crisped bacon and ham mixed in a light creamy custard all served flaky buttery crust.
Ingredients
1 1/2 cup Heavy Cream
3 large eggs
1/2 teaspoon mustard
1/4 teaspoon ground nutmeg
1/2 teaspoon salt
1/2 teaspoon pepper
3 ounces ham,, small diced pieces
3 ounces gruyere or Swiss cheese, grated
4 pieces bacon
1 pie crust (pre-made or homemade)
Instructions
Preheat oven to 425°.
Using a fork, poke holes in the bottom of the crust so that crust won't bubble up. Cutting small strips of foil about 3 inches wide, cover the edges of the crust to prevent over browning. Pre-bake the crust only for 15 minutes. Remove from oven.
Cook bacon crisp and blot any excess oil. Crumble to small bites. Cook ham for 3 minutes to slightly brown the ham and blot any excess oil. Grate cheese. Set all ingredients aside.
Whisk cream and eggs together thoroughly. Add nutmeg, salt, pepper and mustard and blend well.
In the bottom of pre-baked pie crust, layer ham and bacon on the bottom. Then sprinkle cheese over the top of the meat. Finally pour the prepared custard over the toppings.This order is important because when you bake it the cheese will rise to the top of the crust and provide beautiful color and a nice crust.
You will leave the foil over the edges. Bake for 10 minutes at 425 then reduce the heat to 375° and continue to bake until center is cooked through and the top is golden about 20-30 minutes. (Each oven is slightly different, start checking at 20 minutes and see if center springs back with you lightly touch it.
Allow to rest for at least 15 minutes. Can be served at that point or allowed to cool to room temp and served. You can bake the night ahead if you wish, just remove from the fridge and allow to come to room temp before serving. You and also warm in the oven on a very low temperature (no more than 275° ) to warm it slightly before serving.
Notes
---
All recipe calorie information was calculated on what I purchased to make this recipe. When you make the recipe, the calorie content could vary depending on what specific ingredients/brands you actually use. Please take that into consideration if you are following a strict diet.
---
The calorie content was created using a store bought pie crust.
Nutrition Information:
Yield:
6
Serving Size:
6 pieces
Amount Per Serving:
Calories:

521
Saturated Fat:

22g
Cholesterol:

206mg
Sodium:

665mg
Carbohydrates:

16g
Protein:

14g