Apple Cherry Pie is an blend of two of your favorite pies. First made for summer BBQ's it's now become a perennial favorite for fall baking. Easily made decorative with a cookie cutter shapes that fit the occasion, whether it be a potluck, dinner with friends or as the finish to a holiday meal- this cherry apple pie does not disappoint.
Pair this with the Sweet Potato Pecan Pie and Buttermilk pie for 3 delicious options for your holiday entertaining!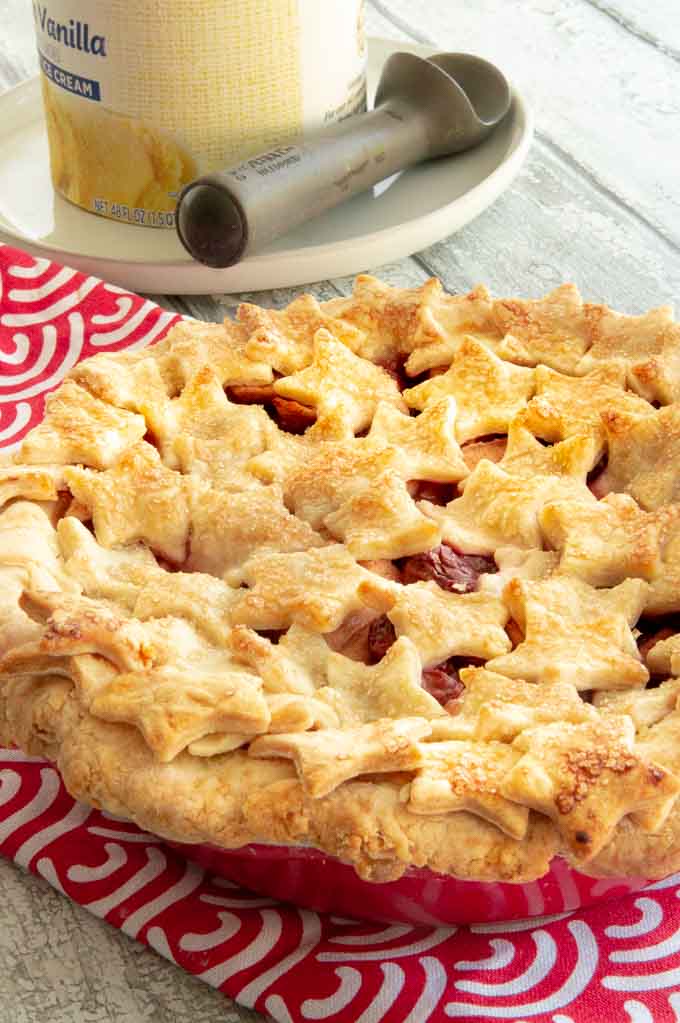 Hello Apple Cherry Pie! What is more American than an apple pie?? A cherry pie?
Being close to the 4th of July I wanted to make a pie to serve. I love apple pies (I mean who doesn't??) but wanted something that looks more patriotic looking. I really like cherry pie, so somehow the marriage of the two flavors seemed to be a logical choice.
This pie has a perfect amount of juice with it, not overwhelming but enough that it is nice and moist without making the crust soggy. (Don't you just hate soggy crusts?)
How to make a flaky pie crust

The no fail crust is my Grandma's recipe (which probably at one point years and years ago came off a flour bag, butter package or a Betty Crocker cookbook, but our family has used it forever so we claim it as ours since we don't know where it originated from.)

Using both butter and a dollop of shortening results in a crust that's flaky, tender and has a nice buttery flavor.
The hardest thing with the crust is being gentle with it and not over mixing it. Mix it until it just comes together then put it in plastic to chill. I promise you, that if you don't over mix it when you roll it out it will come together.

How to make Apple Cherry Pie
The filling on the pie has just a few ingredients, but wow it's flavorful and yummy tasting.
The cherries turn the apples a little bit red, but the apples and the cherries really work well together. The sweet cherries with the tartness of the granny smith apples, delicious!! My mouth is watering just writing about it!
What kind of apples to use for apple pie
I suggest using a tart apple that holds its texture really well. I used a Granny Smith apple, but you can also use a sun crisp, gold rush or a Jonathan apple.
If you prefer a sweeter apple, a fuji, golden delicious, Crispin or a red Rome are good choices.
There are also sweet/tart apples that work well. The two I would recommend in that case are a Braeburn and a pink lady. They have a sweet/tart taste, but still don't get too mushy when baked.
How many apples do you need to buy
Don't stress this. Apples come in all sorts of sizes but in general 3 medium apples will give you about 2 1/2 cups sliced apples. I always overbuy ~~ an apple pie when baked loses a lot of volume and they don't go to waste. Just pile them all in the middle of the crust and all will be fine!
---
PRO TIP: Cut the apples into even thickness, I cut mine to about 1/3″ so they soften while baking, but don't turn to mush!
---
What kind of cherries to use for the best cherry pie
I use canned tart cherries by Oregon Specialty Fruit. I know they are canned but it's really hard to find tart cherries in the stores and honestly, even if I find them, I hate pitting cherries. It takes forever so I don't mind using a canned one.
Love Sweet Treats? Check out all of our Dessert Recipes!
Tips for a successful Apple Cherry Pie Recipe
You'll want to reserve the juice from the cherries to add to sugar, cornstarch, lemon juice, cinnamon and salt. To make a nice velvety texture for the sauce you'll want to boil it until it's a nice caramel-like texture.
The cornstarch acts as the thickener, be sure and stir continually while cooking.
Once the liquid has a nice caramel like constancy you'll pour it over the cherries and apples and let it sit for a few minutes to completely coat the fruit filling.
Finally pour the fruit filling into the prepared pie crust, mounding it at the center.
You can then lay a plain crust over the top or use a cookie cutter to cut out shapes to lay all over the top of the pie. If you do a plain crust, you'll need to cut some vent holes in the top to let the steam escape while baking.
I like to use cookie cutters like the star-shaped ones here for a patriotic Fourth Of July Dessert!
Two last things… you'll want to make an egg white wash and brush it over the top to help the top get a nice golden color. You can then sprinkle a little bit of sugar over the top before baking to give your flaky pie crust a nice sugar crunch top!
How to avoid burning the edges of the pie crust.
You can make a foil band and place it around the edges until the last 15 minutes of the bake or you can use this Pie Crust Protector Shield that will protect the edges from being burned and is so much easier than attaching the foil strips! I used to always make foil ones until someone gave me this as a gift and it's game-changing!
More Fruit Desserts you might enjoy!
I'd love it if you enjoy this recipe if you'd comment and rate the recipe in the recipe card. ⭐️⭐️⭐️⭐️⭐️
Hashtag any recipes you make from West Via Midwest #westviamidwestrecipes or tag me @michele_westviamidwest on Instagram to be featured on our stories!
If you want something else patriotic for the Fourth of July you have to check out these Red White and Blue Vodka Lemonade Slushes!
Yield: 8
Simply delicious Cherry Apple Pie
Need a pie for the summer? Apples and cherries are in season and they pair beautifully in this easy to make cherry-apple pie. And a simple cookie cutter can make the cutest pie topping ever!
Total Time
1 hour
40 minutes
Ingredients
Pie Filling
6-7 large Apples, large Granny Smith
1 tablespoon lemon juice
enough water to make cherry juice and lemon juice to total 3/4 cup
3/4 cup sugar
1 teaspoon cinnamon
1/2 teaspoon salt
2 tablespoons butter
Instructions
Prepare homemade pie crust or use storebought crust
Begin pie filling after the crust has chilled.
Preheat oven to 400º
Peel and slice apples discarding the core, set in large mixing bowl.
Strain juice from canned tart cherries and place cherries with the apples in the mixing bowl.
Add lemon juice to cherry juice then add water to make 3/4 cup. Add to a small sauce pan.
Into the juice mixture stir in cinnamon, 1/2 of the sugar, cornstarch and salt until well blended.
Heat the mixture for 5 minutes and starting to boil. Remove from heat, then add the rest of the sugar until well blended.
Then pour over cherry apple mixture and set aside for 15 minutes.
While fruit is resting, roll out Pie crusts. (Roll crust out to be 2" wider than your pie plate.)
Place one pie crust in the bottom of a pie pan with the edges hanging over by 2 ".
Tuck under edges and them crimp edges. At this point, cover the edges of the pie with foil to protect it from over browning. (It's easier to do before you add the filling.)
Add Cherry-Apple filling atop crust in pie pan. Mound fruit to the center. Dont worry, it will go down during baking.
Cut 2 tablespoons of butter into bits and place over the top of fruit filling.
You can pick any shape of cookie cutter for the second crust. As you are cutting them out place over the top of Cherry-Apple filling and butter dollops. The amount of cutouts you will need will depend on what shape you use. Overlap them as you place them, but leave a few open "vents" for the steam to escape it bakes.
Once the pie is covered with cutouts bake at 400 for 50 minutes. You can remove the foil edging for the last 10 minutes.
Let pie cool completely on a wire rack before cutting.
Notes
If you don't have a spritzer bottle, you can add the water one tablespoon at a time.
Feel free to use a store bought pie crust if you dont want to make your own!
Recommended Products
As an Amazon Associate and member of other affiliate programs, I earn from qualifying purchases at no additional cost to you.
Nutrition Information:
Yield:
8
Serving Size:
8 Servings
Amount Per Serving:
Calories:

474
Saturated Fat:

12g
Cholesterol:

45mg
Sodium:

597mg
Carbohydrates:

61g
Fiber:

4g
Sugar:

12g
Protein:

4g
Ive left these photos on the post so anyone can see where the post originally started from (7/15/2015!) How far one can come huh? They sure gave me a great laugh! Someone must love them as these images are on pins that have been floating around since this post was first published and its one of my most popular traffic drivers in the summer! ~michele