Red White & Blue Drinks are super festive for the Fourth of July BBQ and are easy to make for a crowd. Made with lemonade, limeade and vodka they will become a party favorite for all of your Patriotic Parties!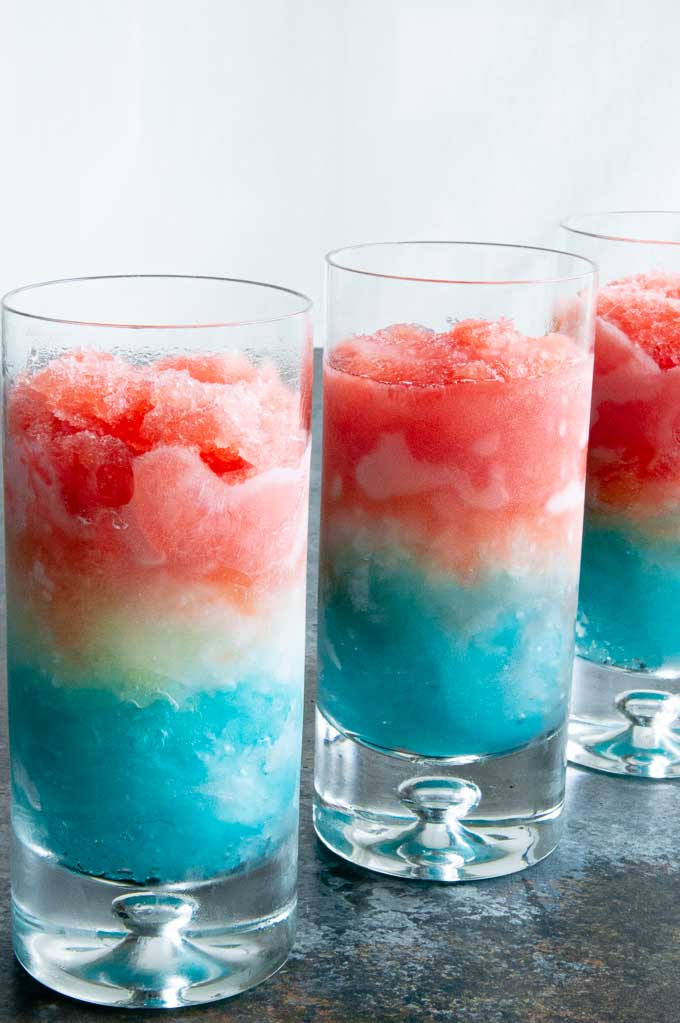 This Red White and Blue drink is the perfect 4th of July Alcoholic drink to serve for your patriotic parties! Made with Vodka, lemonade and layered for the holiday!
It's refreshing, cold, icy and perfect for summer BBQs or any warm weather entertaining! One of the most popular summertime drinks is my Icy Rum Slush cocktail. This drink is a variation on a frozen rum drink, switching out rum to get a frozen vodka drink!
A special twist on the frozen hard lemonade is making them Patriotic Drinks by preparing the frozen slushes with red , white and blue layered colors! It's super easy to do if you follow a few simple steps which I'll share with you today!
Frozen Alcoholic Drinks
Frozen Alcoholic drinks are perfect for summer! I made this one with Vodka but you can use just about any alcohol that you like to make alcoholic slushy's.
Rum, Tequila, Whiskey, Bourbon would all work in the blended alcoholic cocktails. It's as simple as substituting your favorite alcohol in the drink! How easy is that!! (I've made this exact recipe for a delicious Whiskey Slush that is really tasty!)
Using both lemonade and limeade makes this frozen mixed drink something with just the right amount of sweetness but it also has tart/tangy notes so you can enjoy more than one!
PIN THIS TO MAKE FOR ALL OF YOUR SUMMER PARTIES!
How to make Alcoholic Slushes
Start by allowing the frozen lemonade from concentrate to defrost so it's more liquid than ice for easy mixing.
Use a large bowl or pitcher to mix the frozen lemonade from concentrate, water and vodka.
Pour mixed ingredients into a metal pan, plastic container or a plastic bucket with a lid.
Place into the fridge and allow to freeze for 12 hours, then stir the ice crystals.
Allow to chill an additional 12 hours and stir again.
---
---
PRO TIPS:
If you are short on time use a metal pan, metal helps the vodka slush freeze faster.
Definitely make sure to cover and seal the container to prevent any odors from other foods from permeating your frozen alcoholic drinks!
---
---
How to make these Frozen Slushes into Red White and Blue Layered Drink
Once they have been frozen for 24 hours, you can add blue curacao for the blue layer and grenadine for the red layer.
The white layer is the plain lemonade/limeade.
Chill the freshly colored layers for at least an hour so the layers don't bleed into each other.
Spoon in the layers blue first, then white then red. I usually add a little extra of the noncolored frozen slush to allow for the heavier grenadine colored red to not dissolve into the white layer.
I usually freeze my glasses if I have room in my freezer. It keeps the slushes from melting right away!
Common Questions with these Layered Slush Drinks:
Can I make vodka slushes way ahead of time for a party? You can make these hard lemonade slushes way ahead of time (up to two weeks.) They keep very well in the freezer as long as they stay covered and sealed.
How long will these frozen drinks last in my freezer? Frozen Vodka Cocktails will last for up to 14 days without the texture of them changing. We very rarely have a lot of leftovers because people go back for seconds!
How are frozen slushes different than smoothies? Smoothies usually have milk, almond milk or ice cream in them with fresh fruit. Frozen slushes are water based.
Can I add fresh fruit to these to make strawberry lemonade vodka slushes? You can puree strawberries and add about 1/2 cup of fruit puree to the recipe and still have it freeze to icy crystals.
Can I use fresh lemonade to make Vodka Slushes? If you want to make your own lemonade you'll replace the concentrate and the water with the same amount of liquid in the frozen vodka drink. I prefer a more tart taste so I suggest you add lime juice to your lemonade to counterbalance the sweetness.
More Summer Drink Recipes/Frozen Mixed Drinks you might enjoy:
STAY CONNECTED ON SOCIAL SO YOU DON'T MISS OUT ON THE LATEST RECIPES TO MAKE ENTERTAINING BOTH STRESS FREE AND DELICIOUS!
---
---
~ Instagram ~ Pinterest ~ Twitter~ Facebook ~
---
---
FREE TIPS FOR ENTERTAINING WITH EASE AND FUN DELICIOUS RECIPES WHEN YOU SIGN UP FOR THE MAILING LIST BELOW THE RECIPE !
---
I'd love it if you enjoy this recipe if you'd comment and rate the recipe in the recipe card. ⭐️⭐️⭐️⭐️⭐️
Hashtag any recipes you make from West Via Midwest #westviamidwestrecipes or tag me @michele_westviamidwest on Instagram to be featured on our stories!
Yield: 16
Red White and Blue Frozen Vodka Slushies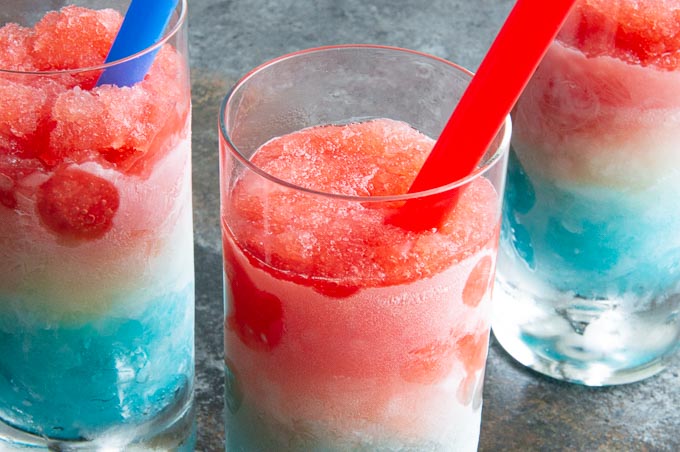 Red White & Blue Drinks are super festive for the Fourth of July BBQ and are easy to make for a crowd. Made with Lemonade and Vodka they will become a party favorite for all of your Patriotic Parties!
Freezer Time
1 day
12 hours
Total Time
1 day
12 hours
10 minutes
Ingredients
2 12 ounce cans Limeade from Concentrate , thawed
2 12 ounce cans cans of Lemonade from Concentrate, thawed (don't use pink lemonade, use the yellow lemonade)
48 ounces Cold Water
25 ounces Vodka
For Coloring
Instructions
15 minutes before mixing together remove the cans of limeade and lemonade from the freezer and allow to thaw to almost all liquid.
Mix all ingredients except for blue curacao and in a large bowl or pitcher.
Pour into 2 clean 9 X 13 pans. (any size pans will work, just make sure what ever size you use will fit into your freezer easily.) (see notes)
Cover with plastic wrap or foil.
Place in freezer for 12 hours, then scrape up with a spoon. Stir again at 24 hours.
Remove from freezer using a spoon to create the icy texture of shaved ice.
Divide frozen mixture into 3 sections. Leave one section the same color, it will be your white section. Into the second section pour the grenadine over the top and stir. In the third section add the blue curacao to tint it blue. Reseal and refreeze until blue and red sections are semi frozen and not super slushy.
When ready to serve, spoon in blue, then white, then red into glasses to create layers. I usually have the white layer be a little bit thicker as the red will crush the white a little bit. Serve immediately.
Notes
The size of the pan is more dictated by your freezer space. Make sure to clear off a shelf before you're ready to place it the freezer to avoid spilling. I usually use 2-3 pans and double the recipe because it goes so quickly when I make it.
If you are short on time, you can use several pans. A smaller thinner amount in the pan means it freezes quicker.
You can also use plastic containers such as buckets or storage containers. Anything that fits into your freezer will work.
Nutrition Information:
Yield:
16
Serving Size:
16 Servings
Amount Per Serving:
Calories:

141
Sodium:

11mg
Carbohydrates:

10g
Sugar:

9g