Authentic Carne Asada is an easy dinner made by grilling beef after marinating with citrus, soy and spices. A quick grill on high heat give a seared edge for a deep rich flavor — perfect for entertaining on it's own or in tacos, burritos or over nachos.
Today I'm sharing an authentic Carne Asada recipe from a new cookbook my friend Wendy from Around My Family Table just released. I know how popular summer grilling recipes are with all of you (me too!!) so when I found out Live Fire BBQ and Beyond was coming out I knew I'd have to get the book and share it with you!
Carne Asada is one of my favorite things to order when we are out for Mexican food. I can eat it any way they serve it as Carne Asada burritos, Carne Asada tacos or atop of nachos!
What is Carne Asada?
Carne Asada is a grilled meat of thinly sliced beef that has been marinated in delicious flavors from chili powder, cumin, other seasoning and orange, lemon and lime juices. It's usually cooked on a super hot grill which then imparts a quick sear on the edges that gives it a nice rich flavor.
What kind of meat is Carne Asada?
flank steak
flap meat
rib-eye steak
strip steak
boneless round
boneless chuck roast
skirt steak (also known as arrachera meat)
You can use any beef roast, a rib eye, a filet but more often Carne Asada is made using flap meat or flank steak. It can be grilled in small slices or as a whole piece for a Carne Asada steak.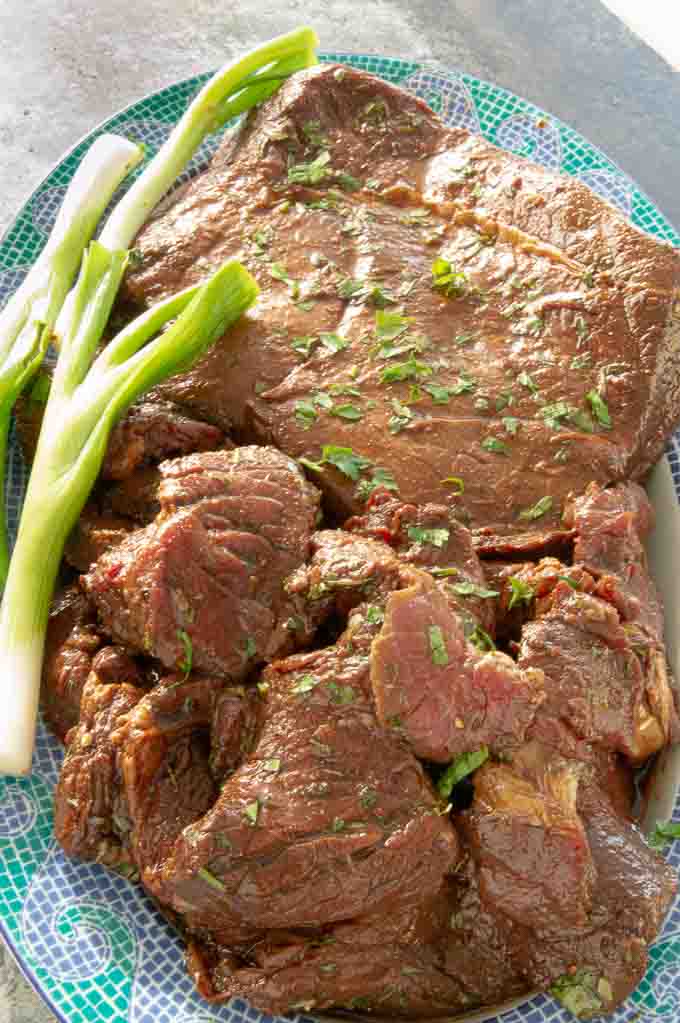 ---
PRO TIP: Slicing against the grain will give a very tender bite to the meat.
---
Carne Asada Marinade Ingredients:
Orange Juice
Lemon Juice
Lemon Juice
Soy Sauce
Olive Oil
Garlic
Vinegar
Chili Powder
Ground Cumin
Paprika
Dried Oregano
Black Pepper
Fresh Cilantro
Jalapeno
Most of these ingredients are things you will have in your pantry which makes it easy to prepare but these ingredients mixed together will give you the best Carne Asada marinade!
How to Prepare Carne Asada
Cut the meat across the grain for the most tender bite. ~ this is the most important step to get a tender bite Cutting the meat to about 1/4″ thick so it will cook super quickly on the grill. The combination of thin-slicing across the grain and a hot sear will give very tender beef. (longer cooking overcooks giving you tough meat.)
Prepare the marinade then pour over the top of the meat in the bottom of a zip lock bag and let it marinate for 1 -24 hours in the fridge.
When you're ready to grill you'll remove the steak from the marinade and discard the extra liquid.
Prepare the outdoor grill to really high heat, about 400°. You'll want to get the grill hot so when you put the Carne Asada slices on the grill they sear super quickly giving you a nice charred side.
Cook the meat to medium-rare, about 3- 4 minutes per side. You'll need to be extra careful to not overcook it. The marinade darkens the meat so to tell when to flip it, look for juices starting to form on top, then flip and cook for 3- 4 more minutes.
Remove from the grill and let rest for about 10 minutes then serve with pico de Gallo, tortillas with rice and beans. (check out the tacos I made below!)


Common Questions about this Carne Asada Recipe:
Can I make Carne Asada like a steak instead of slicing it before grilling? You can absolutely grill it like a steak. When you do it this way the seasoning only penetrates the outer edges and the texture is more steak-like but the flavor is just as delicious!
I hate cilantro do I have to use it or is there a substitute in the Carne marinade? You can leave the cilantro out completely and substitute parsley instead easily. You can also leave the cilantro out of the Asada marinade all together with no big flavor missing.
I can't grill this how else can I make this? You can make this Carne Asada recipe in a cast-iron skillet. Prepare the meat the same, heat a pan to high and cook about the same amount of time!
What other ways can I serve Carne Asada other than a main dish? Serve the tender juicy Asada meat in tacos, burritos or over a salad.
Will the Carne Asada marinade recipe work on anything else? Yes! This marinade also works on chicken, pork and shrimp very well!
More about Live Fire BBQ and Beyond!
This cookbook is perfect for whatever outdoor grilling you want to do. Wendy has recipes that work across a grill, Komando, fire pit or a pizza oven.
She is an expert in barbecue (this is her third book on the subject!) The book has many tips to make all of your grilling a success in addition to all kinds of recipes. Breakfast cinnamon rolls, Beefy Lasagna to Lamb Chops.
So many things you'd probably never thought of grilling in addition to her versions of classic recipes! Everyone will find some interesting things to make.
You can get a copy for yourself here! I promise you will use it over and over and over!
More Summer Grilling Recipes that have great Flavor you might enjoy:
Yield: 8
Authentic Carne Asada Recipe
Authentic Carne Asada is an easy dinner made by grilling beef after marinating with citrus, soy and spices. A quick grill on high heat give a seared edge for a deep rich flavor --- perfect for entertaining on it's own or in tacos, burritos or over nachos.
Total Time
1 hour
50 minutes
Ingredients
¾ Cup Orange Juice
½ Cup Lemon Juice
½ Cup Soy Sauce
⅓ Cup Lime Juice
6 cloves Garlic, use a microplane to grate
2 Tablespoons Vinegar
1 Tablespoon Chili Powder
1 Tablespoon Ground Cumin
1 Teaspoon Paprika
1 Teaspoon Dried Oregano
1 Teaspoon Ground Black Pepper
3 Tablespoons Fresh Cilantro, minced
1 Whole Jalapenos, minced (optional)
3 Pounds Flank Steak, thinly sliced accross the grain ¼ inch thick
Instructions
It is very important to cut the flank steak accross the grain to guarantee your meat is tender after cooking. After slicing it thin place in the bottom of a large zip lock bag.
In a small bowl add all of the other ingredients and mix well.
Pour liquid marinade over the top of the meat into the bag. Remove all air and seal. Using your hands move the marinade around so all pieces of meat are coated.
Place on top of a plate and place in the refridgerator to marinate for 1-24 hours.
Remove from the marinade and discard the exess liquid.
Preheat grill to high... 400°
Once grill is hot place meat onto grill and cook for 3-4 minutes on the first side (when you see juices from the meat start to rise to the top, flip them over then grill for 3-4 on the other for medium rare. You will see sear marks on the meat, that will impart a nice rich flavor. Be careful to not over cook. The marinade makes the meat brown and it is difficult to tell when the meat is done.
Once ready, remove to a plate to rest for 10 mins then serve as a main course, in tacos, burritos or over nachos.
Notes
This recipe is adapted from the book Live Fire BBQ and Beyond. The main change was using flank steak or flap meat instead of a boneless chuck roast.
Recommended Products
As an Amazon Associate and member of other affiliate programs, I earn from qualifying purchases at no additional cost to you.
Nutrition Information:
Yield:
8
Serving Size:
8 Servings
Amount Per Serving:
Calories:

270
Saturated Fat:

4g
Cholesterol:

102mg
Sodium:

919mg
Carbohydrates:

7g
Fiber:

1g
Sugar:

3g
Protein:

39g