Grilled Steak with Bourbon Garlic Butter– How to grill the perfect steak: Melted Bourbon Garlic butter blankets seared on the outside, juicy, tender on the inside steaks for an easy BBQ meal for entertaining.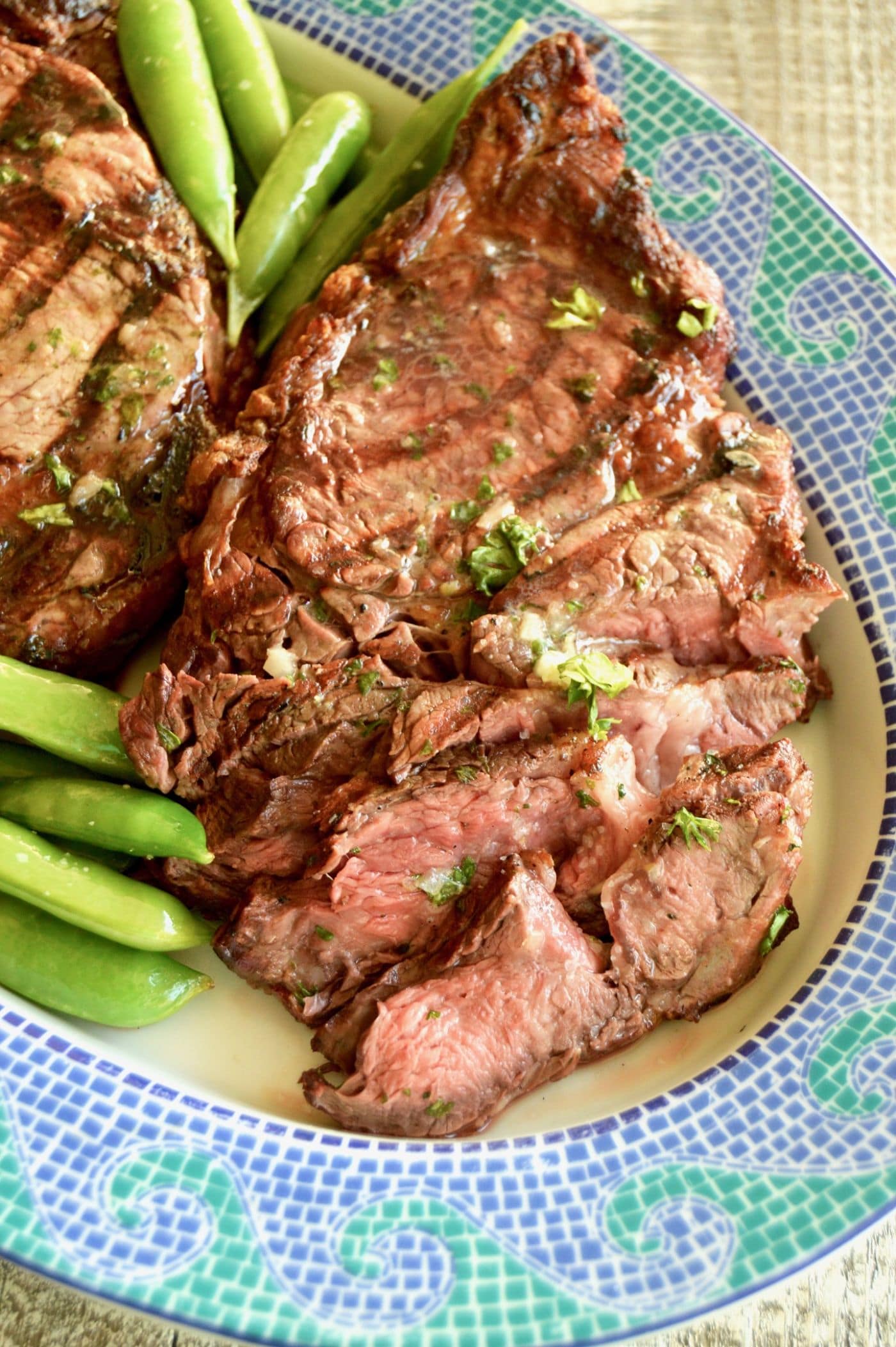 Grilled Steak with Garlic Bourbon butter is a BBQ lover's dream recipe! The steak is made using some very simple tricks that are no-fail ways to make an easy and impressive meal for entertaining! Nothing fancy mind you, just easy to use techniques to grill the perfect steak.
Cooking a steak on the grill is one of our favorite ways to entertain. It's great on any grill, a smoker, a charcoal or a gas grill. There is something about the way the flames sear the surface that gives an out of this world tasting experience.
Deciding what to grill
Choosing the cut/classification of meat is the most important thing when deciding to grill. Ive chosen the ribeye for this recipe but I was careful to pick choice or prime classified beef.
While Prime is the highest classification, a choice cut works very well and it saves a lot of money at the store. (Who doesn't want to save some $$)
The difference in the classification is the amount of marbilization of fat in the meat. A more marbleized cut of meat yields a more tender and juicy steak.
Other cuts of beef that would work are a T-bone, Porterhouse, Strip Steak (NY, KC or Strip Loin) or a tenderloin.
You'll want to select a cut of beef that is a thicker cut. At minimum you'll want a cut that is one inch thick, ideally… select 1 1/4″ thickness. You get a much better texture and juicy steak if you have a thicker steak.
Thinner cuts dry out because they cook fast which in turn leads to a tougher steak. Nobody wants a tough steak when you've spent good money for a good steak!
Bone-in or Boneless Ribeye
The ribeye is a popular choice for grilling because of its size and the amount of fat to beef ratio. It's very marbled and thus is very juicy and flavorful.
Either bone in or boneless is a great choice. There is a general concensus that meat served on the bone is more flavorful— but either way its very flavorful.
I tend to buy what is on sale or available. But A bone in ribeye can make a great presentation for entertaining.
A tomahawk ribeye is especially impressive. It'd different than a regular bone-in ribeye in that the bone is at minimum 5 inches longer than the steak— it's drenched (meaning all of the meat is cut away and cleaned from the bone.
If you are having a dinner party celebration a tomahawk steak would be a great presentation. They tend to be a little thicker so you could also serve it for the whole table by slicing it and having everyone take pieces from the platter.
4 Essential things to do to achieve a perfectly cooked steak:
30 minutes before grilling, remove the steaks from the fridge to allow them to come to room temperature. This will allow for even faster cooking. If the steak is ice cold, it will take longer to cook and thus the outsides will overcook giving a dry overcooked edge.
Season the steak with salt. Salt is essential to help give a great crust and it will bring out the flavor of the meat. Season right before placing it on the grill (up to 15 minutes before) so that it seasons the meat, but doesn't draw out all of the juices.
Either include a little bit of olive oil in your marinade or be sure and brush some olive oil on the edges of the steak before grilling. This will help promote a beautiful color and the sear will be more defined.
Don't overcook the meat. Professional Chefs can look at a steak and know when it's done by touching it and feeling the consistency. I've cooked a lot of steaks so I've gotten pretty good at it as well but there are 2 fail-safe ways to guide your grilling.

Omaha Steaks uses the thickness of your steak to give you the amount of time you will grill it. You can find the guidelines here. (This is the method I prefer)
You can also use an instant-read thermometer and cook to the desired temperatures. This chart from the Food Network puts the guides to follow if you want to use a thermometer here.
What temperature to grill steak to
| | | |
| --- | --- | --- |
| Steak Doneness | Remove from Grill | Final Cooked Temperature |
| Rare | 125 to 130°F | 125 to 135°F |
| Medium Rare | 140°F | 145°F |
| Medium | 155°F | 160°F |
| Well Done | 165°F | 170°F |
Bourbon Butter: Steakhouse Butter
Bourbon Butter is a compound butter. What is a compound butter you ask? Its a butter that is whipped with herbs, seasonings and in this case a liquid of Bourbon that is then formed into a log and cut into patties to place onto your steak.
It is like adding a light flavorful sauce right at the last minute….. the cold butter patty as it melts oozes all over the steak and combines with the juices to boost the flavor of the steak.
This bourbon butter is made of garlic, shallots, lemon zest salt and parsley…. and of course a good helping of bourbon for a smoky flavor.
This butter would also be great a top mushrooms, onions or as a dipping sauce for steamed or grilled artichokes.
Be sure and check out our list of the 101+ recipes for all of your BBQ Side dish needs for summer entertaining!
I added a Bourbon Garlic Compound Butter to put over the top for this recipe, but if you follow the guidelines above you don't need the compound butter to have a juicy, melt in your mouth steak to serve. That being said, the Bourbon butter is a fantastic flavor amplifier to take an ordinary steak to out of this world delicious!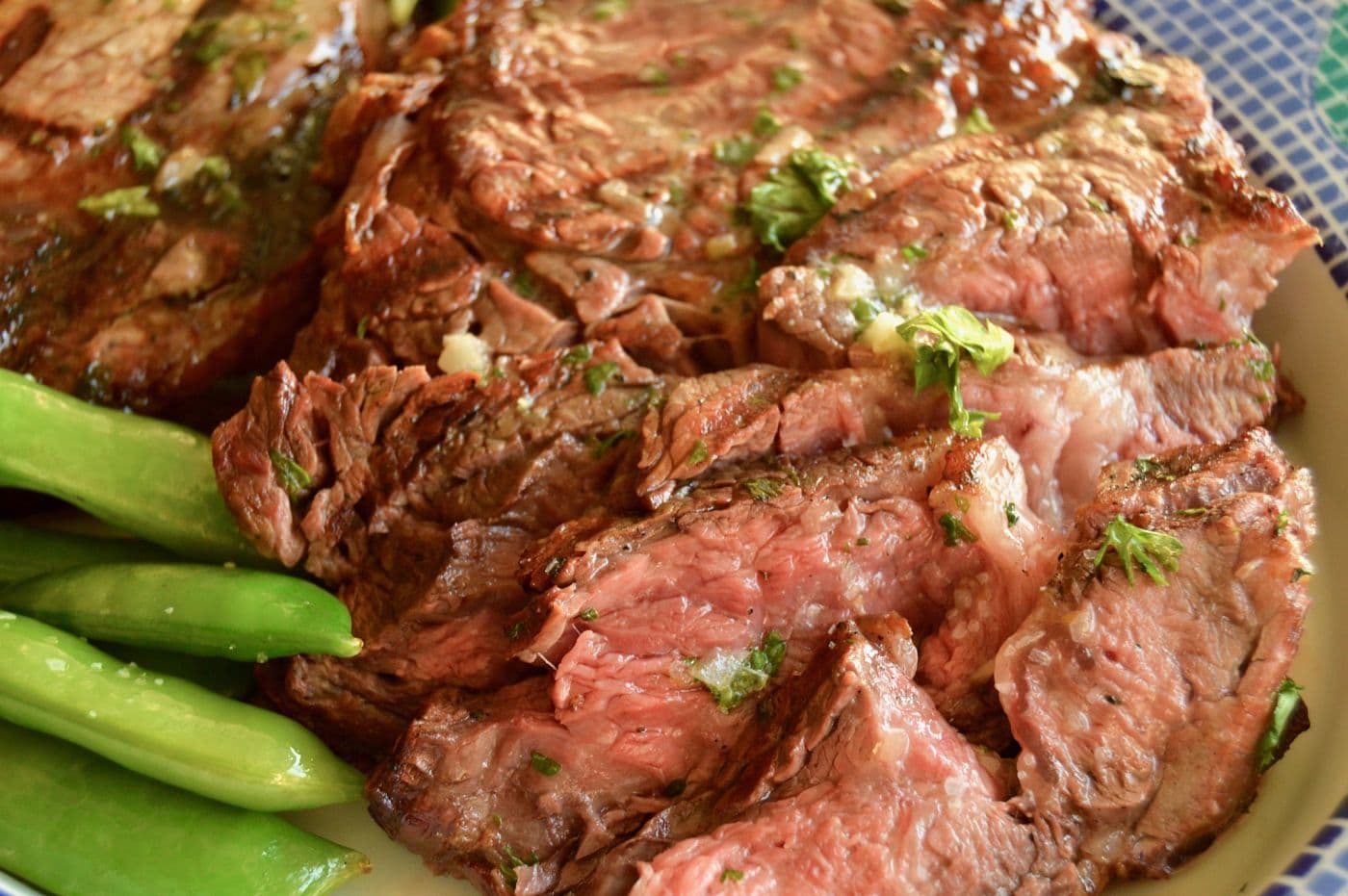 Looking for other great BBQ Summer recipes? Try these recipes: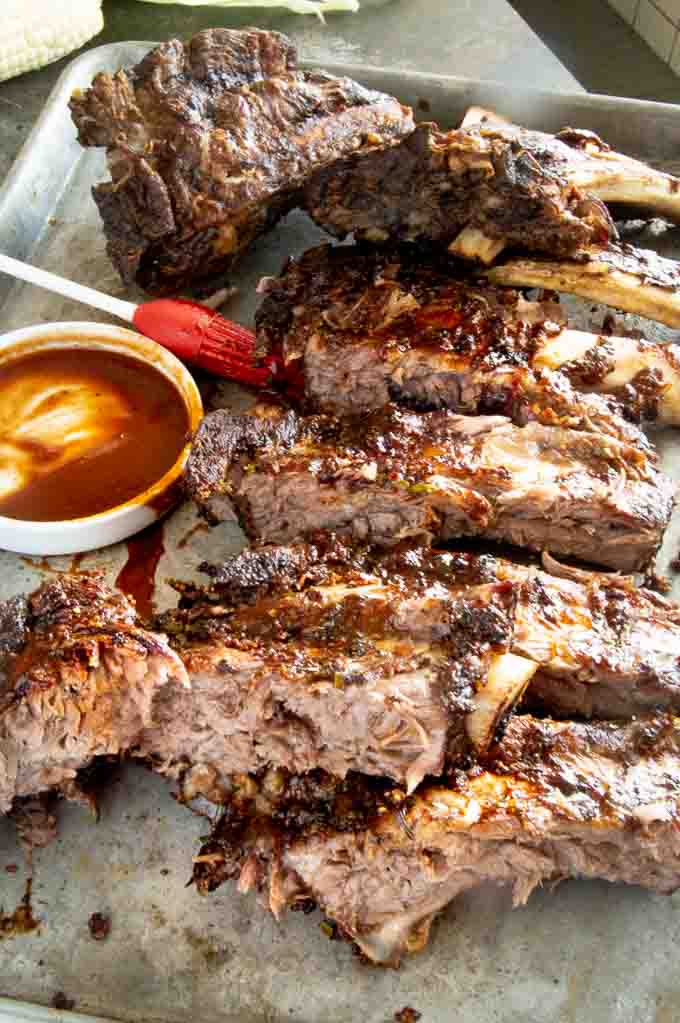 ---
More Sides to Pair with Grilled Meats (Cookout Sides)
Hashtag any recipes you make from West Via Midwest #westviamidwestrecipes or tag me @michele_westviamidwest on Instagram to be featured on our stories!

Yield: 8 6 oz steaks w 2 tbs butter mix
Grilled Steak with Bourbon Garlic Butter-
Grilled Steak with Bourbon Garlic Butter-- How to grill the perfect steak: Melted Bourbon Garlic butter blankets seared on the outside, juicy, tender on the inside steaks for an easy BBQ meal for entertaining.
Ingredients
Grilled Steaks
8 6 ounce Rib Eye Steaks
1 teaspoon salt
1 teaspoon pepper
1 teaspoon olive oil
Bourbon Garlic Compound Butter
16 ounces butter
4 cloves garlic, minced
2 tablespoons shallots, minced
4 ounces good bourbon
1 teaspoon lemon zest
1 teaspoon salt
1 tablespoon parsley, minced
1 teaspoon olive oil
Instructions
Bourbon Garlic Compound Butter
Early in the day you wish to make the butter, heat a burner to medium high. Add olive oil and swirl to coat. Add garlic and shallots and cook until softened, about 10 minutes.
Add bourbon and cook for 5 minutes until all liquid is dissolved. Remove from heat and allow to cool 10 minutes.
While garlic and shallots are cooling, in a mixing bowl, beat butter until smooth and softened. Add cooled garlic/shallot mixture, salt, lemon zest and parsley-- blend well.
Using a spatula scoop out butter and place on a piece of wax paper. Form into a log. Seal the edges and place in freezer to harden.
Butter can be kept in the freezer for up to 3 months. Slice into 1 tablespoon medalions when ready to use over steak.
Grilled Steak
30 minutes before you're ready to grill, remove meat from the fridge and allow to come to room temperature. 15 minutes before cooking, brush with olive oil and generously season with salt and pepper.
Preheat grill to high.
Place steaks with ample room in between on grill. Leaving the lid open, cook using one of two methods listed in the post. If using the thermometer to determine doneness, cook to desired doneness. (See notes for temp guides)
Do not leave grill unattended, watch for flare ups. Do not press on steaks often with spatula, that only releases juices to the bottom of the grill.
Steak will need to rest for 10 minutes before serving to allow juices to be reabsorbed. So if using temperature method, pull steaks off 5° before the final temp you desire, as the steaks will continue to cook once removed from grill.
Place 2 medalions of butter on the steaks and serve.
Notes
Grilling times in the recipe will vary depending on the doneness of the meat you are looking to achieve.
Steak Doneness
Remove from Grill
Final Cooked Temperature
Rare
125 to 130°F
125 to 135°F
Medium Rare
140°F
145°F
Medium
155°F
160°F
Well Done
165°F
170°F
Nutrition Information:
Yield:
8
Serving Size:
8 6 oz steaks w 2 tbs butter mix
Amount Per Serving:
Calories:

806
Saturated Fat:

39g
Cholesterol:

225mg
Sodium:

1075mg
Carbohydrates:

1g
Protein:

34g