Need a super inexpensive meal idea that is crazy delicious? This easy grilled tri-tip grill recipe with a smokey coffee rub is just what you need. Tender, juicy meat that works on its own or in tacos.
Tri-Tip is budget-friendly and a super versatile cut of meat for entertaining. This version is rubbed with a coffee-based rub and spices you will already have in your pantry. There's a secret ingredient that MAKES this crazy good…. and it's so easy to use!
I love tri-tip because it's so versatile to serve with anything. We'll grill it and serve it with Fresh Corn Salad, creamy cilantro coleslaw or as tacos and make the EASIEST pico de gallo salsa with it!
There are two other tri tip recipes on our site (Santa Maria Tri-Tip and Easy Seasoned Tri-Tip.)
They are so popular I knew when I tried this rub on ribs that I had to make it on tri-tip too.
What is tri-tip?
Tri-tip is an inexpensive cut of beef that is from the triangle section of the sirloin where it meets the round and the flank.
There is a lot of marbling in the cut which helps make it very juicy, but I suggest cutting off any visible fat so you don't have big flare ups on the grill.
This recipe uses simple spices and my secret weapon for great tasting meats….. Liquid Smoke.
What is liquid smoke?
Its a store bought liquid seasoning that when you first smell it you will think hot dogs. But it's delicious and adds so much depth to any meat it is used on.
In this trip-tip roast recipe, it acts as a binding agent for the tri-tip dry rub. I know this isn't a common ingredient you may have to purchase, but once you have it you will use it often on any meat recipe.
My mom always used it on her spicy beef brisket that everyone would always beg for the recipe for. She swore that liquid smoke was what people LOVED about the flavor….. After using it for 15 years… I know she was right!
Tips for Grilling Tri-tip
Cutaway any excess fat especially on the fat side. When grilling outside fat pieces will cause flare-ups and will cause uneven cooking.
Let the rub and liquid smoke have some time to rest on the meat before grilling. (at least 30 minutes.)
Let the meat come closer to room temp by letting it sit on the counter for 30 minutes before grilling. This also helps promote even cooking.
Use two-step grilling method to grill.
Tri-tip can be cooked on a gas grill or a charcoal grill. If on a charcoal grill you will only have the coals on one side of the grill. I've got you covered in the recipe below for more tips.
Cook on high to start to sear the edges of the meat for a beautiful presentation of grill marks and to seal the juices inside.
Then move the meat off to the side off of the flame (turning off one section of a gas grill) with the grill closed to finish cooking. (indirect heat cooking)
Use a meat thermometer to test the internal temp for the desired doneness.
Allow the meat to rest for 10-15 minutes on a cutting board, then slice against the grain so the meat will be the most tender possible!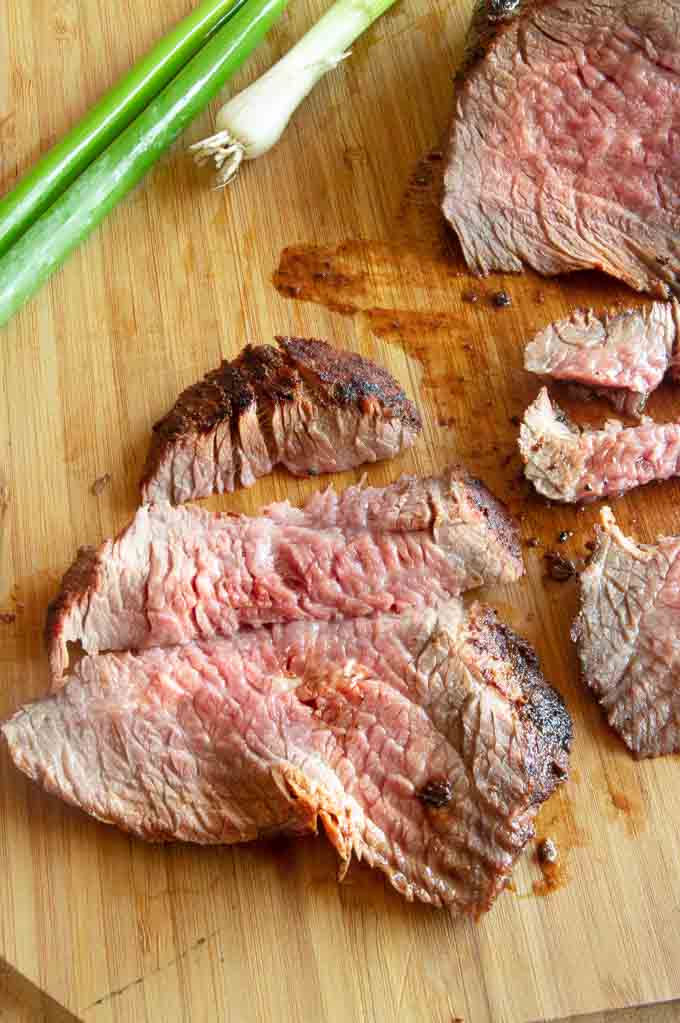 Why Coffee Rub?
Coffee pairs beautifully with beef. This rub has all the spices you will have in your pantry but will highlight the grilled beef. Instant ground coffee, pepper, paprika, brown sugar, garlic salt, dry mustard and if you are so inclined for a little bit of heat….. some cayenne pepper. (If you don't like spicy, just leave it out!)
It's so easy to make: you just stir the ingredients together in a small bowl, then store in an airtight container whatever you have leftover for a later use.
This coffee rub recipe paired with the liquid smoke is sweet, smoky, rich and has a depth that you'll love.
The best part, the recipe makes enough extra rub for other meat dishes like grilled ribeye, pork ribs, brisket, a porterhouse, or any beef roast you want to grill. It's super versatile! My neighbor even likes it on roasted potatoes!
What temp to cook to?
Cook the trip-tip to 120° for Rare, 125° for Medium-Rare and 130° for Medium. Remove from the grill and it will continue to raise in temp 5 for a final temp of 125° for Rare, 130° for Medium-Rare and 135 for Medium.
You'll notice I don't give you temps for anything beyond medium. Anything beyond medium will likely be tough and dried out.
I highly recommend you cook only to medium-rare, but give the medium temps for those that need a more done steak.
Anything beyond that and tri-tip will be tough and the juices will disappear.(nobody likes tough steak!) As it is, there will be portions that will be a little more done because of the nature of the cut being a triangle, but aim to have the thickest parts be no more than medium-rare for best results.
Be sure and check out our list of the 101+ recipes for all of your BBQ Side dish needs for summer entertaining!
More things to grill:
Hashtag any recipes you make from West Via Midwest #westviamidwestrecipes or tag me @michele_westviamidwest on Instagram to be featured on our stories!

Yield: 6-8 servings
Tri-Tip with Coffee Rub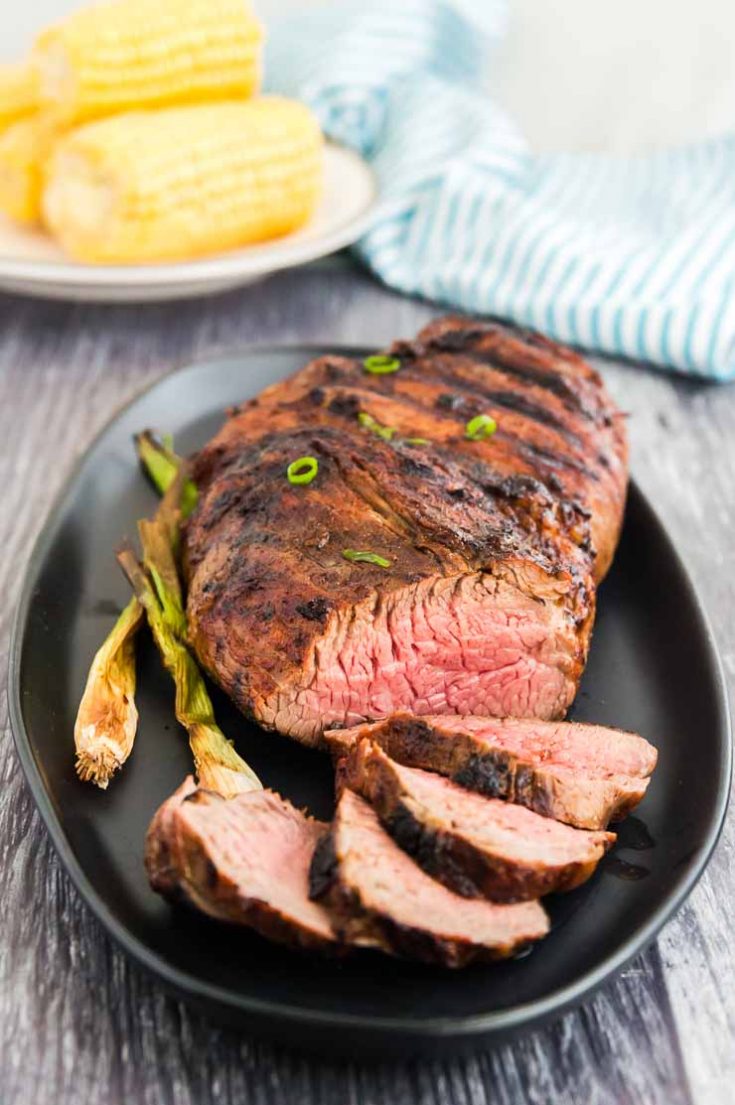 Simple Tri-tip dinner made with an easy coffee rub. Smokey, sweet and tangy this rub will be a favorite on any steak, rib or roast.
Additional Time
30 minutes
Total Time
1 hour
5 minutes
Ingredients
Coffee Rub
3 Tablespoons Instant Coffee
2 Tablespoons Black Pepper
2 Tablespoons Brown Sugar
1 Teaspoon Garlic Salt
Tri-tip
3 pound Tri-Tip, trimmed of all fat
Instructions
Mix all the spices for the coffee rub in a bowl until well combined. You will only need 3 tablespoons of this seasoning for the recipe. Save the rest for another time. See notes.
Trim of any excess fat from the tri-tip. Leaving it on will cause flare-ups on the grill.
Place the tri-tip on a plate or cutting board.
Massage the liquid smoke onto all sides of the tri-tip.
Sprinkle 3 tablespoons only of the coffee rub on the outside of the brisket. Store the rest in an airtight container for later use.
Leave the tri-tip on the counter (outside of the fridge) for 30 minutes to allow the meat to not be cold from fridge and for the spices to penetrate a bit.
Turn the grill on to high, all burners. Once the grill is hot, place tri-tip on grates for 3-4 minutes per side to sear edges. (see notes for charcoal grill instructions)
Once the meat is seared, turn off an outer section of the gas burners and place the meat on the portion of the grill with no flames under it. Close the grill. Reduce the temp of the grill to medium-high on the remaining areas that are on.
The meat will cook off heat until finished. Do not open the grill unless. you are testing the temperature. The meat will need to cook for at least 15-20 minutes, so resist the urge to start checking before 10 minutes have passed. Opening the grill releases the heat.
Cook the tri-tip until it is 120 degrees for rare, 130 degrees for medium-rare and 135 degrees for medium.
Once the meat comes to the temperature you desire, turn off the grill remove meat and let it rest for 10 minutes. The tri-tip will continue to rise in temp 5-10 degrees.
Slice the meat across the grain cutting the meat in 1/4 inch thick slices. Then serve.
Notes
This is a full recipe for Coffee Rub for steak and you will have leftovers for another time. Store the mixed spice mixture in an airtight container for another use. The rub is great on brisket, pork ribs, any kind of steak (ribeyes are our favorite) and any roast you might want to grill.
If using a charcoal grill you will build the coals on one side only. Once the coals are white and ready to go, place the tri-tip on the flame side and sear. Then remove to the side of the grill with no coals to continue to cook until desired temps listed above.
Note--- you can cook your meat to medium-well and beyond, but it will be tougher and not as juicy. For best results do not cook beyond medium.
Recommended Products
As an Amazon Associate and member of other affiliate programs, I earn from qualifying purchases at no additional cost to you.
Nutrition Information:
Yield:
8
Serving Size:
1
Amount Per Serving:
Calories:

381
Total Fat:

19g
Saturated Fat:

0g
Trans Fat:

0g
Unsaturated Fat:

0g
Cholesterol:

141mg
Sodium:

294mg
Carbohydrates:

5g
Fiber:

1g
Sugar:

3g
Protein:

45g
This recipe was calculated using the exact brands and measurements I used to make this recipe. If you are following a strict diet please note changing anything will cause the nutritional info to change. Please calculate your own nutritional information if you want it exact to what you make and use my calculations as a guide only.