Authentic pico de gallo is the easiest salsa ever, chopped tomatoes, fresh cilantro, fresh lime juice, salt and jalapeños! Super easy, low calorie and works with everything from tortilla chips, over chicken or on your favorite taco!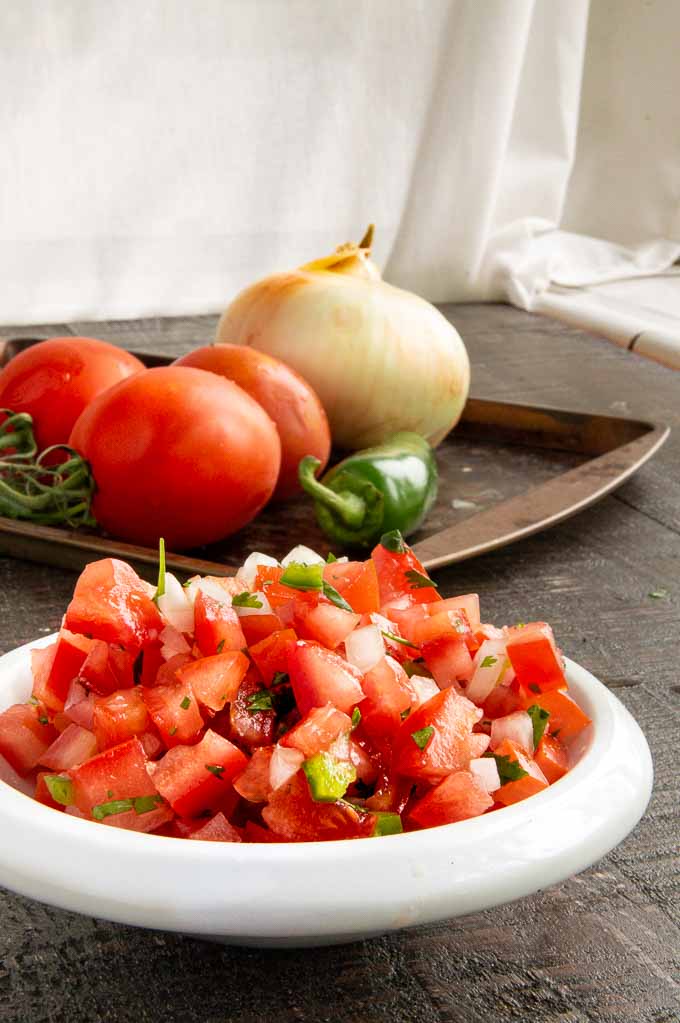 Authentic Pico De Gallo is so easy to make and its one of my go-to condiments. Everything made from fresh ingredients, chopped up in small pieces for a burst of flavor to add to grilled fish, roasted chicken or your favorite Mexican dishes such as tacos, burritos or as an appetizer with fresh tortilla chips.
Better than taqueria pico de gallo, it comes together in less than 5 minutes. You may also find it called salsa fresca since it's made with all fresh ingredients.
What is Pico De Gallo?
Pico de gallo is a fresh salsa or relish made with tomatoes, onions and chilis. The way to pronounce it is pee-Ko day guy-yo — Even if you butcher the pronunciation it tastes so fresh and good no-one will mind.
The straight translation is the beak of the rooster. It's thought that originally people pinched the salsa between their fingers. I can find no logical reason for that except that maybe they named it that because when you pinch your thumb and finger it looks like a roosters beak?
Whatever, it's yummy and that's all that matters to me and pretty much anyone else I've served it to!
What's in Pico De Gallo
Fresh Tomatoes
Onions (I like the sweet ones)
Cilantro ** totally optional
Fresh Squeezed Lime Juice
Chilis – Jalapeños
The fresher the ingredients the better. While you can use lime juice in a bottle, it won't be the same. There is something bright and refreshing in using just squeezed lime juice.
How to make Pico De Gallo
Chop all of the ingredients nice and small.
I remove the seeds and the juice from the salsa fresca as more juice will release as it sits and I think it's much much better.
Don't like it super spicy? Eliminate the jalapeño.
Like it a little spicier? Leave some of the seeds in the jalapeño and it will be spicier.
Many people abhor anything with cilantro. I don't mind it, but always add it at the table after making sure my guests like it.
It's easy to serve a couple of versions one with cilantro and one without.
Stir all of the ingredients together but the cilantro and salt and you can make it early in the day.
Season with salt just before serving as salt releases more of the tomato juices and helps speed up the tomatoes breaking down.
Variations on Salsa Fresca
Mango Pico De Gallo – Add 1/2 cup of mango to traditional pico recipe. Keep mango pieces nice and small. (onion optional)
Pineapple Pico De Gallo – Add 1/2-1 cup of pineapple chunks of similar size to tomatoes You can eliminate the tomatoes all together too if you want a more tropical fresca. (great over grilled chicken)
Spicy Pico De Gallo – Use a habanero pepper instead of a jalapeño pepper.
Cabbage Pico De Gallo – great on fish tacos! Chop 1/2 cup of radishes and 1/2 cup of cabbage and toss with traditional pico de gallo recipe.
Avocado Salsa Fresca – Add a whole avocado in at the last minute— small itty bitty chunks!
Strawberry Pico de Gallo – Eliminate the tomatoes and cut the onions in 1/2.



More Great uses for HOMEMADE Pico De Gallo
Common Questions you might have with a salsa fresca
I hate cilantro do I have to use it in taqueria style salsa to make it authentic? You absolutely don't have to use cilantro- just leave it out in your pico salsa.
Can I use any onions in the pico salsa? You can use red onion or white onion to make fresh pico. Green onion or chives are not ideal in this recipe.
How long will this salsa keep? Keep the pico de gallo in a sealed container in the fridge for up to a week. Although I recommend using it within 2-3 days as the tomatoes will continue to break down.
What is the best tomato to use? The best tomato to use in your pico de gallo at home is the one you like! Beefsteak, Roma, hothouse, …. even a grape tomato will work in this recipe!
Can you can pico de gallo? While it certainly possible to make this and can it, it will not be the same. The freshness of the tomatoes, onions, cilantro and lime juice will cook during canning and will certainly be good in a few months when sweet tomatoes aren't in season…. it will not be pico de gallo.
Hashtag any recipes you make from West Via Midwest #westviamidwestrecipes or tag me @michele_westviamidwest on Instagram to be featured on our stories!

Yield: 2 cups
Authentic Pico De Gallo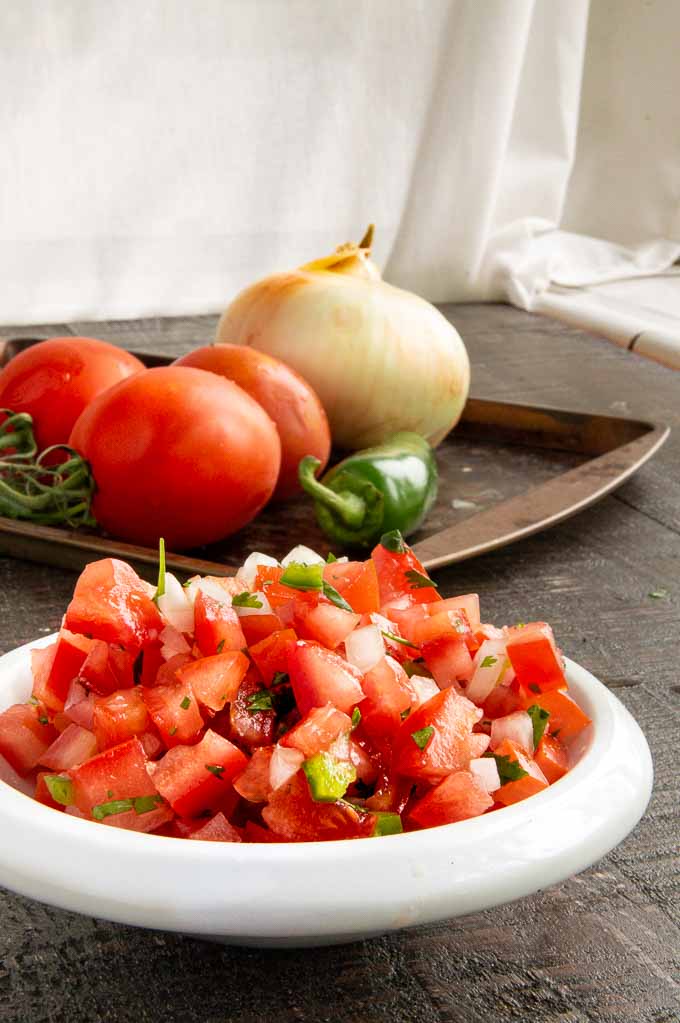 Authentic pico de gallo is the easiest salsa ever, chopped tomatoes, fresh cilantro, fresh lime juice, salt and jalapeños! Super easy, low calorie and works with everything from tortilla chips, over chicken or on your favorite taco!
Ingredients
3-4 large Tomatoes, deseeded and juice removed
1/2 small sweet onion, minced finely
3 Tablespoons Cilantro, minced
1/2 jalapeño pepper, seeds, core removed and minced finely
1 tablespoon fresh lime juice (about 1 lime)
Salt to taste
Instructions
Stir tomatoes, onions, jalapenos together.
Add salt and cilantro to taste.
Notes
If making ahead, do not add the cilantro and salt until just before serving. Salt will cause the tomatoes to break down more quickly.
Nutrition Information:
Yield:
8
Serving Size:
1
Amount Per Serving:
Calories:

40
Total Fat:

0g
Saturated Fat:

0g
Trans Fat:

0g
Unsaturated Fat:

0g
Cholesterol:

0mg
Sodium:

97mg
Carbohydrates:

9g
Fiber:

1g
Sugar:

7g
Protein:

1g
This recipe was calculated using the exact brands and measurements I used to make this recipe. If you are following a strict diet please note changing anything will cause the nutritional info to change. Please calculate your own nutritional information if you want it exact to what you make and use my calculations as a guide only.