Tomatillo salsa, otherwise known as salsa verde is a fresh salsa that's tart, slightly thickened, natural texture that is fresh and bright. Perfect for chips, burritos, tacos or as a nice burst of flavor for your favorite soups!
Tomatillos make a delicious and fresh salsa. Known at many places as green sauce ! It's tart, fresh, bright and really brings out the flavor when you're looking for a great recipe to add to tacos, grilled chicken or my most recent favorite way to use it…. on top of homemade barbacoa!
You can make this homemade salsa verde in about 20 minutes!
For years I would use the Herdez Salsa Verde which is fine but once I made the salsa verde recipe from scratch…. I can't go back to store-bought.
Everything you've ever wanted to know about a tomatillo!
How do you pronounce tomatillo?
to-ma-TEE-yo — although if you say it anyway at the grocery store they will know what you mean!
What is a tomatillo?
A tomatillo is a fruit in the nightshade family. Related to other nightshade things like tomatoes, peppers and eggplants.
Tomatillos are usually green, but if allowed to ripen a longer time can sometimes turn red or a deep purple depending on the type.
What does tomatillo mean?
Tomatillos translates to little tomato and lots of people think they are little green tomatoes. While they are related they aren't technically tomatoes!
Grocery List for Tomatillo Sauce
Tomatillos
Fresh Cilantro
Lime Juice (From fresh limes is better!)
Jalapeno or Serrano Peppers (optional)
Onions
Tomatillos are in the produce section and you'll find them in a papery husk.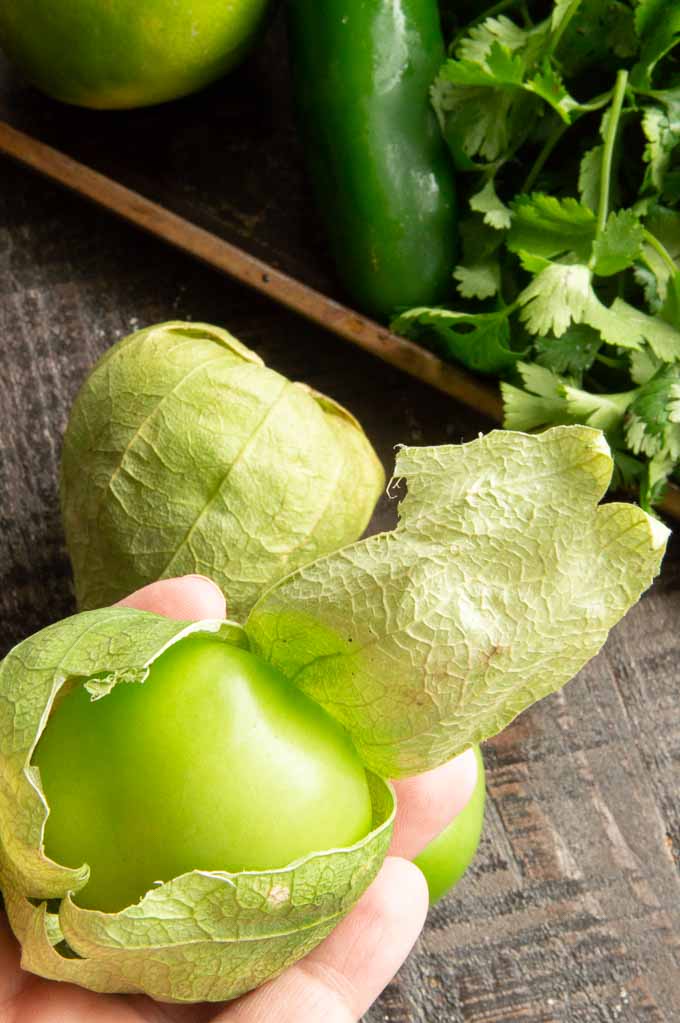 How to make Tomatillo Salsa Verde
You'll want husked and rinsed tomatillos for the salsa. There is a sticky film on the tomatillo but it will easily rinse away in water.
Dry them before roasting them in a skillet. (You can also place them in the oven on a baking sheet, but it takes a little longer.)
If you hate cilantro by all means leave it out. I've substituted parsley at times and completely omitted it on occasion.
Adding peppers will give it some heat. You can control the heat better by removing the seeds from the peppers.
Fresh lime juice is what I recommend but in a pinch bottled juice will work. (Fresh just tastes fresher… I know, that sounds weird, but it's true!)
Puree in a food processor.
Season to taste! (Add additional lime juice and salt!)
Other common questions you might have when making green salsa!
Is tomatillo salsa spicy? Tomatillos are not spicy at all. The peppers like jalapeños are what makes it spicy. You can eliminate the peppers, or use a smaller or larger amount to get the heat you like!
Are the skins edible on tomatillos? The skin on the actual tomatillo is edible, but the papery husk is not. Peel away the husk and rinse them before using them!
Why are tomatillos sticky? The fruit has a sticky film that insects don't like to eat so it's a way to protect them.
Can I freeze green salsa? You can freeze the tomatillos themselves, but the salsa itself will become a funky texture. Peel away the husks, rinse them, dry completely then freeze them in zip lock bags. (double bagging will help ward off freezer burn.) Make the salsa fresh after defrosting them.
How long will the roasted tomato salsa last? This salsa is good for 3-4 days if kept in the fridge in a sealed container.
Can I add garlic to this salsa? You can add garlic if you want, its a personal preference.
I can't find tomatillos is there a substitute? To make green salsa without tomatillos you could use store-bought. Or you could use green tomatoes. The texture will be a little different and you'll need to add more lime juice to get the tart taste similar to green sauce!
Recipes you use Roasted tomatillo salsa with!
More Salsa Recipes & Dipping Sauces you might enjoy!
FREE TIPS FOR ENTERTAINING WITH EASE AND FUN DELICIOUS RECIPES WHEN YOU SIGN UP FOR THE MAILING LIST BELOW THE RECIPE!
Yield: 1- 1/2 cups
Fresh Green Sauce- Tomatillo Salsa
Fresh Green salsa made homemade with tomatillos in less than 15 minutes. Perfect for dipping or on top of tacos. Also great as a sald dressing!
Ingredients
1 pound tomatillos, husks removed, rinsed and dried
1/2 white onion, minced
2 Tablespoons Cilantro Leaves (fresh)
1 Jalapeno, seeds and stem removed
1 LIme
Salt to taste
Instructions
Remove husks from tomatillos, rinse and dry with papertowels.
Heat a skillet to high, add tomatillos and brown all sides. About 7 minutes.
Remove from heat, allow to cool then cut in quarters and place into a food processor.
Add minced onions, chopped cilantro and the jalapeno to the food processor.
Squeeze the juice of half of the lime over the top.
Run the food processor on high until pureed.
If it is a little to thick, add 1/2 teaspoon of water, run the processor again then repeat until its your desired thickness.
Taste, add additional lime juice and salt to taste.
Store in a sealed container up to 4 days in the fridge.
Nutrition Information:
Yield:
8
Serving Size:
1
Amount Per Serving:
Calories:

24
Total Fat:

1g
Saturated Fat:

0g
Trans Fat:

0g
Unsaturated Fat:

0g
Cholesterol:

0mg
Sodium:

74mg
Carbohydrates:

5g
Fiber:

1g
Sugar:

3g
Protein:

1g
This recipe was calculated using the exact brands and measurements I used to make this recipe. If you are following a strict diet please note changing anything will cause the nutritional info to change. Please calculate your own nutritional information if you want it exact to what you make and use my calculations as a guide only.