Chipotle Barbacoa Beef made in the pressure cooker is packed with flavor, a little bit of heat and is the most tender Mexican shredded beef you will ever have. It's wonderful on it's own, in a burrito, as a salad or inside a taquito!

Chipotle Barbacoa Beef is a huge hit in our house. I've always been partial to it when we go to Chipotle, (the restaurant) and have wanted to try it at home forever.
Tender pieces of beef with a little bit of heat that are the star of a barbacoa bowl, burrito, taco or on its own along side beans and rice. It's easily adaptable to your spice preference which makes it great for entertaining.
This recipe is all over the internet with claims that this is the best copycat chipotle barbacoa ever. I tried so many of them which were all very good, but not just exactly what I had in mind.
I started researching about what barbacoa's history was and went about playing with the flavors of what I liked about all the recipes I had tried. It's not a copycat of what I enjoy at Chipotle but it's pretty amazing.
I served it for company and every single person wanted the recipe!
Through the trial and error I definitely learned what NOT to do and today Im going to share with you how to make the best barbacoa!!

Barbacoa History
Barbacoa is thought to have originated in Barbados in the Caribbean. They would cook the meat in green fig branches after seasoning the meats with herbs and spices that were available.
Most people in America today thing of the Mexican Barbacoa which refers to meat slow roasted over an open fire with mole sauces over them.
In America barbacoa meat is made with beef, but often in Mexico it is made with goat, lamb, beef or pork.
Ultimately a tender beef that is super tender, literally falls apart and is seasoned with bright flavors such as cumin, cinnamon, garlic, salts, paprika and chili powder all in a rich sauce makes a terrific barbacoa.
Chipotle Barbacoa Ingredients
What kind of beef:
I tried both chuck roast and a sirloin cut and they both worked pretty well in the pressure cooker. They both broke down and were very tender but I prefered the chuck roast because it had just a little bit of fat with translated into a little more flavor!
Marinating Sauce for Barbacoa
Tomato Sauce or Enchilada Sauce
Chili Powder – like less heat, use a little less
Paprika
Lime Juice
Onion Powder
Garlic Salt
Bay Leaves
Adobe Peppers – not a spicy person? cut the quantity down
Green Chilis ~ these are super mild but add a balance to the acidity
Brown Sugar
Liquid Smoke ~ The #1 thing in this recipe- it adds a smoky hickory flavor that is out of this world
Oregano
Chocolate ~ totally optional, but gives a silky smooth, velvety texture
The sauce has a bunch of ingredients but most of them are things you probably have in your pantry. Making the barbacoa sauce is as easy as dumping it in a food processor and pureeing it.
---
PRO TIP: Liquid Smoke adds a crazy good depth of flavor to this recipe. I use liquid smoke in my Mom's Spicy Beef Brisket and it's a game changer in upping the flavor!
---
How to Make Instant Pot Barbacoa Beef
Puree the ingredients in a food processor. If you like it less spicy reduce the number of adobo chilis.
Brown the meat, searing the edges for a deep rich flavor
Place the sauce in the bottom of the insert, then the meat on top and cover and cook in the instant pot.
I suggest letting the meat naturally release, but if you need it quicker let it naturally release for 15 minutes then release the pressure.
Right after you remove the lid, remove the meat and place on a plate.
Use a paper towel to remove any excess fat on top of the sauce.
Add the chocolate at the last second to give it a wonderful velvety texture.
Use a fork to shred the meat.
Place back into the sauce and serve.


PIN THIS TO YOUR INSTANT POT BOARD!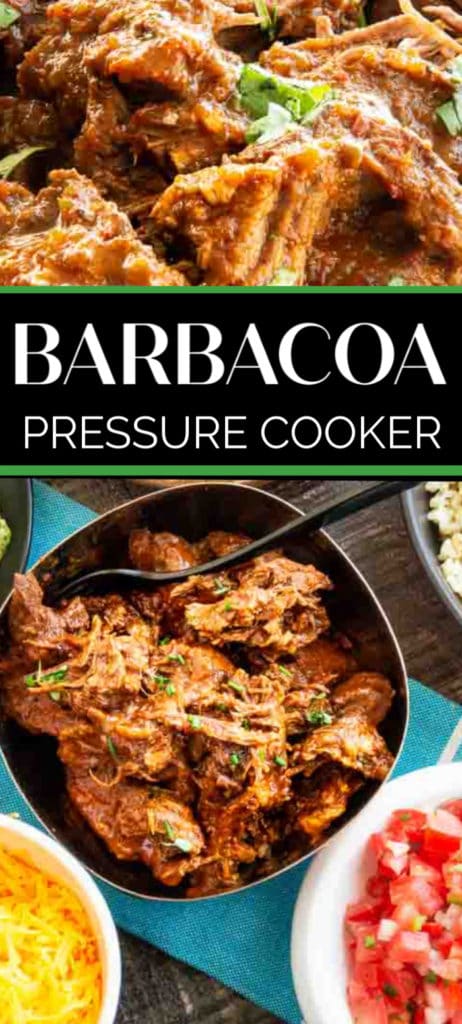 Helpful Info When Making the Beef Barbacoa Recipe
Cut your beef into small chunks, they cook much faster. I use larger chunks, but if you need it even faster you could cut the cooking time a little more by cutting them smaller. It might save you 15 minutes.
The instant pot / pressure cooker is such a quick way to make this recipe. Takes less than 90 minutes opposed to 5-6 hours and it's just as tender and flavorful.
Using any beef that has a little fat in it is fine. I particularly like beef chuck roasts but use what is inexpensive or what you have available. Eye of round, rump roasts and sirloin will all work.
I use the Mealthy Multi Pot 9 in 1 for this recipe. Any instant pot or pressure cooker will work. I love that I can do every thing from my yogurt, slow cooking, sautéing in the multi pot. It also has an add on crisp lid to turn it into an air fryer- Check out why I LOVE that here!
When the meat pressure cooks it will release some fat into the sauce. Using a paper towel to skim the surface can take most of it away!
I add a little chocolate at the very end to get authentic mole in the chipotle sauce. It's totally optional, but once you've had it you'll love how great it tastes!
Other Ways to Use Barbacoa Beef
As is with rice and beans
Sliders
Buritos
Taquitos
Salad Bowls
Things to Serve with Chipotle Barbacoa
More Instant Pot Recipes you need to make (because they are so EASY!)
Hashtag any recipes you make from West Via Midwest #westviamidwestrecipes or tag me @michele_westviamidwest on Instagram to be featured on our stories!

Yield: 10
Chipotle Barbacoa Beef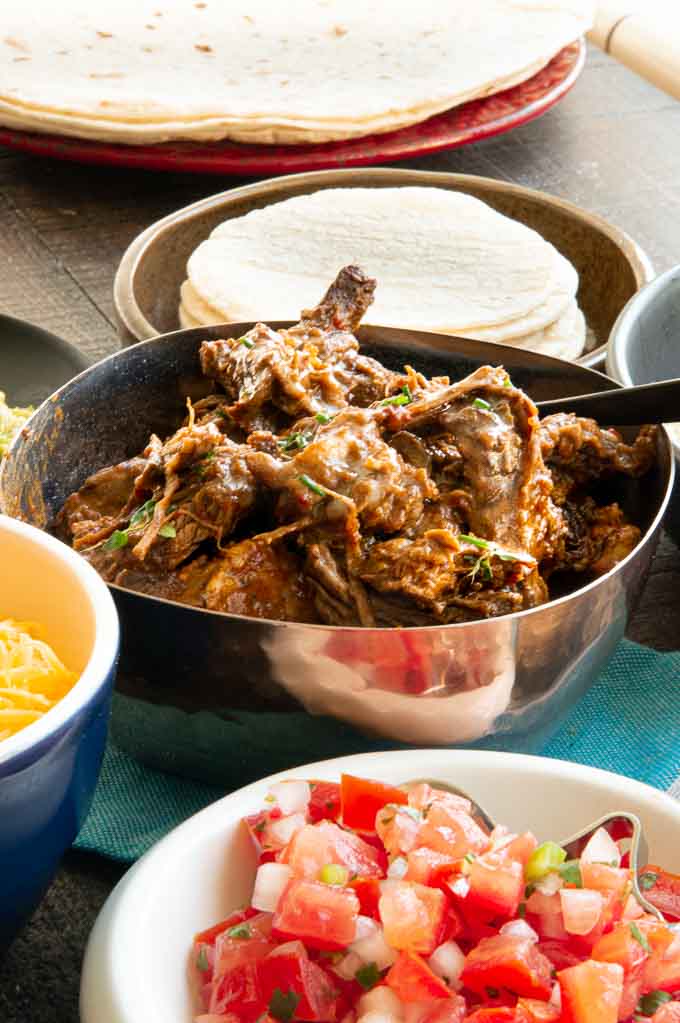 Chipotle Barbacoa Beef made in the pressure cooker is packed with flavor, a little bit of heat and is the most tender Mexican shredded beef you will ever have. It's wonderful on it's own, in a burrito, as a salad or inside a taquito!
Total Time
1 hour
15 minutes
Ingredients
4 pound Chuck Roast, cut to large cubes (see photo in post)
1/2 cup enchilada sauce or tomato sauce
4-6 ounces Green Chilis
1/4 cup Lime Juice
2 Tablespoons Red Wine Vinegar
2 Tablespoons Brown Sugar
1 Tablespoon Ground Cumin
1 Tablespoon Oregano (dried)
2 Tablespoons Chili Powder
1 Tablespoon Paprika
1 Teaspoon Cinnamon
2 Teaspoon Garlic Salt
1-2 Tablespoon Chocolate
Instructions
Place enchilada sauce, green chilis, lime juice, vinegar, brown sugar, liquid smoke, cumin, aregano, chili powder, paprika, cinamon, garlic salt in a food processer.
Puree until lt is completely blended.
Turn the pressure cooker to saute.
While it heats up, season the beef chunks with salt and pepper generously.
Add olive oil, to the bottom of the instert. Once hot, sear all sides of chunks of beef until nice and brown. Cook in batches, allowing room on each side. Remove as they are done and place on a side plate.
Once all are browned and placed on a plate, use a papertowel to wipe away any excess oil being careful to not burn yourself on the hot insert.
Add the sauce to the bottom of the insert.
Then place the meat chunks on top.
Seal pressure lid and and vent and pressure cook for 55 minutes.
Timing does not account for coming to pressure or the release.
Allow to release naturally or at minimum after 15 minutes.
Remove meat from instert and place on a plate.
Using a paper towel skim any excess fat from the top of the sauce. Turn saute on to high, add shaved chocolate in and stir until melted and well combined.
Using a fork, shred beef then place back into the sauce.
Serve along side rice, beans along with salsa.
Notes
Stovetop Instructions.
Prepare Adobo Marinade sauce as directed in Pressure Cooker method.
Season meat with salt and pepper
Brown meat in stock pot, then pour sauce over the top.
Bring to a simmer, cover and cook for 5-6 hours until fork tender. Stirring occasionaly.
Nutrition Information:
Yield:
10
Serving Size:
1
Amount Per Serving:
Calories:

489
Total Fat:

29g
Saturated Fat:

12g
Trans Fat:

2g
Unsaturated Fat:

15g
Cholesterol:

151mg
Sodium:

512mg
Carbohydrates:

13g
Fiber:

2g
Sugar:

7g
Protein:

47g
This recipe was calculated using the exact brands and measurements I used to make this recipe. If you are following a strict diet please note changing anything will cause the nutritional info to change. Please calculate your own nutritional information if you want it exact to what you make and use my calculations as a guide only.