Game Day Chili has never been so easy. Made with ground beef that literally melts in your mouth it's so tender. You'll never have to wait all day again to get all the rich deep flavored chili you've come to love. This pressure cooker chili is a keeper!
We entertain A LOT and I like to make things that don't require a lot of effort while my company is over— things like Spicy Beef Brisket and Pulled Pork Sliders that are pretty much just in the oven until everyone comes over.
This hearty beef chili is also made for entertaining without a lot of work while your company is over. And even better— it's ready in about 30 or so minutes!
Instant pot beef chili gives you chili that tastes like you have cooked it for days, not hours. In my instant pot chili, I use large great northern beans. I like using those to avoid the beans getting super mushy.

I know some folks think adding beans of any sort is against the sacred covenant of chili making. To them, I say, you do you! Beef without beans is still chili!

For that matter, while this is a beef chili recipe, feel free to substitute beef with ground chicken or turkey. The chili police will not give you a ticket for it.

The Best Instant Pot Beef Chili
This beef chili recipe delivers! With football in full force and hockey and basketball underway, game day pots of beef chili work wonders.

You can even take it on the road for tailgating, pot lucks or just over to a neighbor's house at mealtime. In which case, I suggest serving it on the go in a Fritos bag to make clean up easier!

Eternal family favorite beef chili comes together quickly and the prep time is minimal. Brown your beef with the onions and then strain the fat, and of course wash your beans. You are well on your way.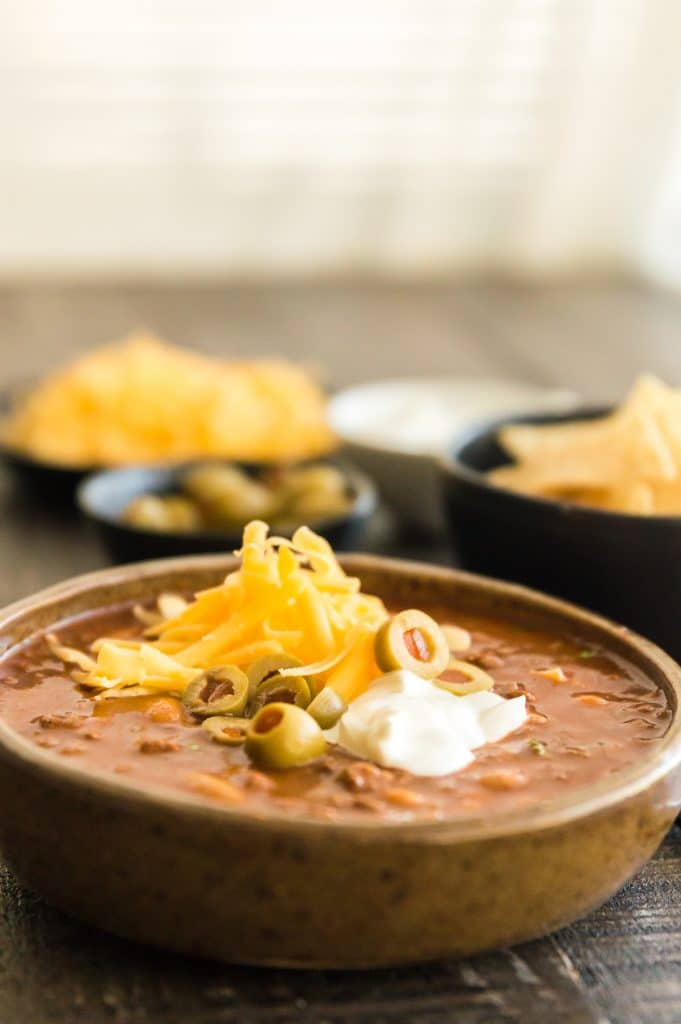 Other than that, you put all your ingredients in your Instant Pot or pressure cooker. Let it go for twenty minutes and you are ready to serve.

PRO TIP: Strain out the fat after browning the meat to avoid greasy chili!
Pro Tip: Use a Slurry to help thicken the chili!
Totally optional – If you want to thicken things up, then remove ¼ cup liquid, add 2 Tbs cornstarch and mix. This creates a slurry. Add it back in to thicken.
What kind of beef is best for Instant Pot Beef Chili?
You can find all kinds of ground beef these days. Whether you go for grass-fed beef or simply ground burger, I recommend an 85/15 ratio of protein to fat.

You do want some fat to add flavor, but anything more is too much. Also, you will be straining off the excess fat anyway. Less fat to strain means less mess to deal with. Always a plus!

What kind of beans for chili?
Some folks really do have an issue with beans in chili. That is ok. If you don't want beans in your chili then feel free to leave them out.

On the other hand, if you love bean in your chili, then I suggest the large style great northern beans. I have tried a few different kinds(10 different kinds) and I think they work best.
My second choice would be navy beans.

It is important to know the difference. Navy beans are not the same as Great Northern Beans. Although they do look very similar, Great Northern beans have a thicker skin. Thinner skinned navy beans means they will end up a tad mushier during the cooking process.

Pinto beans will work as a substitution. Pintos are the sort of pinkish beans about the same size as Navy beans. Many beef chili recipes feature pintos but I still flavor the great northern beans.

Does rinsing the beans reduce you know what?
My mother always made a point to rinse the beans first. She made sure that core lesson was ingrained in me early on. I actually thought it was an old wives tale.

However, once again, Mom was right!

Turns out that washing the beans, canned or dry, helps reduce the gas-causing sugars. If you are using canned beans, then rinse under hot water. I recommend the canned beans for this recipe since it makes for a much faster cooking time in the Instant Pot.
What goes with instant pot chili on game day?
Instant pot or pressure cooker chili serves up perfect comfort food for game day. If you are serving chili come game day this weekend, then I can suggest a few things to go with it.

Cornbread
Crackers
Olives
Cheese – cheddar is great but the Mexican cotija is great too
Sour Cream
Chopped Onions
Jalapenos
Mustard
Fritos
Tortilla Chips
Toppings to serve with Pressure cooker Chili
Wonderful beef chili takes different toppings well too. Of course, a good sharp cheddar cheese tops the charts of popularity, along with minced onions. However, you can do other toppings as well.

Try a bit of hamburger or hot dog relish sometimes. Amazing! Also, you may have tried beef chili on nacho chips, or fries, but have you ever poured some in a bread bowl? How about a baked potato?

Some Other Instant Pot recipes you might enjoy
More great comfort food recipes
FREE TIPS FOR ENTERTAINING WITH EASE AND FUN DELICIOUS RECIPES WHEN YOU SIGN UP FOR THE MAILING LIST BELOW THE RECIPE!
Yield: 8
Hearty Instant Pot Ground Beef Chili
Game Day Chili has never been so easy. Made with ground beef that literally melts in your mouth it's so tender. You'll never have to wait all day again to get all the rich deep flavored chili you've come to love. This pressure cooker chili is a keeper!
Ingredients
2 Pounds Ground Beef (85/15)
2 15.8 ounce Cans Great Northern Beans, rinsed
8 Cups Beef Stock
1 Cup Tomato Sauce
Instructions
Drain Beans in a strainer and rinse away all juices with warm water. Rinse several times and set aside.
Saute the ground beef and minced onion flakes in the bottom of the instant pot until browned.-- about 8 minutes
Add rest of spices (chili powder, garlic powder, cumin, celery salt, oregano and paprika) and stir until well combined.
Add tomato sauce, beef stock and rinsed beans and stir.
Set to pressure cook for 20 minutes, seal to pressure cook.
Once done, do a quick release of pressure.
Stir- if you like your chili thicker remove 1/4 cup of the liquid and add 2 tablespoons of cornstarch to create a slurry. Stir until combined- then add to chili and stir.
Serve with your favorite toppings and enjoy.
Notes
Toppings are optional. Some options are shredded cheese, chopped onions, sliced olives, jalapeno peppers, sour cream, tortilla chips and fritos.
Nutrition Information:
Yield:
8
Serving Size:
1
Amount Per Serving:
Calories:

453
Total Fat:

22g
Saturated Fat:

8g
Trans Fat:

1g
Unsaturated Fat:

11g
Cholesterol:

101mg
Sodium:

1361mg
Carbohydrates:

23g
Fiber:

8g
Sugar:

3g
Protein:

42g
This recipe was calculated using the exact brands and measurements I used to make this recipe. If you are following a strict diet please note changing anything will cause the nutritional info to change. Please calculate your own nutritional information if you want it exact to what you make and use my calculations as a guide only.