French Onion Chicken: caramelized onions under melted gooey cheese all atop braised tender chicken with a French onion style sauce. An excellent option for dinner with friends, but your family will want it for a weeknight dinner option!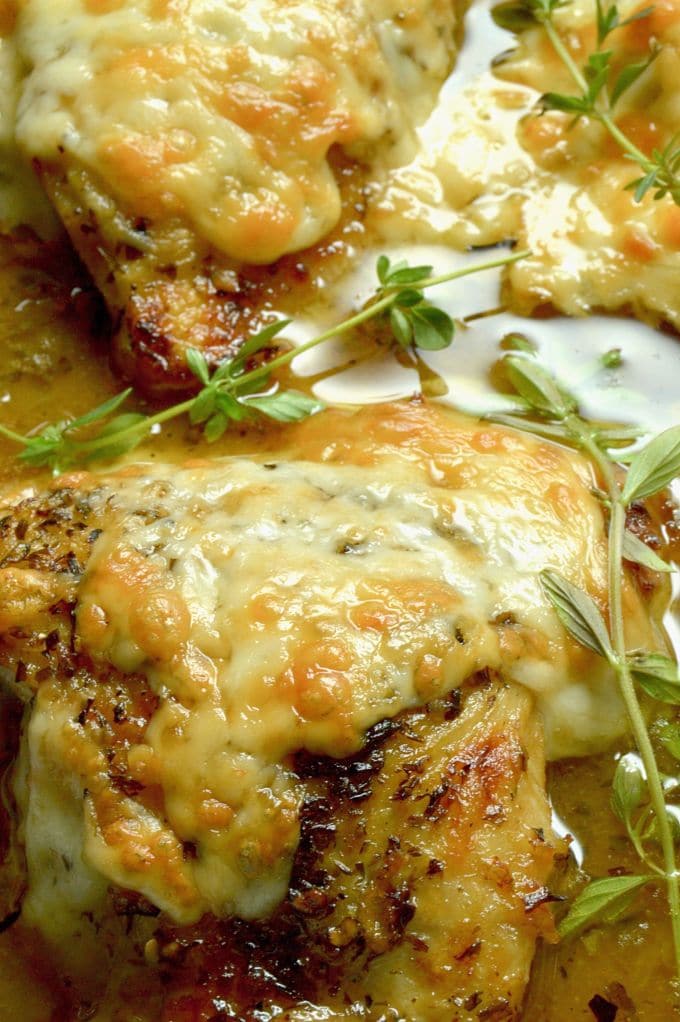 French Onion Chicken is a twist on French onion Soup….. made with all the things you love about French Onion Soup but made into a main course meal by adding a succulent herb-crusted piece of chicken.
This r French onion chicken recipe came about because I was craving soup. It's been super hot so the thought of eating soup in this weather was not appealing.
But I do love melted cheeses with crazy flavorful onions so this worked for a nice filling meal.
So my mission became how to make French Onion Soup Chicken.
The entire family loves this recipe so much I often make it with pork chops for entertaining.
On a side note, if you want to make Classic French Onion Soup I highly recommend using Julia Child's recipe which you can see her actually make in this video here! She is the QUEEN of all things delicious!
---
Ingredients to make Onion Soup Chicken
Chicken – I used thighs but breasts work too
Olive oil – to get a golden brown crust on the chicken
onions – any onion will work, but I prefer sweet maui onions, they are so tender and sweet
fresh thyme – feel free to use an herb you prefer, oregano or tarragon would be good too
flour – to thicken the broth a little
chicken broth – key to getting the French onion soup feel to the dish (beef stock or beef stock work too)
white wine – adds a tanginess, but easy to omit I prefer a dry Prosecco
garlic – be sure and mince it finely so it doesn't overpower
balsamic vinegar
dijon mustard
Worcestershire sauce
gruyere cheese- this cheese melts really weak, but Swiss cheese is another great choice
When making French Onion Chicken the most critical thing in making it is getting the onions right. You need to cook a lot of them and cook them really slow.
How to cook the onions for the best results:
Cut the sweet onions, evenly paying special attention to not having them be too thin. At the smallest cut them 1/8 " wide. I cut mine 1/4″ because I don't want so many of them to dissolve. If you cut them unevenly or too small they tend to burn in some parts.

Cook the onions on low and for a long period of time to let the flavor develop. If you cook them too fast, they get burnt and don't soften to the consistency that works best for this recipe.
Be Patient. You'll want to turn the heat up and cook the onions faster, but to get a deep rich brown color you will need to keep the low temperature and use the whole 45 minutes to cook the onions. When you taste the deep, rich flavor in the first bite of the French Onion Chicken you will understand why.
Easy way to cook onions ahead of time:
I was asked by a reader if she could make the onions ahead of time to cut down on time on the day of making the chicken.
I made a big batch in the slow cooker overnight and froze the saucy caramelized onions in small bags or containers and it was a huge time saver. You can find out all the info on how to use a crockpot and what onions right here!
These caramelized onions also work great to make a french onion dip by just stirring a couple of tablespoons with some kosher salt and pepper into sour cream.
How to make onions in the slow cooker
Using 5-6 pounds of onions, peel and slice the onions into 1/4″ equal thickness
Place the sliced onions into the bottom of your crockpot or slow cooker (you can fill the crockpot to about 3/4 of the way full.
Drizzle 3 tablespoons olive oil or a couple of tablespoon butter (melted) over the top and toss to coat.
Cook on low for 10 hours.
This makes a large batch. I usually freeze what I'm not going to use in ziplock bags or in ice cube trays so I have various portions when I need them.
What kind of chicken to use
Chicken Thighs
Chicken thighs work very well for this chicken and onions one pan recipe because they are super flavorful and cook quickly.
Chicken Breasts
Tender Chicken Breasts work equally as well as thigh meat, you will just need to adjust either the amount of time of cooking or cut the breasts in half so they are smaller and can cook in less time. Juicy chicken breast tenderloins will also work.
Chicken Legs
We LOVE chicken legs in our family but we like them because we can eat them with our hands! This recipe is really flavorful, but since it has all of the onions and sauce although it would work I wouldn't recommend it. (Fried Chicken would be a better use for those legs!)
Can you use skinless chicken?
Yes. You'll want to be careful when browning the chicken to not cook them too long. I don't recommend skipping the browning, but I would cut the time down then allow the chicken to cook in the sauce a little bit longer!
Chicken with the skin on usually has a lot more flavor. In this recipe, you won't miss out on any flavor because of everything else that is included in the recipe!
Points of Interest for French Onion Chicken Bake:
Easy/Hard: This recipe is easy to make, but it is a little time-consuming. Nothing difficult but cooking the onions takes a while. See the tip above to make ahead caramelized onions in the crockpot.
Make-Ahead? Not with this recipe. It works much better making it right before serving it.
This is a delicious meal that is ideal for entertaining. You can cook the onions before the guests arrive and pop it in the oven to cook while you are enjoying some appetizers. Once the dish is in the oven all that's left is to place the cheese on in the last 10 mins so its very hands-off once it's in the oven.
What Side Dish to serve with Onion Chicken
---
We have so many popular Chicken Recipes — Check them out here!
---
Items used to make

French

Onion Soup Chicken:
Low sided everyday pan like these pictured here. The low sides help with braising the chicken. As a bonus, you can make the dish all in one pan. You would need to take the onions out while you brown the chicken, but all in all its only one pan to cook in!
You can also use a dutch oven to make this in.
I use a box grater regularly like these here. I like that this box grater has different choices for different recipes so it's one utensil with several options.
I love this pig tail flipper. It allows you to grab the chicken but not pull of the skin in this case or valuable crispy coating in frying fried foods.
Looking for other easy dinners?
---
---
FREE TIPS FOR ENTERTAINING WITH EASE AND FUN DELICIOUS RECIPES WHEN YOU SIGN UP FOR THE MAILING LIST BELOW THE RECIPE!
---
Yield: 8
French Onion Chicken
French Onion Chicken: caramelized onions under melted gooey cheese all atop braised tender chicken with a French onion style sauce. An excellent option for dinner with friends, but your family will want it for a weeknight dinner option!
Cook Time
1 hour
15 minutes
Total Time
1 hour
30 minutes
Ingredients
8 pieces chicken thighs, with skin
2 + 1 tablespoons olive oil
3 pounds onions, peeled and sliced to 1/4" thick
1 teaspoon thyme
3 tablespoons flour
2 cups chicken or beef broth
1/3 cup white wine
3 cloves garlic , minced
1 tablespoon balsamic vinegar
1 1/2 cups gruyere cheese, (gouda also works well)
salt and pepper to taste
sliced and toasted French bread slices to sop up the sauce
Instructions
Place 2 tablespoons olive oil in pan and heat to medium-low. Add onions and cook until the onions are a deep rich brown color. About 45 minutes. DO NOT TURN THE HEAT TO HIGH to cook it faster. You may need to add a tablespoon of broth occasionally if you see the onions sticking. The onions will reduce down a lot. Don't worry. Its what is supposed to happen.
While the onions are cooking in another pan you can cook the chicken. Turn heat up to high. Add 1 tablespoon of olive oil. Season the chicken with salt and pepper than brown the each side of the chicken for 5 mins per side. Don't overcrowd the pan. Its better to do it in batches and give the chicken room to brown. Remove all chicken from the pan and wait until onions are completed. You can deglaze the pan with wine and then add this mixture into onions when you add the rest of the broth. (turn heat off pan after deglazing until you are ready for it.) What is deglazing: (pour in wine, and scrape up all the browned flavorful bits)
Once the onions are nice and browned, add garlic, thyme and flour to onions and stir vigorously to combine. Continue to cook for 3 minutes. Then add half of the broth and stir and cook for 5 minutes. Then scoop out 1/3 of the onions and place on a plate. Add the rest of the broth, balsamic vinegar, mustard and Worcestershire sauce and bring to a boil.(And the deglazed juices from cooking the chicken) The sauce should start to thicken in a few minutes.
Place chicken back into the pan with thickened onions/broth and then divide the onions you have set aside and place them atop of each piece of chicken. Place into a 350° oven and bake for 20 minutes. Then remove from the oven and turn the oven to broil. Sprinkle the grated cheese over each of the chicken topped with onions. Place pan back in the oven and broil until cheese is melted and golden brown. (about 5 minutes depending on your oven)
Serve Immediately. Serving suggestions: serve over rice, pasta, gnocchi. Serve along French bread slices to soak up the sauce.
Nutrition Information:
Yield:
8
Serving Size:
8 Servings
Amount Per Serving:
Calories:

551
Saturated Fat:

11g
Cholesterol:

168mg
Sodium:

466mg
Carbohydrates:

19g
Fiber:

3g
Sugar:

7g
Protein:

33g
‬‬‬‬‬‬‬‬‬‬‬‬‬‬‬‬‬‬‬‬‬‬‬‬‬‬