Slow Cooker Caramelized Onions are simply the easiest way to cook down onions to that perfect rich flavor with just the right amount of sweetness. Made with only butter and onions, the set it and forget it method is not only super simple but result in a perfect caramelization ready to use on everything!
French Onion Chicken and Smothered Pork Chops are two of my family's favorite ways to incorporate them.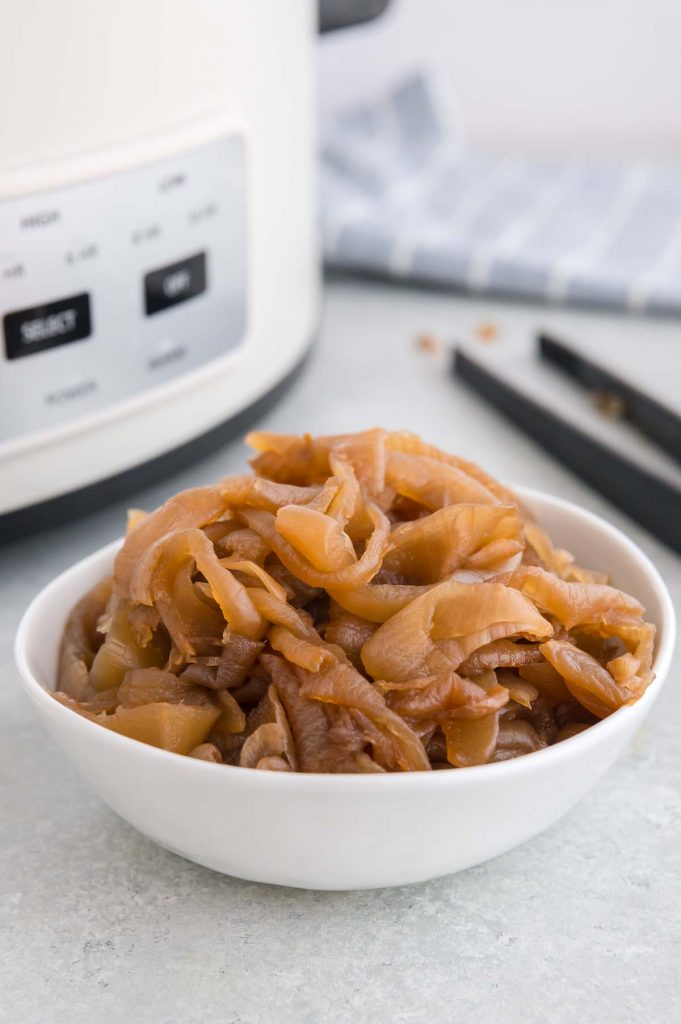 People always lament that our French Onion Chicken recipe isn't a 30-minute recipe because caramelized onions take time (what seems like forever) so when a reader pointed out how she made the onions in the crockpot and froze them for when she needed them I knew I had to give that a try.
Making a big batch and slow cooking them in the crockpot ahead of time means you not only have some on hand for this recipe but you'll have lots for other recipes too!
Cooking the onions down for a longer cooking time will not cause your onions to burn. This is also a plus overdoing them in a cast iron pan where if you rush the cooking will happen. When this happens they're no longer sweet and have crossed the border into bitter town.
What is typically a pungent food releases its natural sugars which results in a beautiful way to elevate and add flavor to so many dishes. Think french onion soup, salad, casserole, sandwich, burger, and hotdog toppings. Perhaps a tasty addition to a pizza or a slice of bruschetta!
Other Uses for Caramelized Onions
French Onion Dip
To a tub of sour cream add ½ cup onions, ½ teaspoon seasoning salt, and 1 teaspoon parsley. Let the dip sit in the fridge to meld for best results.
Onion Bread
Preheat oven to 325° Take a loaf of French Bread and slice almost all the way through, leaving just the bottom crust attached. Take ¼ cup softened butter and add to ½ cup caramelized onions, stir to mix well. Between each slice brush on butter onion mixture. Wrap in foil and bake for 20 minutes until heated throughout.
Steak Topping/ Caramelized Onion Butter
Mix with butter and place on a steak right before serving. The butter and onion will melt on the hot steak for delicious flavoring.
What Kind of Onions to Use
What makes this already simple recipe, even more, user friendly, is that you can pretty much use any onion you have on hand! I prefer the sweet onions but you can pick one or combine them all, you choose!
Red Onions
White Onions
Yellow Onions
Maui Onions
Vidalia Onions
Walla Walla Onions
How to Make Caramelized Onions in the Slow Cooker
To prepare the onions, you want to cut the onion in half horizontally, remove the dry skins and cut the onions into 1/4″ strips. Cutting this a little thicker will allow them to cook down over a long period of time without shriveling up, drying out, or basically dissolve!
Separate the onions as you add the onions to the bottom of the slow cooker. Pour melted butter over the top of the onions and stir. (Feel free to sub olive oil if you prefer.)
Turn on the crockpot to high and cook for 12 hours, stirring occasionally.
Put the lid on but keeping a bit of space open to allow for steam to escape. This is so the onions don't get too watery.
Once the time is up and your onions are a deep golden brown color, turn off the slow cooker and allow the onions to cool.
How to Store the Onions
They will keep in the freezer for 3-4 months and in the fridge for 2-3 days.
Caramelized onions are perfect for freezing. I buy the snack size zip lock bags and freeze them in ½ cup servings. It's easy to thaw the individual portions you will need for a recipe as you need them.
To defrost them remove them and let them sit on the counter for 2-3 hours before you need to use them. Or place them in the fridge the night before and they will be perfect by morning.
Frequently Asked Questions
Do you have to stir them? I do stir them if I make them during the day, but I will confess I've made them overnight in my slow cooker and didn't stir them at all after the first half-hour and they came out just fine. As long as you stir to coat all the onions with the butter or oil you are good to go.
What can I do with any extra liquid in the onions? Leaving the lid off while cooking lets some of the steam out so they don't get as watery. This works quite well, however you may still have some extra liquid. If so, you can strain it off and freeze that liquid in ice cube trays for flavoring soup or adding to a sauce for extra flavor.
More Recipes to Use Caramelized Onions For
Be sure and Check out our Web Story to see How to Caramelize onions!
Slow Cooker Caramelized Onion Recipe
Slowcooker caramelized onions are a timesaver for everyday cooking. Place in the crockpot and slow cook for 8-12 hours until browned. Great for soups, all kinds of pasta, main course chicken, steak and pork dishes.
Total Time
8 hours
10 minutes
Ingredients
6 Large Onions
2 Tablespoons Melted Butter
Instructions
Cut the onions in half from bulb to top so the bottom of the stem holds it together when you go to cut.
Peel away the dry skins.
Cut strips of onions in 1/4" strips.
Using your hands separate all of the onions as you put them into the bottom of the slow cooker
Once all of the onions are in the slow cooker, pour the melted butter over the top and stir.
Turn the crockpot to high and cook for 12 hours stirring occasionally.
Put the lid on off-center so some of the steam can escape so the onions don't get too watery. Alternatively, you can strain that liquid out, but I find that the offset lid works really well.
After 12 hours the onions should be a deep golden brown color.
Allow to cool.
Freeze in portions to use as needed. Will keep in the freezer for up to 6 months.
Defrost before using.
Store in small zip lock bags to pull out as you need them. I store them in 1/4 cup servings and 1/2 cup servings so I know that the amounts I need are easily accessible.
Nutrition Information:
Yield:
10
Serving Size:
1
Amount Per Serving:
Calories:

54
Total Fat:

2g
Saturated Fat:

1g
Trans Fat:

0g
Unsaturated Fat:

1g
Cholesterol:

6mg
Sodium:

21mg
Carbohydrates:

8g
Fiber:

1g
Sugar:

4g
Protein:

1g
This recipe was calculated using the exact brands and measurements I used to make this recipe. If you are following a strict diet please note changing anything will cause the nutritional info to change. Please calculate your own nutritional information if you want it exact to what you make and use my calculations as a guide only.