This Hot Crab Dip with Cream Cheese comes together in 10 minutes then you bake to bubbly, melty deliciousness. Full Flavor of the crab, cheese and spices comes thru in every delicious bite! (This is also just as good served as a cold crab dip if you don't want to turn on your oven!
With football season here I'm sharing a recipe for Hot Crab dip with Cream Cheese to make ahead so it's ready to pop into the oven when people get hungry watching all of their brackets getting busted. I recommend serving it hot, but if you prefer cold dips the beauty of this amazing crab dip recipe is it works served both hot or cold.
This creamy dip is the perfect appetizer for the holiday season and is a perfect addition to any New Year Party! It's the real deal!
The Hot Crab dip is flavored with seasonings that remind me of Cajun foods, but not very spicy. Every bite has hints of cheese, crab, and the smoky spiciness of Old bay and Worcestershire sauce.
Ingredients to make Cream Cheese Crab Dip
Cream Cheese- I personally swear by Philadelphia cream cheese, it's alwasys good
Mayonnaise – adds a little bit of tang to the dip (no mayo, you can sub sour cream)
Worcestershire sauce gives a deep smokiness and tang with the dip.
Garlic Clove- buy the pre-peeled garlic it saves you tons of time!
Fresh Lemon Juice helps cuts the richness of the dip
Old Bay Seasoning (or your favorite seafood seasoning)
Onion or Onion Powder
Fresh Crab or Lump Crab Meat- big chunks of crab is exactly what you want in a bite of crab
Dashes of Hot Sauce (use as much tobasco as you like to make it your way!) (optional)
Green onions or Parsley (optional for added color)
We have LOTs of easy delicious appetizers — You can find them all right here!
What kind of crab should you use to make Hot Crab Dip
You can absolutely use fresh crab meat for the dip. But fresh is always more expensive and since you are adding so many other things to the dip, it's not necessary to buy fresh. Save that expense when you are making something really special like Fancy Bouillabaisse.
I buy canned Lump Crabmeat. Lump Crabmeat has some larger pieces along with some bits and pieces. Buy the largest lump crab meat you can find. I've seen Jumbo lump crab meat, Large and regular. The Chicken of the Sea lump crab meat worked well in this recipe.
How to make Cream Cheese Crab Dip
Mix all ingredients for the crab dip using a mixer except for the crab.
I make my own homemade mayonnaise for the dip- you can find the recipe here, but any store-bought mayo you like will work.
Do buy your cream cheese in the block. I prefer Philadelphia Cream cheese over other brands. I think it tastes better but also holds up well either hot or cold. While this recipe will work with the low fat or no-fat option, the texture will be different so if possible use the full-fat cream cheese.
Once the cream cheese mixture mixture is fully combined you add the crab meat. You want to stir the crab in by hand so the crab will stay in bigger pieces for each bite. Stir it very gently
Suggestions for serving Hot Crab Dip With Cream Cheese
I like to serve it in a cutout bread bowl as I have pictured below. You cut out the center at the top then use that section to cut up to serve the dip on.
You can then pull more bread pieces from the loaf as the dip is eaten from the bowl.
If you prefer, use a casserole dish. Spray the dish with cooking spray so it's easier to clean up when you are done.
What to serve to dip into the cream cheese crab dip:
The dip is hearty so the best cracker to serve with this dip is a firm one that won't break. Same with chips, thicker potato chips or tortilla chips make the best to serve with the Philadelphia cream cheese crab dip.
crackers
carrot sticks
slices of cucumbers
celery sticks
bell pepper strips
pita chips
potato chips (use thick ones so they don't break!)
tortilla chips
ritz crackers
MORE EASY DIP OPTIONS FOR PARTIES OR CASUAL GET TOGETHERS:
HOT DIPS:
Cold Dips:
Pin this to your GAMEDAY FOOD board or to your Friday Night Easy Appetizer Board. You can also follow me on Facebook here for more easy recipes for entertaining! (Facebook not your thing….. that's ok too! I have you covered with a mailing list that shares easy recipes for entertaining on this page where it says "join the west via midwest community!" )
Yield: 12 servings
Hot Crab Dip with Cream Cheese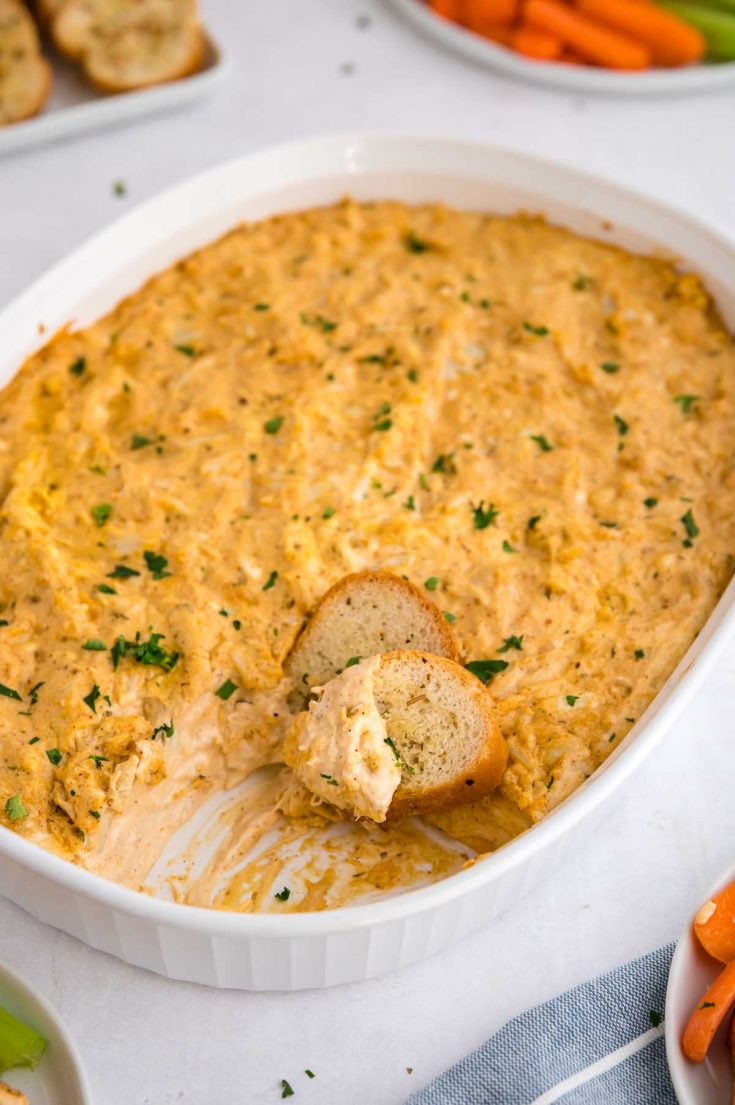 This Hot Crab Dip with Cream Cheese comes together in 10 minutes then you bake to bubbly, melty deliciousness. Full Flavor of the crab, cheese and spices comes thru in every delicious bite!
Ingredients
8 ounces cream cheese, softened to room temperature
2 cloves garlic, minced
2 tablespoon minced onion flakes, dried, can sub 1 TBS fresh onion
2 tablespoons lemon juice
1 tablespoon hot sauce , (tobasco or sriracha)
8 ounces lump crab, Canned ok
1 loaf French bread, (optional)
Instructions
Preheat oven to 350°
Place cream cheese, mayo, garlic, onion flakes, Worcestershire, lemon juice, hot sauce and old bay seasoning into a mixing bowl. Using a mixer beat until well combined.
Clean beaters and add 8 ounces of lump crab meat to dip mixture. Using a wooden spoon, stir gently to combine. (Do not use mixer as it will break the crab down to a paste, and you want it to hold its shape a little bit so each bite is more concentrated.)
If making ahead, mix dip to this point and put in a sealed airtight container. You wont put the dip into the loaf until you are ready to bake just prior to serving. See notes for instructions.
If using a loaf of bread to bake the dip in, cut out a piece to be about 1/2" from the bottom of the loaf for the depth. You will cut about 1/2" from the edge for the sides. (See photo in recipe). Gently pull up to get a compartment to place the dip into to bake. (Alternate baking instructions in notes if you are not using a bread loaf.)
Set aside piece you cut out. Wrap the cut out piece in foil and set aside for baking. You will place the top in the oven for the last 10 minutes of baking.
Using a spoon, place dip into the hole in the loaf. Bake for 15-20 minutes until dip is starting to melt and bubble. If you like a crispy golden brown cheese, you can turn to broil and broil for top to color. Watch the dip closely when you have it in the broiling temp. It will burn quickly.
Remove bread loaf and top from oven. Slice the top into small slices for serving. Serve with a knife for people to cut away at the bread loaf as well.
Serve immediately.
Notes
If making ahead, pull dip out 30 minutes before ready to bake and allow the dip to soften and come close to room temp. Once softened place in loaf and follow instructions from that point.
If you prefer to not serve it in a bread bowl, the dip mixture can be placed in a baking dish and baked for the same amount of time until golden browned and bubbly.
Alternatives to serving on bread slices: Carrots, celery, pepper slices, crackers.
Recommended Products
As an Amazon Associate and member of other affiliate programs, I earn from qualifying purchases at no additional cost to you.
Nutrition Information:
Yield:
12
Serving Size:
12 servings
Amount Per Serving:
Calories:

243
Saturated Fat:

4g
Cholesterol:

32mg
Sodium:

487mg
Carbohydrates:

20g
Sugar:

1g
Protein:

8g