Full of tangy cream cheese accented with tart orange, sweet cranberries this festive Cranberry Orange Cream Cheese Dip for Crackers is perfect for all of your holiday parties, from happy hour to watching the big games!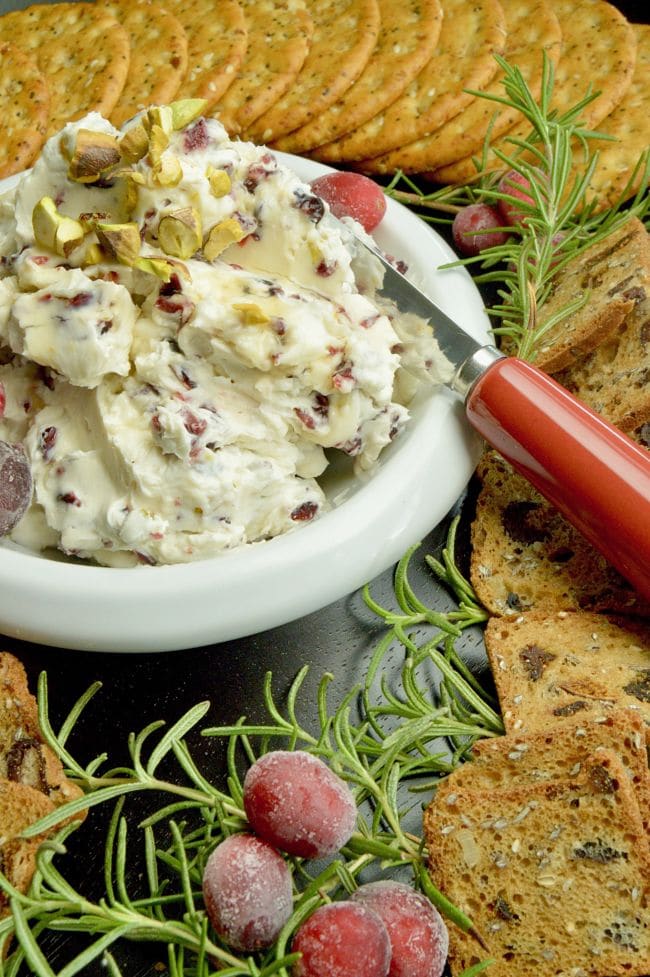 This Cranberry Orange Cream Cheese Dip for Crackers Recipe is perfect for any Holiday Entertaining. This easy dip recipe can be put together in minutes if last-minute guests stop by.
Made from ingredients that you probably have on hand in your pantry during the holidays it's super festive looking and your first bite will make you jump right into the holiday spirit!
This festive cold cream cheese dip appetizer holds up for up to a week if you want to make it and store it in the refrigerator.
Ingredients For Cranberry Cream Cheese Dip
Cream Cheese
Pistachios
Dried Cranberries
Orange Zest
Orange Juice
Honey
Goat Cheese
Tips for Making A Great Cream Cheese Dip
Soften the cream cheese for at least a half an hour so it is easily blended. This will prevent having any lumps in your cream cheese.
Put the ingredients in a bowl and stir. Can any comfort food dip be any easier?
Chop the cranberries and pistachios into tiny pieces so that they are easily eaten!
You could make it fancy and put it into a shape, but even that isn't hard at all to do. Personally I take the easiest route possible and roll the cream cheese dip into a ball, then roll the ball in the cranberries and pistachios.
Buy the cream cheese in block form versus the already whipped kind. Not only do you get more delicious cream cheese but if you decide you want it whipped you can still do it on your own using a hand mixer.
With entertaining through the holidays I always manage to keep on hand cream cheese. This is not a sponsored post, but I must shout out to Philadelphia Cream Cheese.
I have used this product as long as I've been cooking, and my mom used it in all her recipes as I was growing up.
You just can't go wrong using their product. There are other cream cheeses on the market but I like the consistency and how it holds up to whatever I add to it. Note here how it works with this dip if you put it into a ball! It also is easily spreadable.
Common Questions you might have in this Cream Cheese Party Dip
Why can't I use a whipped cream cheese in this recipe? It's absolutely possible to use the whipped cream cheese instead of the block-style cream cheese.
The honey and orange juice will thin out the whipped cream cheese a little bit more and it tends to get a little bit runny. But if you have whipped cream cheese it will absolutely work!
I don't have goat cheese will it make a big difference if I don't use it in the appetizer dip? It will change the taste slightly but no worries! I've often made it without. You can leave it out with no worries!
How long can I make this cream cheese dip ahead of time? This Cranberry Pistachio Dip will last up to a week in the fridge if you wrap it in plastic wrap and store it in an airtight container.
Can I freeze this cream cheese dip? I don't recommend freezing the cranberry dip. The texture changes in a way that is not pleasant.
Pistachios are so expensive can I sub something cheaper in the cranberry dip? Yes! You can use walnuts, pecans, hazelnuts …basically any nut you like and it will work!
I don't want a cheese ball …. any other way to serve this dip? Stir all of the ingredients together into the cream cheese and serve it as a spread! The flavors of the appetizer work just as well that way!

We have LOTs of easy delicious appetizers — You can find them all right here!
More Great Last Minute Appetizer Dips:
---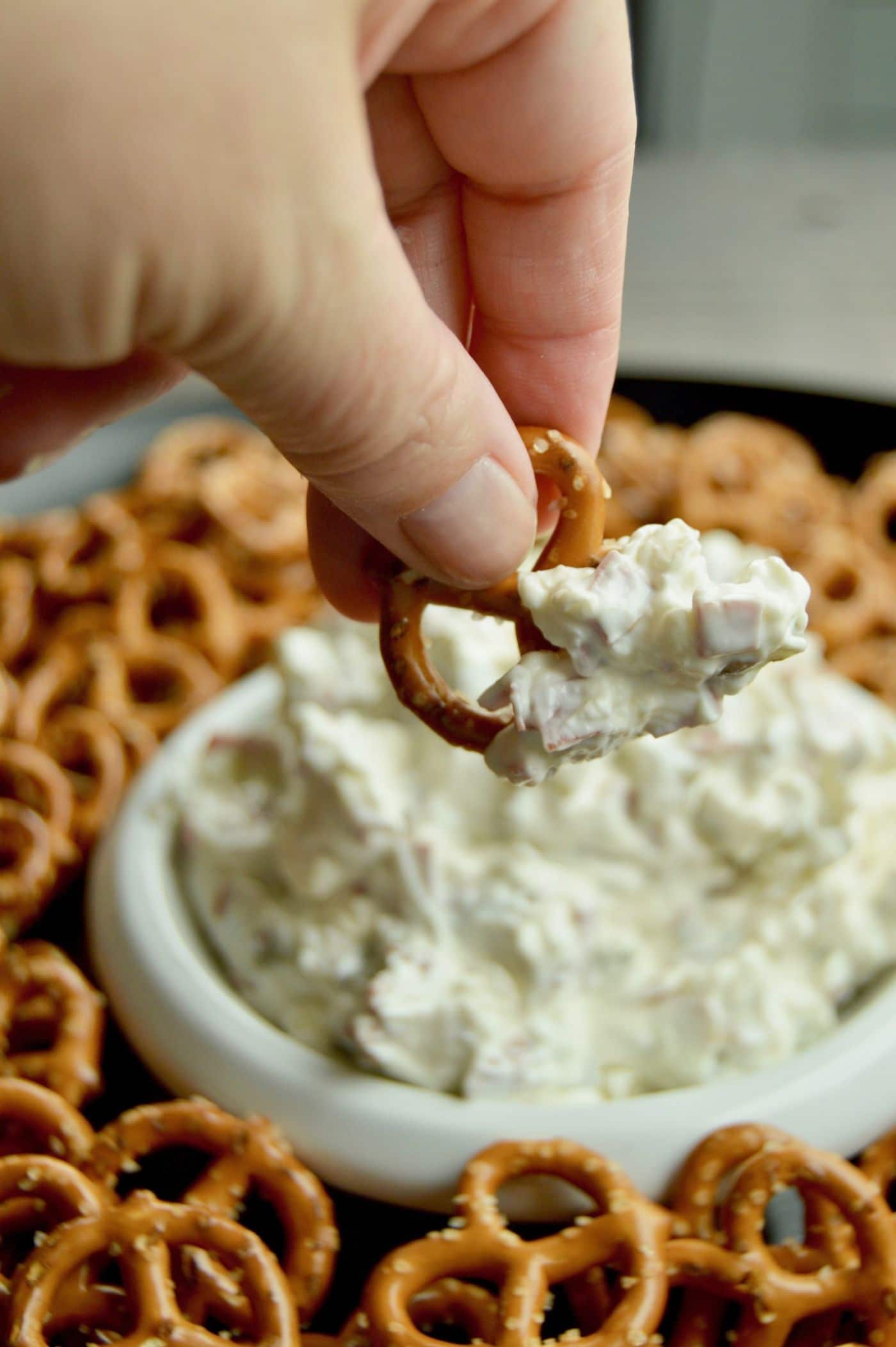 Craving more recipes for Holiday entertaining sign up for my mailing list here at the bottom of the page. or PIN THIS TO YOUR HOLIDAY PARTY or FOOTBALL GAMEDAY APPETIZER Board for when you are looking for ideas to serve at Christmas! Also Follow me on Pinterest to get more ideas to have for making easy delicious meals and appetizers for any entertaining!
Hashtag any recipes you make from West Via Midwest #westviamidwestrecipes or tag me @michele_westviamidwest on Instagram to be featured on our stories!

Yield: 12 servings
Cranberry Orange Cream Cheese Dip for Crackers
Full of tangy cream cheese accented with tart orange, sweet cranberries this festive Cranberry Orange Cream Cheese Dip for Crackers is perfect for all of your holiday parties, from happy hour to watching the big games!
Ingredients
8 ounces Cream Cheese
4 ounces Goat Cheese
2/3 cup dried cranberries, chopped fine
1 tablespoon orange peel, freshly grated
1 teaspoon orange juice
1 teaspoon honey
2/3 cup pistachios, chopped
Instructions
In a large bowl add cream cheese, goat cheese, cranberries, orange peel orange juice and honey.
Stir until mixed well and even throughout.
Using your hands either roll the cheese into a ball or log. (Any shape will work.)
Onto a sheet of parchment paper spread out chopped nuts.
Then take cheese ball/log and roll to cover all sides, making sure to coat evenly.
Place on a tray and serve with various crackers.
Alternatively: You can mix the nuts into the cream cheese and use as a spread as shown in the post.
Nutrition Information:
Yield:
12
Serving Size:
12 servings
Amount Per Serving:
Calories:

151
Saturated Fat:

5g
Cholesterol:

25mg
Sodium:

95mg
Carbohydrates:

8g
Fiber:

1g
Sugar:

6g
Protein:

4g
SaveSave
SaveSave
SaveSave
SaveSave
SaveSave
SaveSave
SaveSave
SaveSave