Looking for a festive spread for the holidays? This Cranberry Pistachio spread is not only easy peasy, but bursting with flavor and just the thing for a simple appetizer. Spread it on your favorite cracker over cream cheese and it's a mouthful of deliciousness.
Cranberries are both tart and slightly sweet and when paired with a savory nut it brings out the best of both flavors. I love this holiday cranberry pistachio spread because I almost always have what it takes to make it if someone shows up out of the blue and I can whip it up in just moments. Served with cream cheese (or goat cheese) it is always devoured in no time.
Cranberries(sweet), crunchy pistachios, seasoned with fresh basil and garlic make this a pesto in my book. I recently had a conversation on what makes something a pesto. The general consensus was that it has to have cheese in it. While I do serve this atop of a creamy cheese it isn't in the actual "spread." But you do make it just like a pesto.
---
PIN THIS TO HAVE WHEN YOU NEED A LAST MINUTE APPETIZER DURING THE HOLIDAYS!
---
What is in holiday pesto spread?
dried cranberries
garlic
raw or roasted pistachio nuts
fresh basil
olive oil
How to make pesto spread to use on top of cream cheese
All the ingredients are placed in a food processor and pulsed a bit then slowly drizzling olive oil in to get it to a nice spreadable consistency. The cranberries, basil, garlic and pistachios look very festive with the hints of different reds and greens.
Questions about holiday party appetizer pesto
Can I use fresh cranberries instead of dried cranberries? You can absolutely use fresh cranberries but I suggest adding a little honey or some sweetener to the pesto. Dried cranberries are much sweeter than fresh cranberries and you'll need to taste the pesto to see if you want some additional sweetness.
Pistachios are so expensive, will other nuts work in pesto? Yes, many nuts would work beautifully in this cream cheese dip/spread on crackers. I like the pistachios for the green color but walnuts, pecans or almonds would work too. Actually even unsalted peanuts would work to make a pesto too.
Can you freeze the pesto? You can freeze the holiday pesto spread if you want to. The texture will change slightly from the oil being added to the dried cranberries and it gets a little gummy. My family doesn't mind the change in texture, but I'd rather have it not be frozen.
Can I make the pesto ahead of time? This holiday appetizer pesto is easily made up to a week ahead of time for your entertaining. Store it in the fridge in a sealed container until you are ready to serve it. Remove it from the fridge an hour before you want to serve it to allow it to come to room temperature.
Can I use something besides cream cheese on top of the crackers? Yes, this pesto works well over any creamy cheese such as goat cheese or a nice brie cheese.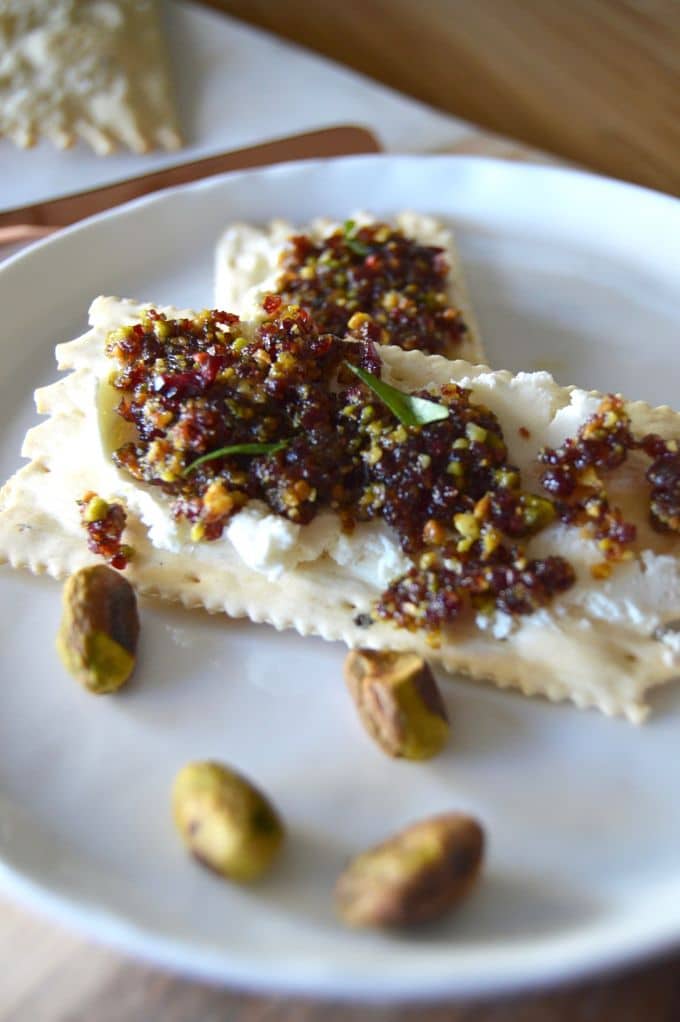 Need other Dip Ideas? Check out all of our Party Dips!
More uses for Cranberry Pistachio Pesto
This spread is so versatile too! If you add some extra olive oil to thin it a little bit you can toss it into your favorite pasta. Then crumble the goat cheese as a garnish and you have a top notch vegetarian pasta.
It also works really well as a sandwich add on. You know, with that leftover turkey or a roast chicken.
I've even been known to toss it with some roasted vegetables….for example, brussels sprouts or green beans. It really gives the vegetables a whole new dimension. (Roast the vegetables first and then toss right before serving.)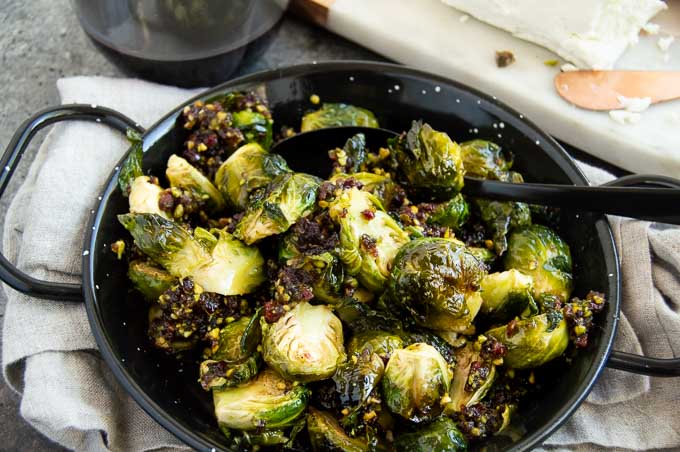 Try this simple Cranberry Pistachio Spread appetizer and let me know what you think!
More Fancy, but super easy Holiday Appetizers for entertaining:
---
---
~ Instagram ~Pinterest~ Twitter~Facebook ~
---
---
FREE TIPS FOR ENTERTAINING WITH EASE AND FUN DELICIOUS RECIPES WHEN YOU SIGN UP FOR THE MAILING LIST BELOW THE RECIPE !
---
---
Yield: 16 (1 tbsp/svg)
Cranberry Pistachio Spread! The perfect holiday appetizer.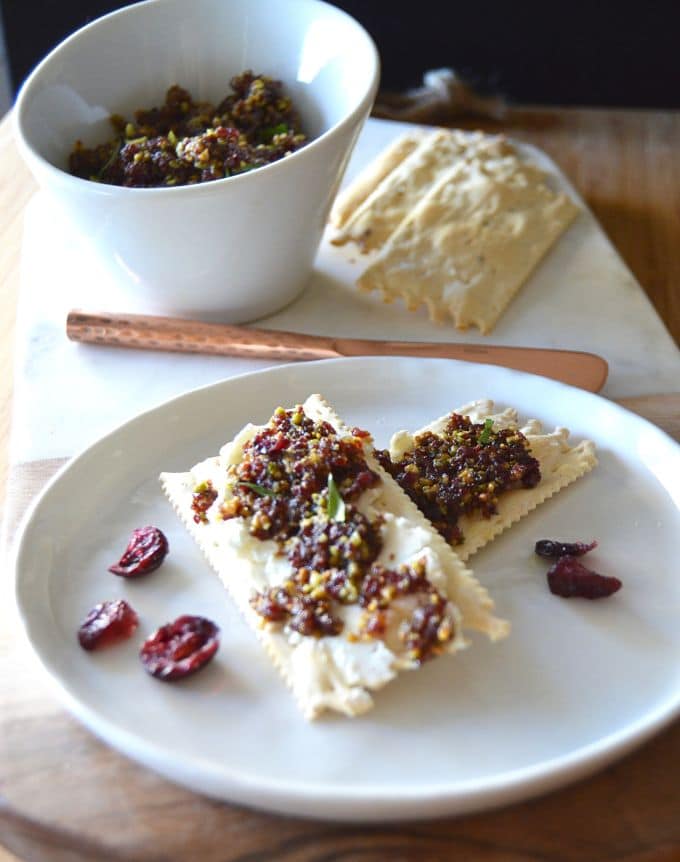 Looking for a festive spread for the holidays? This Cranberry Pistachio spread is not only easy peasy, but bursting with flavor and just the thing for a simple appetizer. Spread it on your favorite cracker and it's a mouthful of deliciousness. It's so versatile you can also toss it with pasta, on your favorite sandwich or with any roasted vegetable.
Ingredients
1/2 Cup Pistachio Nuts
1/2 cup Dried Cranberries
3 cloves garlic (either roasted or raw, your preference)
1/2 cup fresh basil, loosely packed
1/4 cup olive oil
salt, to taste
pepper, to taste
Accompaniments:
Goat Cheese or Philadelphia Cream Cheese, (optional)
Crackers
Instructions
In a food processor place nuts, cranberries, garlic and basil.
Pulse until well blended and chopped. Do not put on automatic, you do not want a puree.
Then slowly add olive oil to get to a spreadable consistency.
Taste spread and add salt and pepper to your preference.
Take cracker and layer goat cheese then spread Cranberry Pistachio spread on top of cheese.
Notes
This spread is very versatile. It works as a sandwich spread with chicken or turkey. It also works tossed with pasta with crumbled goat cheese. You can add it to your roasted vegetables such as brussels sprouts or green beans right before serving.
---
Calorie Info Calculated for Spread Only:
All recipe calorie information was calculated on what I purchased to make this recipe in My Fitness Pal. When you make the recipe, the calorie content could vary depending on what specific ingredients/brands you actually use. Please take that into consideration if you are following a strict diet.
Nutrition Information:
Yield:
16
Serving Size:
16 (1 tbsp/svg)
Amount Per Serving:
Calories:

66
Carbohydrates:

5g
Fiber:

1g
Sugar:

3g
Protein:

1g
‬‬