Warm, comforting and slathered in homemade velvety cheese sauce make this Ham and Potato Casserole a comfort food classic that's a perfect choice for using leftover ham and potatoes for a weeknight dinner or a delivery as a food gift for a neighbor!
You've worked hard all day but need a comfort food meal that will stick to your bones but not cost a fortune. This easy ham and potato casserole has the richest cheesy sauce slathered around the salty ham and tender potatoes. Ideal as a hearty dinner recipe but make extra to have for lunches the next day.
Homemade casseroles can be made with the typical "cream of….soups." But it's so much more popular and so much less sodium if you make the cheesy sauce yourself. The sauce comes together in less than 15 minutes so there's really no reason to not make your own!
This casserole is also a perennial favorite for brunches at our house after the holidays because it's an excellent use of leftover ham after Easter, Christmas and Mother's Day.
Some days can be just brutal. The to-do list seems to get longer instead of shorter. Crazy unforeseen roadblocks create havoc on productivity.
On those days I like to pull out some of my favorite recipes like this Ham and Potato Supreme from my Mom. They provide comfort in a way that just seems to take all the stress away.
I don't know if it's the creamy sauce or the comfort food feeling you get when you are taking a bite of the warm potatoes… but it has delivered hundreds of times for our family dinners and at least that many as my offering for potlucks.
Classic ham and potato supreme is comforting, simple to make, easily doubled (to freeze for the next stressful day) and the most important thing…… delicious!
I'm originally from Nebraska, we call this dish a casserole, but where my husband is from (Minnesota) they call it a hot dish. It's meat and vegetables mixed together with a sauce (in this case a light cheesy velvety sauce wrapped around ham and potatoes.) All the ingredients are served in a deep vessel called a casserole baking dish.
This recipe could be called scalloped potatoes and ham, ham and potato supreme, or ham potato cheese casserole. No matter what you call it is a side dish or main course you will come to rely on because everyone will ask for it again and again!
What makes a great casserole?
Ingredients
Ham
Potatoes
Cheddar Cheese
Butter
Flour
Shallots/Onions
Milk
Making the best ham and potato casserole comes down to the ingredients you use and how you prep them.
Ham
Start with the ham. You'll want to cut all of the pieces to a uniform shape. I found a 1/2 inch dice is big enough to be able to see it in the dish, but still small enough to be bite-sized and easy to fit on your fork.
Potatoes
I suggest russet potatoes because they hold up well in cooking. I've found that people prefer a softer potato so I suggest parboiling the potatoes for a few minutes so they aren't too firm after baking.
You'll want to also watch the size you cut the potatoes. You can make them any size you like but they need to be cut all to the same size so they cook evenly. In trial and error over the years I find 1/2″ dice is the best size to finish at the right softness, and still fit easily on a spoon.
When boiling the potatoes you'll want to stop when they are still a little bit "Irish" ….. not completely cooked. Just slightly undercooked will also help the potatoes not turn to mush when they bake in the creamy velvety cheese sauce in the oven.
Cheese
Any semi-hard cheese will work. I've found most people prefer cheddar or gouda. You can also mix cheeses. The one tip for a better consistency when you make the sauce is to grate the cheese yourself.
When you buy pre-shredded cheese there are preservative and anti-clumping agents added that make the cheese harder to melt. By grating it yourself it will be a more evenly blended sauce.
Making the Best Cheese Sauce
A roux is the flour/butter mixture you make that will thicken your sauce so that your casserole isn't soupy. Nothing is worse than a casserole that is too thin, making a roux when making the sauce gives your sauce a nice velvety consistency.
PRO TIP: For having your sauce be nice and thick but not taste pasty like flour~~
The French call this sauce a Béchamel. Yep, a fancy word for cheese sauce. The biggest issue when thickening sauces with flour is they can taste kind of paste-like. A simple fix solves that problem.
Start with melted butter then add a little flour to it. (the roux)
Cook the flour for several minutes to get the flour taste to turn into a rich, earthy taste without any powdery/paste sensation lingering.
Stir it in for 3- 5 minutes over medium heat before adding the liquid and the cheese.
Really, that takes care of making the sauce rich and velvety tasting.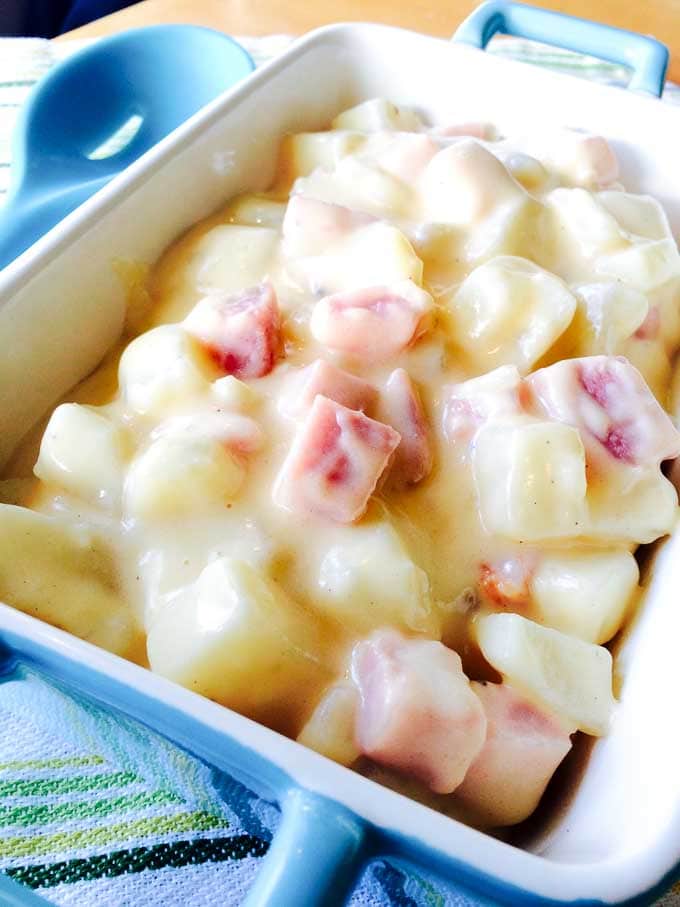 How to tell when the sauce is the right

consistency

in the Ham and Potato Casserole:
I find if you use a whisk to stir the sauce, you eliminate any lumps allowing for a smooth sauce. You will know when the sauce is done when it starts to thicken.
As you first add the milk to the sauce it will have some bits in it and be very thin. As you continue stirring it slowly thickens. You'll definitely notice the sauce changing consistency as you stir it.
When it gets to point where it coats the back of a spoon and doesn't run/drip down the spoon it's done. Here are some pictures of the beginning of the sauce and the finished product.
More Tips in Making Leftover Ham Casserole
When you mix the sauce with the meat and vegetables you'll notice that there seems to be a lot of sauce. That's ok, as it bakes the potatoes absorb some of the liquid.
Grate your own cheese for an even consistency.
Place a cookie sheet under the casserole dish in case it boils over.
Common Variations to Ham, Cheese Potato Casserole: (Casseroles are so Versatile!)
This recipe is complete comfort food to me because I grew up with it. But by all means, you can completely customize it to your pantry availability or what you like. Here are some common things you can switch up!
Cheese Options:
American
Cheddar (any kinds)
Gouda
Swiss
Colby/Jack
Vegetable Add-ins
broccoli
carrots
peas
corn
peppers (all colors)
onions
jalapenos
Meat Options:
Common Questions for This Scalloped Potatoes and Ham Casserole:
I don't have time to use real potatoes can I use frozen potatoes? This recipe will absolutely work with hash brown potatoes or O'Brien potatoes. The flavors will all be the same.
Can you freeze casseroles? Yes, this ham and potato bake freezes really well. I store it in individual serving containers and freeze it. I take it out the night before to allow it to thaw in the fridge overnight.
When you plan to freeze the entire casserole, you don't have to do the initial bake before freezing. Prepare the entire casserole, place in the container you plan to freeze it in. Place a piece of plastic on the top, then wrap in plastic or seal with a lid. When it's time to bake, after thawing, sprinkle grated cheese over the top and heat until hot throughout.
Can I double this recipe? You can easily double this recipe and use half and freeze half. Saves time when you need a quick dinner. No need to bake the portion you will be freezing. You can do that at the time you are ready to serve. I do wait to toss extra cheese on until it's ready for its ultimate baking.
Serving suggestions? This is great for holidays when you serve a lot of people. It's very economical and budget-friendly. Its a staple for Easter at our house!
It's ideal for potluck dinners as it holds the heat a long time. TIP: make sure and bring a printout of the recipe, because I guarantee you someone will ask!
We make it with turkey the weekend after Thanksgiving to use up leftover turkey instead of leftover ham!
Can I make this hot dish meatless? Absolutely this cheesy potato dish would be great and still filling with no meat whatsoever!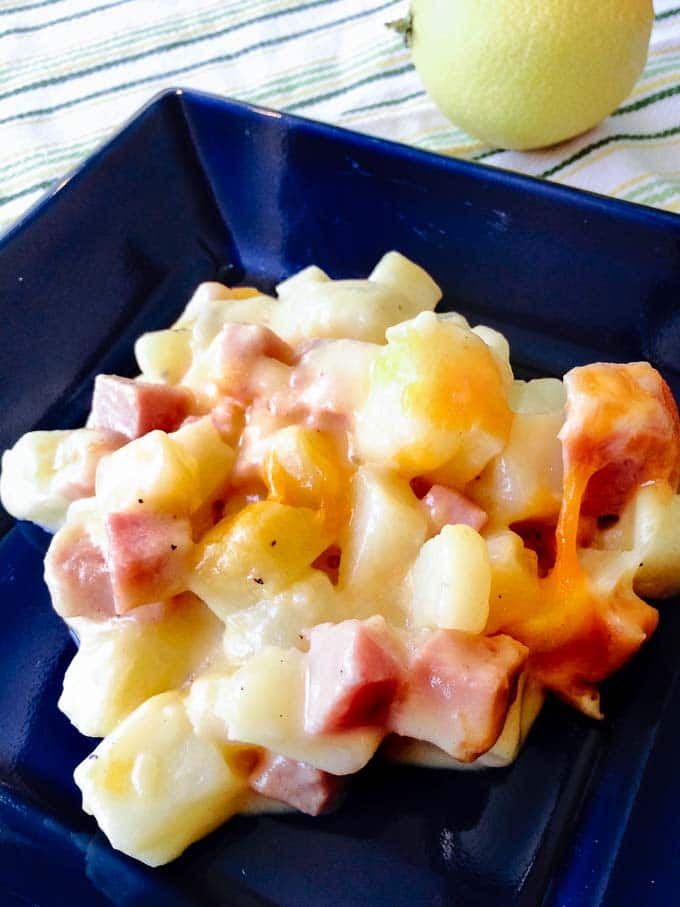 ---
---
More POTATO recipes you might be interested in:
Our Most Popular Recipes:
---
---
---
Hashtag any recipes you make from West Via Midwest #westviamidwestrecipes or tag me @michele_westviamidwest on Instagram to be featured on our stories!

Yield: 8 Servings
Ham and Potato Supreme: Leftover Ham recipes
Rich Velvety cheese sauce covering diced ham and potatoes. Perfect for when you just want a good comfort food meal with the basics
Total Time
1 hour
15 minutes
Ingredients
2 tbsp Onion, very tiny mince (about 1/4 of small onion) (Optional)
6 tbsp Salted Butter
6 tbsp All-Purpose Flour
1/2 tsp Salt
1 tsp Pepper
2 1/2 Cups 2% Milk, (whole milk ok)
1 1/2 Cups Cheddar Cheese (white), grate yourself (see note 1)
1/2 cupe cheddar cheese (yellow), grate yourself (see note 1)
3 Cups Russet Potatoes, peeled, diced and boiled to al dente cut to 1/2"dice
1 pound Ham, diced 1/2 "dice
2 Tablespoons Fresh Parsley, minced finely
Instructions
Preheat oven to 350º
Peel and dice potatoes and place in a stock pot of cold water.
Simmer on high until the water starts to boil, then reduce heat to medium.
Boil potatoes until they are cooked thru, but still somewhat firm (al dente) About 5 minutes. The potatoes will continue to cook when in the oven after mixing all ingredients. If you cook them to doneness now, they will become a soft mushy mess after baking.
Once Potatoes are cooked to al dente, drain water and put back into the stockpot until later.
Dice ham into the same size you cut your potatoes. Once diced, place on top of potatoes in stockpot until ready for sauce.
In small sauce pan on medium heat, melt butter,
Once butter is melted, add minced onions and cook until translucent and soft. (About 5 minutes.) Resist turning up the heat to cook more quickly, you want the onions to remain unbrowned.
Once the onions are translucent, add the flour to the sauce pan and cook for 3-5 mins. Stir with a whisk constantly. This step is crucial to get the earthy taste of flour to come through and not be pasty tasting when finished.
Once flour is cooked, slowly add milk to flour mixture, whisking rapidly. It is better to incorporate small amounts of the milk while whisking to avoid lumps. If you pour all the milk in at once your sauce may be lumpy.
Once all the milk is added continue to stir until sauce begins to thicken (8-10 minutes.)
When the sauce can coat the back of a spoon without running it is ready. (Imagine a slightly thicker pancake batter.)
Once sauce reaches the spoon test thickness, add in salt, pepper and 1 1/2 cup white cheddar cheese. Once cheese is melted completely, remove from heat.
Pour Cheese mixture over potatoes and ham mixture and stir to distribute all evenly.
Place combined mixture in baking dish. (9X13 works well, but any will do.)
Sprinkle yellow cheddar cheese over the top.
Bake, uncovered at 350º on the middle rack in the oven for about 30 minutes, or until the cheese is melted and the sides are bubbly.
Once done, let rest for 15 mins then sprinkle fresh parsley on top and serve.
This will make 8 full sized portions or 10-14 portions for a light luncheon with a salad.
Notes
This dish freezes really well. You can double the recipe and after baking divide it into smaller portions for the freezer.
If you have some picky eaters, the dish is fine without onions.
Any semi-soft cheese will do. If you prefer a gouda, use that. I've also mixed both cheddar and a goat cheese for a slightly tangy taste.
NOTE 1. Grate your own cheese instead of buying preshredded cheese. Pre shredded cheese usually has an additive to prevent clumping that doesnt allow the cheese to melt properly.
---
All recipe calorie information was calculated on what I purchased to make this recipe in My Fitness Pal. When you make the recipe, the calorie content could vary depending on what specific ingredients/brands you actually use. Please take that into consideration if you are following a strict diet.
Nutrition Information:
Yield:
8
Serving Size:
8 Servings
Amount Per Serving:
Calories:

354
Carbohydrates:

26g
Fiber:

2g
Sugar:

7g
Protein:

9g