Flamin Hot Cheetos Chicken is such a fun appetizer for game day! Every time I make this recipe it's the talk of the party! So crispy, full of flavor and people licking their fingers to get every last delicious bite of the Cheetos dust! It can be our secret we made it in the air fryer so its a healthier option!
With the Superbowl coming up I've been working on healthy air fryer recipes that are both filling and taste great. This Cheetos chicken recipe delivers in all the good ways… full of flavor, juicy chicken with a crispy outside and a great conversation piece!
This air fryer chicken is perfect for entertaining for parties because you can make them fresh as your guests want more of them. You can even make them ahead of time and just warm them up as you need them!
My favorite 10-year-old was schooling me on how great Flaming Hot Cheetos were and how everyone always knew she had been eating them with the bright red fingers leftover from the Cheetos dust.
I was also told KFC had a Cheetos chicken sandwich that she had always wanted to try. It sent me on a mission to make a Cheeto coated chicken in the air fryer because well, how delicious does that sound? A crunchy chicken tender, nugget or even chicken wings slathered in a crunchy bright red coating made of flaming hot Cheetos!
And to have it be a little healthier — that's a win in my book~~
---
Cheetos dust has a name!
By the way, Cheetos has recently given a real name to the Cheetos dust and they have called it Cheetle. The rumors are they are going to start selling it, although it's super easy to ground up in this recipe to make your own!
The Trick to Successful Cheeto Coating
The trick to getting super crunchy coating with the flaming hot Cheetos is to not over grind it. Through dozens of times making this the less it was ground up the better.
Over-processing gives a dust that although it tastes great, it doesn't get very crispy.
While the spicy hot flavor is still delicious no matter how fine the powder is to get it super crunchy you want to leave some bigger pieces in the cheetle.
Since the goal is to have a fried like crunch I tried doing less and less processing until getting just the right crunch after baking.
Using a food processor worked the easiest but you must pulse it. To pulse it you will turn it on for 1-2 seconds then turn it off. Then repeat until you have some dust and some still bigger crunchier pieces.
---
How to Make Cheetos Chicken
I like using a skinless chicken breast, or chicken tenders. The best way to get even cooking is to have the chicken cut to the same thickness and similar size.
Making a lemon, olive oil and herb mixture to put on the chicken before the Cheetos makes it so the crumbs stick better. (No one wants just plain chicken with all the crispy coating lying next to the chicken.
Creating a dipping station in the order you are coating them with the air fryer basket at the end makes for easy assembly. Chicken, liquid mixture, crumb coating then into the basket.
The crumb also helps keep the chicken moist during cooking!
Pulse the Cheetos so they are mealy, see the photo above.
I like to spray the basket so the hot Cheeto powder doesn't stick when the chicken is ready to be taken out.
There is no need to flip the chicken if you are cooking on the grate or basket— but if you are cooking on the bottom of the air fryer and the grate you might need to flip them so both sides are nice and crispy.
In the recipe card below I share how long to cook them as a suggestion but ultimately you want to use a thermometer to test the doneness.
Chicken is safe to eat at 165°
Common Questions Asked about Hot Cheetos Chicken
We prefer regular Cheetos can I use them in place of the flaming hot Cheetos? Yes! Use regular Cheetos as a one for one swap with no issues whatsoever. This is a great option for people who don't like spicy foods!
Can I use cheese puffs to coat air fried chicken? Cheese puffs turn to complete dust even when pulsing so while you can use them for the flavor, they will not be very crunchy and I don't recommend them as a substitute.
Can I make this recipe with chicken wings? This coating will work great on chicken wings. Dip the wings in the wet mixture, then dip into Cheeto dust and cook in the air fryer. The cooking time will be longer so you will want to brine the chicken for about a half an hour before dipping the wings. Cook for about 15-18 minutes at 390°
What can I serve these spicy hot wings with? I like a nice cool dressing like homemade ranch or blue cheese dressing to help tame the heat a little bit!
Can I reheat these chicken tenders? You can reheat them easily. Preheat the air fryer to 370° for 5 minutes then reheat them for about 5 minutes to warm throughout.
I don't have an air fryer — what are the baking instructions? Follow the recipe up until cooking. Preheat the oven to 475° and place the coated chicken on a cookie sheet that has been presprayed with oil. Cook for 15 minutes until done.
Looking for more Easy Air Fryer Recipes?
Other Recipes you might enjoy for Game Day Entertaining!
Hashtag any recipes you make from West Via Midwest #westviamidwestrecipes or tag me @michele_westviamidwest on Instagram to be featured on our stories!

Yield: 6 appetizer servings
How To Make Cheetos Chicken (AIr Fryer Recipe)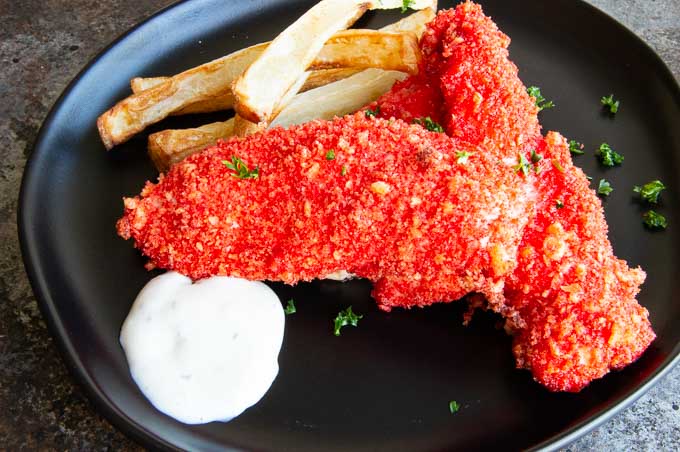 Simple, flavorful cheetos chicken made with flaming hot cheetos for easy appetizers for entertaining. The cheeto dust makes for the best chicken, made in the air fryer (or baked) for a healther option!
Ingredients
4 ounces Cheetos
1 pound Skinless, boneless Chicken Breast
1 tablespoon Olive oil
1 tablespoon lemon juice or
1/2 teaspoon oregano (optional)
Instructions
Cut the chicken breasts into strips making sure they are similar in thickness and size for even cooking (see note 1)
Into a food processor add 1/2 the bag of the flaming hot Cheetos. Close lid and pulse in 2-second increments until mealy. There will be some dust and some larger pieces. (see note 2)
Mix olive oil, lemon juice and oregano and blend well.
Dip chicken in olive oil mixture then coat all sides of chicken with Cheetos coating.
Place on a basket from an air fryer that has been sprayed with oil to prevent sticking.
Once the basket is full, place other tenders on a plate for a second round of cooking.
Preheat Air Fryer to 390°-- for 5 minutes.
Cook for 6-8 minutes until chicken is 165° or when you cut into one the chicken is solid white and no pink remains
Cook in batches until all chicken is cooked.
See notes for baking instructions.
Serve with dipping sauce immediately.
Notes
1. You can save time by using chicken tenders if you wish. They are usually thinner so will cook a little faster. Begin checking them at 5 minutes to see if they are done.
2. Do not let the food processor run for longer than 2-3 seconds at a time or the Cheetos will turn to dust. The chicken with taste great, but it won't be as crispy.
3. If you wish to bake them in the oven instead you will preheat the oven to 475° and spray a cookie sheet pan with olive oil lightly. Place the coated chicken pieces on the cookie sheet and bake for 15 minutes until 165° or the meat is solid white with no pink when you cut into it.
Recommended Products
As an Amazon Associate and member of other affiliate programs, I earn from qualifying purchases at no additional cost to you.
Nutrition Information:
Yield:
6 appetizer servings
Serving Size:
1
Amount Per Serving:
Calories:

251
Total Fat:

12g
Saturated Fat:

2g
Trans Fat:

0g
Unsaturated Fat:

9g
Cholesterol:

66mg
Sodium:

235mg
Carbohydrates:

10g
Fiber:

0g
Sugar:

1g
Protein:

25g
This recipe was calculated using the exact brands and measurements I used to make this recipe. If you are following a strict diet please note changing anything will cause the nutritional info to change. Please calculate your own nutritional information if you want it exact to what you make and use my calculations as a guide only.