Air fryer pork schnitzel is crazy delicious! It can be our secret that it's a healthy alternative to deep-frying. This juicy tender boneless pork chop is coated in a crispy panko crust accented with bavarian seasonings that will become an entertaining favorite for a casual dinner!
A simple weeknight dinner you can pair with a simple salad and some honey butter corn and not have to do much at all to get it on the table!
Healthy Pork Schnitzel
One thing about pork schnitzel I can definitely say. Let's be glad it isn't called Chicken Fried Pork Steak. That wouldn't sound half as appetizing and fun as pork schnitzel.
This healthy pork schnitzel is a great meal to have if you are celebrating Oktoberfest!
Just because something is fried with a crispy crust doesn't mean you have to call it "chicken fried". For that matter, just because something is fried, doesn't mean you have to use a ton of hot oil either.
You can make excellent crunchy crusted, golden brown breaded pork chops in an air fryer!
I used my recipe for Panko Baked Chicken but did it in the air fryer the other day and knew right then and there I would be trying Pork Schnitzel the same way because I knew it would be amazing!
Air fryer pork schnitzel is crazy delicious! The classic flavors of Bavaria give some oompahpah! The waltz of rosemary, garlic, thyme, bay leaf, and sage dance a polka with the meat.
What to use for Bavarian Spices
Rosemary
Garlic
Thyme
Bay Leaf
Sage
This air fryer pork recipe brings Bavarian spices to season a breaded pork cutlet. You brown it up and get a nice crispy crust.
Fortunately, you can save money on a trip to Germany but still enjoy this classic Bavarian soul food. (Although if you have a chance to go to Germany you have to go for Oktoberfest!)

What is schnitzel?
First, just to clarify, schnitzel actually refers to a cooking method. Schnitzel refers to meat that is pounded and tenderized, then typically breaded and fried. Probably the most well-known version of schnitzel is "Wienerschnitzel".

In Germany though "schnitzel" just refers to any meat that has been pounded thin. Although often breaded and fried, it isn't a requirement in certain German schnitzels.

Wienerschnitzel is essentially the calling card dish of Austria and it features veal as the meat. Not going to lie, Wienerschnitzel is amazing. Veal is great no doubt but pork schnitzel is every bit as delish at a fraction of the price.

Indeed, schnitzel goes by many names in countries around the world. They all have a spin on it. If you ever had tonkatsu in a Japanese restaurant, then you won't be the only one thinking you were served schnitzel.

Actually, there are of course slight differences, besides just the catchy names. Tonkatsu is a breaded pork cutlet but not necessarily pounded out into a thin cutlet. But you get the point…
Another variation is Chicken Parmesan– crispy Italian seasoned panko coats chicken then it's topped with melted cheese and tomato sauce.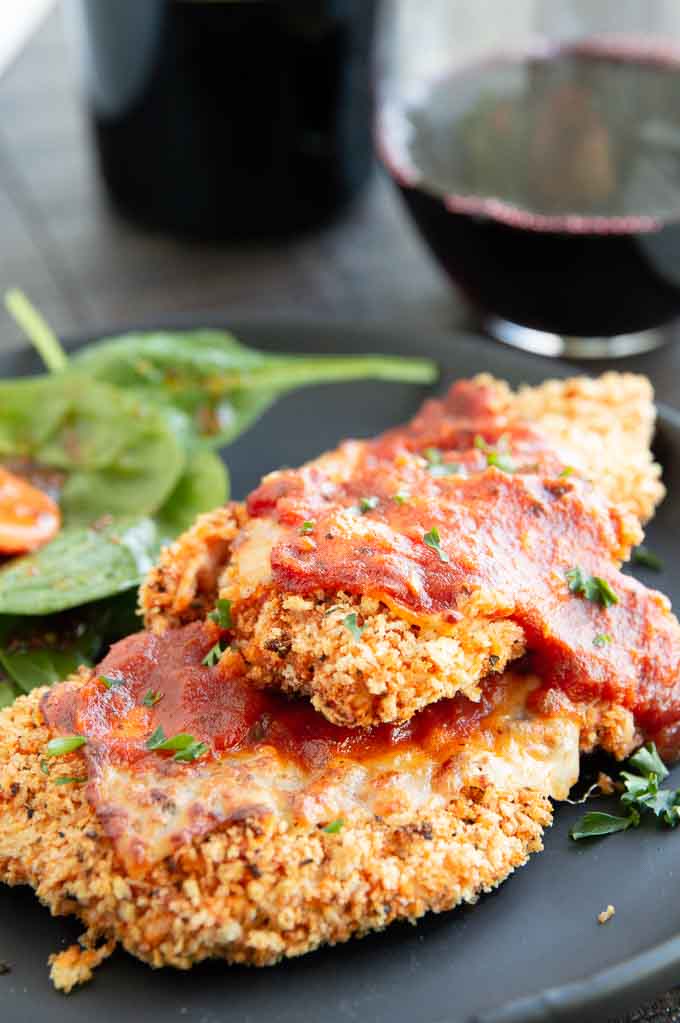 How to Make Schnitzel
Create your dipping station with a couple wide shallow bowls. Seasoned flour in one, then beaten eggs in another, and finally panko with bavarian spices in the third.
Spray the basket with an oil spray to prevent sticking.
Spray the panko lightly with oil to give an added golden color boost. The photo below shows the difference of the breaded boneless pork chops being sprayed (right) and not sprayed with oil (left.)
PRO TIP: Spray lightly with oil before cooking to give added crunch and golden brown color.
What temperature do you need to cook pork for safe consumption?
The USDA has revised the recommended internal temperature minimum guideline to 145°. Use a thermometer to make sure they are cooked to a safe temperature.
Don't have a thermometer, you can also a knife and cut into one to make sure it is done. I make sure it is opaque (white) and that the juices run clear.
Handy tips for getting extra crispy schnitzel in an air fryer?
I have a few tips for getting your pork schnitzel just right. You want a golden brown extra crispy crust on the outside and nice tender meat within.
By pounding the meat into thin cutlets, the meat does get tenderized. However, you want to make sure not to dry it out. High heat gives you a nice crisp exterior. The meat cooks quickly too.
Spraying lightly with a burst of oil not only gives the pork a beautiful golden color but also gives it a nice extra crunchy crust.

Don't let it overcook! The times given are what works in my Phillips Air Fryer, but all air fryers are different. Use a thermometer to check the temp.
I don't have an air fryer what are my options for making schnitzel?
An air fryer pork schnitzel does do a fine job, but don't feel obligated. If you don't have an air fryer, then you can also bake it in the oven or pan fry it.

Baked Breaded Boneless Pork Chops
For baking, use a high heat of 425-450 degrees. Make sure to flip it about halfway through so you don't have a crispy side and a mushy side. Or place the chops on a cooling rack atop a baking sheet so the heat can get to both sides.

Pan-Fried Pork Cutlets
If you go with pan-frying, then just use enough oil to coat the bottom of your pan. Again, high heat is your friend.

Common Air Fry Pork Schnitzel Questions
Can you make schnitzel with chicken?
Schnitzel can be made with chicken, veal, beef, turkey, pork and venison. The trick to successful schnitzel is to get it to cook evenly. Making sure each cut of meat is the same thickness will help with that. Your cooking times may differ a little bit using a different meat.

What wine can I serve with schnitzel?
I recommend a Bavarian Kabinett. Light and almost effervescent, it has a crisp, clean, dryness that goes great with pork and poultry.

I don't want to use bread crumbs because of my diet, any suggestions?
Use ground up pork rinds. They work great and add some flavor too.

What sauce typically goes with pork schnitzel?
Mushroom gravy works perfectly! You can do it the quick and easy way by using a can of mushroom soup, or make your own from scratch.

What to serve crispy pork chops with?
Spaetzel (coming soon)
Boiled Potatoes with butter and parsley
More Air Fryer Recipes you might enjoy!
Check out some of my other air fryer recipes – cut out the oil, but not the flavor!
FREE TIPS FOR ENTERTAINING WITH EASE AND FUN DELICIOUS RECIPES WHEN YOU SIGN UP FOR THE MAILING LIST BELOW THE RECIPE!
Yield: 4
AIr Fryer Pork Schnitzel
Air fryer pork schnitzel is crazy delicious! It can be our secret that it's a healthy alternative to deep-frying. This juicy tender boneless pork chop is coated in a crispy panko crust accented with bavarian seasonings that will become a entertaining favorite for a casual dinner!
Ingredients
4 boneless pork chops, cut or pounded to 1/3" thickness
1/4 teaspoon thyme
1/8 teaspoon garlic salt
1/4 teaspoon old bay seasoning
1/4 teaspoon dried sage
1/4 teaspoon minced rosemary
1 large egg
1/2 cup flour
salt and pepper to taste
2/3 cups Panko
Instructions
Rinse and pat dry the pork chops
Turn on the air fryer to 390°
Create a dipping station. In one bowl mix panko, spices and blend well. Add a small amount of salt and pepper to taste. Place egg and flour in two separate bowls.
Dip chop in flour to coat. Then into egg wash. Then dredge all sides of the pork into the panko mixture. Finish all pork chops and coat all surfaces.
Spray the basket from the air fryer with olive oil spray then place into the air fryer basket.
My air fryer will hold 3-4 pork chops. Place them into the basket and cook for 12-14 minutes opening at 8 minutes, spraying with a light burst of oil to help get a golden brown color. All air fryers are slightly different check temperature to make sure it is 145° or cut into them and check to make sure the pork is opaque.
Cook in batches if you have more than will fit into your air fryer. Place cooked ones onto a plate and cover to keep warm until the rest are completed.
Serve immediately.
Recommended Products
As an Amazon Associate and member of other affiliate programs, I earn from qualifying purchases at no additional cost to you.
Nutrition Information:
Yield:
4
Serving Size:
1
Amount Per Serving:
Calories:

461
Total Fat:

21g
Saturated Fat:

7g
Trans Fat:

0g
Unsaturated Fat:

12g
Cholesterol:

149mg
Sodium:

428mg
Carbohydrates:

25g
Fiber:

1g
Sugar:

1g
Protein:

42g
This recipe was calculated using the exact brands and measurements I used to make this recipe. If you are following a strict diet please note changing anything will cause the nutritional info to change. Please calculate your own nutritional information if you want it exact to what you make and use my calculations as a guide only.