Braised Boneless Short Ribs: fork-tender boneless short ribs in a smokey, coffee and wine-infused gravy. The rich sauce you'll want to sop every last ounce of after devouring the fall apart mouth tender beef ribs. Complete comfort food, ideal for family dinner but fancy enough you could serve this for a special occasion with a nice bottle of wine.
This recipe for Boneless Beef Short Ribs will make you shriek with delight. The best part of this easy short rib recipe is how little work they require but still have amazing flavor and tenderness!
Seriously, when you take a bite of these braised boneless short ribs you will be amazed how they just melt in your mouth. The flavor is rich and velvety, just what you need on a busy day to give you that comfort food bliss.
Boneless Beef Short Ribs:
Short ribs usually come in short pieces with bone-in or longer strips of meat without the bone. If you purchase the long boneless ribs, you can cut them to smaller pieces when cooking them easily.
I prefer the boneless ribs because when you are cooking them there is a lot more fat that renders if you cook them with the bone in them. A trick to removing the fat is to cook them a day ahead of time and then refrigerate the gravy/sauce overnight. You can then use a spoon to remove the excess fat that will rise to the top and be easily seen to remove.
Are Beef short ribs the same as Beef Ribs
Beef ribs are cut from the rib section, but short ribs are cut from the plate section.
There are two versions of short ribs if you get them with the bone in. Their cooking method is different, the short ribs are similar to chuck roast in that you want to braise them on medium heat for a long time to break down the fibers so they are very tender.
English Cut
English cut short ribs are cut parallel to the bone.
Flanken Cut
Flanken short ribs are cut across the bone with several bones in each piece
How Many Ribs Per Person
Figure .75 – 1 pound per person if you use boneless ribs and 1.5 pounds per person if you buy bone-in ribs. The reduce a lot during the braising.
Ingredients to make Short Ribs
garlic
fresh basil leaves – fresh herbs imparts more flavor
Olive Oil
Boneless Beef Short Ribs – Boneless ribs cook up less fatty, but bone in will work too. (There is an easy way to remove the excess oil)
Salt and Pepper
Flour – to dredge the beef ribs in to give a more concentrated deep crust and flavor in the braise
Paprika – mild seasoning, can use more of this in place of cayenne if you prefer more mild
Cayenne Pepper – gives a little heat, not in your face at all
Onion – cooked in the braise so they are sweet and very tender
baby carrots – Baby carrots don't require peeling so they save tons of time!
Jalapenos
tomatoes
Chicken Broth – Beef broth will work, but thats ususally something I have to buy and chicken broth is always in the pantry
Strong Coffee – adds a smoky deep flavor to your dinner
Red Wine – Cabernet or Pinot Noir work well since they are full bodied
Cumin
Bay Leaves
Red Wine Vinegar
How to Prepare Slow Braised Short Ribs
To give the ribs additional flavor, you'll marinate them for several hours or overnight in garlic, olive oil and the chopped basil. This gives the time it needs to penetrate beyond the exterior layer. Easy to do in a large zip lock back that you can just toss once you are ready to beging the cooking process.
To develop a full flavor, you dip the ribs in flour and brown them. Then heat the oil in a cast iron pan or dutch oven you can really get a good sear on the meat.
You might need to cook in batches, putting them too close together will steam the meat and you'll get a grey ash color instead of caramelized brown edge. Place them on a side plate until ready to use, be sure to keep the accumulated juices for added flavor.
Be sure and scrape up the browned bits to allow to incorporate the deep flavor into your cooking liquid.
You'll want to have the pan on medium high heat / high heat then brown on all sides in a little oil. The biggest tip is to not to keep seeing if the meat is browned. Let it sit for 2-3 minutes – then flip it, moving it around too often the flour wont stay on and will be a light color.
Once that is done, caramelize the onions, garlic and carrots so they are ready to release all of the flavor into the braising liquid.
Finish by continuing to layer the flavor by building it with a full bodied dry red wine, chicken stock, tomatoes, spices and lastly the smoky goodness of coffee (adding coffee to this recipe has some people refer to the sauce as a red-eye gravy.)
Once all the flavors are in the pot you braise on low for a couple of hours. By braising the meat you break down the tough cut of short ribs to make a fork-tender bite of meat.
TIP FOR BRAISING: The liquid should softly bubble up, not a rolling boil, that will be too high. Low to medium low works best so the meat is cooking nice and slow.
What to serve one pan Short Ribs with
Mashed Potatoes
Creamy Polenta
Buttered Noodles
Atop Roasted Vegetables
Can
More Comfort Food Recipes you may enjoy!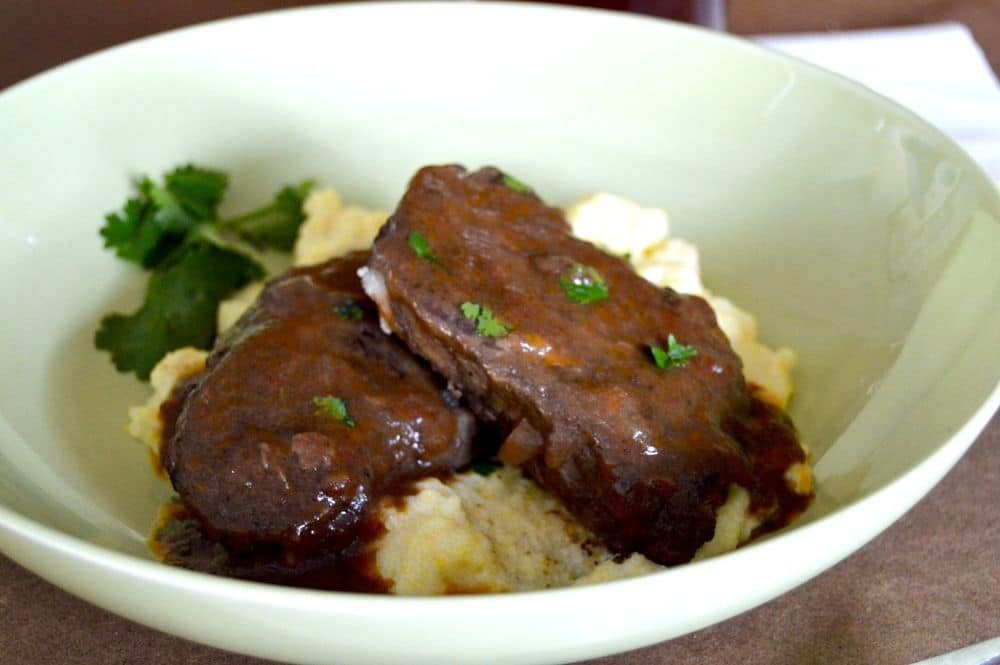 Yield: 6
Braised Red Eye Short Ribs
Braised Red Eye Short Ribs, when you are looking for that perfect meal that is filling, warm and easy to make for dinner, but also doesn't take much prep or a lot of effort.
Prep Time
2 hours
20 minutes
Cook Time
4 hours
20 minutes
Total Time
6 hours
40 minutes
Ingredients
MARINADE
15 cloves garlic, peeled finely minced
1 cup basil leaves, chopped roughly
4 Pounds Boneless Beef Short Ribs,
SHORT RIBS WITH GRAVY
Salt and Pepper
2 Cups Flour
1 Teaspoon Cayenne Pepper
4 Tablespoons Olive Oil
1 Onion, peeled and diced
1 pound baby carrots , cut in half lengthwise
2 Jalapenos, seeds removed and minced (optional)
2 whole large tomatoes
4 cups Chicken Broth
1/2 cup Strong Coffee
3/4 cup Red Wine
1 Tablespoon Cumin
3 Bay Leaves
2 Tablespoons Red Wine Vinegar
Instructions
Place garlic, basil, and olive oil in a zip lock bag.
Place short ribs in the bag and allow to marinate at room temperature for 2 hours or in the refrigerator overnight.
Once marinating is complete, remove ribs from the bag and season with salt and pepper very generously. You can leave the basil and garlic to further flavor the gravy.
Cut the boneless ribs of long into large chunks if you wish. I usually do to speed up the cooking time.
In a small bowl, place flour, cayenne and paprika. Stir flour mixture and mix well.
In the bottom of a dutch oven pour olive oil and heat to medium high.
Dredge ribs in flour mixture and brown meat on all sides.
(Searing Ribs in small batches, placing on a side plate as each are browned and crisp on all sides.
Once all ribs are complete, add onions to the pot and allow to caramelize. (About 5 mins.)
You may need to add a little more olive oil if the bottom of the pan is too dry.
Once the onions are caramelized, add the tomatoes, carrots and Jalapeños and stir until dry.
Add Chicken Broth, coffee, wine, cumin and Bay Leaves.
Stir until completely combined.
Add ribs back to pot and bring to a low bubble simmer.
Cover and simmer until tender. (about 2 hours)
Once Ribs are fork tender, remove them from the pan to a side plate. Remove the bay leaves and throw them away.
Add vinegar, cook while stirring constantly for 5 minutes.
You can puree the sauce if you'l like but it also works well just as it is.
Season to taste with Salt and Pepper.
Place ribs back in sauce to rewarm before serving.
Serve over rice, polenta, buttered noodles or alone.
Nutrition Information:
Yield:
8
Serving Size:
8 Servings
Amount Per Serving:
Calories:

942
Total Fat:

59g
Saturated Fat:

24g
Trans Fat:

3g
Unsaturated Fat:

34g
Cholesterol:

229mg
Sodium:

710mg
Carbohydrates:

36g
Fiber:

4g
Sugar:

6g
Protein:

64g
This recipe was calculated using the exact brands and measurements I used to make this recipe. If you are following a strict diet please note changing anything will cause the nutritional info to change. Please calculate your own nutritional information if you want it exact to what you make and use my calculations as a guide only.
SaveSave
Save