Braised Boneless Short Ribs: fork-tender boneless short ribs in a smokey, coffee and wine-infused sauce. Complete comfort food that is ideal for entertaining.
This recipe for Braised Red Eye Short Ribs will make you shriek with delight. It's all of those things and so very delicious… a win-win right? With all of the things happening at the holidays keeping you crazy busy, who has time to spend a lot of time cooking all day.
This meal is perfect when you have a zillion things going on. It's kind of a set it and forget it kind of recipe. I mean, there are a few things to do in prep but then you put it in a dutch oven and let it braise until deliciousness ensues. There is also a time-saving surprise with this recipe, which I'll share below.
Short Ribs are an inexpensive cut of meat, which translates to being easy on the budget. I found these short ribs at Costco. My Costco sells them boneless, but they would work just as well with bones. I know Costco sells bigger portions but that secret I mentioned earlier will allow you to use the entire portion so there is no waste. (Of course, you don't have to get them at Costco, but if you are buying them at another grocery store be sure and buy the larger portion to be able to do the secret part listed below.)
To develop a full flavor, you dip the ribs in flour and brown them. Once that is done, caramelize the onions, garlic and carrots so they are ready to release all of the flavor into the braising liquid.
Finish by continuing to layer the flavor by building it with wine, chicken stock, tomatoes, spices and lastly the smoky goodness of coffee (adding coffee to this recipe has some people refer to the sauce as a red-eye gravy.)
Once all the flavors are in the pot you braise it for a couple of hours. By braising the meat you break down the tough cut of short ribs to make a fork-tender bite of meat.
Seriously, when you take a bite of these Braised boneless short ribs you will be amazed how they just melt in your mouth. The flavor is rich and velvety, just what you need on a busy day to give you that comfort food bliss.
And the secret surprise I mentioned earlier in this recipe? The Braised Boneless Short Ribs in this recipe are also the main attraction for a meal the next day too, but a completely different flavor profile! (Two for one cooking? Yes please!!) Simple Short Rib tacos with a fresh tomatillo salsa: Check that recipe out here!
The Braised Boneless Short Ribs with red-eye gravy can be served over a creamy polenta or buttered noodles. But they also work great more traditionally with just the gravy alone.
This recipe is the definition of comfort food …. Good home-cooked food with simple ingredients. Another recipe you might like along these lines is my ham and potato supreme, be sure and check that one out as well!
Another recipes you might like to have during the busy holidays are these Crockpot Salisbury steak. These recipes are great when you have a lot of people home for the holidays and you would rather spend time with them than hours in the kitchen!
More Comfort Food Recipes you may enjoy!
Enjoy ~m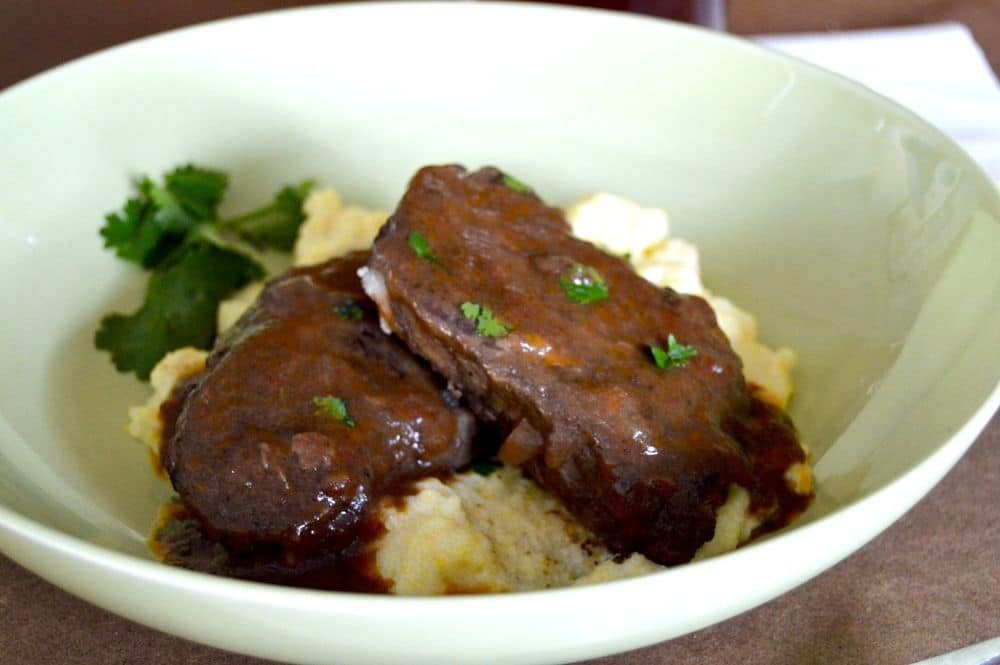 Yield: 8
Braised Red Eye Short Ribs
Braised Red Eye Short Ribs, when you are looking for that perfect meal that is filling, warm and easy to make for dinner, but also doesn't take much prep or a lot of effort. This recipe for Braised Red Eye Short Ribs will make you shriek with delight. It's all of those things and so very delicious… a win-win right? There's also a secret surprise with this recipe…..… I'll tell you what that is at the end of this post 😉
Prep Time
2 hours
20 minutes
Cook Time
4 hours
20 minutes
Total Time
6 hours
40 minutes
Ingredients
MARINADE
15 cloves garlic, peeled finely minced
1 cup basil leaves
1/4 cup Olive Oil
4 lbs Beef Short Ribs, 2 more pounds if doing second day recipe for Short Rib Tacos
SHORT RIBS WITH GRAVY
Marinated Ribs
Salt and Pepper
2 Cups Flour
1 Teaspoon Cayenne Pepper
4 Tablespoons Olive Oil
1 Onion, peeled and diced
1 pound baby carrots , cut in half lengthwise
2 Jalapenos, seeds removed and minced (optional)
2 whole large tomatoes
4 cups Chicken Broth
1/2 cup Strong Coffee
3/4 cup Red Wine
1 Tablespoon Cumin
3 Bay Leaves
2 Tablespoons Red Wine Vinegar
Instructions
Place garlic, basil, and olive oil in a zip lock bag.
Place short ribs in the bag and allow to marinate at room temperature for 2 hours or in the refrigerator overnight.
Once marinating is complete, remove ribs from the bag and season with salt and pepper very generously.
In a small bowl, place flour, cayenne and paprika. Stir flour mixture and mix well.
In the bottom of a dutch oven pour olive oil and heat to medium high.
Dredge ribs in flour mixture and brown meat on all sides.
(Searing Ribs in small batches, placing on a side plate as each are browned and crisp on all sides.
Once all ribs are complete, add onions to the pot and allow to caramelize. (About 5 mins.)
You may need to add a little more olive oil if the bottom of the pan is too dry.
Once the onions are caramelized, add the tomatoes, carrots and Jalapeños and stir until dry.
Add Chicken Broth, coffee, wine, cumin and Bay Leaves.
Stir until completely combined.
Add ribs back to pot and bring to a low bubble simmer.
Cover and simmer until tender. (about 2 hours)
Once Ribs are fork tender, remove them from the pan to a side plate.
Add vinegar, cook while stirring constantly for 5 minutes.
You can puree the sauce if you'l like but it also works well just as it is.
Season to taste with Salt and Pepper.
Place ribs back in sauce to rewarm before serving.
If you are doing some ribs for second meal of tacos, do not place 1/3 of ribs back in the sauce. Set them aside to continue cooling then store in airtight container for tomorrows meal.
Nutrition Information:
Yield:
8
Serving Size:
8 Servings
Amount Per Serving:
Calories:

953
Saturated Fat:

28g
Cholesterol:

125mg
Sodium:

563mg
Carbohydrates:

35g
Fiber:

3g
Sugar:

5g
Protein:

29g
SaveSave
Save
This site uses affiliate links, such as Amazon which pays this site a small commission if you purchase at no additional cost to you. As an Amazon Associate I earn from qualifying purchases. Read full info
here
.