Authentic German red cabbage is a sweet and sour recipe that is often served as a side dish during Oktoberfest. It's easy to make with just a few simple ingredients and is a different side dish for pork chops, chicken, sauerbraten or any of your favorite meat dishes!
With Oktoberfest fast approaching I've been making some traditional German recipes to have ready for the holiday. This is great for a German Side Dish to pair with braised pork, a grilled brat or even as a topping on a burger! Rotkohl, or German Red Cabbage is one of my husband's favorite dishes from his childhood so I knew it would go with the German Sauerbraten we make often.
What is Oktoberfest?
Oktoberfest is a festival that began in Munich Germany originally as a celebration to commemorate the marriage of King Ludwig I to Princess Therese of Saxe-Hildburgausen.
Today the celebration consists of parades, carnivals, beer gardens and lots of polka music playing for dancing and of course lots of delicious German foods!
My recipe for German Sauerbraten goes into all of the details about Oktoberfest if you are interested in reading more on it.
What do they call Red Cabbage in Germany
Red Cabbage in Germany goes by several names. rotkohl, blautkraut or rotkraut. The funny thing is that they are all exactly the same thing.
So what is the difference between them? Or more to the point why do they call them different things? Essentially it depends on where you live as to what you call red cabbage.
Where the Rotkohl, Rotkraut and Blaukraut come from
Red Cabbage Rotkohl is what they call red cabbage in northern Germany.
Rotkraut is what they call German red cabbage in the central and western German areas.
Finally, Blaukraut is from the southern part of Germany.
If you speak German you know that Blau translates to blue.
I couldn't figure out why something would be called blue cabbage when it's either red or purple. I found it interesting when reading about the three different name references on the site
The answer to the question was found on a website Easy German recipes. The cabbage grown in southern Germany is a much darker color because of the minerals in the soil and the cabbage comes out almost blue—- thus the name!
What is in traditional German Red Cabbage
Red Cabbage
Thick Cut Bacon
Onions
Caraway Seeds
Brown Sugar
Apple Cider Vinegar
Whole Grain Mustard
Bay Leaf (optional)
---
FUN FACT: Caraway Seeds are often added to cabbage recipes to counteract the added gas one might get from eating a lot of cabbage.
---
How to cook Red Cabbage
Cut the cabbage in half then remove the white core. Cut the red cabbage to equal thin slices for even cooking. (I usually do about 1/4″ wide.)
Using thick-cut bacon gives a hearty bite when eating. Thinner bacon breaks down too small.
I prefer whole grain mustard for the added texture, but feel free to use whatever mustard you have.
Using a large dutch oven with a lid makes it easy to let it cook covered.
Be sure to stay close and stir occasionally to make sure the liquid doesn't completely evaporate. (Add water or additional chicken broth to keep it from happening.
I prefer sweet onions, but red onions and brown onions will work just as well.
PIN THIS TO YOUR OKTOBERFEST BOARD FOR EASY REFERENCE!
Other Variations on a Red Cabbage Recipe
There are many variations on authentic German Cabbage that you might want to try for Oktoberfest. Here are just a few of them.
Red Cabbage and Apple
Peel a Granny Smith apple and slice into small bites. Add them right after cooking the onion and sauté for 3 minutes before adding in the seasonings. Adding apples adds a nice texture and a tart-sweet bite when you have a forkful.
Juniper Berry Red Cabbage
Add 1 tablespoon of juniper berries and add when you add the onions. Follow the rest of the instructions as listed. Juniper berries add a delicious deep flavor.
Holiday Version: Cranberry Red Cabbage
Add 1/4 cup fresh cranberries when adding in the onions to saute. Cranberries add a sweet juiciness when you bit into them.
I've also added a 1/4 teaspoon of cloves when I add the brown sugar. When the braised red cabbage is cooking, your house will have an extra holiday feeling with the delicious aroma it gives off.
More Oktoberfest Food Recipes you might enjoy!
Oktoberfest Side Dishes
Homemade Spaetzel – coming soon
Oktoberfest Main Dishes
Common Questions on Red Cabbage Recipes
Is braised red cabbage fermented like sauerkraut? Braised red cabbage is not fermented. Fermentation is a several week process where carbs are turned into sugar alcohol or acids. It is a great way to preserve foods and gives a sour zesty taste— but this German side dish is not fermented.
Can I make German cabbage as a main course? If you want a heartier dish I have seen Sausage boiled and sliced into bite-sized pieces and stirred in at the last minute at several restaurants in Munich. It's a hearty, filling delicious dinner.
How long does German Cabbage last? Authentic German Cabbage will last in the fridge for up to five days, but the texture will change a little bit.
We don't use added sugar, can I eliminate the brown sugar in sautéed red cabbage? It will change the flavor as you need something sweet to get the sweet-sour flavor that makes traditional German red cabbage. You could use balsamic vinegar instead of apple cider vinegar to get a little bit sweeter final product. The recipe only uses a few tablespoons and we personally like it more authentically made, but do what you want!
Can I freeze Red Cabbage after its cooked? You can freeze the red cabbage after cooking but when you heat it up it will get a little watery and the texture will not be as crisp. It's a personal taste if you don't mind it softer then freeze it.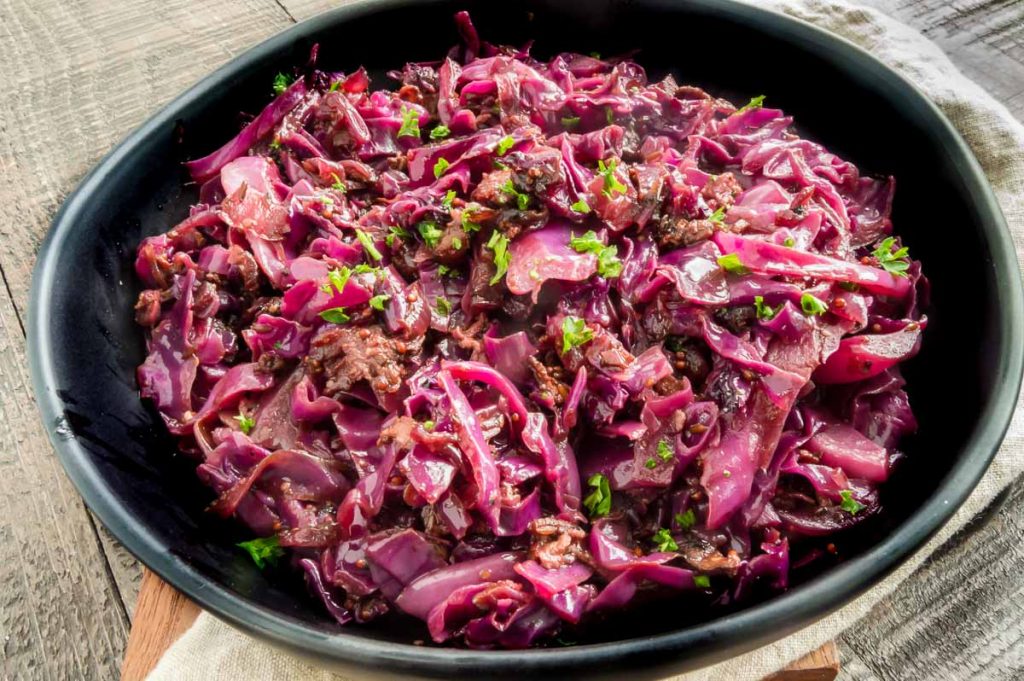 Hashtag any recipes you make from West Via Midwest #westviamidwestrecipes or tag me @michele_westviamidwest on Instagram to be featured on our stories!

Yield: 8 servings
Traditional German Red Cabbage: Oktoberfest Foods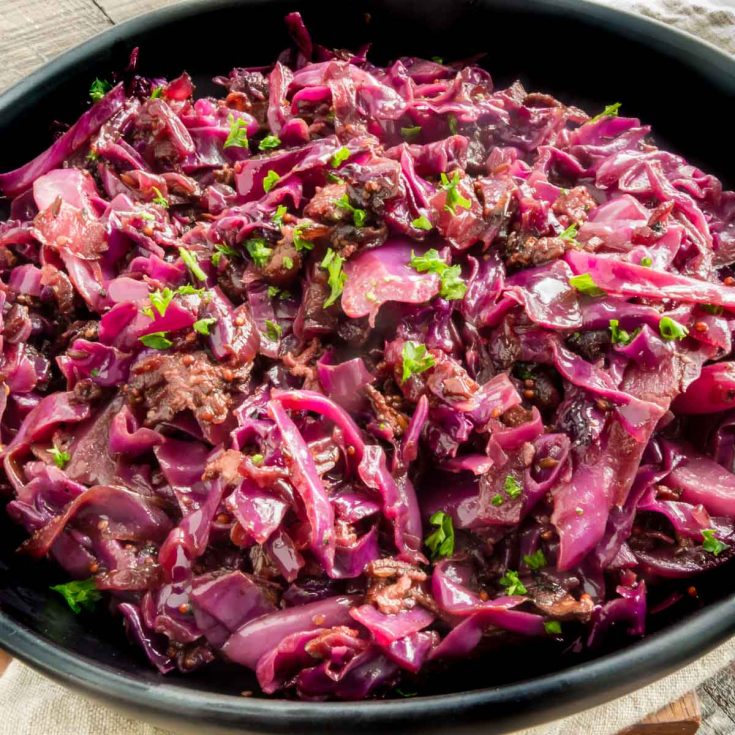 Authentic German red cabbage is a sweet and sour recipe that is often served as a side dish during Oktoberfest. It's easy to make with just a few simple ingredients and is a different side dish for pork chops, chicken sauerbraten or any of your favorite meat dishes!
Total Time
1 hour
15 minutes
Ingredients
1 Medium Head Red Cabbage
8 slices Thick Bacon
1 Small Sweet Onion
2 Tablespoons Brown Sugar
1/3 Cup Apple Cider Vinegar
1 Cup Low Sodium Chicken Broth
Bay Leaf - Optional
Instructions
Cut cabbage in half lengthwise. Cut out the white core by cutting out a V shaped knotch. Slice both pieces in half again. (now you will have 4 pieces) Thinly slice the 4 pieces to 1/4" slices and set aside.
Cut Bacon into small 1/4" pieces, Heat a heavy bottom pan or stock pot (that you have a lid for) to medium heat. Add bacon to the bottom and cook until it has browned and the fat has rendered.
While the bacon is cooking peel the onion. Cut it in half then thinly slice all of it, tossing away the core at the end.
Once the bacon has rendered the fat add the onion to the bacon fat, season with salt and pepper and cook until onion begins to soften about 5 minutes.
Add the sliced cabbage stir to coat in bacon fat and cook until the cabbage begins to wilt (about 4 minutes.)
Stir in the mustard, caraway seeds and sugar.
Deglaze the pan with the apple cider vinegar making sure to try and scrap up any of the browned pieces on the bottom (they are full of flavor.)
Add the chicken broth add a bay leaf (optional) , raise the heat to high to bring the liquid to a simmer (small bubbles, not a rolling boil) Then reduce to medium and cover with a lid letting it continue to cook.
Simmer and stir the cabbage occasionally. You'll braise it for about 40 minutes until the cabbage is soupy and the bacon is tender.
If when cooking you notice that it is drying out add a little water or chicken broth.
Remove the bay leaf once finished, it is not a pleasant texture in the cabbage.
Once finished if you want to thicken it a little (totally optional) add 1 tablespoon cornstarch to 1/4 cup water and stir well. Then add to the liquid and stir until it thickens.
Recommended Products
As an Amazon Associate and member of other affiliate programs, I earn from qualifying purchases at no additional cost to you.
Nutrition Information:
Yield:
8
Serving Size:
1
Amount Per Serving:
Calories:

93
Total Fat:

4g
Saturated Fat:

1g
Trans Fat:

0g
Unsaturated Fat:

3g
Cholesterol:

11mg
Sodium:

276mg
Carbohydrates:

8g
Fiber:

1g
Sugar:

6g
Protein:

5g
This recipe was calculated using the exact brands and measurements I used to make this recipe. If you are following a strict diet please note changing anything will cause the nutritional info to change. Please calculate your own nutritional information if you want it exact to what you make and use my calculations as a guide only.