Served Fresh and warm from the oven with a soft flavorful inside and a slightly crisp bite, these authentic Bavarian Homemade German Pretzels are perfect for when you want something a little more than just chips and dip!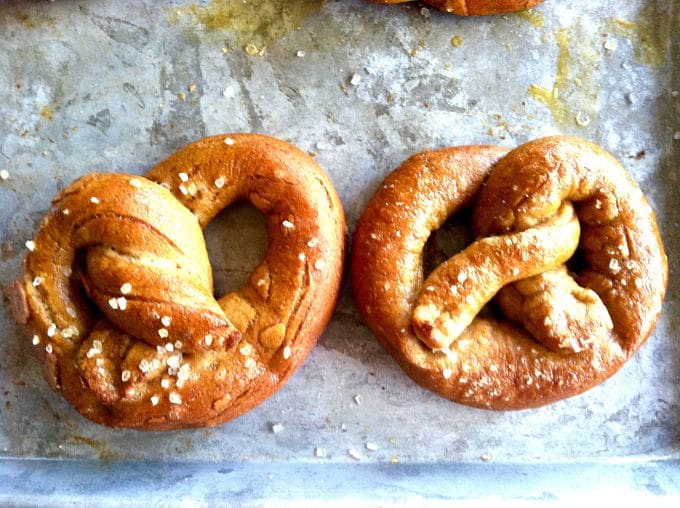 Oktoberfest is just around the corner and today's German Pretzel Recipe is a fun and delicious idea to serve for Oktoberfest Food! They also work as a fun snack for any football watching parties!
I've always loved pretzels. In Germany, some restaurants have a basket of pretzels for you when you sit down. They serve them with an amazing pretzel dipping sauce called beer cheese dip.
The first time we were in Germany, starved after a long fight we found a restaurant right next to our hotel. Being from America we were used to getting bread while you waited for your food. Imagine my delight when we were given fresh hot baked pretzels. I think we each ate 3 before our food came.
The funniest part of this story is that unlike in America where the bread is complimentary, in Germany you are charged by the piece. Did I mention we all had at least 3 of them??
I know we spent more on pretzels than we did on the rest of the meal but it was worth it. It put me on the path to making the perfect pretzel at home.
---
---
WANT TO KNOW MORE ABOUT OKTOBERFEST AND ITS HISTORY ALONG WITH MORE IDEAS FOR AN OKTOBERFEST PARTY? LOOK NO FURTHER…. HEAD OVER HERE —>>>OKTOBERFEST HISTORY AND PARTY FOOD IDEAS!
---
---
History of Pretzels
Interestingly enough pretzels aren't from Germany originally. It's thought that pretzels were invented by an Italian Monk in 610 AD. The story goes that he made them in the shape of crossed arms of praying children as a reward to the children for learning and saying their prayers!
German Pretzels
But say what you want German pretzels are very prominent everywhere in Germany, especially in Bavaria. The "Laufenbrezel" the German word for an authentic German pretzel is commonly found in restaurants like bread baskets upscale restaurants or tortilla chips and salsa are in Mexican restaurants in America.
My favorite place/way to have a pretzel is alongside an ice-cold beer in a frosty mug in bars like they do at the Hofbräuhaus (brewery) in Munich Germany.
A soft pretzel recipe that is crunchy on the outside, moist on the inside. A slight crunch when you bite into them, perfectly seasoned with pretzel salt. You can dip them in mustard, but honestly, they are perfect on their own.
I found that a mix of rye flour with regular flour gave them the nuttier taste that I was looking for and I really like the color they turned out with rye flour. (I have a flour alternative below if you don't have rye flour!)
---
---
How to make the perfect shaped soft pretzels:
After making the dough the trick is to make them in an assembly line doing everything in similar measurements and ways
Roll the pretzels out to about 16″ in length for a long pretzel (complete for all pretzels then move to the next step)
Make a loop, twist then fold that loop back over the tails that you spread wide
adjust to look like a pretzel as the above photo
Press the ends a little so they stay attached after boiling in water.
Common Questions/Tips with this Soft Pretzel Recipe
Can I use a different flour if I don't have rye flour? Yes, you can. Use Bread flour and adjust the quantity to 6 cups of flour in its place.
Are homemade pretzels freezable? Absolutely they are. You'll make them up until the step to boil them before baking. When you are ready to make them, pull them out of the freezer at least an hour before you want to bake them and let them rise and come to room temperature.
---
PRO TIP: To avoid having them stick together when you freeze them, flash freeze them. To flash freeze them, place on a baking sheet and place in freezer for 15-20 minutes. Then slide them into a zip lock bag. This way they won't stick together.
---
Are these hard to make? These are labor-intensive to make and well worth the effort but they aren't hard at all. Don't be intimidated by having to use yeast either, it's really pretty easy to do.
To save yourself half the time, make a double batch and freeze half to have on a day when you don't have a lot of time and you get to rear the rewards of the time it takes!
Don't have time to wait for all of the rising and kneading in the traditional German pretzels? I have you covered! Check out these soft pretzel bites you can make in lest than 30 minutes!
Good Dipping sauces for Soft Pretzels?
If you make this recipe tag it on social media with the #westviamidwest or tag me on IG at @michele_westviamidwest! I'll regram or repost your creations! If you love it please pop back over and leave me a comment/rating it's much appreciated!!
---
---
STAY CONNECTED ON SOCIAL SO YOU DON'T MISS OUT ON THE LATEST RECIPES TO MAKE ENTERTAINING BOTH STRESS-FREE AND DELICIOUS!
---
---
~ Instagram ~Pinterest~ Twitter~Facebook ~
---
---
FREE TIPS FOR ENTERTAINING WITH EASE AND FUN DELICIOUS RECIPES WHEN YOU SIGN UP FOR THE MAILING LIST BELOW THE RECIPE!
MORE OKTOBERFEST RECIPES:
More Game Day Recipes to serve!
Like this recipe? Be sure and pin it so you have it!
Yield: 12
Homemade German Pretzels
Served Fresh and warm from the oven with a soft flavorful inside and a slightly crisp bite, these Homemade German Pretzels are perfect for when you want something a little more than just chips and dip!
Prep Time
5 hours
20 minutes
Total Time
5 hours
44 minutes
Ingredients
Pretzels
1 1/2 cup warm water
2 oz butter
1/4 oz active dry yeast
1 tbs molasses
1 cup rye flour
2 1/2 - 3 1/2 cup all purpose flour
1.5 Tbs salt
1/2 cup baking soda
Pretzel salt/ or flaked salt
Instructions
Place water in large mixing bowl.
Add molasses to water and mix well.
Add yeast to water, stir a little.
Let yeast bloom for 5-10 minutes. (It will start to activate and look like its bubbly)
Add 1 cup rye flour, 2 1/2 cups AP flour, and salt to bowl with yeast mixture.
Mix well.
Turn dough onto floured parchment papered surface. (You don't have to use parchment paper I just find it makes it easier to clean up afterwards.)
Begin to knead dough adding up to the rest of 1 cup flour remaining.
Push dough with the palms of your hand, then fold back over the top.
Kneed for about 12-15 minutes.
The texture of dough when finished is slightly shiny, but not sticky at all. It stretches easily without ripping apart and is soft and supple.
Once your done kneading roll into a ball and set on parchment paper.
Brush all sides of a large mixing bowl with the butter.
Then place dough ball in the mixing bowl and cover with a towel.
Place bowl in warm area. see note**
Let dough rise about 1 1/2 hours until ball has doubled in size.
Once dough has doubled in size, remove from bowl and cut into 12 pieces for large pretzels or 20 for smaller pretzels.
Roll each piece into long strands, about 16 inches long.
Twist into pretzel shape and place onto a parchment lined baking sheet.
Allow to rise for another 15-20 minutes.
The recipe can be made ahead to this point and freeze them for later use if you'd like. (see note**)
Preheat oven to 450 degrees.
Bring a large pot of water to a boil.
A little bit at a time to avoid the water overflowing add the baking soda.
-4 at time, add pretzels to water for 30 secs on each side.
Remove from water and place on baking sheet.
Sprinkle pretzel salt onto pretzels.
Complete 30 sec/side boil of all pretzels and place in 450 degree oven for 15-20 minutes for the large size or 10-15 for the small size.
Best if served while still warm.
Goes well with mustard 😉
Notes
If you are making these on a cool day, go ahead and turn your oven on to 300 while you are mixing and kneading the dough. Then once the dough is ready to rise turn the oven off. You can set the bowl on top of the oven and the warmth with help with the rising.
I usually double this batch and freeze half. To avoid having them stick together, flash freeze them. To flash freeze them, place on a baking sheet and place in freezer for 15-20 minutes. Then slide them into a zip lock bag. This way they won't stick together.
When you are ready to make them, remove them from the freezer and allow them to come to room temperature before starting back where you boil them for the 30 sec/side. They turn out just fine as long as they are allowed to completely defrost.
Nutrition Information:
Yield:
12
Serving Size:
12 Servings
Amount Per Serving:
Calories:

163
Saturated Fat:

2g
Cholesterol:

10mg
Sodium:

2275mg
Carbohydrates:

27g
Fiber:

1g
Sugar:

1g
Protein:

3g
SaveSave