Perfect for Tailgating, these Grilled Sauerkraut Stuffed Brats on a Stick have the Kraut tucked right in! Serve then on the stick for the no-carb eaters at your football game!
Fall is coming…. which in my world means Football! Today I'm sharing a recipe for Grilled Sauerkraut Stuffed Brats which is perfect for my favorite fall activity… Football!
I'm a big college football fan (Go Big Red, yes I'm a Cornhusker fan tried and true!) I love tailgating with anyone who knows how to do it right!
My brother and his wife are really good at it! They have friends who have a motorhome and usually bring that at least once during the season to crank up the tv, the barbecue and a place to party before the big game.
I really like this recipe for Grilled Sauerkraut stuffed brats because I don't miss the bun at all. You can enjoy the brat and have each bite still have the sauerkraut with each mouthful!
It's so easy to do and since you can grill it right at the tailgate there is nothing to do ahead of time except make sure you have all the ingredients. Since there are only 5 things in them, its easy to get that part right!
What is the secret to Moist, juicy Grilled Sauerkraut Stuffed Brats:
My biggest pet peeve with people who grill Brats is when you're served one and it's really dried out. By using the tip I share you will NEVER have this problem.
It's so easy. You continue to cook the brat in a pan after grilling it in the sautéed onions and a bottle of beer. The steam from the beer boiling allows the brat to keep all of the juices inside. (Don't worry, this pan is placed onto the grill so it's all right at the BBQ)
Are you looking for more info on Sauerkraut? This guide on ALL THINGS SAUERKRAUT will answer ALL the questions!
An added bonus: The onions are a great addition to the brat (or any burgers you're grilling at the same time too)
Ready or not! Football season is here! Enjoy!
p.s. If you are looking for a great bite-sized treat to go with these Grilled Sauerkraut Stuffed brats check out my Baked Bean Bacon Cups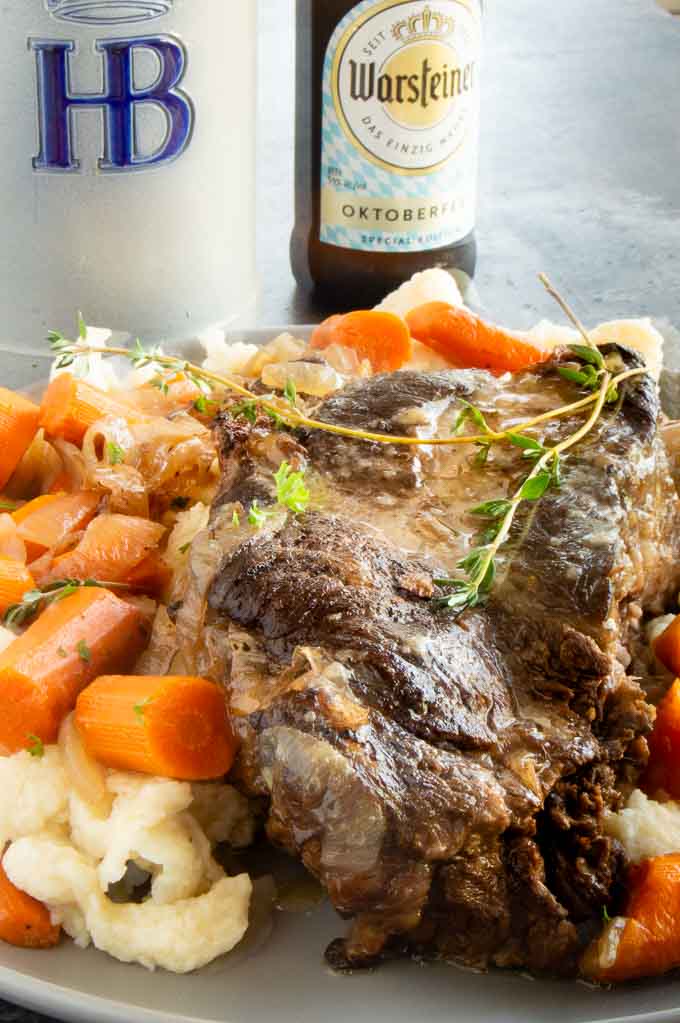 These Brats also go great for an Oktoberfest fest celebration!
Be sure and check out ALL these other great recipes (40 of them!!) for your own Oktoberfest Celebration here!
Check out these other recipes that you can use in your own party with these Oktoberfest Food ideas!
If you make this recipe tag it on social media with the #westviamidwest or tag me on IG at @michele_westviamidwest! I'll regram or repost your creations! If you love it please pop back over and leave me a comment/rating it's much appreciated!!
---
---
STAY CONNECTED ON SOCIAL SO YOU DON'T MISS OUT ON THE LATEST RECIPES TO MAKE ENTERTAINING BOTH STRESS-FREE AND DELICIOUS!
---
---
~ Instagram ~Pinterest~ Twitter~Facebook ~
---
---
FREE TIPS FOR ENTERTAINING WITH EASE AND FUN DELICIOUS RECIPES WHEN YOU SIGN UP FOR THE MAILING LIST BELOW THE RECIPE !
I've joined forces with other bloggers who LOVE football and we will all be sharing delicious recipes to have for your favorite teams tailgating party! Coincidentally there are 64 of us, all pulling for different Pro teams ~~~2 bloggers for each team! (All of the links are listed below the recipe… please click on any of the links to check out their fun ideas for tailgating!)
Yield: 8 servings
Grilled Sauerkraut Stuffed Brats
Perfect for Tailgating, these Grilled Sauerkraut Stuffed Brats on a Stick have the Kraut tucked right in! Serve then on the stick for the no carb eaters at your football game!
Ingredients
8 whole Bratwurst, (uncooked, raw)
1/2 cup Sauerkraut
1/2 small onion, , sliced thin
1 tablespoon Olive oil
1 bottle of beer (I used a lager)
16 wooden skewers
Optional:
Instructions
Turn your grill on and heat to high. (When you place the brats on they should immediately sizzle.
Char all sides, cooking for a total of 8-10 minutes, turning occasionally so that all sides brown.
While brats are cooking, place grill safe pan (I use a skillet type pan) on one side of the grill to get hot.
Toss sliced onions with olive oil and then place in the pan stirring often to heat and soften through.
Once brats are browned, place brats on top of onions in pan, then pour beer over the top. Reduce heat to medium flame.
Continue to cook brats for 15-20 minutes until cooked through out.
Strain any beer (if any at all) and serve onions on the side for anyone who wants them.
Taking 2 skewers per brat, insert skewers up through the bottom. Once all brats are skewered, slice diagonal slices about 1 inch apart down to where skewer is threaded through. (I use 2 skewers because I found eating the brat was easier with the added stability. If your skewers are thicker, you may want to use only one)
Place Sauerkraut in each slice.
Serve with mustard and or ketchup for dipping.
Notes
All recipe calorie information was calculated on what I purchased to make this recipe in My Fitness Pal. When you make the recipe, the calorie content could vary depending on what specific ingredients/brands you actually use. Please take that into consideration if you are following a strict diet.
Nutrition Information:
Yield:
8
Serving Size:
8 servings
Amount Per Serving:
Calories:

305
Carbohydrates:

8g
Fiber:

2g
Sugar:

4g
Protein:

46g
Note: This post is in no way sponsored, endorsed or administered by the National Football League (NFL) or any of its teams. All opinions and views expressed on our blogs are our own, not that of the NFL and/or any of its 32 teams. Any team names, logos or other symbols referenced are properties of their respective organizations. We are just big fans — and we want to share our love for our teams, the game and the food that brings us all together on game day.
Spicy Mexican Cheese Dip by 2 Cookin Mamas
Salsa Verde by A Dish of Daily Life
Skillet Sausage Dip by A Joyfully Mad Kitchen
Grilled Jalapeno Poppers by A Mind Full Mom
Beer & Brats Bake by A Simpler Grace
Black Bottom Maple Pecan Pie Bars by An Oregon Cottage
Crispy Baked Buffalo Wings by And She Cooks
Blackberry BBQ Sticky Wings by Around My Family Table
Cheesy Pull Apart Garlic Bread by Beer Girl Cooks
Roasted Garlic BBQ Chicken Wings Recipe by Bread Booze Bacon
Loaded Sweet Potato Nachos by Bucket List Tummy
Chicken Spinach & Artichoke Dip French Bread by Cake 'n Knife
Cuban Sandwich Quesadillas by Casa de Crews
Grilled Asparagus Spears by Celebrating Family
Sea Bass Skewers + Blackbeard Cocktails by Culinary Adventures with Camilla
Buffalo Chicken Poppers by Dash of Herbs
Crab Pretzels by Mom's Messy Miracles
Hot Bacon Dip by Nik Snacks
Build Your Own Bloody Mary Bar by Off the Eaten Path
Texas Toothpicks with Buttermilk Ranch by See Aimee Cook
Pretzel Turkey Meatballs (GF, DF, SF) by Shaws Simple Swaps
Focaccia Pizza by Simplify, Live, Love
Sweet Potato Skins Stuffed with BBQ Ranch Pulled Pork by Sustaining the Powers
Bacon-Wrapped Cheeseburger Bites by The BakerMama
Buffalo Chicken Pasta Salad by The Creative Bite
German Potato Skins by The Crumby Cupcake
Old Bay Trail Mix by The Culinary Compass
Meat Lover's Pizza Bites by The Life Jolie
Grilled Asian Chicken Wings & Shishito Peppers by The Secret Ingredient Is
Blackened Shrimp Tacos by The Speckled Palate
Sausage Apple and Sage Hand Pies by What A Girl Eats