Mummy Cheese Bread is made with 4 ingredients and requires no artistic talent! Make this Halloween themed food for a festive Halloween Party!
Halloween will be here before you know it and I have the easiest entertaining ideas for you with some simple inspiration for Festive Halloween themed foods that you can make without any special equipment or artistic talent!
Today's recipe for Mummy Cheese bread is not only super yummy with melted cheese over your favorite spaghetti sauce but it looks adorable on your buffet table too!
We're really not into getting all dressed up for Halloween in crazy costumes and everything but we do enjoy having a few festive Halloween food ideas ready for an Adult Halloween Cocktail Party!
Earlier this week I shared how you could make simple olives into bats, pipe the word BOO! into your bean dip or have a spider web in your Spooky 7-Layer Dip here!
I promise all of the Halloween food tricks are easy to do and don't require an art degree or a lot of time to do them! And even better… they taste delicious too!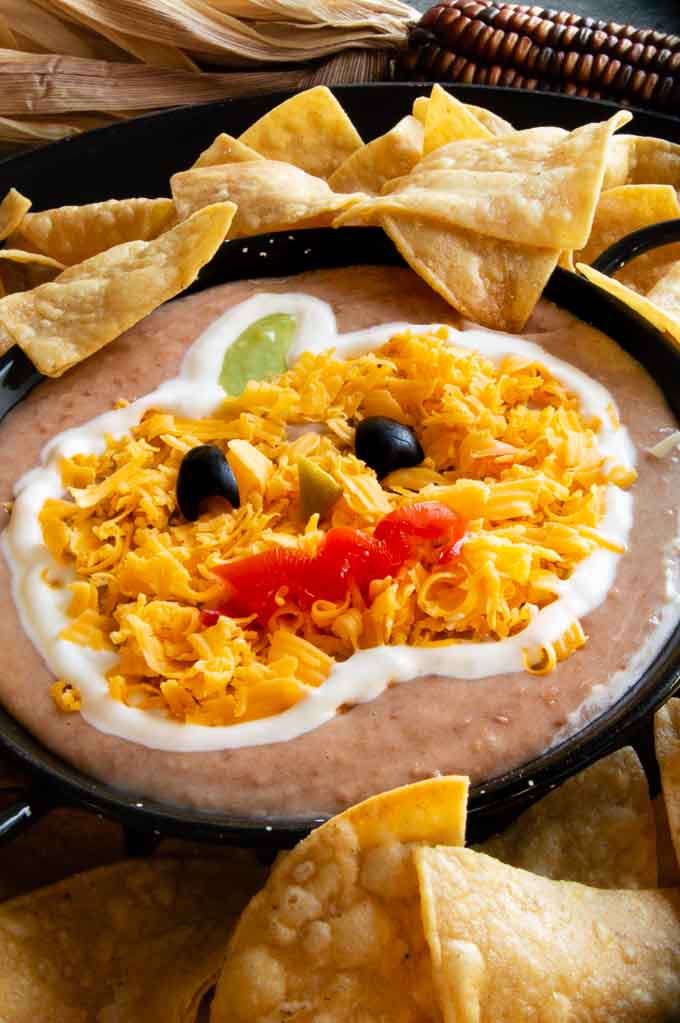 ---
---
Need More Ideas for Halloween Food Ideas? We have lots of fun ideas! Check them all out here!
---
---
Tips for Stress-Free Entertaining!
Keep Things Simple:
You don't need to do 20 different Halloween themed foods you can do 2-3 and just intermingle them with the rest. Today's recipe for mummy cheese bread could be incorporated as an appetizer or as a side dish to go along with Lasagna or pasta.
Serve beer, wine, sodas and one Signature Cocktail!
Make the Signature libation a Festive Halloween Themed Cocktail. For example, this Purple Tears Martini could be renamed the Vampire's Blood Cocktail!! This Bloody Mary could have an eyeball made with a deviled egg as the garnish! Both of these cocktails work great because you can mix it up early in the day then just serve it over ice as you need it!
Keep decorations to a minimum.
Buying festive napkins is an easy way to interject your theme into the party without having a ton of decorations to pull down when the party is over.
Use pumpkins, squash and guards as table decorations. If you don't carve them you can keep them and use them through Halloween. (Winning: buying something you can use a couple of times!)
How to make Mummy Cheese Bread:
Use soft rolls that will bake in the oven and not get too hard.
Place the rolls cut side up on a foil-lined baking sheet.
Use a good quality spaghetti sauce (or make your own homemade marinara sauce) and spread a thin layer over the top.
Cut strips of cheese about 1/8″ thick that will melt really well (pictured here Swiss cheese) and lay them out with plenty of space in between so that when it melts you will still see some of the sauce around it

(SEE PRO TIP BELOW!!)

Cut olives into 1/4″ discs to use for eyes and place at the top
Place cheese and olives on top of the sauce to resemble a mummy.
Bake until cheese is bubbly and hot!
Serving suggestion: Cut into 1″ fingers for easy serving!
---
---
PRO TIP: When laying down the cheese to make it look like gauze wrappings be sure and leave lots of space in between so that when it melts it doesn't become solid. See how the photos above look different than the ones I have below. While the cheese looks great before you bake them on the ones below, after baking you lose the wrapped gauze feeling for the mummy appearance.
---
---
Some helpful information on this festive Halloween food:
Can you use any cheese? Any cheese that will melt well and is easy to cut into strips will work. I used Swiss, but cheddar, mozzarella, or any hard cheese would work. I have also made it with a spicy pepper jack that has a great flecked appearance for a bloody good mummy for Halloween!
Need to serve a lot of people? Get a large French loaf of bread and make about 6 " mummy heads. You'll do the same decorating I show here but you"ll have the eyes about every 6″.
You can prep the mummy bread ahead and just pop new ones into the oven as the first one is running out. This will keep fresh ones out for your company. Nothing beats hot melty cheese!
What works best to cut them evenly? I use a large circular knife or a pizza cutter. Both work very well.
I prefer homemade marinara sauce but if its super crazy use your favorite jarred spaghetti sauce instead!
Looking for more Halloween inspiration?
---
STAY CONNECTED ON SOCIAL SO YOU DON'T MISS OUT ON THE LATEST RECIPES TO MAKE ENTERTAINING BOTH STRESS FREE AND DELICIOUS!
---
---
~ Instagram ~Pinterest~ Twitter~Facebook ~
---
---
FREE TIPS FOR ENTERTAINING WITH EASE AND FUN DELICIOUS RECIPES WHEN YOU SIGN UP FOR THE MAILING LIST BELOW
Yield: 12
Mummy Cheese Bread: Halloween Food Ideas
Mummy Cheese Bread is made with 4 ingredients and requires no artistic talent! Make this halloween themed food for a festive Halloween Party!
Ingredients
6 large ciabatta rolls
12 ounces Swiss cheese
3 pcs green olives, pitted
Instructions
Preheat oven to 350°
Cut cheese into strips that will act as gauze for the face of the mummy. Cut it about 1/8" thick.
Cut the olive into 1/8" discs with the pimento acting as the center of the eye
Cover a baking sheet with foil.
Cut the rolls in half, place face up on the foil lined baking sheet. Spoon a thin layer of sauce across the cut side of the roll.
Place one piece of cheese across the top at a slight diagonal. Then place the eyes on just below that.
Place several more pieces of cheese in cross marks making the cheese look like its been wrapped around the head of a mummy. (See photos in post). Be sure and leave space where the sauce is left without any cheese, so that when it bakes the cheese looks like gauze. (Again, see photos in post)
Repeat doing all 12 rolls.
Bake for about 10-15 minutes until cheese is golden brown and melted. You can serve cut to fingers or whole depending on your preference!
Nutrition Information:
Yield:
12
Serving Size:
12 Servings
Amount Per Serving:
Calories:

199
Saturated Fat:

5g
Cholesterol:

26mg
Sodium:

311mg
Carbohydrates:

18g
Sugar:

3g
Protein:

10g
This site uses affiliate links, such as Amazon which pays this site a small commission if you purchase at no additional cost to you. As an Amazon Associate I earn from qualifying purchases. Read full info
here
.