Using only 5 ingredients and about 45 minutes you can have the best homemade Marinara Sauce recipe. Vibrant rich tomato flavor that's perfect for pasta or dipping bread into! Once you've had this easy 1-pot tomato sauce you'll never use store-bought again!
I have never met a pasta dish I didn't love. The one thing that always makes it better is when it has a homemade sauce on it like this Homemade Marinara Sauce Recipe! Rich vibrant tomato flavor with just the right seasonings balanced out with a dab of sugar if needed.
Seriously, once you see how easy this easy marinara sauce is you'll never go back to store-bought jarred sauce again.
I first had homemade pasta sauce from my friend Maria. She would make these amazing sauces on the stovetop and have them simmer all day long. She'd make a cioppino recipe that she would make the sauce for that you would be able to smell all the wonderful aromas all day long while it reduced and became super complex.
The meat sauce recipe she would make you so hungry while it cooked… but once it was done you would simply devour every last bite using your bread to make sure you didn't miss even one drop of the super flavorful sauce.
Once I had a homemade pasta sauce there was no way I could go back to a store-bought jarred sauce. They all seem so sad and flat once I'd had the homemade version.
I did a lot of reading on homemade marinara sauces. There is a lot of differing opinions on whether to add garlic and onions to them but they all agree on starting with great tomatoes.
I really like San Marzano Tomatoes. You can buy them in a can (whole, peeled without salt added.) They give the sweetest tomato flavor out of all of the canned options, which in my book translates to the best marinara sauce recipe!
Can you use fresh tomatoes for this Marinara Sauce Recipe?
Absolutely. In season there is NOTHING better than a super sweet, tender tomato. It takes a little bit of extra work, but nothing that would deter me from making them if I have fresh ones from my garden or the local farmers market
You'll want to peel the tomatoes then bring a pot of water to boil. Place an X at the top of the tomato then after the water boils add a couple of tomatoes at a time and boil them for about 30 seconds.
Remove them from the water then you will be able to pull back the skin where you had placed the X. I cut the core end off because I think its better, but my friend Maria is big on not wasting it so she uses the whole tomato.
From this point on you'll follow the instructions I have below for making the best marinara sauce recipe ever!
I did a lot of testing of recipes and in the end, all of them were similar but I did a slight adaptation of the recipe in Tauton's Fine Cooking in the March 2004 issue. It had the right balance of taste of the ways I tested and I liked that it was so darned easy to do!
---
---
PIN THIS TO YOUR HOMEMADE SAUCES BOARD ON PINTEREST SO ITS EASY TO FIND WHEN YOU NEED IT!
How to make Marinara Sauce
In your stock pot you'll add some olive oil to help soften and caramelize the onions and the garlic. I tried just adding them in without sautéing them but the sauce was a bit too pungent. When you heat the olive oil and let the onions and garlic cook a little, it releases the oils and brings out a more pleasant sweet taste.
If you like a spicer tomato sauce you could add some red pepper flakes right before you are done cooking the onions and garlic. By adding the pepper flakes to the onions it gives a subtle heat to them that meld well when added to the tomatoes.
Pulse the canned tomatoes in a food processor to a chunky constancy. If you like a smoother sauce, by all means, you can puree them more. I find since this makes a nice amount, I usually freeze it. I tend to leave the sauce a little chunkier so that it gives me more versatility when using it in other recipes. I can always puree it down more if need be.
Be patient and let it really cook down and allow the flavors to meld together. I know there are 20-minute marinara recipes all over the internet, but I guarantee you this time lets the rich fresh flavors in the tomatoes really come out. It's well worth it when you take the time.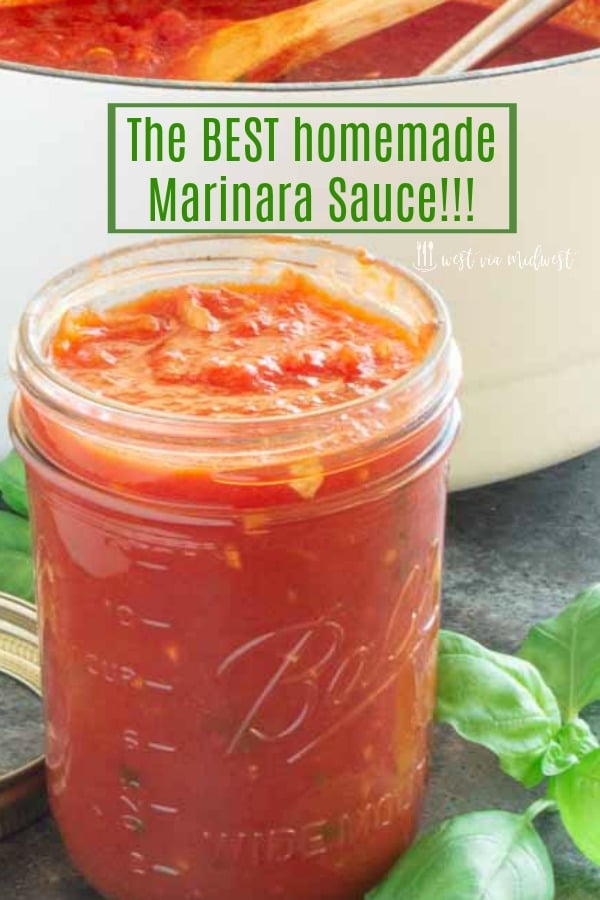 Common questions about marinara sauce~
What's the difference between marinara sauce and tomato sauce?
A marinara sauce has just a few ingredients tomatoes, olive oil, onions and garlic and often can be served all by itself as a dipping sauce or pasta sauce. I've also used this recipe as a very flavorful pizza sauce!
A tomato sauce is usually pureed and a bit thicker than marinara sauce and is made with a lot of other ingredients to flavor it like carrots, pepper, etc. While it can be served as a dipping sauce it's a little more acidic and is often used as ingredients in recipes.
Can you freeze homemade marinara pasta sauce?
Yes, it freezes really well. This recipe makes about 9 cups so I usually freeze it in 1 cup containers. Let the sauce cool completely before sealing it. It freezes well for up to 3-4 months.
This can be kept in the fridge for 4 -5 days. Since its all fresh ingredients, there are no preservatives in the sauce so much longer than that and it will go bad.
Recipes that you can use a homemade marinara sauce with:
---
STAY CONNECTED ON SOCIAL SO YOU DON'T MISS OUT ON THE LATEST RECIPES TO MAKE ENTERTAINING BOTH STRESS FREE AND DELICIOUS!
---
---
~ Instagram ~Pinterest~ Twitter~Facebook ~
---
---
FREE TIPS FOR ENTERTAINING WITH EASE AND FUN DELICIOUS RECIPES WHEN YOU SIGN UP FOR THE MAILING LIST BELOW THE RECIPE !
Yield: 9 cups
The BEST Homemade Marinara Recipe!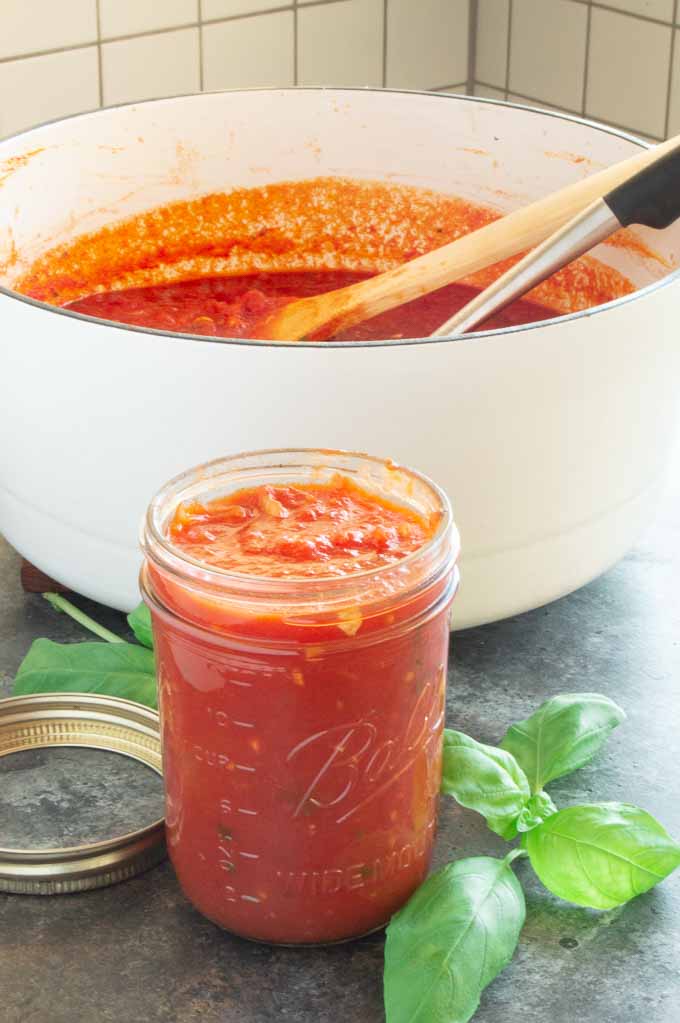 Using only 5 ingredients and about 45 minutes you can have the best homemade Marinara Sauce recipe. Vibrant rich tomato flavor that's perfect for pasta or dipping bread into! Once you've had this easy 1-pot tomato sauce you'll use store-bought again!
Ingredients
3 28 oz cans san marzano tomatoes, no salt, skinless, whole
12 cloves garlic, minced
1/2 cup basil
1 large onion , sliced very thin
3 tablespoons olive oil
1/2 teaspoon red pepper flakes
1 teaspoon sugar
Instructions
Mince the garlic, slice onions to paper thin slices and mince the basil. Set aside.
Heat a stockpot to medium high, add 3 tablespoons olive oil. Once oil is hot add garlic and onion and cook until light golden brown and softened. (about 5 minutes). Add chili flakes and cook for one minute more.
In a food processor add one can, with juices to a semi smooth consistency. (see note 1) Once the onions are done place the first can of pulsed tomatoes into the stock pot. Then puree the second to cans and add them to the stock pot.
Continue to cook the entire mixture on medium high for 30-35 minutes stirring continually. The tomatoes will break down even more in cooking and the sauce will get thickened slightly. Add the chopped basil and cook for 5 more minutes.
Using a spoon, taste the sauce and if it seems acidic add a teaspoon of sugar, stir and cook for a couple more minutes. Taste the sauce again, adding and extra teaspoon at most of sugar if necessary to get to your desired sweetness.
This will freeze well in a sealed container or sealed plastic bag.
Notes
We like a little texture in our marinara sauce so when pulsing I leave some of it a little chunkier. If you like a smoother texture, puree it until smooth.
If you are using fresh tomatoes follow the instructions in the post for cooking them. I usually use about 5-5 1/2 pounds of Roma tomatoes if I am using fresh tomatoes.
Nutrition Information:
Yield:
9
Serving Size:
9 cups
Amount Per Serving:
Calories:

88
Sodium:

273mg
Carbohydrates:

10g
Fiber:

2g
Sugar:

5g
Protein:

1g