These Italian Meatball sliders are an easy meal for bite-sized deliciousness. Serve them for game day watching or for an easy to make but filling meal for company!
With the basketball season for college coming to a close, that means MARCH MADNESS is upon us! These Italian meatball Sliders are an easy meal to serve— the fact that they are bite-sized makes it easy for people to keep cheering and eating at the same time!
Meatballs are a food that everyone loves so serving them to your guests is a winning idea! The fact that these Italian Meatball Sliders are so easy to prepare is another tick in the win column. I'm kind of obsessed with meatballs and serve them often for entertaining. I particularly like these Buffalo Chicken Meatballs and these Bacon Wrapped Blue Cheese Meatballs.
For game days lately I've been doing more sliders for much easier eating while watching from the couch. The Italian Meatball Slider combines people's love for meatballs with a finger food option for entertaining!
Tips to Make your Italian Meatball Sliders a Success:
Mix the meatballs in two steps.

When you go to mix the meatballs you should mix them in two steps. First adding everything but the eggs to make sure that all of the ingredients are spread evenly through the meatball. If you add the egg at the same time you add the beef, spices, cheese, onions…. the egg tends to hold the other ingredients and not let you evenly distribute them.
By spreading the ingredients evenly, you are assured that the meatballs have a great flavor in every single bite.

Form the Meatballs using a gentle hand.

When you form the meatballs, you want to make sure to pack them gently, so that they hold their shape, but not so tightly that when they are baked they don't become dense and tough.

Make the Meatballs an even size.

Use a large scoop or weigh your meatballs so they are are the same size. This allows for even baking for perfectly cooked meatballs every single time. (note in the photo below how they are all the same size)

Double the cheese for double the goodness!

In this recipe for Italian Meatball Sliders, you add small bits of cheese in the meatball itself (see photo above) and then midway through baking you add more cheese over the top so that you get the crispy-edged melty cheese slathered over the entire meatball.
Looking for other Game Day Slider Options check out these delicious options!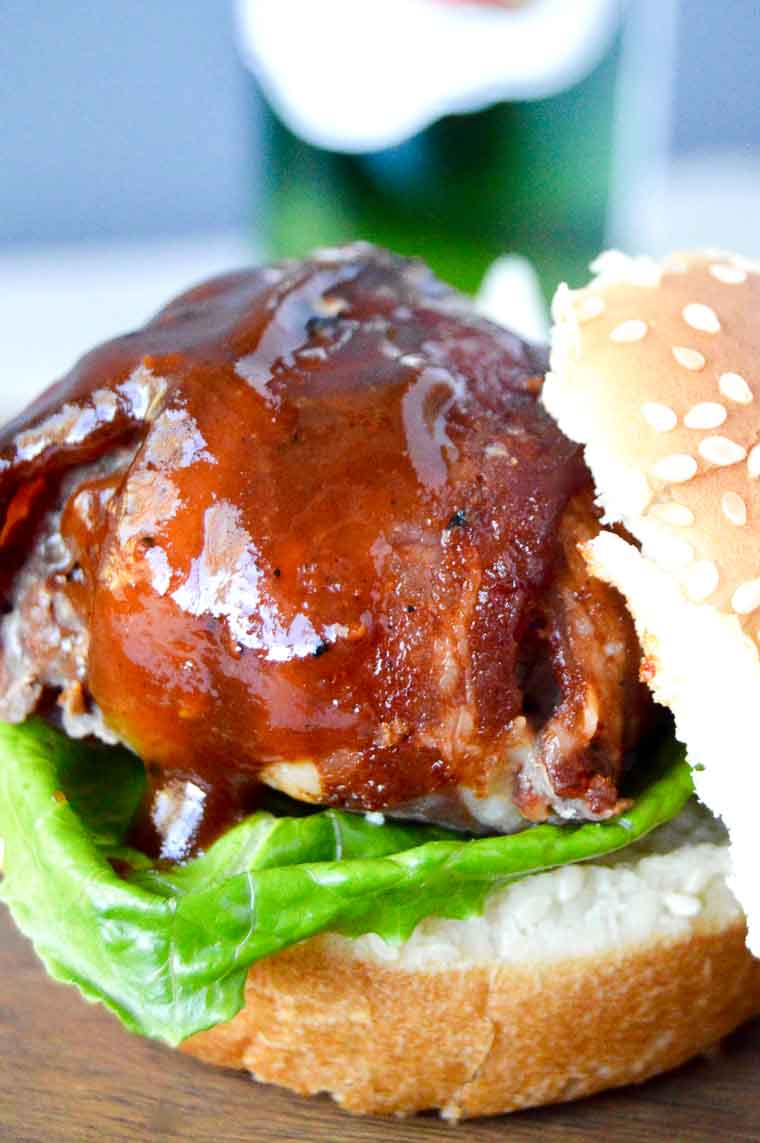 Caramelized Onion Roast Beef Sliders
Pin this to your GAME DAY board or to your Friday Night Easy Dinner Board. You can also follow me on Facebook here for more easy recipes for entertaining! (Facebook not your thing….. that's ok too! I have you covered with a mailing list on this page where it says "join the west via midwest community!" )
Yield: 16 Sliders
Authentic Italian Meatball Sliders
These Authentic Italian Meatball Sliders will delight all of your game day party goers! Juicy, cheesy filled meatballs slathered in melted Mozzarella drizzled with a tangy Italian Marinara sauce.
Ingredients
2 Pounds Ground Beef, I used 85/15, but use what you prefer
2 Tablespoons minced sautéed onions, I used frozen store bought ones that you pop out like ice cubes but you could also saute your own
4 Ounces Mozzarella Cheese, cut to small dice (1/4")
1 Teaspoon Garlic Salt
1 Tablespoon Dried Oregano
1 Large Egg, beaten
3 ounces Freshly Shredded Mozzarella Cheese, see notes why I don't recommend buying it pre-shredded
1 24 ounce Jar Marinara Sauce
16 Slider Buns
Instructions
Preheat Oven to 325°
Place Slider Buns in a foil packet, completely sealed and then set aside.
In a large bowl place ground beef, sauteed onions, 4 ounces diced cheese squares, Panko, garlic Salt and oregano.
Using a wooden spoon or your hands, mix all ingredients until well blended.
Add beaten egg to ground beef mixture and mix until egg is incorporated evenly.
Using a large scoop (imagine Ice Cream scoop sized) form gently into round balls. Do not hard pack the meatballs so they are very tightly compacted, you want to have tender light meatballs after baking.
If you have one, use a scale to weigh them out so that they are the same size for even cooking. I weigh them out to 2.5 ounces each.
Repeat until all meat is formed into a meatball.
The meatballs can be made to this point up to a day before you bake them. (See notes for additional information.)
Place each meatball with at least 1 inch in between onto a roasting pan.
Place Meatballs in the oven and bake for 15 minutes, then remove from the oven.
While the meatballs are baking, in a saucepan heat the marinara sauce.
At the time you remove the meatballs, place the foil packet of buns into the oven to warm.
Evenly divide shredded mozzarella over each baked meatball. Place the pan back in the oven and bake for approximately 5 more minutes until the cheese is melted and slightly golden.
Once cheese is melted the meatballs are done. Remove meatballs and Foil packet of buns from the oven.
Build a slider with one cheesy meatball on each bun. Spoon 1-2 tablespoons of sauce over the top and serve immediately.
Notes
I suggest you buy your mozzarella and shred it yourself. Most of the pre-shredded store bought ones add ingredients to keep them from sticking together and preservatives to have them last Longer. I find that the cheese doesn't melt as well when you use these pre-shredded options. An added bonus... you get more cheese for the price if you shred it yourself. If you make the meatballs a day before baking them, remove the meatballs from the refrigerator 60 minutes before baking them to take the chill off before baking.
Nutrition Information:
Yield:
16
Serving Size:
16 Sliders
Amount Per Serving:
Calories:

269
Saturated Fat:

4g
Cholesterol:

56mg
Sodium:

485mg
Carbohydrates:

20g
Fiber:

2g
Sugar:

4g
Protein:

16g