Creamy, al dente cooked risotto with tender, fresh asparagus, peas and carrots make this Creamy Asparagus Risotto a family favorite.
Today's recipe for Creamy Asparagus Risotto is a lesson on how to make risotto. Once you learn the tricks to making risotto you can then change up the flavors, meats, vegetables and cheeses.
What is Risotto?
Risotto is a higher starch rice that was originally grown in Italy although now its grown many places. It's commonly called Arborio Rice.
How do you cook Risotto?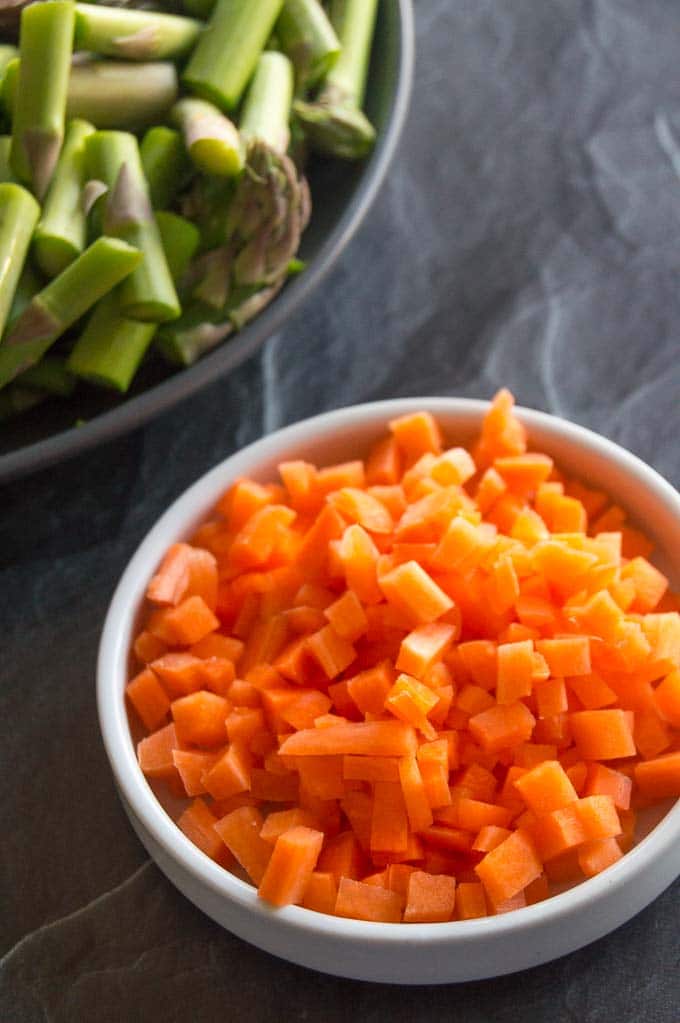 In making the Asparagus Risotto today you will want to cut the vegetables you are using in similar sizes. Carrots take longer to cook so not only did I cut them smaller but I also allowed them to cook along with the arborio rice.
You will toast the risotto in the pan before starting the cooking process. This brings out a nutty flavor in the Vegetable Risotto. You will know when the rice is toasted be seeing the rice changes at the edges to be a little bit clear. You can see what to look for by looking at the photo below. The center of each piece looks bright white and opaque, but the edges are translucent.
Do I have to use wine in making this Vegetable Risotto?
Once you see that edges are see through you will add wine to the pan. You can omit the wine in the recipe, but if you do, use 2 tablespoons of apple cider vinegar in its place. I really like the depth the wine adds to the risotto, but you can get the balance the dish will need with all the rice, cream and cheese by substituting apple cider vinegar.
To successfully cook risotto you will add a boiling liquid to the arborio rice/wine mixture about 1/2-2/3 cup at a time. By slowly adding the liquid then letting it absorb in small amounts at a time, it releases the starches from the rice and has the rice end up slightly softened but not mushy finished dish. (The risotto has a final al dente texture.) You will need to stir often the risotto while the liquid is absorbing so that the rice does not stick to the pan.
While the risotto is cooking you can cook up any vegetables you want to add to your dish. Remember to sauce the vegetables to a crisper, more al dente texture (slightly undercooked.) Once you add the vegetables to the risotto they will continue to cook and if you overcook them when sauteing them they will turn to mush.
Once the Risotto is fully cooked you will add some cream, fresh parmesan and the fresh asparagus and other vegetables to finish the Asparagus Risotto.
Common Questions in Making Risotto?
Can you substitute other rices for Arborio Rice? — The cooking methods can be used on other kinds of rice, such as Jasmin and Basmati rices but it will be a slightly different finished product. That being said, risotto recipes will still taste great and can be served with confidence.
What Kind of wine should I use in making risotto? It's a personal preference. I prefer slightly sweeter wine like a riesling or a Prosecco. I think it pairs better with the parmesan cheese in the risotto. You can use red wine, but it does make the risotto pink which can be off-putting to some people.
Can I freeze any leftover Risotto? You can absolutely freeze it. Make sure that it is completely sealed in a container. Allow the rice to come to room temperature before warming. You may want to add some additional cream and parmesan cheese when heating it up.
What can I do with leftover Creamy Asparagus Risotto? You can make my Pesto Pasta Croquettes or these Arancini Risotto Balls! (Make the risotto the week you are having company over early in the week, then make the croquettes and balls the night of the party for easy entertaining!)
What other things can I use instead of vegetables in my risotto? You can use mozzarella cheese and salami, Sausage and Spinach, or beef and hearty mushrooms (this one you could use a red wine in.). The possibilities are limitless. You can also check out Striped Spatula's Leek and Roasted Shrimp Risotto and My Kitchen Love's Thai risotto for other inspiration!
Pin this recipe for Creamy Asparagus Risotto to your easy dinner recipe board. You can also follow me on Facebook here for more easy recipes for entertaining! (Facebook not your thing….. that's ok too! I have you covered with a mailing list on this page where it says "join the west via midwest community!" )
Yield: 6 servings
Asparagus Risotto - No Fail Risotto Recipe
Creamy, al dente cooked risotto with tender, fresh asparagus, peas and carrots make this Asparagus risotto a family favorite.
Ingredients
Risotto
1 cup Arborio rice
2 small or 1 large shallot minced
1 tbs olive oil
4 cups low sodium chicken broth
3/4 cup white wine , riesling suggested
2 cups good quality parmesan cheese
1/2 cup heavy cream
Vegetables
1 pound asparagus, cut to 1" pieces
1 cup fresh peas
2 large carrots, 1/4" dice
1 tablespoon butter
1 teaspoon olive oil
Instructions
In a sauté pan heat pan to medium high, then add 1 teaspoon olive oil butter and swirl around the pan.
Once the butter has melted and olive oil is hot add the asparagus pieces and sauté for 2-3 minutes. Add the peas and cook for 2-3 minutes more. The vegetables should be al dente, and still slightly undercooked. They will cook a little bit more when added to the risotto.
Set aside off burner until ready to add to risotto.
Risotto
In one pan bring chicken broth to a boil, then reduce to a slow simmer.
Turn on a second burner and bring a second pan to high heat. Ultimately this pan will be used to make the risotto, so use a sauté pan or a small/medium stock pot.
Once pan is hot add in olive oil and swirl around to coat the entire bottom of pan, then reduce heat to medium.
Add minced shallots and sauté until translucent and soft. Pay careful attention to not brown the shallots.
Add Arborio rice and diced carrots and stir constantly, letting the rice toast in the pan until the center of the rice is translucent.
Add wine and reduce until no liquid remains.
Once wine has evaporated use a ladle to add chicken stock to rice. Add about 3/4 cup of stock at a time, letting rice slowly cook as the broth reduces. It is important to continually stir the rice while in this stage.
Once broth has reduced to almost nothing then add the next ladle full.
Continue doing this process until all chicken broth has been added. Rice should be al dente at this point. (this usually takes about 20-30 minutes to cook the rice).
Add 1 1/2 cups of parmesan to rice, mix thoroughly.
Add heavy cream to rice, allow it to absorb completely.
Stir in asparagus and peas into rice. Stir gently and let cook for 2-3 minutes to let veggies rewarm and finish cooking.
Serve in bowl sprinkling some of the rest of the parmesan at the last minute before serving.
Nutrition Information:
Yield:
6
Serving Size:
6 servings
Amount Per Serving:
Calories:

461
Saturated Fat:

12g
Cholesterol:

54mg
Sodium:

627mg
Carbohydrates:

40g
Fiber:

4g
Sugar:

5g
Protein:

21g
SaveSave