This BBQ Bacon Meatball Slider recipe is sure to be a hit! Juicy meatballs, wrapped in bacon brushed with BBQ sauce are the stars of this delicious slider!
BBQ Bacon Meatball Slider (s) are my new favorite addiction. They are my husband's favorite too. He had no problem with any of the versions while I was working on this recipe! His comment every time: Hey its bacon and meatballs I LOVE them! (Disclaimer: He will try anything; there have been a few wacky combinations in recipe development, but he's such great sport about trying them all!)
I really wanted these meatballs to be a grilled meatball, but with the addition of bacon, it just wasn't meant to be. The bacon would get really charred and the meatball itself still wasn't cooked through when I tried it on the grill, so I went back to the oven.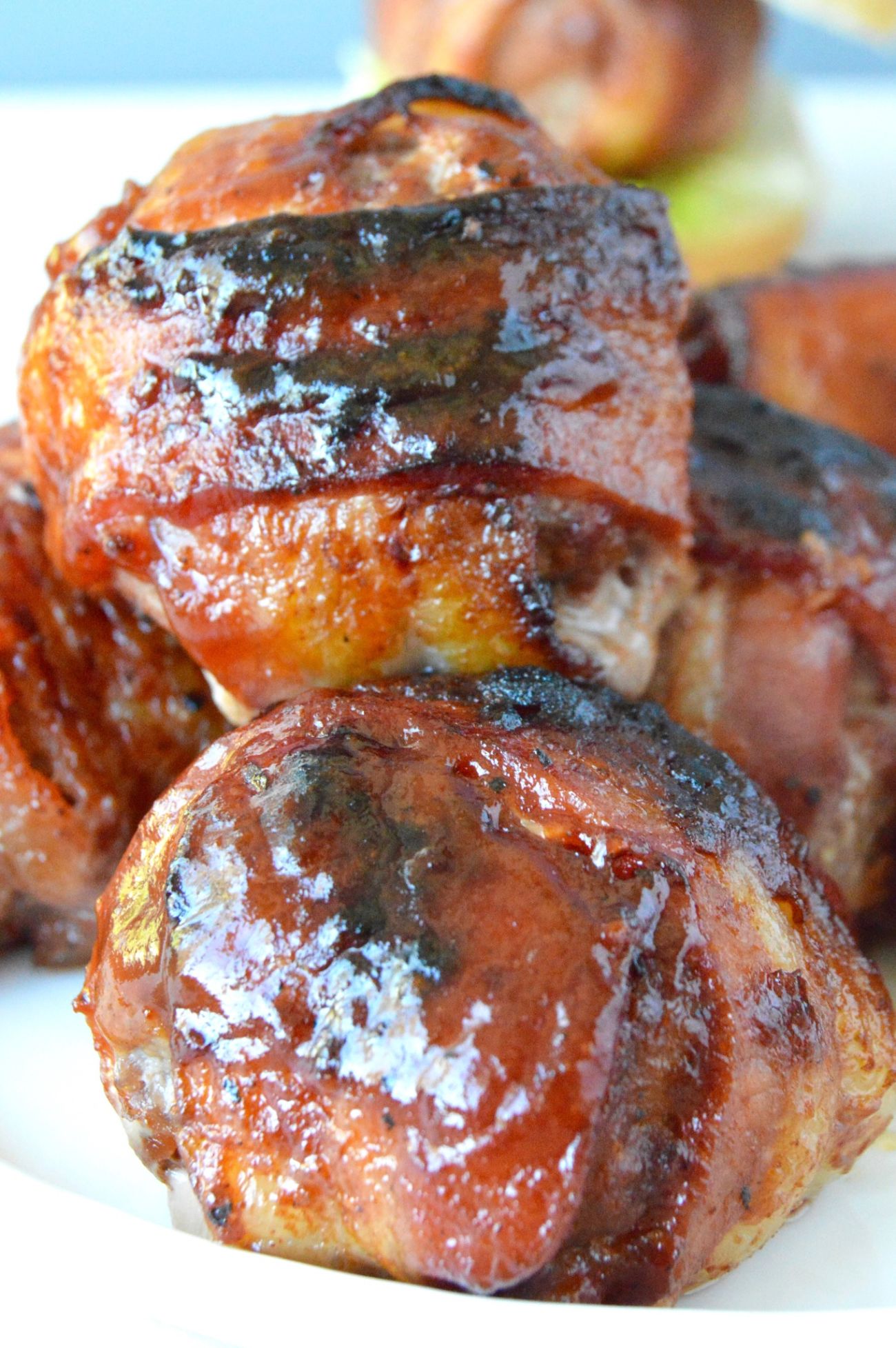 These are so easy. Mix up your meatballs then wrap them in bacon. I found cutting the bacon in half (leaving the bacon the same width, just shorter pieces) then wrapping one piece of bacon around each meatball in an x-like pattern worked really easily.
The bacon keeps the juices in the meatball, which in turn gives you the most succulent meatball you'll ever eat!
HELPFUL TIP!!
I did use a broiler pan so that some of the fat from the bacon could drain away. When I tried this on a regular cookie sheet it was kind of scary seeing all the fat pooled up at the base of the meatballs. Of course, if you don't have a broiler pan (a double layer pan with drip holes like pictured here you can still make them. In the recipe instructions, I share a way to use a cookie sheet to have the meatballs bake on top all the juices/fats.
The other trick in this recipe is to cook the BBQ Bacon Meatball at a lower temperature to allow the meatball to cook all the way through and the bacon juices to slowly drip over/through the meatball. Then raise the temp for a quick burst to crisp up the bacon and allow the BBQ sauce to caramelize!
All of this makes this BBQ Bacon Meatball a juicy bacon-flavored meatball. The outside bacon is crispy with the BBQ sauce giving you an added sweet zing.
BBQ BACON MEATBALL SLIDER RECIPE INFO:
EASY/HARD: Easy, stir up the meatball, wrap in bacon, bake and serve. Really, that's all there is to it! One note of caution: Don't over mix the meatball. Yes, I'm completely serious, don't work too hard when stirring the mixture together and you will have a very tender meatball.
MAKE AHEAD? Absolutely. You can make these ahead of time and just warm them up to serve them. I haven't tried freezing them yet, but I will let you know how that turns out.
OPTIONS: I served these BBQ Bacon Meatballs in sliders, but they work equally well on their own for bite-size appetizers. Serve them with BBQ sauces on the side with toothpicks. They also are perfect stirred in with pasta. Eliminate the BBQ sauce, and use it with your favorite tomato sauce. The bacon is a great addition to regular spaghetti and meatballs!
COCKTAIL RECOMMENDATION: These would be the stars of a Bloody Mary in place of the regular slider like I have here on my Minnesota Mary! (The BBQ Bacon Meatball would work great without a bun in the cocktail too!)
You could use a more tropical sauce (maybe something with a pineapple based) on the meatball in place of the BBQ sauce and serve them as an appetizer with the Mai Tai here!
Yield: 24
BBQ Bacon Meatball Slider
This BBQ Bacon Meatball Slider recipe is sure to be a hit! Juicy meatballs, wrapped in bacon brushed with BBQ sauce are the stars of this delicious slider!
Total Time
1 hour
10 minutes
Ingredients
1.0 lbs Ground Beef, (I prefer 90/10)
1 lbs ground pork
1/4 cup Heavy Cream
1 egg, , beaten
1.5 teaspoons season salt
1 tablespoon Dried Oregano
1/2 cup freshly grated parmesan cheese
1/2 cup BBQ Sauce, (I use Famous Dave's Devils Spit, but use your family favorite!)
24 slices of Bacon
24 mini hamburger buns
Instructions
Preheat oven to 350*
Using a wooden spoon or your hands in a large bowl mix together beef, pork, heavy cream, beaten egg, salt, oregano, panko bread crumbs and parmesan cheese.
Do not pack the meat too tightly, you want to use a lighter touch so that the meatball does not get too compacted allowing for a lighter moist (versus heavy, hard) final product meatball.
Form the meat into balls, slightly bigger than a golf ball.
Cut bacon in half. (Bacon stays the same width, just cut to shorter length.)
Wrap 2 pieces of bacon around each meatball in the shape of an x. (See photo in post.)
Chill for a minimum of 15 minutes to set the shape.
If you are making ahead to use the next day or later in the day, you can make the meatballs to here. The meatballs in the raw state will need to be covered with plastic or foil if you are waiting longer than an hour to bake them.
WHEN YOU ARE READY TO DO THE BAKING:
Brush entire surface of bacon wrapped meatball with BBQ sauce.
Place Meatballs onto a broiling pan (alternatively use a cookie rack over the top of a baking sheet.) You want the meatball fats to be able to fall to the bottom pan.
The meatballs should be spaced 2" apart.
Bake for 20 minutes, turning the pan from front to back at the 10 minute mark to allow for even cooking.
Increase heat to Broil.
Remove pan from the oven.
Brush meatballs one last time, and place back in oven for 5-10 minutes. WATCH THEM VERY CAREFULLY! You want the bacon to crisp up but not burn. All ovens are very different on Broil. Once bacon is crisped remove from oven and allow to cool for 10 minutes.
Place on slider bun and serve along side additional BBQ sauce.
Nutrition Information:
Yield:
24
Serving Size:
24 Servings
Amount Per Serving:
Calories:

312
Saturated Fat:

6g
Cholesterol:

53mg
Sodium:

420mg
Carbohydrates:

20g
Fiber:

1g
Sugar:

4g
Protein:

13g
‬‬‬‬‬‬‬