This Loaded Bloody Mary Cocktail is a full meal! Spicy Horseradish compliments the tangy tomato base and it's topped with all the foods you want to eat when drinking a Bloody Mary: a burger, beef stick, bacon, olives, chunks of cheese and a Celery Stalk! Perfect for a brunch or watching a game!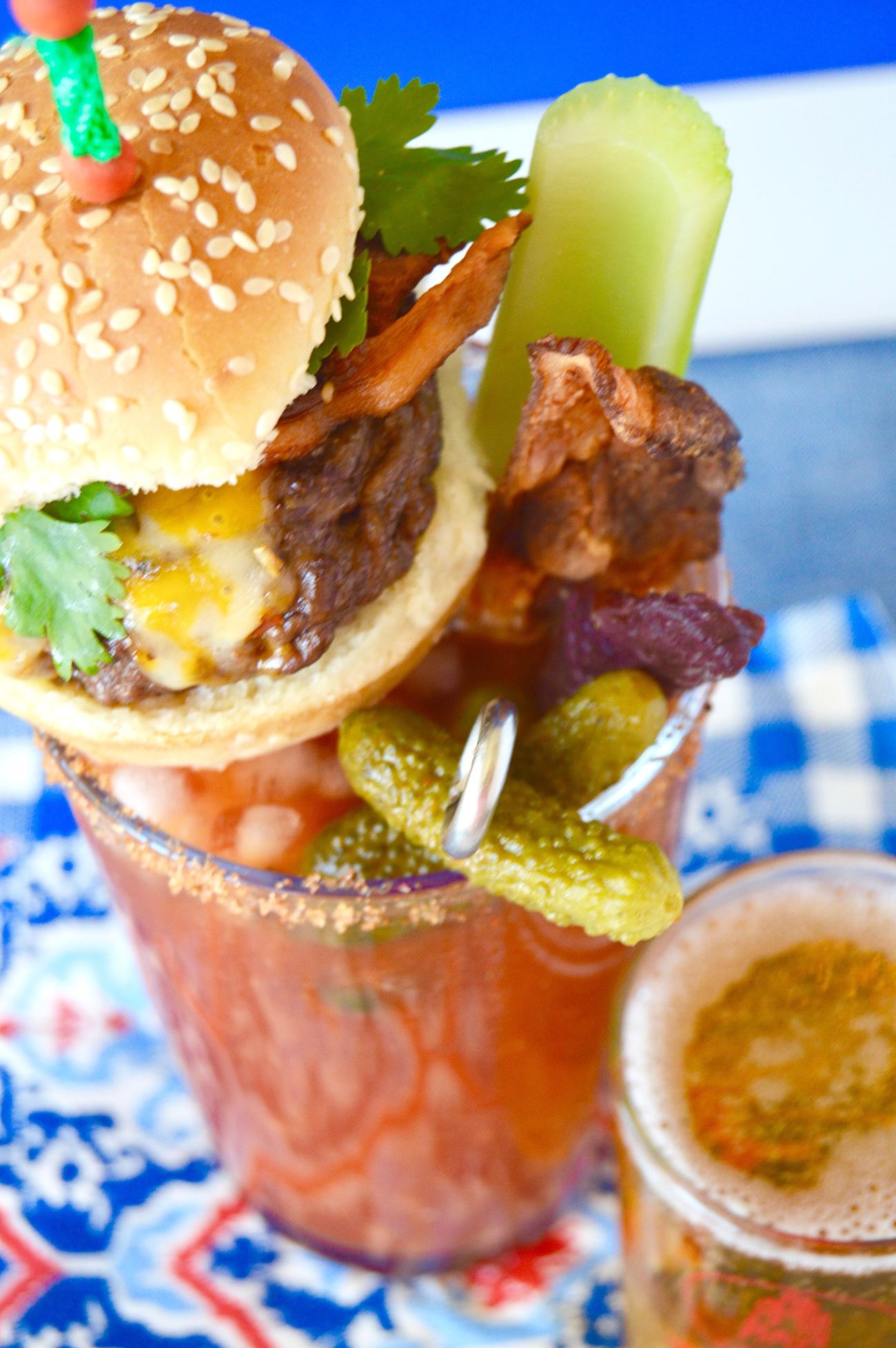 In Minnesota, they do a Bloody Mary right. Instead of just a lonely piece of celery, they serve it with just about everything. A mini-cheeseburger, a beef stick, anything pickled (artichoke hearts, green beans) an onion ring, a whole pickle, olives, pepperoncini's and of course in true MN fashion, any number of cheese cubes.
In continuing with some of my takeaways from my trip to Minnesota I thought I'd talk about Bloody Mary's today, specifically a Loaded Bloody Mary! I love this drink. It works for breakfast, brunch, football Saturdays, on the golf course. Yes, pretty much anytime.
They don't just put one thing in them, they put at least 5 in every drink. It's fantastic, I always feel like I'm getting served an appetizer to go along with my Loaded Bloody Mary.
But that's not all…..they also serve it with what they call a snit. A snit is a beer chaser to go with your Bloody Mary. It's typically a 3-ounce pour in a small glass, but in Minnesota, I've actually been served a pint glass as a chaser with it. Snits are common anywhere in the upper Midwest. So if you order one in California they won't necessarily know what you're referring to.
The history of the Bloody Mary isn't clearly defined. Some say a bartender from the famed Harry's Bar at the Paris hotel first made it. Another story has a bartender from Harry's coming to an NYC bar and creating it(where it is referred to as a Red Snapper) and others claim it's a cocktail made to represent Queen Mary (the red being the bloodshed in her life.) What is agreed upon is that they are delicious!
They are very simply made. All you have to do is stir everything together in a glass. It's easily altered to a spicier drink with more Tabasco or horseradish for those who prefer(me, me, me) I personally like having a salted rim, which pairs perfectly with the tomato juice's acidic tang. Most people use celery salt, but I've found mixing celery salt with Lawry's seasoning salt gives a little sugar in the first taste which is delicious.
There is a secret ingredient that makes this Loaded Bloody Mary incredible!!
And did I mention my secret ingredient? Bacon, yes I said bacon. That magical ingredient that makes everything better. Try it, you won't believe how refreshing and well rounded this loaded bloody mary is! Other bacon add ins include this Bacon Popper recipe here or a bacon wrapped meatballs like this recipe!
Cheers!
Yield: 1 serving is one cocktail
Loaded Bloody Mary, Minnesotta Style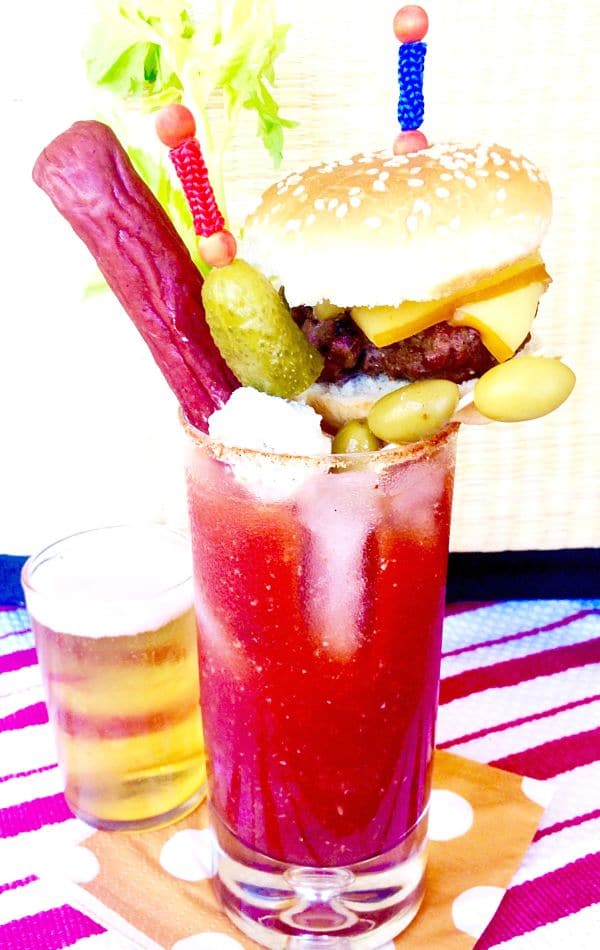 When you want to make an impression at a get together, these Bloody Mary's with the works are the way to go. Bacon, cheeseburgers, olives, cheese, you name it, it can go along side your cocktail. Simple to make, just serve a buffet with them to have your guests make it up the way they like them. The ultimate bloody mary!!
Ingredients
Salted Rim
2 tablespoons Celery Salt
Lime wedges
Individual Bloody Mary's
2 oz Vodka
4 oz Tomato Juice
1/2 teaspoon horseradish
1 strip bacon, , crispy and crumbled
Lime wedge squeezed
two shakes of celery salt
2 shakes of Tabasco Sauce, (more if you like it spicy!)
Add ins:
Mini Cheeseburgers
Olives
Pickles
Cheese cubes
Celery Stalks
Beef sticks
Beef Jerky
Snit
Your favorite Beer, (usually a 3 oz pour, but any is fine)
Instructions
Mix the two salts for the salt rim and place on a small plate.
Take a lime wedge and run it along the rim of the glass, then dip wet edges thru the salt to coat rim.
Add ice cubes to glass.
Add Vodka, Tomato Juice, crumbled bacon, Worcestershire sauce, Tabasco, horseradish and shakes of celery salt over the ice in the glass.
Mix well with spoon.
Have separate containers with all of the add ins for your guests to be able to add in what they like into their drinks.
Serve along side your favorite beer for a snit (a beer chaser)
You can also mix up a pitcher and have them only adjust their drinks with the tabasco.
Notes
High Ball glasses are the traditional glass for these drinks.
All recipe calorie information was calculated on what I purchased to make this recipe in My Fitness Pal. When you make the recipe, the calorie content could vary depending on what specific ingredients/brands you actually use. Please take that into consideration if you are following a strict diet.
Calories do not include accompaniments, such as cheeseburgers, olives, beef jerky etc.
Nutrition Information:
Yield:
1
Serving Size:
1 serving is one cocktail
Amount Per Serving:
Calories:

246
Carbohydrates:

10g
Fiber:

1g
Sugar:

4g
Protein:

7g
‬‬‬‬‬