Gruyere Salami Risotto Balls (Arancini): An easy appetizer to make from leftover risotto. These Arancini balls are filled with a melty, stretchy Gruyere cheese and a spicy salami. Those are surrounded by risotto that is rolled in panko and fried for a crunchy bite of deliciousness!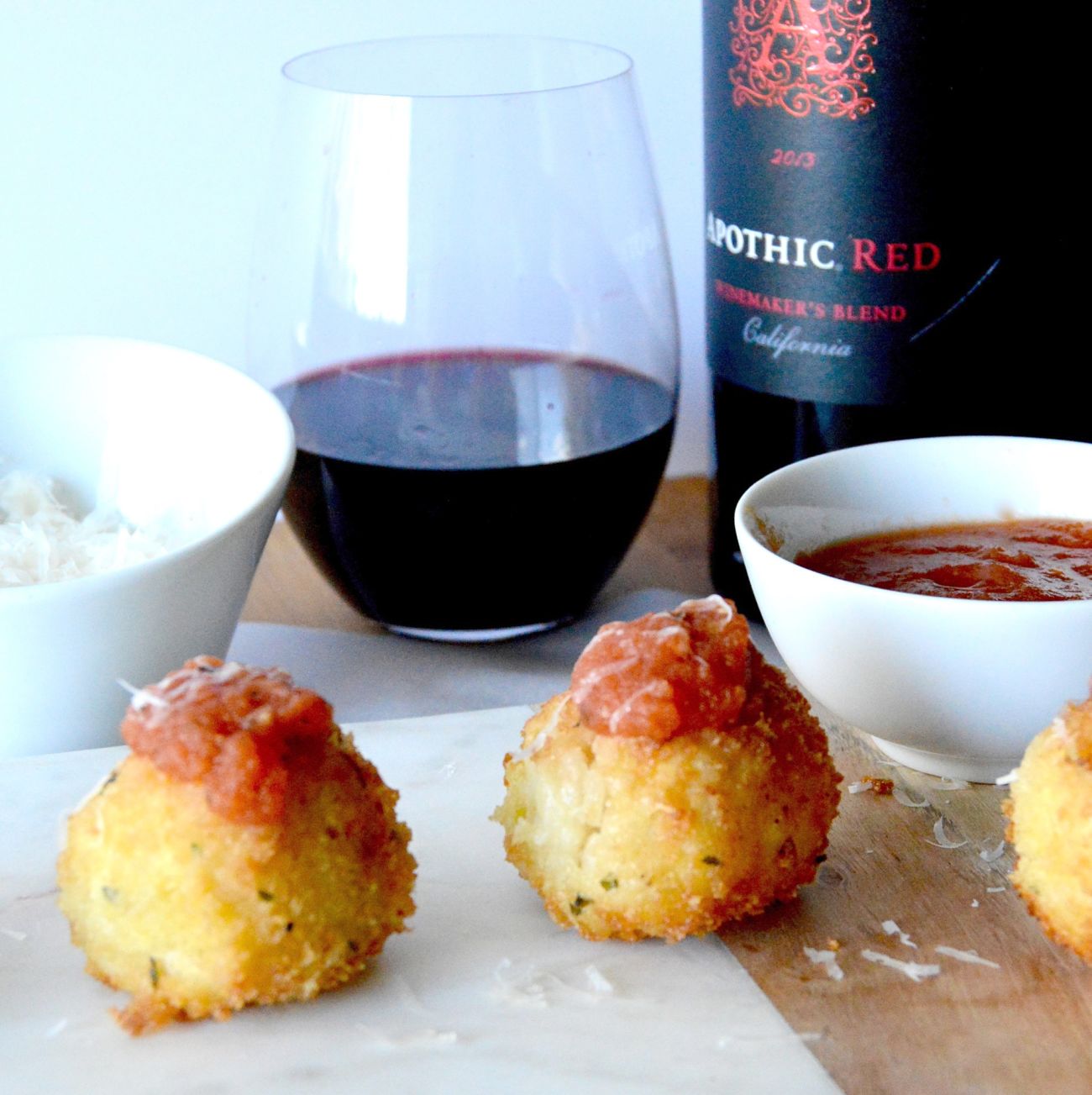 My blog is officially 2 years old. Until 8 months ago it was just a fun thing for me to do whenever the fancy suited me. Then I found out I could do so much more with it.
I met some amazing people in a Facebook group of all places that were able to create a business out of blogging. Suddenly it opened up a whole lot of ideas of things I could do to be able to do something full time that I could make a living at that I absolutely loved. I mean who wouldn't want that right? Making a living is a ways off, but it's going in the right direction.
It's been crazy, and there are days I wonder if I'm nuts, but then you get a comment from someone who makes your recipe and loves it and suddenly you remember why you wanted to do this in the first place. The fact that it continues to grow still amazes me! (Thank you for reading it and interacting with me, I really am so grateful that you do!)
The first thing I had to do was focus a little bit more on what I wanted to write about. In looking at my most successful posts I saw that appetizers, cocktails and smaller portioned (plates) did well.
I also saw lots of comments from people who like to eat great meals, but don't have a lot of time. Based on that I started the series Two-fer meals. Meals that you can primarily make one time, but get two completely different options out of. (In case you're a new follower of my blog you can check out Short Rib Tacos and Braised Red Eye Ribs.)
I've been looking back at the beginning of my blog at some of the full meals that I shared and am going back in and creating a companion two-fer meal for it.
Gruyere Salami Risotto Balls otherwise known as Arancini is a 2-fer meal for the Parmesan Mushroom Risotto. I basically made 2 servings of the risotto and held out the mushrooms to make a second meal of Arancini.
Gruyere Salami Risotto balls (Arancini) fit both of my primary focus categories in my blog. They work as an appetizer and 2-fer meal. Honestly, they are great for a weeknight meal as well if you serve it alongside a nice crisp salad.
They are very simple to make… really. Here is a simple photo "how-to" for easy understanding of how to make the risotto ball.
WHAT IS THE SECRET TO KNOW WHEN MAKING THESE GRUYERE SALAMI RISOTTO BALLS (ARANCINI?)
The secret is to make sure you wet your hands before you start assembling them. If you do this then the risotto will NOT stick to your hands and you will get a nice round ball.
I serve these with a simple tomato sauce, but my husband will eat them without a sauce. I usually serve them with a nice Riesling, since that is what I use to make the risotto. But they work equally as well with a red wine such as Chianti or a Grenache. Both of those reds tend to be a little lighter so it counterbalances the Risotto Balls that are so filling.
LOOK AT THAT MELTY CHEESE! YUM!!
These were such a success in our house and for a recent get together I'm already working on a new recipe for some different fillings!
Yield: 12 servings
Gruyere Salami Risotto Balls (Arancini)
Gruyere Salami Risotto Balls (Arancini): An easy appetizer to make from leftover risotto these Arancini balls are filled with a melty, stretchy Gruyere cheese and a spicy and salami. Those are surrounded by risotto that is rolled in panko and fried for a crunchy bite of deliciousness!
Ingredients
Risotto from Mushroom Risotto made without the addition of mushrooms, See NOTE 1
2 eggs, beaten
1/2 cup Shredded Parmesan Cheese
1 Teaspoon Oregano
1 Teaspoon Salt
4 ounces Gruyere Cheese, cut into small cubes
4 ounces Salami, cut to small pieces.
1/2 cup Vegetable Oil
Instructions
Prepare Risotto 8 hours ahead from Mushroom risotto recipe listed above, but omit the mushrooms.
The risotto can also be made the night before making these balls.
Place chilled risotto into a larger bowl and add to it 2 beaten eggs and 1/2 cup of Parmesan Cheese
Set bowl aside.
In a small bowl place panko, salt, oregano and remaining 1/2 cup of Parmesan cheese and mix well.
Heat a skillet to high, then add vegetable oil and reduce the heat to medium high.
Saute Salami until crisp, then remove from oil and place on paper towel to remove additional oil until needed for making the risotto ball. (SEE NOTE 2.)
(You can refer to pic in notes for step by step instructions for making the balls as well.)
Wet your hands with water then scoop a golf ball sized amount of risotto mixture into your hand and press flat.
Using your thumb, make a small indention for salami and gruyere to go.
Place a couple of pieces of salami and one piece of cheese in the indention.
Slowly round up the sides and form a ball around the cheese and meat.
Place on a plate and continue making the rest of the risotto into balls until all risotto used.
Once all the balls are made, place the balls one by one into the panko mixture and coat evenly. Because of the egg binder, the panko sticks quite easily.
Roll all balls in panko until all have been completed.
At this point you can either place under plastic wrap and place in fridge for up to 1 day before frying or you can fry immediately.
When ready to fry, turn on heat to medium high and get oil hot enough that when you drop a piece of panko into it, it immediately sizzles.
In batches with plenty of room in between them cook for 8-10 mins until all sides are golden brown.
Once all sides are golden brown, place on paper towel and place in 250° oven until all are ready to serve.
Serve alone with fresh parmesan sprinkled on top or with your favorite tomato sauce to dip into.
Notes
Note 1. Double the recipe when making the risotto, or make one entire recipe if you are only making the risotto for the risotto balls. You will need to make the risotto a day ahead or in the morning you plan to make the balls. The Risotto needs to be chilled to set before making this recipe
Note 2. By sautéing the salami in the oil you are going to cook the risotto balls in, you are adding an extra boost of flavor to the finished balls!
Time to make recipe doesn't include making of the risotto recipe. See recipe for that information.
Nutrition Information:
Yield:
12
Serving Size:
12 servings
Amount Per Serving:
Calories:

579
‬‬‬‬‬