Smoky succulent shrimp rolled in spices that caramelize; placed over a crispy potato nest then drizzled in a buttery béarnaise sauce hit on all of your taste buds…. This recipe for Smoky Shrimp on potato nests is a fantastic appetizer that looks great and tastes even better.
Smoky shrimp on Potato Nests are my new favorite appetizer. We're trying to eat more fish and eat smaller portions. There is a potato nest along with these yummy smoky shrimp, but the highlight is the shrimp which is packed full of flavor.
The spices for this recipe came from the pulled pork recipe I shared a while back. When you make the pulled pork, there is always some spice rub left and since we knew how good it tasted on pork I wanted to try it on this shrimp.
It worked really well!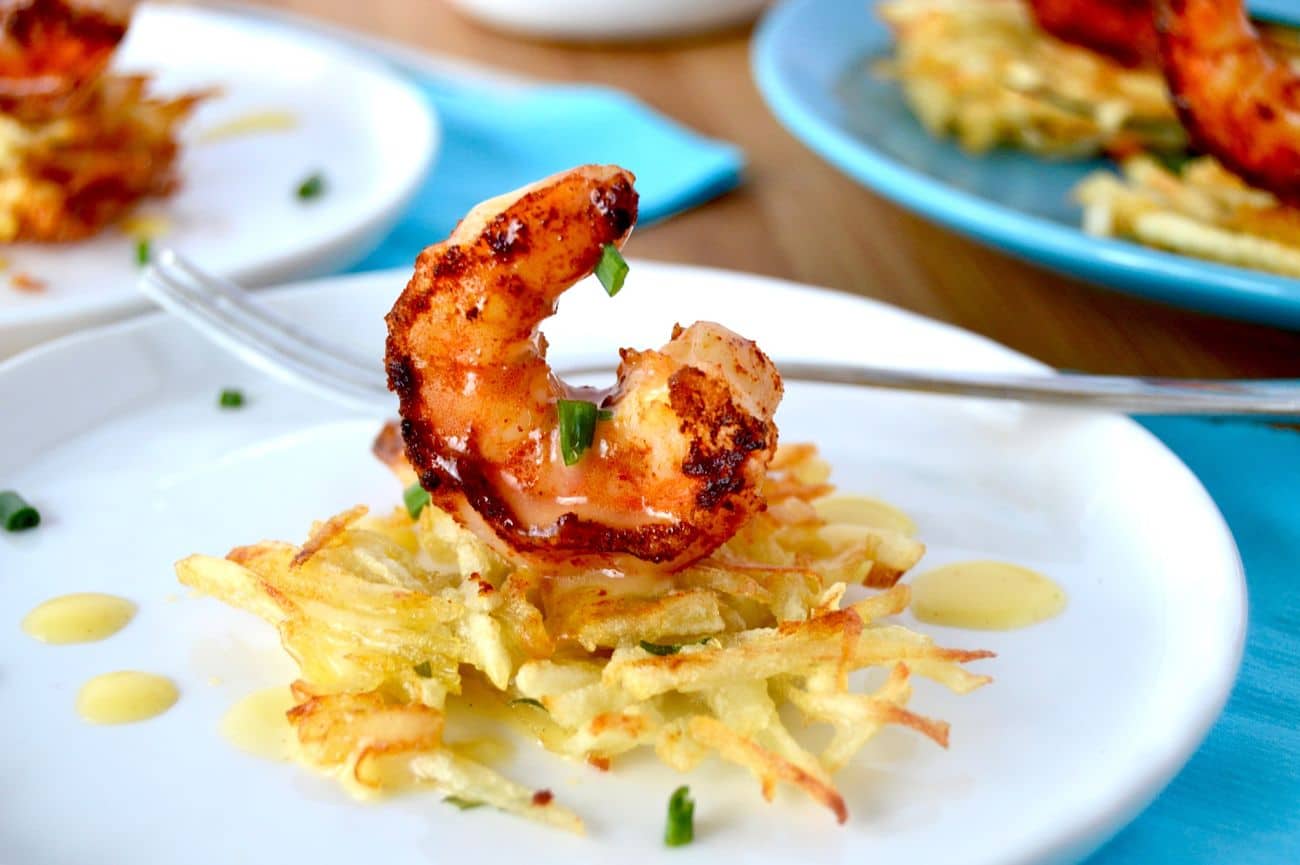 What is the secret ingredient that gives the Smoky Shrimp on Potato nests it's caramelized texture?
You'll find that the spice rub caramelizes when you are cooking it, and gives a deep smoky taste that also provides a little crunch on the cooked shrimp. It's the small amount of brown sugar that is the secret ingredient in the spice rub that gives you this. The heat melts the sugar and it crystalizes on the edges of the shrimp.
While the shrimp would be fine on their own I wanted something a little more for the appetizer presentation. Hello, potato nests! Who doesn't love crispy potatoes?
By using these as one or two-bite appetizers you can use just a small amount of potatoes for each serving. It might be a small bite, but it adds so much to the overall presentation of the dish.
Lastly, to tie this together you can drizzle a buttery smooth béarnaise sauce with just a hint of cayenne and lemon to tie the bite together.
This Smoky Shrimp on potato nest recipe needs to be made when you're ready to serve it. I find it works best for smaller gatherings only because people LOVE them and if it's for a big group of people you won't be able to keep up with the demand.
These work well with a Prosecco or a Riesling because they pair nicely with the smoky shrimp.
Enjoy!
Yield: 12 portions
Smoky Shrimp on Potato Nests
Smoky succulent shrimp rolled in spices that caramelize placed over a crispy potato nest then drizzled in a buttery béarnaise sauce hit on all of your taste buds…. This recipe for Smoky Shrimp on potato nests is a fantastic appetizer that looks great and tastes even better.
Ingredients
DRY RUB
2 Tbs Cumin
1 Tbs Garlic Salt
1 Tbs Celery Salt
1 Tbs Black Peppeer
½ Tbs Cayanne
1 Tbs Old Bay Seasoning
½ Cup Brown Sugar
SHRIMP
1/3 cup Mixed Dry Rub Spices
12 Large Shrimp, peeled and deveined
1/2 cup Canola or Vegetable Oil
POTATO NESTS
Bernaise Sauce
2 egg Yolks
2/3 Cup Melted Butter
1/4 teaspoon Cayenne Pepper
1/2 teaspoon lemon juice
Instructions
Mix all ingredients for Dry Rub to combine evenly. Measure out 1/3 cup to use for this recipe save the rest for another time. You can use this rub in other recipes, such as pork and chicken.
Toss Peeled and deveined shrimp in 1/3 cup spice mix and set aside.
Peel the potatoes, then shred them.
Squeeze out any liquid and set aside.
In a small skillet add the oil and heat to high. Once oil is hot, drop about 2 tablespoons of shredded potatoes into small 2" flat rounds. Spread potatoes to an even thickness for even cooking.
Leave plenty of room in between so nests are easy to flip.
Reduce heat to medium high.
Cook for 2-4 minutes on one side until golden brown, then flip gently by turning away from you so if any oil splashes it splashes away from you.
Finish cooking for an additional 2-4 minutes, until golden brown. Potatoes will be crispy on the outside with a more soft inside.
Season potato nests with the seasoned salt.
Cook in batches until all potatoes are finished.
Remove from oil, allow to drain on a paper towel.
You can keep the potatoes warm in an oven at 250° while you cook the shrimp.
At this point make the béarnaise sauce.
In a bowl you can heat (glass or metal) whisk together 2 egg yolks and 1/2 teaspoon water. Whisk until it is good and frothy. (about 30 seconds)
Heat a pan of water that has an opening that is smaller than the bowl you have the egg yolks are in.
Once water is boiling, set bowl carefully over opening and continue to whisk for 30 seconds. Then remove bowl from pan. Turn off heat on stovetop. (You are now done with this pan.)
Your egg yolks will now be slightly thickened.
Melt butter in microwave and then very very slowly add butter one small drop at a time while continuously whisking the egg yolks.
The egg yolks and butter will slowly thicken. If you pour the butter in too quickly the béarnaise will not thicken, it will remain very thin.
Once all butter is incorporated add cayenne and lemon juice, mix well and set aside until use.
Heat a small skillet to high, take 2 tablespoons of oil from the skillet that you cooked the potatoes in and place in hot pan.
Then add shrimp in batches cooking until shrimp is cooked through. Approximately 2-3 minutes per side.
Remove from pan for assembly.
On a serving plate place potato nest, top with the one shrimp per nest. Once all nests are topped, drizzle béarnaise sauce over the top.
Season with salt and pepper and serve immediately!
Nutrition Information:
Yield:
12
Serving Size:
12 portions
Amount Per Serving:
Calories:

281
Total Fat:

23g
Saturated Fat:

9g
Trans Fat:

1g
Unsaturated Fat:

13g
Cholesterol:

77mg
Sodium:

1436mg
Carbohydrates:

18g
Fiber:

3g
Sugar:

8g
Protein:

4g
This recipe was calculated using the exact brands and measurements I used to make this recipe. If you are following a strict diet please note changing anything will cause the nutritional info to change. Please calculate your own nutritional information if you want it exact to what you make and use my calculations as a guide only.