Simple Short Rib Tacos with Homemade Tomatillo Salsa out of the leftovers from the day before in less than 30 minutes! An easy recipe that's both fast and delicious! A complete win/win!
…. The holidays are over and one of my readers pointed out I'd neglected to post the 2-fer part of the Braised Red Eye Short Ribs. Yikes! The holidays were a blur but I promise these Simple Short Rib Tacos with Homemade Tomatillo Salsa are worth the wait!
My mom was so good at always having delicious foods for us. They usually weren't super fancy but they all had one thing in common. They were made with a few simple ingredients. Mom would have a roast one day with all the trimmings, then sandwiches from the meat the next. She might spend a lot of time one-day cooking, but the next day it was just a few things added on to make a completely different meal.
I appreciate this way of cooking so much more now than when I was younger. Time seems so short anymore…. always running from here to there and everything seems to take so much longer to accomplish anything these days.
These Simple Short Rib Tacos with Homemade Tomatillo Salsa are an excellent way to illustrate my mom's time-saving methods for you. The Short ribs are an inexpensive cut of meat and by slow cooking it with just a few things for a long time you get a warm and comforting meal.
If you double up on the rib portion (see original recipe) then one of the following days you can make these tacos. I pull the short ribs out before I put the gravy on them in the first recipe, which allows you to have two very different flavored meals with just a few additional ingredients for the second meal.
(Note: If you forget and place all the ribs in the sauce when you make the first part, don't worry. You can just rinse or wipe off the sauce. Even if you leave the sauce on, the tomatillo salsa works just as well with them. I like to have a different flavor profile and the gravy makes me think of the first meal. It's really a personal preference.)
I bought store-bought handmade tortillas at Trader Joes for the tacos. (Under $2 for 12 tortillas? I really can't make them any better or cheaper than that.) You pull the meat apart with a fork and warm in a sauté pan slowly.
To dress up the tacos I make a fresh tomatillo salsa for them. The recipe is so simple….the bonus is that the salsa has only a few ingredients. Tomatillos, onions, jalapeño, lime and salt., seriously, that's all you need. (Note…. Sometimes during the year tomatillos are not as sweet as I like so I have been known to add a teaspoon or so of sugar to the salsa as well.)
The only other thing I add to the taco is a fresh slice or two of avocado. The warm meat, with the tangy salsa and the creaminess of the avocado? It's amazingly delicious!
Let me know your thoughts about these Simple Short Rib Tacos with Homemade Tomatillo Salsa! If you like this recipe, you could use the leftover meat from my Spicy Beef Brisket or Pulled Pork to make these tacos/salsa too!
Enjoy!
Yield: 4
Simple Short Rib Tacos with Homemade Tomatillo Salsa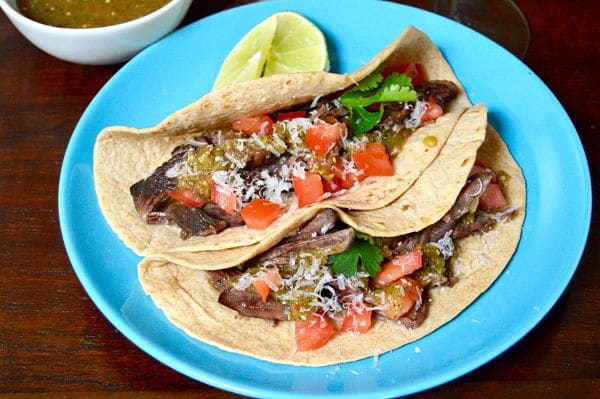 Simple Short Rib tacos with an easy homemade tomatillo salsa out of the leftovers from the day before in less than 30 minutes! An easy recipe that's both fast and delicious! A complete win/win!
Instructions
Warm tortillas, wrapped in foil packet in a 325° oven for 10 minutes. (SEE NOTE 2)
Place leftover ribs on a cutting board and pull the meat into bite size portions.
Place 1/4 cup chicken broth or water in saute pan and add rib pieces.
Heat to medium, slowly warming the rib meat.
Once meat is to desired temperature, turn heat to low to maintain warmth.
Build taco by placing meat in tortilla, topping with chopped tomato and salsa to taste.
Sprinkle top of tacos with parmesan cheese. (I grate it fresh, but in a pinch the Kraft green canned style works great!) The parmesan adds a nice depth of flavor!
Serve immediately.
Notes
NOTE 1If you don't want to make the red eye ribs, or if you realize you ate even your extra portion of ribs you can make the ribs as follows.
Take 2-3 lbs of boneless ribs and season with salt and pepper.
In a stock pot place 1-2 tablespoons olive oil and heat to high. Flour rib meat and then place in warmed oil and brown on all sides. Then remove from pan. Add another tablespoon of oil and place 2 cloves garlic and 1/2 small diced onion in to brown. Then place ribs back in pan. Pour enough chicken broth to cover ribs. Bring to a simmer (small bubbles coming up) and allow to braise for 1-2 hours. Season the broth with salt and pepper. You will know when the ribs are done when you can easily pull them apart with your fork (no knife necessary.) Remove ribs from the broth and then follow current recipe for tacos. Alternatively you can place all of these ingredients in a crock pot overnight.
NOTE 2 Place the same number of tortillas per person in different foil bags. For example, for three people your first foil packet will have 3 tortillas. That way when you go to make the second round of tortillas they are in an unopened packet and are still nice and warm!
Nutrition Information:
Yield:
4
Serving Size:
4 Servings
Amount Per Serving:
Calories:

448
Saturated Fat:

10g
Cholesterol:

71mg
Sodium:

218mg
Carbohydrates:

28g
Fiber:

7g
Sugar:

1g
Protein:

27g
‬‬
SaveSave