Ham and Cheese Frenchee's are the gourmet version of a grilled ham and cheese. One step above with a crispy crunchy outside, cooked to golden perfection with melted cheese along with the star of the sandwich, an artisan quality, all-natural hardwood smoked Uncured Black Forest Ham inside.
One bite and you'll taste the delicious, natural seasonings and spices that are hand-rubbed onto the ham for mouth-watering deliciousness~
---
This post is sponsored by Bistro Favorites, but the content and opinions expressed here are my own.
---
Today's post has been created from a wonderful memory of one of my favorite meals in France. A ham and cheese frenchee from a little sidewalk cafe on the cobble streets of Paris on a trip of a lifetime.
It's the gourmet version of a grilled ham cheese with some added crunchy sweet coating from something as simple as corn flakes. .. all that combined with artisan quality ham make this sandwich extra special!
When you're in France you'll find yourself walking the streets while you explore. You'll see all these beautiful sidewalk cafes that everyone is sitting at having fine cheeses, wonderful handcrafted sandwiches, wine, coffee, croissants, and pastries.
I came upon a cafe and they were serving French Ham and Cheese. I thought how special can this be? I was blown away at how using simple, quality ingredients could make a ham and cheese sandwich one of the best meals I had on that trip.
When I was approached by Bistro Favorites to share with you about their Bistro Favorites 100% Natural sliced meats I knew exactly that this would be the special sandwich I'd share. The meats are hand-rubbed with seasonings and spices that make their Uncured Black Forest Ham ideal for this ham and cheese frenchee. (also known as frenchie!)
There are no artificial ingredients (no nitrates or nitrites added) in any of their small-batch processing. The meats are naturally hardwood smoked and my favorite part, they are carved by hand for a very artisan quality appearance. Basically you can feel great about what you are eating in your food with Bistro Favorites 100% Natural sliced meats.
While I chose to make a gourmet sandwich with their Uncured Black Forest Ham, they also have more artisan quality favorites like their Oven Roasted Turkey and Peppered Beef. All of them are 100% natural with minimum processing that gives you a very high-quality meat for eating in a gourmet beef sandwich such as these Beef Bite Sandwiches with a fancy caramelized onion topping, or as an insert inside your chicken cordon blue.
You can find where you can find the Bistro Favorites 100% natural sliced meats at a location near you!
What makes Bistro Favorites Black Forest Ham special?
made only with premium high-quality muscle meats
crafted in small batches
seasonings and spices are hand rubbed for optimal amounts of flavoring
minimal processing
naturally hardwood smoked
hand-carved for having artisan quality at home
absolutely no artificial ingredients
Look at this ham. It's not only delicious because it's seasoned so perfectly, it is carved to the perfect thickness by hand into easy to use slices. It's sold in a resealable and easy to pull back container for freshness.
What makes this Ham and Cheese Frenchee a gourmet sandwich?
A grilled cheese sandwich or panini are ideal comfort foods. This is a stepped-up version that you can serve for entertaining or when you want something that is special!
Don't panic, it's made with simple everyday quality ingredients that will have anyone you make it for asking for it again and again… (this is a true story. I served this for a late afternoon cocktail party as an appetizer and every single person asked for the recipe!)
How to make a gourmet ham and cheese Frenchie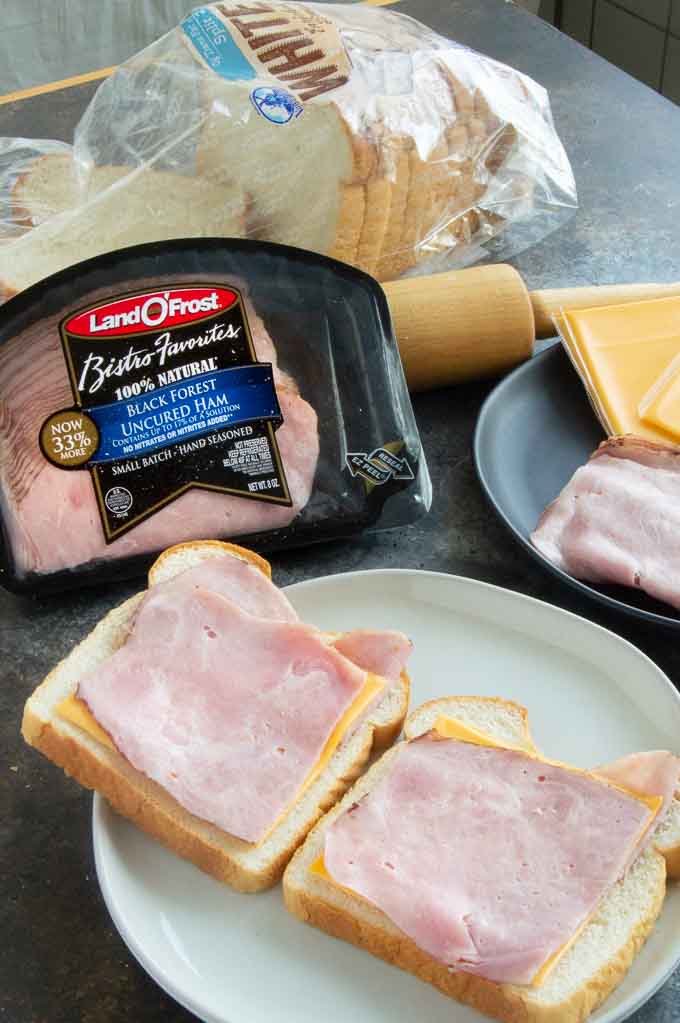 Use quality products. The Bistro Favorites Black Forest Ham and a good quality soft, fresh bread make all the difference.
2. Use a cheese such as artisanal American cheese, or freshly grated gouda that melt quickly.
3. Once you've built your sandwich with the flavorful black forest ham and cheese on the soft, fresh bread I suggest you cut them into triangles halves as shown.
4. Cutting the ham and cheese sandwiches into triangles makes it so you get more area to apply the crunchy coating to. (If you don't like to use a knife, a whole sandwich is pretty delicious too!)
5. Set up the dipping station in order of the way you'll dip them next to the stovetop you'll cook the sandwich on. This makes it so you are right by the hot oil while it's cooking and so you are working your way to the oil, with the least amount of spillage.
6. Dip in egg wash, covering all sides evenly. Then dip into the crunchy coating also making sure that every single surface is covered. I promise you, you'll love that you were careful to do this as every single bite will have melty cheese with the perfectly balanced smoked ham with a deep-fried crunchy golden-brown crust!
7. You'll want to use a mild-flavored oil such as extra-virgin olive oil, vegetable oil or canola oil. (this way the oil won't impart a taste to interfere with the ham and cheese flavors!)
8. The pan will need just a small amount on a medium-high temp. The sandwich cooks in mere minutes, just to crisp and cook to golden brown perfection!
---
---
Pin this to your Easy Entertaining on Pinterest! Let's Be Friends …. follow me on Pinterest for more ideas for stress free gourmet casual entertaining recipes like this one!
---
---
~ Instagram ~Pinterest~ Twitter~Facebook ~
---
---
---
---
---
I hope you enjoy today's special ham and cheese sandwich! Not only does this gourmet sammie work for lunch or dinner but it's also ideal to serve as appetizers for company.
If you make them for appetizers I suggest you cut them into even smaller triangles or planks so they work as finger food!
Yield: 4 sandwiches
Ham and cheese Frenchee ~ Gourmet Sandwich
Ham and cheese Frenchee's are the gourmet version of a grilled ham and cheese. One step above with a crispy crunchy outside, cooked to golden perfection with melted cheese along with the star of the sandwich an artisan quality, all natural hardwood smoked black forest ham inside.
Ingredients
1.5 cups corn flakes
8 slices white bread, soft, regular thickness
3 large eggs
8 ounces Bistro Favorites Uncured Black Forest Ham
8 slices american cheese
1/3 cup canola oil, (see note 1)
Instructions
Place cornflakes into a ziplock bag and seal without any air in the bag. Using a rolling pin crush the cornflakes to a tiny pieces. (imagine coarse meal texture) Place into a bowl.
Into a second bowl, crack all the eggs then using a fork whisk until all combined. Set aside.
Place the 8 slices of bread down on a cutting board separately. Place a piece of cheese down on each. Then place 2 ounces of meat on 4 of the pieces of cheese topped bread. Place cheese and bread (with out any ham) on top of the one with the ham. (making a sandwich)
Cut sandwich in half diagonally making a long triangle (see note 2)
Place oil in a skillet and preheat it to medium high.
While the oil is heating up, dip each triangle first in egg wash and cover all sides completely.
Then dip egg coated sandwich into cornflake crumbs.
Place sandwich pieces into oil when a cornflake crumb starts to bubble when you drop it in. (Thats how you know its hot enough to fry the sandwich) Fry in multiple batches allowing room in between for even doneness.
Fry for 1-3 minutes per side (depending on how hot your oil is) until light and golden brown. See note 3
Once golden brown remove from skillet and place on a paper towel to drain any excess oil. Repeat until all are done.
Serve Immediately.
Notes
Any mild flavored oil will work. Other options are vegetable oil, and an extra virgin olive oil.
You can also cut the large triangles in half giving you 4 triangles (great for appetizer sizes). Another option is to cut them into 4 rectangles like large planks! This also works great for appetizers!
The oil tends to get a little hotter the longer it is on the stove. The first batch may take 2 mins per side, but the second and third batch (if necessary will take less time)
Nutrition Information:
Yield:
4
Serving Size:
4 sandwiches
Amount Per Serving:
Calories:

635
Saturated Fat:

13g
Cholesterol:

222mg
Sodium:

2132mg
Carbohydrates:

39g
Fiber:

2g
Sugar:

5g
Protein:

30g